Traditions, folklore, history and more. If it's Irish, it's here. Or will be!
"People will not look forward to posterity who never look backward to their ancestors."
-Edmund Burke
---
Library: Books, Movies, Music

Prints & Photos

---
---
Himself/Herself

Write to Us

Links/Link to Us


Article Index
Listing by Category
Alphabetical List of Articles.

Calendar-Related (chronological order -more or less).
New Year's Day to Epiphany
The Big Wind of January 6
St. Ita, Foster Mother to the Saints of Ireland

- Imbolc (Irish Spring, February 1st)
St. Brigid, The Giveaway
Celebrating Candlemas

- Valentines
The Irish Link to St. Valentine
The Irish In Love
The Irish In Love - Part 2
The Irish In Love - Part 3
Mary's Valentine

- Lent & Easter
Shrove Tuesday Pancakes!
Ash Wednesday & The Lenten Season in Old Ireland
Shrovetide - The Marrying Season!
What if you were still single by Ash Wednesday?
Palm Sunday in Old Ireland
Good Friday Haircuts and Seaweed for Dinner
Easter Saturday and a Funeral for a Fish
The Dance of the Sun at Dawn - Easter Sunday
Mirth & Merriment at The Market - Easter Monday


- Saint Patrick's Day
Celebrating St. Patrick's Day in Old Ireland
Irish President's St. Patrick's Day Message - Current
I, Patrick , A Sinner
St. Patrick's Well
O'Reilly Introduces the Russians to a St Patrick's Day Parade.
Celebrate St. Patrick's Day with a real Irish Feast
Madness in Melaque – Saint Patrick's Day Mexican Style
St. Patrick Gets the Party

April Fool's Day
The Borrowed Days (March into April)
Mothering Sunday in Old Ireland
Poems & Lyrics in honour of Irish Mothers

- Beltane (Irish Summer, May 1st)
The Merry Month of May
Should you roll naked in the May Morning Dew?
How to prevent May Mayhem
Beltane Bonfire and Nettle Soup

Marry in May and rue the day
Bright Flames of May

Whitsuntide
The Bloomsday Festival in Dublin

Memorial Day (USA)
The Irish Soldiers in the American Civil War
The Irish Soldiers in World War I
Its a Long Way to Tipperary
Danny Boy - A World War II memory

St. John's Eve -Part 1
St. John's Eve - Part 2

What the 12th means to me - Battle of the Boyne

Watching the weather on St. Swithin's Day

The Galway Races
The Galway Races - Part two
The Galway Races - Part three
Ladies Day at the Galway Races
Lords of the Curragh Ring
Croagh Patrick

- Lughnasadh (Irish Autumn, August 1st)
Celebrating the Harvest
Haymaking in Old Ireland
Season of the Corn
Putting Out the Hare and Putting on the Harvest Knots(After the Harvest)

Puck Fair
Ould Lammas Fair

Annual Novena at Our Lady of Knock

Arthur's Day - A celebration of Substance

St. Michael's Day in Old Ireland

Matchmaking in Lisdoonvarna

- Hallowe'en
How the Irish Invented Halloween
An Irish Hallowe'en - Part 1
An Irish Hallowe'en - Part 2
Protect your property and yourself - Make a Parshell Cross for Hallowe'en
A Triple Treat For Hallowe'en
The Churchyard Bride
Creepy Irish Castles and Houses
Creepy Irish Creatures
Irish Ghosts
Something Wicked this way comes - Irish Ghosts by Region
The Dullahan

Samhain (Irish New Year November 1st)
Samhain - The Irish New Year
The Day after Samhain - All Souls Day

Irish Celebrations - Martinmas
Irish Celebrations - The Feast of St. Martin

- Veterans day/Remembrance Day (Poppy Day)
The Irish Soldiers in the American Civil War
The Irish Soldiers in World War I
Its a Long Way to Tipperary
Danny Boy - A World War II memory

- Advent/Christmas Holidays
An Post at Christmas
Christmas - Preparing the Puddings
An Advent Memory
Christmas Superstitions
Waiting for St. Nicholas
An Irish Christmas - Then & Now
Yes, Kelsey and Maddie, there is a Santa Claus
An Irish Christmas - Ding Dong Merrily On High
Seasons Greetings in Irish
Christmas - Food for the Feast
An Irish Christmas - The Day Before
Memories of Christmas Eve Past
Rowing to Christmas Mass
Time at this Point in the Year
Many Years Ago by John B. Keane
Burying the Baby Jesus
White Washed Walls
An East Cork Christmas
Mumming, a Yuletide Tradition
St. Stephen's Day to New Year's Eve

Artists & Photographers
Harry Clarke

Counties of Ireland
County Map of Ireland

Antrim
Armagh
Carlow
Cavan
Clare

Non - Seasonal Customs
Celebrating a Name Day in Old Ireland
The Stations
Pattern Day in Old Ireland
The Rosary and all the Trimmings
The Child of Prague
Graveside Customs - to Fill or not to Fill

Fables & Folklore
The Tale of Tamlin - The Elf Knight


Festivals
The Galway International Oyster Festival
The Clarenbridge Oyster Festival
Matchmaking in Lisdoonvarna
The Rose of Tralee Festival
Ould Lammas Fair
Puck Fair
The Bloomsday Festival in Dublin

Geneaology
Ireland Genealogy: An Expert's Adventure
Geneology Q&A
Discovering Ireland - In New York
In Search of Ancestors
Gathering the Threads
Have you Lost your Census?
Irish Australian & looking for your ancestors?

History & Heritage
The 1916 Proclamation - Have you Read it?
Inishmurray: Land of Gale, Stone and Fire

Landmarks
Landmarks commemorating The 1916 Rising
A Step back in Time: My Trip to the Great Blasket Island.
The Abbey Theatre
Croagh Patrick
The Holy Wells of Ireland
James Joyce's Dublin
Our Lady of Knock Shrine
The Doors of Dublin
The Phoneboxes of Ireland

Living in Ireland
Yearning to live in Ireland?

Miscellaneous -
Anam Cara
A Bit of the Blather
Brigid of the Songs
Remembering Larry O'Rourke...and why I stopped using "stage Irish"
Discovering Ireland - In New York
A Powerful Woman
A Cold Day in Hell
Elvis: from Carlow to Graceland
In Memory of Bobby Sands
The Famine Memorial - a Haunting Vision
A Letter from America
Gregory Peck's Irish Connection
Meet Oliver Sachs - New Zealand's Number One Irish Dancer
Spakes in Wicklow
Who are the Irish
Sure and begone and begorrah to Oirish Greeting Cards
From our Front Porch
Sleabhac: Manna from the Seashore
Father Mychal Judge - the saint of 9/11
Returning home to Carrigaline

Music - musicians & Composers
The Transition Years - Irish Show Bands
Sean-Nós, The Music of What Happens
The Singing Word
The Music
John McCormack - a Legend Then and Now
The Loss of This Man is Everybody's Loss (Derek Bell)
Dandy of an Irish Yankee - George M Cohan
Mumming, a Yuletide Tradition
Tribute to Turlough (O'Carolan)
The Man Who Saved Our Music - Francis O'Neill
A Tribute to Jimmy Kennedy
The Rose of Tralee
The Rose of Tralee Festival
We Miss you Frank (Frank Patterson)
Michael Carlin's Column's
- John Feeney - The 'Other' Irish Tenor.
- The Irish Music Awards - 2003
- Irish Music - The New generation

Reviews (Books/Music/Movies)
Book Review: Only Golf Spoken Here - Colorful Memoirs of a Passionate Irish Golfer
Book Preview: Whitethorn Woods by Maeve Binchy
Book Review: Full on Irish: Creative Contemporary Cooking
Book Review: Drone On: The High History of Celtic Music
Book Review: Traditional Crafts of Ireland
Book Review: Traveler's Tales - Ireland
Book Review: Everything Irish
Book Review: The Twilight Hour
Book Review: The Star of the Sea
Book Review: The One Who Swears You Can't Start Over by Ethna McKiernan
Book Review: Scarlet Feather by Maeve Binchy
Book Review: 50 Things you didn't know about the 1916 uprising
Book Review: The Glenstal Book of Prayer
Book Review: Kindling the Celtic Spirit
Book Review: McCarthy's Bar
Book Review: An Irish Christmas by John Keane
Book Review: Celtic Wisdom

William Ramoutar
- Music Review: Paul Brady
- Music Review: agus rud eile de - and another thing book & CD
- Music Review: Deanta
- Music Review: Van Morrison at the Movies
- Music Review: The Best of the Chieftains
- Music Review: ChristyMoore
- Music Review: Celtic Love Songs
- Music Review: Driven
- Music Review: Cherish the Ladies
- Music Review: Clannad
- Music Review: Phil Coulter, a profile
- Music Review: The Dubliners
- Music Review: Hammers
- Music Review: irish Ways
- Music Review: Julie Fowlis -- From Uist to West and Beyond!
- Music Review: Loreena McKennitt
- Music Review: Gaelic hit Factory
- Music Review: Maura O'Connell
- Music Review: Stòras - A Real Treasure
- Music Review: Sean Tyrell
- Music Review: Mick Hanly
- Music Review: PaulineScanlon
- Music Review: SharonShannon
- Music Review: StPatrickSongs
- Music Review: Kate Rusby
- Music Review: Daybreak - Fáinne an Lae
- Music Review: Karan Casey and Ships in the Forest
- Music Review: Beoga
-Music Review: In tribute to Liam Clancy, RIP
- Music Review: Let the Circle be Wide - Sands from the heart (Tommy Sands)
- Music Review: Sunny Spells and Super Groups - Solas
- Music Review: Wolfetones

---

Music Review: Whiskers in the Jar
Music Review: What's Wrong with this Picture
Music Review: No Irish Need Apply
Music Review: Never Say No to a Jar
Music Review: Wall of Tears
Music Review: The Bells of Dublin
Music Review: Home for Christmas, The Irish Tenors
Music Review: Irish Drinking Songs For Cat Lovers
Music Review: Mother - Songs Celebrating Mothers & motherhood
Music Review: Celtic Woman
Music Review: Ronan.
Music Review: The Saw Doctors live in Galway.
Music Review: James Galway & The Chieftains
Poetry review: Something beginning with P
Video Review: The Top Ten Movies of All Time.
Video Review: Two videos about St. Patrick
Video Review: An Irish Country Calendar
Video Review: Northern Ireland
Video Review: Into the West
Video Review - The Tiger's Tail

Saints & Scholars
St. Ita, Foster Mother to the Saints of Ireland
St. Brendan, the Navigator
St. Brigid
St. Columcille
St. Kieran of Clonmacnoise
I, Patrick , A Sinner
Modomnoc, The Beekeeper
St. Kevin - Founder of Glendalough

Superstitions
God Between us and All Harm - Irish Superstitions
Christmas Superstitions


Symbols and Emblems of Ireland
The origin of Aran Sweaters
Aran knitwear - From plain and practical socks to one of Ireland's most popular souvenirs
The Book of Kells
The Claddagh Ring
The Irish Clay Pipe
Irish Coffee
Corned Beef 'n Cabbage - The Feeding of a Myth
Irish Crystal
Donegal Tweed
Guinness - For Strength!
The Harp
Horn Rosaries of Ireland
Irish Linen - Kathleen Wilson
Irish Linen
The Potato
The Shamrock
The Shillelagh
Soda Bread
Irish Whiskey
The Irish Wolfhound
Only a Fortress Could Hold Such Treasures - the story of Bunratty Meade
The Connemara Pony

Traveling In Ireland
A beautiful land with beautiful people and a hundred thousand welcomes
A Little Bit O' Heaven - Part I
A Little Bit O' Heaven - Part II
A Little Bit O' Heaven - Part III
Driving in Ireland-Part 1
Driving in Ireland-Part 2
Guide for the first-time traveler
Two ladies of an uncertain age take on Ireland's highways and by-ways
Surf Culture in Ireland - A Brief Introduction
Two Weeks in Heaven - Ireland 2009

Women of Ireland
Catherine Hayes
A Notorious Woman - the story of Grace O'Malley
Constance Georgina de Markievicz - Suffragette, Socialist, Soldier

Writers
Liam O'Flaherty
George Bernard Shaw
W.B. Yeats
Oscar Wilde
How to Savor Ulysses this Summer
Bram Stoker in Honor of his Birthday - 11/8/1847
In My Father's Time - a tribute to Eamon Kelly
A Talk with Joe O'Connor
Many Years Ago by John B. Keane

Alphabetical List of Articles.


Clonmacnoise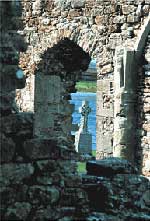 Sat, Nov 1, 2014
Founded in 545 AD by St Ciaran, Clonmacnoise monastery became a religious, literature and arts center for monks all over Europe. They came to study and pray in the "Island of saints and scholars" when the rest of Europe was still in the Dark Ages. Clonmacnoise was totally devastated by fire as well as successive raids but the site retains its stunning features. The view captured in this image has remained relatively unchanged for 1500 years. Clonmacnoise lay in decay until the Office of Public Works began the arduous task of turning this sacred place into one of Ireland's most famous visitors' centres. Interestingly - and we have yet to find out why - for centuries, courting couples have stood on each side of the arch whispering their words of love to each other.
(If you would like to have a print of this photograph, click Clonmacnoise)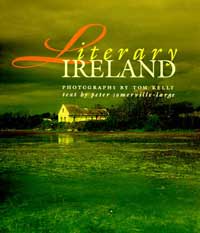 Third in the acclaimed photographic series of the Emerald Isle, Literary Ireland creates a spectacular album of mood and color with photographs that capture the country's landscapes as noted by her greatest writers, such as Joyce and Yeats. 115 color photos. Maps.


Click for Literary Ireland


All contents copyright © 2001 through 2011 inclusive - all rights reserved.
March 4, 2011
The information provided on this site is offered as-is, without warranty. This site's owners, operators, authors and partners disclaim any and all liability from the information provided herein.
Any trademarks or registered trademarks mentioned on this site are the property of their respective owners.