Traditions, folklore, history and more. If it's Irish, it's here. Or will be!
"People will not look forward to posterity who never look backward to their ancestors."
-Edmund Burke
---
Quotes

Library: Books, Movies, Music

Prints & Photos

Poetry

Jokes

---
---
Shops Ireland
---
Bunús na Gaeilge
(Basic Irish)

---
---
Did You Know?
---
Himself/Herself
Write to Us
Readers Write..
Links/Link to Us
---
Advertise with us
---
Awards & Testimonials

Submissions Guide
---
Review: James Galway & The Chieftains In Ireland
by Bridget Haggerty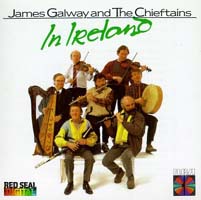 Two of Ireland's most popular music ambassadors team up to produce an outstanding collection of ancient airs, lively jigs and reels, and lush, romantic melodies.This CD has been in our collection for more than ten years and we never tire of listening to it.
Sir James Galway - yes, he's a knight of the realm now - plays with total sincerity and warmth. He and Paddy Moloney created all of the arrangements except for Tristan & Isolde and the result is a magical blending of Galway's classical purity and Moloney's traditionally-inspired brilliance.
Right from the very beginning, with the opening tune - "Roches Favourite" - all the way to the end when hard-shoe dancers join the ensemble for "Up and About", the listener is treated to the very best of Irish music. There are tunes composed by the famous harpist O'Carolan, perennial favorites such as "Danny Boy" and "Carrickfergus", and there's also a superb flute solo by Galway of "She Moved Through The Fair."
When our daughter was planning her wedding, we played this collection many times and used two of the selections. A local Celtic group, Silver Arm, performed "Give Me Your Hand" during the wedding ceremony and we used the actual recording of "Up And About"to signal the end of the reception. All of our guests joined in a jig conga line to exit out of the hall - it was a perfect way to end a memorable day.
Here is the play-list; we checked on amazon and you can hear a sample of every cut except one, which is very unusual:
1. Roches Favourite (Set Dance)
2. Fanny Power/Mabel Kelly/O'Carolan's Concerto
3. Carrickfergus (Air)
4. Down By The Sally Gardens (Air)
5. Give Me Your Hand (Composed in 1603 by the blind Derry harpist Rory Dall O'Cathan
6. She Moved Through The Fair (Flute Solo)
7. The Red Admiral Butterfly (Slip Jig)
8. Danny Boy (Air)
9. Crowley's Reel
10. Tristan And Isolde (Love Theme and March from the film, composed by Paddy Moloney)
11. Alleluia
12. When You And I Were Young, Maggie
13. The Humor Of Kilfenora/The Independent (Hornpipes)
14. Avondale (Air)
15. Up And About (Kerry Slides)
We don't use the word fantastic very often, but in this case, it's most appropriate to describe this entire recording. We just wish that Sir James and Paddy would give us a sequel! That said, don't take our word for it - click here to listen to samples and see if you don't agree: James Galway & The Chieftains in Ireland


Fri, Feb 2, 2018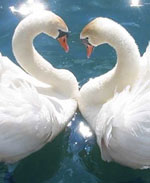 Irish God and Goddess of love
Oengus is the Irish God of love, beauty and youth. According to the old folklore, his kisses became birds. It is also said that he dreamed of a beautiful maiden, named Caer, for whom he searched all over Ireland. Eventually, he found her chained to 150 other maidens, destined to become swans at the time of Samhain. Legend has it that Oengus transformed himself into a swan and was united with his love.
Aine of Knockaine is the Irish Goddess of love. She is also known as the Fairy Queen of Munster and as a goddess of fertility beause she has control and command over crops and animals, especially cattle. Another name by which she is known is Aillen. To learn more about Irish mythology, please click Irish Myths & Legends.
Photo Credit: Wikipedia

Click for More Culture Corner.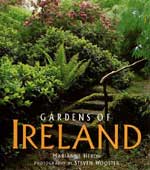 Gardens of Ireland
Visit 30 of Ireland's most beautiful gardens. Includes a stunning collection of 200 full-color photos.


All contents copyright © 2001 through 2011 inclusive - all rights reserved.
March 4, 2011

Rollover button Images:
Wedding LaRose, Kids Reading & Kitchen Apples and Tea from All Posters prints.
The information provided on this site is offered as-is, without warranty. This site's owners, operators, authors and partners disclaim any and all liability from the information provided herein.
Any trademarks or registered trademarks on this site are the property of their respective owners.

This Web Site Bashed, Kicked & Glued together by Russ Haggerty.