Traditions, folklore, history and more. If it's Irish, it's here. Or will be!
"People will not look forward to posterity who never look backward to their ancestors."
-Edmund Burke
---
Quotes

Library: Books, Movies, Music

Prints & Photos

Poetry

Jokes

---
---
Shops Ireland
---
Bunús na Gaeilge
(Basic Irish)

---
---
Did You Know?
---
Himself/Herself
Write to Us
Readers Write..
Links/Link to Us
---
Advertise with us
---
Awards & Testimonials

Submissions Guide
---
The Legend of the Claddagh Ring
by Bridget Haggerty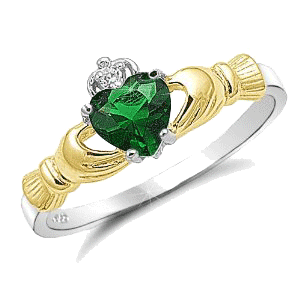 According to 16th-century Irish folk lore, a fishing boat from the village of Claddagh was captured by Algerian pirates and the crew was sold into slavery. One of the crew was a young man by the name of Richard Joyce, who was to be married the same week he was captured. Instead, Richard found himself far away from his love and his homeland.

He was sold to a wealthy Moorish goldsmith who taught him the trade and, eventually, he became skilled enough to design a ring of special significance: the hands were for friendship, the crown was for loyalty, and the heart was for love.

Years went by, but Richard never forgot his sweetheart. Somehow, he managed to escape and make his way home to Ireland. When he arrived back in Claddagh, he discovered that his girl had never married. They were wed immediately, and the ring he gave her was the one he had designed and made while he was a slave.
Over the years, the design became extremely popular as a betrothal or wedding ring and took on even more significance. Worn on the right hand with the heart pointing out means that the heart is uncommitted. Worn on the same hand with the heart pointing in means that the heart is taken. Worn on the left hand with the heart pointing in means "Let Love and Friendship reign forever, never to be separated."
In the old days, Claddagh rings were worn widely by women on the west coast and off-shore islands of Galway. Often representing the sole major investment of a fishing family, they were handed down from mother to daughter. Now, many couples, even those not of Irish descent, are choosing the Claddagh symbol for their engagement and wedding rings. They are widely available, as are a wide range of other Claddagh accessories from earrings to cuff links. But one word of caution: it is said to be very bad luck for a person to purchase a Claddagh ring for themselves. It must be given or received as a gift.



The hands are for friendship
The heart is for love
And the crown is for loyalty
Held high above.

Photo Credit: Just one of many from the Claddagh Collection on Amazon
Illustration: Russ Haggerty (& not very good either)
Fri, Nov 3, 2017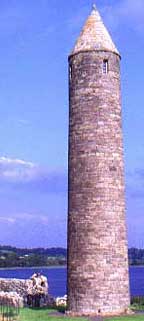 The Round Towers
The Round Towers of Ireland are remarkable among the world's ancient monuments; one author has called them 'Elegant, free-standing pencils of stone.' Today, 65 survive in part or whole. Hand-crafted in native stone and cemented with a sand, lime, horsehair and oxblood mortar - a technique imported from Roman Britain - it's said by many historians that they were built by monastic communities to thwart Viking invaders. And yet, there's reason to believe that the towers were built long before Christianity came to Ireland. Whatever their origins, monasteries did indeed flourish where the round towers existed. And why not. These imposing edifices provided a watch tower, a keep and a refuge.
Image: By kind permission of Stephen Cassidy, The Cassidy Clan.


Click for More Culture Corner.
All contents copyright © 2001 through 2011 inclusive - all rights reserved.
March 4, 2011

Rollover button Images:
Wedding LaRose, Kids Reading & Kitchen Apples and Tea from All Posters prints.
The information provided on this site is offered as-is, without warranty. This site's owners, operators, authors and partners disclaim any and all liability from the information provided herein.
Any trademarks or registered trademarks on this site are the property of their respective owners.

This Web Site Bashed, Kicked & Glued together by Russ Haggerty.