Traditions, folklore, history and more. If it's Irish, it's here. Or will be!
"People will not look forward to posterity who never look backward to their ancestors."
-Edmund Burke
---
Quotes

Library: Books, Movies, Music

Prints & Photos

Poetry

Jokes

---
---
Shops Ireland
---
Bunús na Gaeilge
(Basic Irish)

---
---
Did You Know?
---
Himself/Herself
Write to Us
Readers Write..
Links/Link to Us
---
Advertise with us
---
Awards & Testimonials

Submissions Guide
---
Irish Music Awards 2003
by Michael Carlin

October is an important month in the calendar for Irish folk and traditional music enthusiasts. Each year, at this time, readers of the Irish Music magazine vote for their favourite artists and albums and the winners are presented with their awards at a gala concert in Dublin's National Concert Hall.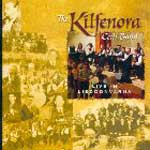 This year the ceremony took place on Tuesday, October 7th and, as you can imagine, it was a night to remember.

In the Traditional section the 'Album Of The Year' award went to The Kilfenora Ceili Band from Co. Clare for the CD "Live From Lisdoonvarna."
Celebrating 100 years together (no, not with the original line-up!) the Kilfenora are now something of an institution. In recent years they have managed to re-invent themselves and have graduated from being regarded just as a ceili band to being recognised as one of the finest traditional music groups in the country. It is still very much a family affair with many of the ten strong group directly descended from the original members.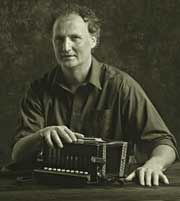 Accordionist Brendan Begley is the 2003 'Best Traditional Male' and 'Best Traditional Female' is the stunning young fiddle player Máiread Nesbitt. I was pleased that the 'Best Live Act' went to Altan who continue to captivate audiences all over the world with the quality of the vocal and instrumental music. Finally, in this section, the all male group Téada were chosen as the 'Best Newcomers'

Moving on to Folk the readers choice of 'Album Of The Year' was Finbar Furey's "Irish Love Songs."
As they say, everyone to their own choice but I have to say that it would not have featured anywhere in my own Top 10. However, no argument with the choice of 'Best Male' or 'Best Female' Folk Artist Of The Year -- won respectively by Sean Keane and Karan Casey. They are both now firmly established at the top of their own particular ladders.

Sinead O'Connor's "Sean Nós Nua" came out on top as the 'Best Contemporary Album.' For someone who has recently announced her retirement Sinead's profile is higher than ever. Most times Sinead is in the headlines for the wrong reasons but when she allows the music to speak for her, she has very few equals.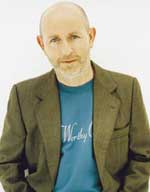 Our very own Kieran Goss is, once again, the 'Best Contemporary Male' and it couldn't happen to a nicer guy. Kieran is from the little village of Mayobridge, just three miles up the road from us here in Newry and we have watched with pride as he has made the transition from the small folk clubs of Co. Down to the national and international stage. Well done Kieran!
Who else but Mary Black would you have chosen as 'Best Contemporary Female?' Many would say that she had a quiet year in terms of personal appearances but she still managed to release one of the finest albums of 2003 -- the "Live" double CD/DVD collection. Mary was also recognised for her outstanding RTE documentary which was named 'Best TV Programme.' The 'Best Radio Programme' also went to RTE for their consistently excellent "Late Session."

There were also a number of 'Special Awards' -- 'Best Crossover Album' was won by The Chieftains for their excursion into Country Music -- "Down The Old Plank Road."
Irish folk music fans have really taken to the English folk singing star, Kate Rusby to whom they awarded 'Best Overseas Album.' This was for her superb CD "Ten."
There was only ever going to be one winner in the 'Best Compilation' section. "A Woman's Heart, A Decade On" walked away with it proving, once again, that when it comes to female vocalists, Ireland leads the world.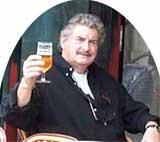 I was particularly pleased to see that the winner of the 'Contribution To Song Writing' award went to Pete St. John. Pete has written so many classics over the last 30 years including "The Fields Of Athenry" (now adopted as Ireland's Sporting National Anthem) and the wonderful "Rare Aul Times." Both these great songs feature prominently in the 'party piece' repertoire of yours truly.

Each year there is a 'Lifetime Achievement' award which for 2003 went to The Dubliners. After over 40 years on the road their energy and enthusiasm is as fresh as ever.

That's all for this month. As always you can contact me at -- Irish Music International.com -- We have the best selection of Irish music on the web.


Images:
Kilfenora Caeili Band from their CD Live at Lisdoonvarna

Brendan Begley

Pete. St. John from his web site. We are waiting for formal permission - but we don't think he'll mind!


Michael would also be pleased to answer any general Irish music queries. To contact Michael, click Michael Carlin.



BIO:
Michael's family has four decades of experience in the Irish music business and they have earned an unrivalled reputation for quality and service; they have long been regarded as the leading independent source for all areas of Irish music. Carlin Records was one of the leading independent home entertainment retailers in Ireland and incorporated into this was a highly successful concert ticket agency with the third highest turnover in the country.

As for himself, Michael is heavily involved in a number of local charitable and cultural organizations - everything from Newry Cathedral choir to Newry & Mourne Good Relations Forum. He attends a large number of 'live' events during the year - folk and traditional concerts, drama, and musicals; he is also very interested in classical music and tries to get to as many Ulster Orchestra concerts as he can. Reading, cinema, politics/current affairs, all kinds of sport (particularly GAA), and walking are just a few of his many interests.


Thu, Dec 7, 2017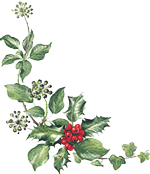 Holly and Ivy hanging up and
something wet in every cup*
Not so long ago, Irish Christmas decorations were much simpler than they are now. The children gathered holly and ivy for adorning, windows, doorways, mantles and pictures, and the father would carve out a turnip in which would be placed a large red candle. This would go in the window to light the way for the Holy Family on Christmas Eve. Only in relatively recent times did an Irish family have a Nativity scene and a decorated tree in the house. As for Mistletoe, it's quite rare in ireland and is generally associated with ancient Celtic and Druidic fertility celebrations; this is most likely where the custom of kissing under the mistletoe comes from.
*Old Irish Christmas toast
Image: Pashley Manor Gardens.

Many of John McCormack's recordings have been remastered and are available on amazon.
Click here for My Wild Irish Rose - just one of dozens from which to choose.

---
June 14th is John McCormick's birthday here is a splendid recording which includes him singing many old favorites.
Click here for Legendary Tenors
---
All contents copyright © 2001 through 2011 inclusive - all rights reserved.
March 4, 2011

Rollover button Images:
Wedding LaRose, Kids Reading & Kitchen Apples and Tea from All Posters prints.
The information provided on this site is offered as-is, without warranty. This site's owners, operators, authors and partners disclaim any and all liability from the information provided herein.
Any trademarks or registered trademarks on this site are the property of their respective owners.

This Web Site Bashed, Kicked & Glued together by Russ Haggerty.