Traditions, folklore, history and more. If it's Irish, it's here. Or will be!
"People will not look forward to posterity who never look backward to their ancestors."
-Edmund Burke
---
Quotes

Library: Books, Movies, Music

Prints & Photos

Poetry

Jokes

---
---
Shops Ireland
---
Bunús na Gaeilge
(Basic Irish)

---
---
Did You Know?
---
Himself/Herself
Write to Us
Readers Write..
Links/Link to Us
---
Advertise with us
---
Awards & Testimonials

Submissions Guide
---
Irish Celebrations & Feast Days - Martinmas
by Bridget Haggerty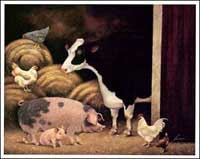 Ready to scatter the blood of a fresh-killed animal on your threshold and in the four corners of the house? It's what they did in old Ireland on November 10th, which is Martinmas - the eve of the feast of St. Martin.

Autumn in Ireland often brings a cold snap followed by some mild, lovely weather. Similar to Indian Summer in the United States, this brief interlude before winter sets in is called Martinmas Summer.

In the old days, as in many countries that were predominantly rural, this time of year was spent in preparation for the hard months ahead. The harvest was in, and depending on how successful the growing season had been, farm families were able to estimate how much they would have to feed themselves and their livestock. Inevitably, there were always animals that couldn't earn their keep; these would be the fowl that didn't lay eggs, the cattle that didn't give milk; animals that couldn't produce offspring, and the ones that, because of youth, age or disability, couldn't pull their weight.
And then there were the pigs. They'd been feasting all summer and by St. Martin's Eve, would be plump and full of flavor. In any event, the livestock that could not be wintered over would be sold, given away, or slaughtered to provide the family a supply of meat for winter. Whatever wasn't used immediately was salted, cured and stored in oak barrels where it would last for many months.
In pre-christian Ireland, it was the custom to sacrifice an animal on St. Martin's Eve and then sprinkle drops of its blood on the threshold, as well as in the four corners of the house. This was done to drive off any evil spirits and also to ensure prosperity for the coming year. History tells us that the animal most often selected for this ritual was a pig. Most likely, this was because it was the commonest and smallest of the domestic animals. Whatever was sacrificed, the sacrificial animal was later cooked and provided a hearty meal for the family. If it was a large animal, portions were traditionally shared with those who were less fortunate.
To this day, while the ritual of sprinkling blood may have long died out, it is still customary in Ireland to make a meal of fresh pork on St. Martin's Eve.

Read our article: The Feast of St. Martin
Image: Family Farm by Lowell Herrero from All Posters and Prints.


Thu, Apr 20, 2017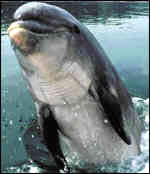 Fungie, the Dolphin of Dingle Bay
The dolphin is one of Ireland's most fascinating mammals and Fungie is the most famous. He is a fully- grown bottlenose who is 13 feet (4 meteres) long and weighs about 500 lbs or around one-quarter tonne.
Fungie was first noticed in 1984 when Paddy Ferriter, the Dingle Harbour lighthouse keeper, began watching a lone wild dolphin escort the town's fishing boats to and from port.
Later that year, it became officially recorded that Fungie was a permanent resident of the entrance channel to Dingle and the self-appointed "pilot" of the fleet.
Over the years Fungie has developed from a timid but inquisitive observer of the human visitors into a playful, though mischievous, companion. From observation of marks on his body, it seems that he does 'interact' with other whales, dolphins or porpoises, proving perhaps he is neither hermit nor outcast from his own kind, but rather that he is simply content to spend most of his time in and around Dingle Bay.


Click for More Culture Corner.