Traditions, folklore, history and more. If it's Irish, it's here. Or will be!
"People will not look forward to posterity who never look backward to their ancestors."
-Edmund Burke
---
Quotes

Library: Books, Movies, Music

Prints & Photos

Poetry

Jokes

---
---
Shops Ireland
---
Bunús na Gaeilge
(Basic Irish)

---
---
Did You Know?
---
Himself/Herself
Write to Us
Readers Write..
Links/Link to Us
---
Advertise with us
---
Awards & Testimonials

Submissions Guide
---
Book Review: McCarthy's Bar
by Bridget Haggerty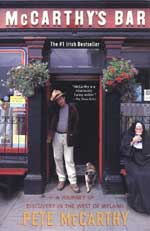 A Journey of Discovery in the West of Ireland. McCarthy's 2nd Rule of Travel: "The More Bright Primary Colours and Ancient Celtic Symbols Outside the Pub, the More Phoney the Interior." Pete McCarthy's 8th rule of travel: "Never Pass a Bar That Has Your Name on It." Haggerty's 1st Rule of Travel: If you've never been to Ireland, be sure to read this book before you go.

We bought McCarthy's Bar after our last trip to Ireland and we were delighted to discover that the author had taken a very similar route to ours. It brought back many memories and a wistful longing to immediately hop on a plane and do it all over again.
English-born to an Irish mother, Pete McCarthy spent childhood summers with relatives in West Cork. In this often side-splitting book, we get an adult perspective on a journey around the south and west of Ireland which culminates in a visit to Lough Derg, an ancient penitential retreat.
He narrates a series of hilarious and surprising adventures with an acerbic eye and a comedian's gift for timing. As with all good travelers, he encounters an eclectic assortment of characters, including a pagan Christian priest who's rejected the Church, an Anglo-Irish Marquess, eccentric and talkative bachelors and landladies who turn up in pubs, B&Bs, and the middle of the road.
Throughout his journey, McCarthy skilfully mines a rich comic vein, yielding hilarious stories that made us laugh out loud. He strikes some serious notes, too, adeptly capturing the impact of Ireland's recent social changes, from its astounding economic growth to the "bungalow blight" marring the beautiful countryside. He visits places where historic tragedies still loom large; his account of a mass grave for potato famine victims is simple and moving.
McCarthy writes in an entertaining manner, filling his book with numerous anecdotes that underscore the warmth, intelligence, and endearing ways of the Irish people. Early chapters on modern-day hippies living in West Cork and an all-night bash on the Beara Peninsula are just two examples. In addition, while driving along the west coast of Ireland, the author makes some astute observations about the Irish landscape and how it has been shaped by Irish history. "Crossing the River Shannon," says McCarthy, "has less to do with geography than it does with outlook." Unlike England, the author's home, the Irish landscape of counties Clare, Galway, Mayo, and Donegal remain largely untouched by man, and the approach to life is relaxed and unhurried.
Fundamental to the success and enjoyment of this book is how McCarthy has mastered the art of getting creatively lost. He wanders the back lanes of Ireland where the hype of tourism has yet to arrive; he pursues stone circles, impossibly romantic ruined abbeys, and, of course, he ends up in a lot of the local pubs. What he discovers is that "In Ireland, the unexpected happens more than you expect," which makes for a most unusual tour through one of the most beautiful, friendly, and quirky places on earth.
When we pack our suitcases for the next trip, McCarthy's Bar is going with us. A reviewer from Dublin says it all :
As a native Irishwoman I thoroughly enjoyed this book from start to finish. Mr McCarthy definitely understands the Irish at their best and worst. He truly captures the Ireland and Irish of today and not the American version that includes scenes from The Quite Man or chapters from Angela's Ashes. I would recommend that anyone who is of Irish descent or plans to visit Ireland read this book it will give you a good understanding of the Irish people; we're an irreverent, funny and unique bunch.
Resources: Content edited and adapted from editorial and reader reviews on amazon. There were marvelous lines and paragraphs that echoed our own opinion. We unashamedly clipped, cut and borrowed the words we liked the best.
Click here for more details: McCarthy's Bar


Fri, Nov 3, 2017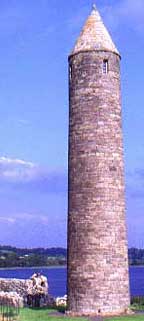 The Round Towers
The Round Towers of Ireland are remarkable among the world's ancient monuments; one author has called them 'Elegant, free-standing pencils of stone.' Today, 65 survive in part or whole. Hand-crafted in native stone and cemented with a sand, lime, horsehair and oxblood mortar - a technique imported from Roman Britain - it's said by many historians that they were built by monastic communities to thwart Viking invaders. And yet, there's reason to believe that the towers were built long before Christianity came to Ireland. Whatever their origins, monasteries did indeed flourish where the round towers existed. And why not. These imposing edifices provided a watch tower, a keep and a refuge.
Image: By kind permission of Stephen Cassidy, The Cassidy Clan.


Click for More Culture Corner.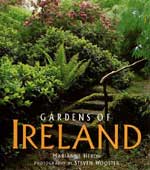 Gardens of Ireland
Visit 30 of Ireland's most beautiful gardens. Includes a stunning collection of 200 full-color photos.