Traditions, folklore, history and more. If it's Irish, it's here. Or will be!
"People will not look forward to posterity who never look backward to their ancestors."
-Edmund Burke
---
Quotes

Library: Books, Movies, Music

Prints & Photos

Poetry

Jokes

---
---
Shops Ireland
---
Bunús na Gaeilge
(Basic Irish)

---
---
Did You Know?
---
Himself/Herself
Write to Us
Readers Write..
Links/Link to Us
---
Advertise with us
---
Awards & Testimonials

Submissions Guide
---
Returning home to Carrigaline, Co, Cork
by Patrick Joseph Soule

I had always heard stories from my Mom and Da about their grand parents having come from Co. Cork, but not knowing where. Cork is huge compared to some of the counties and we all know of the struggles of finding birth records. A lesson to all the young people who may read of this journey - if your parents tell you something, you should listen.

My Mom kept telling me I should visit my Uncle Bud, who lived in the small town of Lisbon, Maine; we're from the big city of Lewiston, population 42,000, second largest city in the great state of Maine. I was on active duty in the Navy for twenty years and never heeded my Mom's advice, although I had a love of history and especially family history. My Da's Mom was a McCarthy and we had a lot of the family history already documented, except for the birthplace of my great grandfather, John Wallace McCarthy.

In 2005, I was visiting Ancestry.Com and entered the Harrington family general forum page. I decided to place a query and left information that my Uncle Bud had been writing a cousin, named Tom Harrington, in the early 60s. I had to go to the web site as Bud was in the advanced phase of Alzheimer's and wasn't available. In the query, I mentioned that Tom had stated his address was Ardnalea, Carrigaline, Co Cork. Looking at Ardnalea, I had no idea what that was — a town, village, pub. So I submitted the query and the very next day I received a response. It was from a Frank Thompson who lived in NYC, but was originally from the Boston area. He related a story how he had visited Carrigaline on a number of occasions and had indexed and developed a spreadsheet of all the records from the local parishes in and around Carrigaline, and he did find my great grandmother, Margaret "Marge" Harrington. He suggested that I write Sheila & Jerry Harrington in Carrigaline as they knew everyone in town.

In the 1960s, Carrigaline was a town of 400 with seven pubs; today as a bedroom community of Cork city, there are 24,000 residents with five pubs. (You can't tell me that the DUI laws in Ireland haven't had an adverse affect on business!)

So I wrote Sheila and Jerry, thinking they were just another Harrington family. About seven weeks later I received a letter postmarked Uxbridge, England and inside I find a letter from the very same Tom Harrington, who is FATHER Tom Harrington, a Catholic priest, retired and serving as the Chaplain for a Marian House for retired religious sisters. Father Tom provided his phone number and I called him immediately; he tells me that Jerry is his first cousin. He had received a phone call from his sister who lives in Passage West and told him about the letter I wrote to Jerry. Well, this turn of events led me to tell my wife, Ginny, in March 2005 that we needed to go to Ireland to meet my family.



We originally, planned on being in Dublin for St. Patrick's Day 2006, but delayed it so we could spend our 30th wedding anniversary there on April 2nd. In October, we had made the travel reservations and I contacted Father Tommie; in the post I received in reply, he invited us to stay in his boyhood home, Grotto View on Upper Kilmoney Road. His brother David's (deceased) widow, Anne, still lived in the home and had agreed to let us stay with her in the home. As Father Tommie related, Ardnalea was the name of the first home the family lived in on Lower Kilmoney Road, his brother Sean inherited that home and his children still reside in the house.

My wife and I left for the trip and spent time in Doolin, visited the Cliffs of Moher, and also Thoor Ballylee, the home of William Butler Yeats in Galway.

On Sunday April 2nd , our anniversary, my wife and I attended Mass at St Mary's Pro-Cathedral in Dublin. The Mass was conducted in English, Latin and Irish and the Palatine Choir sang. The Cathedral held special meaning for me as my Pastor of the church I attended in Lewiston, Maine-Monsignor James Savage of St Joseph's-received the Sacrament of Ordination there in 1925.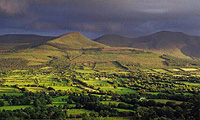 We headed south the next day spending a night in Cashel, visiting the Rock. Next day we drove to Cork via the Glen of Aherlow and headed over the VEE from Clogheen to Lismore on R668 and onwards to Carrigaline. Father Tom met us at Rathcormack on the N8 and we shared a very special private moment. I was taking the place of my Uncle Bud who had passed away November 11, 2005. On the night of our arrival, he took us down to Carrigaline Soccer Club and there was a gathering of over 50 cousins and their families to welcome Ginny and I home. I was completely taken by surprise and I don't even remember meeting half of the family as I was dazed most of the night.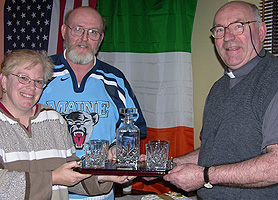 The highlight of the night was hearing Father Tom sing the beautiful Danny Boy and his presentation to us of a decanter set of Galway crystal with a bronze inscription, "From Carrigaline, Co Cork, Irl 1898-2006 Marblehead, ME". Well Marblehead is in Massachusetts, but the sentiment was germane. I was the first descendent of Marge Harrington Junkins to return home in 108 years and I will never forget the welcome my family gave me and Ginny.

A postscript - about six months after the journey, I received a letter from a McCarthy cousin who told me that John Wallace McCarthy hailed from Enniskean, about 6 miles West of Bandon, which I had journeyed through. Know what that means? I will be going back - and soon.

Photo Credits:
Glen of Aherlow: Como/The Glen of Aherlow Fáilte Society

ED. NOTE: This page also features a video of the glen and shows the VEE wich Padraic mentions on his way to Carrigaline. The VEE is the view from the Galtee Mountains.

All other photos by Padraic & Ginny Soule.


Fri, Feb 2, 2018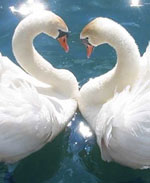 Irish God and Goddess of love
Oengus is the Irish God of love, beauty and youth. According to the old folklore, his kisses became birds. It is also said that he dreamed of a beautiful maiden, named Caer, for whom he searched all over Ireland. Eventually, he found her chained to 150 other maidens, destined to become swans at the time of Samhain. Legend has it that Oengus transformed himself into a swan and was united with his love.
Aine of Knockaine is the Irish Goddess of love. She is also known as the Fairy Queen of Munster and as a goddess of fertility beause she has control and command over crops and animals, especially cattle. Another name by which she is known is Aillen. To learn more about Irish mythology, please click Irish Myths & Legends.
Photo Credit: Wikipedia

Click for More Culture Corner.
Culture Shock
by Patricia Levy.

We have this book and it's a gem. We now wish we had this up-dated edition. But don't take our word for it - here's another opinion from an amazon reviewer: This is not your average travel book containing descriptions of places, events, lodging, exchange rates, etc. Instead, it gives the nitty gritty on how to conduct yourself in your day-to-day life. Especially enjoyable was the chapter entitled "Paddies", which gives a valuable groundwork in dispelling myths and stereotypes surrounding the Irish and Ireland. Entertaining and informative, this book will help visitors to Ireland get more out of their visit.
Click here for Culture Shock.