Traditions, folklore, history and more. If it's Irish, it's here. Or will be!
"People will not look forward to posterity who never look backward to their ancestors."
-Edmund Burke
---
Quotes

Library: Books, Movies, Music

Prints & Photos

Poetry

Jokes

---
---
Shops Ireland
---
Bunús na Gaeilge
(Basic Irish)

---
---
Did You Know?
---
Himself/Herself
Write to Us
Readers Write..
Links/Link to Us
---
Advertise with us
---
Awards & Testimonials

Submissions Guide
---
Meet Oliver Sach, New Zealand's number one Irish dancer...
by Bridget Haggerty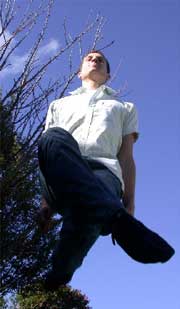 Not yet 21, he is already considered to be one of the best dancers of his generation – his highest achievements to date being 9th in the world, 2nd in North America, and that incredible first place position in his home country.

Second youngest in a family of six children, Olly has been dancing for nearly 14 years - long before Riverdance made its debut and influenced so many children and adults to take lessons. Says Olly, "I was about 7 years old when my mother first encouraged me to go into my first Irish dance class. My older sister was already a dancer and I wanted to learn myself so I don't think I had to be bribed! The first class I attended was not at all a success, I was the only male in a class of at least 15 girls!"

From that somewhat humble start, Olly developed an enduring passion for his lessons and swiftly moved up through the competitive ranks. Today, standing a full 6' 2" and at a mean, lean, 175 pounds, he's an imposing figure on stage - and that's before he puts on the shoes that will have this Kiwi from Auckland challenging other wannabee 'feet of flames.'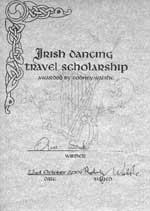 The achievements he is most proud of include 2nd place at the 2001 North American Championships and winning the New Zealand title in 1998, 1999, 2000 and 2001. At the 2001 Nationals he also won the 18+ Mixed Ulster Cup Jig Championship (male and female dancers), and he was awarded the Worlds Scholarship by the overseas adjudicators on behalf of the Honorary Irish Consulate General. The award consisted of $2500 towards his travel arrangements for the 2002 World Irish Dancing Championships held in Glasgow.

When he feels he has fulfilled his solo dancing career to its fullest he plans to sit for his TCRG* and run his own Irish Dance studio. He also hopes to pass the test for the ADCRG** once he turns 30 years old so that he can also start adjudicating internationally.
*TCRG stands for Teasgicoir Choimisiuin Le Rinci Gaelacha, which means Gaelic Commission Dancing Teacher. To dance in a Feis, (fesh) a dancer must be instructed by a TCRG.
**ADCRG stands for Ard Diploma Choimisiuin Le Rinci Gaelacha, which is the highest diploma in Irish Dancing. Adjudicators - the people you see judging each dancer, have this certification.

To better understand what Olly has achieved, to qualify for the Worlds, judges must determine if dancers are good enough to compete for the title. Sometimes even first-place winners of regional competitions - called Oireachtas - don't earn that distinction in the judges' eyes. Irish dancers are judged on timing, execution, carriage of the body, difficulty of steps and overall ability. Competitions come under the Irish Dancing Commission, which is the world-wide governing body. To dance in the Irish World Championship, which is held Easter week at a different location in Ireland every year, a dancer must first qualify in their home country.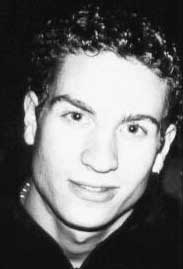 Certainly, this is one student who didn't have to be constantly told, "turn your toes out!" To get to know him a wee bit better personally, Olly was gracious enough to answer a series of questions - some about his dancing...and some not!

Q. What, if any, has been the impact of Riverdance on you as a dancer?
A. Because I began Irish Dancing long before any of the Irish dance shows, it did not serve as an incentive like it has for so many young (and older) dancers of today. For me it served more as an encouragement to keep it up. It made me feel proud to be an Irish dancer and have the ability to do something so many people now envy.

Q. What single thing do you love about Irish dancing?
A. The girls! Irish dancing enabled me to meet my girlfriend, Emily Anson of Cincinnati, and that alone is reason to love Irish dancing. I also enjoy the feeling I get when the hard work pays off and I win or place well at international level events.

Q. How do you feel when you are dancing?
A. It depends - most of the time it's the feeling of "how the hell am I gonna get through this!" but there is many a moment when the adrenaline and excitement kicks in creating a sense of pride in what I am doing.

Q. How often do you practise? And for how long?
A. It depends. If I am building up to a big event, such as the North American Championships, I will try to put in at least 2 hours a day on my own and then two 3 hour classes a week with my teacher, Sean Hallissey. It is a real struggle combining practise with my job so this tends to get more than halved on a normal basis.

Q. What is your favorite step?
A. I'm not sure I have a favourite step but I do enjoy dancing the light reel the most.

Q. Do you have an Irish dancing idol?
A. Not so much an idol but rather a person I have great respect and admiration for. That would be Micheal Flatley. I love his shows Lord of the Dance and Feet of Flames and admire the way he took Irish dancing into a new dimension when he first created Riverdance. He has done a lot for Irish dancing worldwide especially for male Irish dancers by extinguishing the stigma associated with being a male dancer.

Q. What do you think of the wigs the girls are now wearing?
A.There is obviously a practical side to their use but I do feel is it a shame that a certain falseness has been introduced and is now considered the norm. Saying that, I have never had to sleep with curlers in my hair so I shouldn't be the one to pass an opinion!

Q. You've been competing for many years; do you have any advice or tips you would like to share with other competitors - especially those who are just starting out?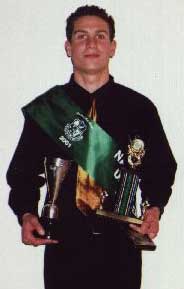 A. Well the first thing you need to do is decide whether you want to be a champion or not. If you do, then be prepared to put in the hard-yards. There will be many times when you want to give it away but if you stick with it you will be rewarded in the end. You need to be robust and able to take the knocks. And lastly, the only person who will make you a champion is you. I have always respected the saying "Talent is what you are capable of. Determination will determine how good you get. Attitude is what will get you there."


Q. Do you watch your diet to stay in shape?
A. No. I eat far too much junk food but seem to be one of those lucky ones that never put on weight! Leading up to a competition I do make an effort to eat a healthy diet though.

Q. If you were being totally decadent, what is your favorite food?
A. Italian is my favourite type of food, along with a nice glass of New Zealand Chardonnay or Sauve Blanc.

Q. How does it feel to be #1 in New Zealand?
A. It is fantastic having that champion status but probably the motivation it gives me to achieve even more internationally is what I like about it most.

Q. Would you like to share anything about your folks? Were either of them Irish Dancers?
A. Interestingly enough, neither of my parents have immediate Irish ancestry nor did they do Irish dancing. My mother was born and raised in rural New Zealand while my father was born and raised in London before emigrating to New Zealand. Both enjoyed Irish music and everything started there. Irish dancing did not come into the picture until much later when my older sister, Gabrielle, started dancing. Then a few years later I started as well.

Q. Besides Gabrielle, are there any other dancers among your brother and sisters?
A. I have a sixteen year old brother, Francis, who has been very successful since he began dancing at age six. He was the Australian Champion for a number of years before the championships were closed and is also a New Zealand Champion with a record that goes a long way back! He is a truly talented dancer and a great little bro' to have around when it comes to making up new dances!

Q. What do you do when you're not dancing? Hobbies? Work? School?
A. I graduated from high school in 2000. Nowadays, a large proportion of my time is spent working. I work at a senior management level for Farmers Trading Company (a large department store chain). When I have some free time, and depending on the season, I enjoy the beach and surfing. Cars are also a big passion of mine so I often spend hours working under the bonnet of my own car!

Among our many questions was one about what Irish dancing meant to him:
"Irish Dancing has given me many things including a strong determination and resilience. It has given me the opportunity to achieve great things, and experience the rewards of hard work. I have also been able to travel to many places and meet so many wonderful people from all corners of the world, including my girlfriend of three years, Emily Anson."

In researching this article, we have learned a lot about Olly from different sources. One characteristic sticks out above the rest - his drive to be a champion. Never mind that he has already earned that status on any number of stages - 'rusting on his laurels' isn't what Olly Sach is all about. As this is being written, one can be certain that he is already preparing both mentally and physically for the next competition - and whether it's local or international, he will give it his all. It's safe to say that even when his days of competing are behind him, Olly can look forward to being a success in whatever field beckons him next. The necessary attributes of hard work, discipline, and a firm focus on the goal are already as well-honed as his light reel or hornpipe.

NOTES:
Olly began Irish Dancing at Bredesen School of Irish Dancing. Now he dances for the Kay-Hallissey School of Irish Dancing directed by Shealagh Hallissey ADCRG. Ms Hallissey is one of Irish Dancing's most respected adjudicators and regularly adjudicates at events including the World Championships, North American Championships as well as events in Australia.


Images: From Olly.



Fri, Feb 2, 2018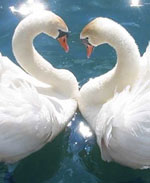 Irish God and Goddess of love
Oengus is the Irish God of love, beauty and youth. According to the old folklore, his kisses became birds. It is also said that he dreamed of a beautiful maiden, named Caer, for whom he searched all over Ireland. Eventually, he found her chained to 150 other maidens, destined to become swans at the time of Samhain. Legend has it that Oengus transformed himself into a swan and was united with his love.
Aine of Knockaine is the Irish Goddess of love. She is also known as the Fairy Queen of Munster and as a goddess of fertility beause she has control and command over crops and animals, especially cattle. Another name by which she is known is Aillen. To learn more about Irish mythology, please click Irish Myths & Legends.
Photo Credit: Wikipedia

Click for More Culture Corner.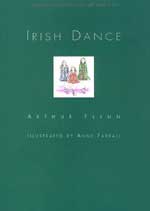 Irish Dance
by Arthur Flynn

Irish dance has captured the imagination of people across the world. Huge crowds flock to see exciting shows rich in colour, action and drama. These spectacular displays of dizzying motion and music have deep roots in Irish history and within the pages of this authoritative book, the author details the story of Irish dance, from its beginnings to the present day.
Click here for Irish Dance

---
The world's only full color, glossy magazine, totally devoted to Irish dancing and distributed worldwide. It contains top news and gossip, interviews with all the dance stars, competitions and giveaways, results from worldwide Oireachtas, latest music reviews, and much more.
Click here for Irish Dancing Magazine

---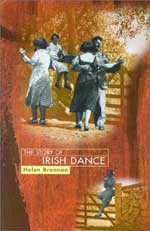 The Story of Irish Dance
by Helen Brennan

The author tells the story of Irish Dance with an obvious love of the subject and a gift for storytelling. She introduces us to famous dancers of the recent past and tells the story of dance in different areas of the country. I found myself enjoying this book more than I ever expected, and learned a great deal in the process. "....a must, not only for Irish dance fans, but also for anyone interested in Ireland's wonderful past. Helen brings history to life." Adapted from an amazon customer review and Irish Dance magazine.
Click for Story of Irish Dance.