Traditions, folklore, history and more. If it's Irish, it's here. Or will be!
"People will not look forward to posterity who never look backward to their ancestors."
-Edmund Burke
---
Quotes

Library: Books, Movies, Music

Prints & Photos

Poetry

Jokes

---
---
Shops Ireland
---
Bunús na Gaeilge
(Basic Irish)

---
---
Did You Know?
---
Himself/Herself
Write to Us
Readers Write..
Links/Link to Us
---
Advertise with us
---
Awards & Testimonials

Submissions Guide
---
O'Reilly introduces the Russians to a St. Patrick's Day Parade
by Bill Witcomb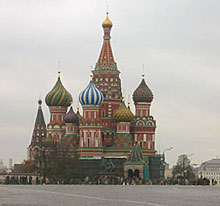 It wasn't all hockey for the Verdun Midget Leafs on their 1974 tour of the Soviet Union that took them to Moscow, Leningrad and Riga. There were some laughs and some eyebrow-raising incidents as well. Star Sports reporter Bill Witcomb, who accompanied the team, looks at a few of the more humorous incidents.

The Verdun Midget leafs' recently completed tour of the Soviet Union had its touchy moments, but there were funny times as well. Times few people on the trip will ever forget.
Some of the laughs were halfhearted, more from frustration than anything else. Others came from the pit of the stomach and kept you laughing for hours. Picture for example a St Patrick's Day Parade in Moscow.

To make the picture more complete, imagine a Central Red Army sports club officer near the front of the procession. While Montrealers slept last Sunday, Muscovites watched a parade that for once did not display the military strength of the Soviet Union.
As the camera crew from Radio Canada zoomed in on this historical occasion, Verdun alderman George O'Reilly marshaled the parade which showed spectators lining the steps of the Ukraina Hotel that a color other than red can be beautiful.
Dressed in green except for his large black top hat, O'Reilly led Verdun players, officials, Canadian delegates and traveling newsmen in the singing of McNamara's Band.
Spectators stood on the steps scratching their heads, probably asking themselves what were those crazy Canadians doing.
Little did they realize Canadians weren't the only ones participating. Behind O'Reilly came Lt. Colonel Bistoff of the Central Red Army Sports Club and chef de mission Brian McKeown. In their hands they carried a banner decorated with shamrocks and, of all the laughter, Lt. Colonel Bistoff's was the loudest.
Decked out in their green Wrigley's team uniforms, the Leafs walked behind. Coach Rollie Dagenais and trainer Gilles Leduc carried a large Canadian flag, followed by the players waving small Canadian flags.
"The best St Patrick's Day Parade ever held in the Soviet Union" roared O'Reilly. "Isn't green a nicer color than red?"
O'Reilly doesn't plan on being in the Soviet Union for the next year's St Patrick's Day Parade, so he appointed a Russian interpreter travelling with the team to serve as marshall.
"Perhaps with one of their own people in charge they'll be able to hold it in Red Square." Added O'Reilly. "You know I had to do some talking for them to give us permission to hold the parade. They thought it was a political rally or something. Can you imagine any politician taking part in a parade like that."

EDITORIAL NOTES
We are grateful to John Spracklin for bringing this story to our attention; he is married to Kerry Rose O'Reilly daughter of the late George O'Reilly. John also took great pains to key in the entire contents of the article when it was discovered that the newspaper clipping wouldn't scan clearly. He also shared some interesting points about George:



George was councillor of verdun at that time and went with the hockey team to represent the city of verdun in an official capacity. He was an active participant and member in everything Irish in Montreal from the time he was a youngster to the day he passed away. He was President of the United Irish Society of Montreal. He was voted Irishman of the year. He was also Grand Marshall of The Montreal Irish Parade. So, you can imagine that he was missing being home during that (particular) week (in 1974) The article tells the rest.

Image: Red Square - Photo by Helene Michaud


Sun, Oct 1, 2017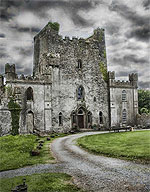 Ireland's Most Haunted Castle
South-east of Birr between Kinnity and Roscrea, in Co. Offaly are the remains of Leap Castle. Originally an O'Carroll fortress, it guarded the pass from the Slieve Bloom into Munster. Said to have more than 50 ghosts, its dark and mysterious past includes the murder of a priest by his brother in the "Bloody Chapel" and the slaughter by their Irish employers of more than 50 Scots mercenaries in order to avoid payment. It has always had a reputation of being haunted and locals have described seeing the windows at the top of the castle "light up for a few seconds as if many candles were brought into the room" late at night. For more details read our article Creepy Irish Castles & Houses.
Photo Credit & More Details: H. J. Moncrieff


Click for More Culture Corner.
Culture Shock
by Patricia Levy.

We have this book and it's a gem. We now wish we had this up-dated edition. But don't take our word for it - here's another opinion from an amazon reviewer: This is not your average travel book containing descriptions of places, events, lodging, exchange rates, etc. Instead, it gives the nitty gritty on how to conduct yourself in your day-to-day life. Especially enjoyable was the chapter entitled "Paddies", which gives a valuable groundwork in dispelling myths and stereotypes surrounding the Irish and Ireland. Entertaining and informative, this book will help visitors to Ireland get more out of their visit.
Click here for Culture Shock.
All contents copyright © 2001 through 2011 inclusive - all rights reserved.
March 4, 2011

Rollover button Images:
Wedding LaRose, Kids Reading & Kitchen Apples and Tea from All Posters prints.
The information provided on this site is offered as-is, without warranty. This site's owners, operators, authors and partners disclaim any and all liability from the information provided herein.
Any trademarks or registered trademarks on this site are the property of their respective owners.

This Web Site Bashed, Kicked & Glued together by Russ Haggerty.