Traditions, folklore, history and more. If it's Irish, it's here. Or will be!
"People will not look forward to posterity who never look backward to their ancestors."
-Edmund Burke
---
Quotes

Library: Books, Movies, Music

Prints & Photos

Poetry

Jokes

---
---
Shops Ireland
---
Bunús na Gaeilge
(Basic Irish)

---
---
Did You Know?
---
Himself/Herself
Write to Us
Readers Write..
Links/Link to Us
---
Advertise with us
---
Awards & Testimonials

Submissions Guide
---
John Feeney - the "Other" Irish Tenor
by Michael Carlin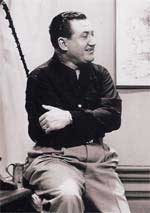 "Have you any CDs by 'the other' Irish tenor?" - that was the opening line of an e-mail query I received from a customer a few months ago. The only thing I knew was that he obviously didn't want John McCormick - the first name that comes to everyone's mind when Irish tenors are mentioned. I came up with lots of suggestions including Michael O'Duffy and Patrick O'Hagan, but to no avail.

They say that the Mounties always 'get their man' and here at Irish Music International we do our best to track down even the most obscure request. On Saturday morning, August 2nd, we found our man thanks to RTÉ and their excellent programme "Bowman Saturday 8.30." That morning the programme was devoted to John Feeney. It was a name that I hadn't heard before but I soon discovered that, for over thirty years, this was the biggest name in Irish music all over the United States.

These days, all good stories seem to be told in 'flashback' so let's go right back to the beginning: John Feeney was born on August 9th, 1903 in Swinford, Co. Mayo and, as with many young men of his generation, he was forced to emigrate at the age of sixteen. He went to London and joined 'McAlpine's Fusiliers' working on the roads and building sites. He worked on the construction of the U.K.'s most famous sports arena, Wembley Stadium.

In June, 1928, he set sail for America with very little money but with something much more valuable - his God given voice - a voice that would earn him fame and fortune. His arrival, however, coincided with the great American depression and work was hard to find; so John was forced to put his voice to good use sooner that he had expected. He sang at socials, local school halls and everything from weddings to funerals to earn a living. To supplement his income, he managed to get work writing a column for the Irish Echo. This 'social circles' piece took him into the leading venues where he met not only the artists and the patrons but, more importantly, the owners and promoters and, very soon, John himself was the star of the show. He performed with such leading names as Michael Coleman, James Morrison and the Flanagan Brothers, the top Irish Showband of that era.

Around this time, he also made a number of recordings for small labels but these were more of promotional value and didn't earn any money. However, the arrival of the Decca Record Company changed his life forever. Decca quickly realised that the Irish-American community was a huge market just waiting to be tapped and they needed an Irish tenor in order to reach it. John Feeney won the audition and joined a roster of artists which included Bing Crosby, The Mills Brothers, Count Basie and Louis Armstrong.


While the record industry was still very much in its infancy, radio was the No.1 form of home entertainment. John was quietly building a name for himself on some of the local New York stations but his big break came when he was signed by the Shaefer Company. Shaefers were the German beer brewers and they saw John as the man who could help them gain access to the lucrative Irish market. His easy, relaxed style and warm personality made him a natural for radio. The Shaefer Show was the big-time, broadcast coast-to-coast and soon the voice of John Feeney was as well known as Rudy Vallee, Marlene Dietrich and even John McCormick. John was now earning $100 a show! Seventy years ago that was BIG BUCKS!!

His repertoire included not only the Irish favourites such as "Galway Bay," Mother Machree" and his signature tune "Moonlight In Mayo" but he regularly packed Carnegie Hall with recitals of the classical works of Mozart, Handel and Schubert.

After a career lasting more than thirty years, John Feeney retired and returned to Ireland in 1964. Sadly he didn't have much time to enjoy his time at home and, following a heart attack, he died in 1967.

Having spent all his working life in America he never received the recognition he deserved in his native land whereas John McCormick remains a household name to this day. Thankfully, that is now all about to change. Back in 1984, John's widow Maura, determined that her husband's name would not be forgotten, persuaded RTÉ broadcaster, Harry Bradshaw to take possession of the huge store of memorabilia that she had collected over the years. This lay in Harry's attic until about eighteen months ago when he finally decided to delve into it. What he discovered was a treasure-trove of original recordings, radio broadcasts and concert performances which told the story of a young man who left the poverty of the west of Ireland and built himself a super-star career on the other side of the world.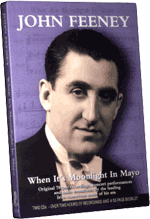 Harry Bradshaw's painstaking work has come to fruition with the release of a new double CD "When It's Moonlight In Mayo". Released to coincide with the centenary of John's birth on August 9th, it is a remarkable collection of songs which recapture the mood of a generation of Irish-Americans. There are songs of joy, of sadness, of love but, most of all, of a land they left behind. Thirty-five all-time favourites are on the CD, including such classics as "Galway Bay," "Hail Glorious Saint Patrick," "Killarney," "Mother Machree," "Danny Boy," "Bless This House," "I'll Take You Home Again Kathleen" "My Lagan Love" and many more. All the tracks have been digitally re-mastered and, considering their age, the sound quality is superb. A detailed booklet of Feeney's life and career which is illustrated with contemporary photographs accompanies the CDs.

RTÉ Radio also acknowledged the life and work of John Feeney with two programmes by historian and archivist John Bowman, while Harry Bradshaw broadcast a special programme dedicated to John on Lyric FM, Ireland's classical music station.

NOTE: The Harry Bradshaw programme was broadcast on August 3rd. Due to copyright restrictions, they cannot provide copies of programmes or concerts. These are for broadcast use only. However, they do repeat some programmes and live recordings, so they ask you to check the schedules from time to time - the programme may be repeated:RTE Broadcast.

Further details of the CD can be found at Irish Music International.

Michael would also be pleased to answer any general Irish music queries. To contact Michael, click Michael Carlin.



BIO:
Michael's family has four decades of experience in the Irish music business and they have earned an unrivalled reputation for quality and service; they have long been regarded as the leading independent source for all areas of Irish music. Carlin Records was one of the leading independent home entertainment retailers in Ireland and incorporated into this was a highly successful concert ticket agency with the third highest turnover in the country.

As for himself, Michael is heavily involved in a number of local charitable and cultural organizations - everything from Newry Cathedral choir to Newry & Mourne Good Relations Forum. He attends a large number of 'live' events during the year - folk and traditional concerts, drama, and musicals; he is also very interested in classical music and tries to get to as many Ulster Orchestra concerts as he can. Reading, cinema, politics/current affairs, all kinds of sport (particularly GAA), and walking are just a few of his many interests.

ED. NOTE: We'd like to give a warm welcome to Michael who has graciously agreed to write a monthly column for Irish Culture and Customs. He will be covering the Irish music scene and will bring us the latest news, trends and whatever else he thinks our readers will enjoy.
Fri, Feb 2, 2018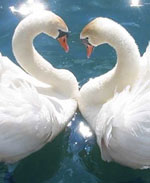 Irish God and Goddess of love
Oengus is the Irish God of love, beauty and youth. According to the old folklore, his kisses became birds. It is also said that he dreamed of a beautiful maiden, named Caer, for whom he searched all over Ireland. Eventually, he found her chained to 150 other maidens, destined to become swans at the time of Samhain. Legend has it that Oengus transformed himself into a swan and was united with his love.
Aine of Knockaine is the Irish Goddess of love. She is also known as the Fairy Queen of Munster and as a goddess of fertility beause she has control and command over crops and animals, especially cattle. Another name by which she is known is Aillen. To learn more about Irish mythology, please click Irish Myths & Legends.
Photo Credit: Wikipedia

Click for More Culture Corner.
Many of John McCormack's recordings have been remastered and are available on amazon.
Click here for My Wild Irish Rose - just one of dozens from which to choose.

---
June 14th is John McCormick's birthday here is a splendid recording which includes him singing many old favorites.
Click here for Legendary Tenors
---