Traditions, folklore, history and more. If it's Irish, it's here. Or will be!
"People will not look forward to posterity who never look backward to their ancestors."
-Edmund Burke
---
Quotes

Library: Books, Movies, Music

Prints & Photos

Poetry

Jokes

---
---
Shops Ireland
---
Bunús na Gaeilge
(Basic Irish)

---
---
Did You Know?
---
Himself/Herself
Write to Us
Readers Write..
Links/Link to Us
---
Advertise with us
---
Awards & Testimonials

Submissions Guide
---
Himself & Herself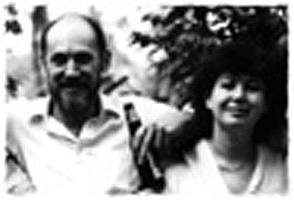 Bridget Nancy Margaret O'Flaherty emigrated to the United States in 1963 to marry the man she had met on a blind date in London, England.
Today, Mr & Mrs Russell Haggerty both work out of the "money pit" - a ramshackle Queen Anne residence in Cincinnati, Ohio, where they raised a family, dropped out of corporate America and now pursue freelance careers in consulting, writing and whatever else will keep the lights on.
Bridget is working on several new books; one will be somewhat of a sequel to The Traditional Irish Wedding and will cover the milestones in an Irish childhood.
Russ is also trying his hand at writing - a mystery novel that isn't set in Ireland but has many Irish connections.
When they're not chained to the computers, Russ stays busy with restoring the house and Bridget does her best to clean up after him.
Questions? Suggestions? Comments? They'd love to hear from you and will respond asap to any and all messages you leave them. You can email them at: Russ & Bridget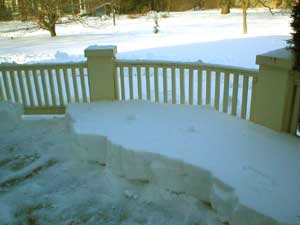 Snow storm December 2004
It started snowing and sleeting on December 22 and didn't stop until the next day, By the time it was all over, we had over a foot of snow on the flat and the wind had created drifts of up to five feet or more. Russ started digging out the driveway right away so he could make room for dinner guests to park on Christmas Day. He was still shoveling when the first guest arrived.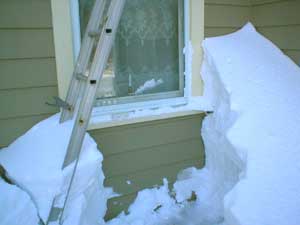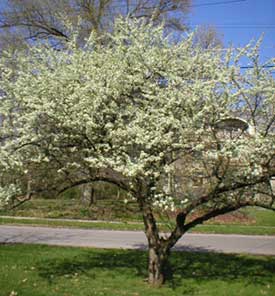 More than once, we have been asked to put up pics of something, shall we say, more related to us.
That is difficult. We are just ho hum, fiddling about with problems and having good days and bad days.

Still we have a belief that whatever God you believe in, He talks to us (we just don't listen very often). He's not obvious, His language is all around us and we do have to pay attention. This spring we all have grumbles (mine is "politicians, thieves and bureaucrats - all of them in the trade" - adapted from Mark Twain) but we have this tree. It is an antique Goose Plum. We were told you cannot buy them. She has children, fortunately, and we hope to keep the line going. When we need to listen, she is a complete sentence.

We were also asked to put up photos of the Maple tree last year. Of course we did and here it is:
Taken from our 'office' (right!) window.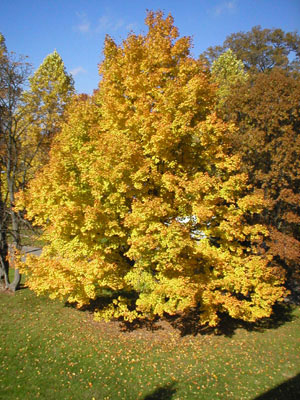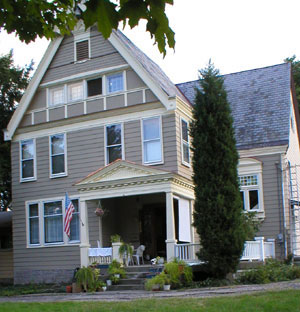 We were also asked to put up a photo of the house in question. So here it is; it is no longer 'ramshackle' - we're restoring it (sigh). Here's the side we just finished this last year.


Thu, Apr 20, 2017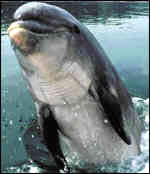 Fungie, the Dolphin of Dingle Bay
The dolphin is one of Ireland's most fascinating mammals and Fungie is the most famous. He is a fully- grown bottlenose who is 13 feet (4 meteres) long and weighs about 500 lbs or around one-quarter tonne.
Fungie was first noticed in 1984 when Paddy Ferriter, the Dingle Harbour lighthouse keeper, began watching a lone wild dolphin escort the town's fishing boats to and from port.
Later that year, it became officially recorded that Fungie was a permanent resident of the entrance channel to Dingle and the self-appointed "pilot" of the fleet.
Over the years Fungie has developed from a timid but inquisitive observer of the human visitors into a playful, though mischievous, companion. From observation of marks on his body, it seems that he does 'interact' with other whales, dolphins or porpoises, proving perhaps he is neither hermit nor outcast from his own kind, but rather that he is simply content to spend most of his time in and around Dingle Bay.


Click for More Culture Corner.
Glorious Gardens of Ireland
by Melanie Eclare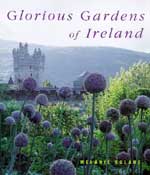 A magnificent pictorial tribute to the splendor of Irish gardens, featuring more than 200 color images.
Eclare ushers readers into spectacular Irish garden settings...
Equally captivating are the book's gorgeous photographs of plants, beautiful stonework, outstanding statuary, and the voluptuous floral compositions that adorn Ireland's great castle estates, rural herb growers, country guest houses, and quaint cottages.
Alice Joyce
Click for Glorious Gardens.
---