Traditions, folklore, history and more. If it's Irish, it's here. Or will be!
"People will not look forward to posterity who never look backward to their ancestors."
-Edmund Burke
---
Quotes

Library: Books, Movies, Music

Prints & Photos

Poetry

Jokes

---
---
Shops Ireland
---
Bunús na Gaeilge
(Basic Irish)

---
---
Did You Know?
---
Himself/Herself
Write to Us
Readers Write..
Links/Link to Us
---
Advertise with us
---
Awards & Testimonials

Submissions Guide
---
The Wolfe Tones: A Celtic Symphony of Unity, Still "Singing Out for Ireland"
by William Ramoutar

Well... to say the late 1950's and early 1960's were a hotbed for Irish folk groups and singers in Dublin has to be one of the biggest understatements of all time. In those days, young lads went away to camp and on outings to the mountains and campfire sing songs were the last thing you did before your weary head hit the sleeping bag. Many a career was started from the dreams and visions of those fledgling performers, not least of all, one of the longest running and biggest promoters of the Irish struggle, The Wolfe Tones.

Brian Warfield and his best friend Noel Nagle have flown the flag of freedom with enthusiasm and fervour, and given supporters of the Irish plight the world over a wealth of self-penned tunes for going on fifty years. Starting out from the Bluebell and Inchicore suburbs of Dublin and with Brian's older brother Derek and their childhood friend Tommy Byrne as their lead singer, the sounds of Irish freedom have echoed through halls and concert stages for going on fifty years - and they are still entertaining the masses.

Although Derek Warfield left to start his own band several years ago, the aforementioned trio of Brian, Noel and Tommy raise the roof wherever the Tricolour Army arrive to listen and join in. And without a doubt, you can be sure there are many hoarse throats among the audience the next day as these are sing along songs just as in the old days with the lads, but now with hundreds and sometimes thousands participating.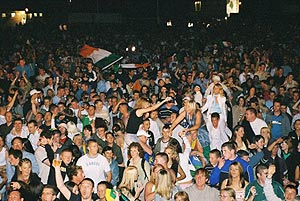 Travelling most months of the year and sometimes almost entire years, you can imagine time away from family and home has to take its toll, yet you would hardly notice from their punishing schedules from country to country if they have actually slowed down at all. With their latest release, "Child of Destiny," marking their 49th year on the road and a DVD of many of their great nights out and a view of their history, "Let the People Sing,", they continue conveying their message of the vision of a united and peaceful Ireland. Music for centuries has healed the wounds of the world's populace, and through the "One Road" the Wolfe Tones have been on, the end may soon be no longer just a thought, but a reality, if the band have anything to do with it.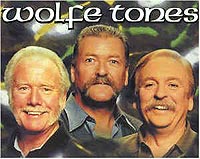 They have always wanted to show the tyranny of invasion and oppression, but ultimately the message is one of an Ireland powerfully aware of her history, and abiding with her neighbour as an independent and proud peaceful free nation. With over thirty albums to their credit and their prolific songwriter Brian Warfield penning most of the songs from the band's inception, they show their dedication to the cause year after year. Now with younger and younger listeners turning up at their concerts, they continue the tradition of rousing evenings of patriotic and nationalistic celebrations. It's not all serious messages either - there are many fun tunes, songs of emigration, songs of friendship and love, and now on the "Child of Destiny" cd, the intriguing song, "Swing a Banker." Many a person affected by the blight of our trusted establishments should pay heed to this message. How have we allowed these officials to fleece us? Well that in a very big part is what The Wolfe Tones have always been about. We have to stand up to injustice wherever it rears its head.

Ireland in the fifties was not a great place to grow up - we had just come through a World War and many a "young man of twenty" had joined the English army to fight for the crown. Not twenty years previously we had just gained our independence and come through a brutal civil war. However, we survived the "swinging sixties," the opulence of the seventies, the unemployment of the eighties and the Celtic Tiger of the late nineties and early millennium, so onward and upward we can only hope we go. The Wolfe Tones have survived, too, and written and sung about each mark in Irish history. They are likely to encourage the youth as well as their elders for years to come.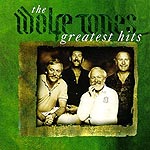 In addition to their latest release, There are many "Best of" Wolfe Tone cds available and any one of them will give you a great insight into a band who have stood the test of time - collectively one of Ireland's most enduring folk heroes. Erin go Bragh." Ireland forever" and in peace.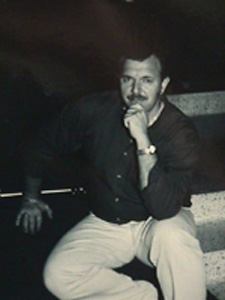 BIO William Ramoutar
IRISH WAYS RADIO PROGRAMME
WFCF Radio 88.5 FM
Every Sunday 11:00 am to Noon eastern standard time on the radio WFCF 88.5fm
We are now an iheart Station on your smartphone or computer
streaming live on iheart.

Review written by William Ramoutar Presenter of Irish Ways Radio Programme, St Augustine Florida

CD: Child of Destiny
DVD Let The People Sing
Comprehensive listing of Wolfe Tone CDs and more
For tour dates, merchandise and more. please click Wolfe Tones
Photo Credits:
Fans: Wolfe Tones official site
When they were very young: Ireland News (German language blog)
Today's trio: Donegal Daily



Fri, Feb 2, 2018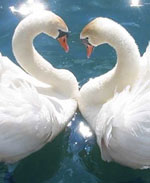 Irish God and Goddess of love
Oengus is the Irish God of love, beauty and youth. According to the old folklore, his kisses became birds. It is also said that he dreamed of a beautiful maiden, named Caer, for whom he searched all over Ireland. Eventually, he found her chained to 150 other maidens, destined to become swans at the time of Samhain. Legend has it that Oengus transformed himself into a swan and was united with his love.
Aine of Knockaine is the Irish Goddess of love. She is also known as the Fairy Queen of Munster and as a goddess of fertility beause she has control and command over crops and animals, especially cattle. Another name by which she is known is Aillen. To learn more about Irish mythology, please click Irish Myths & Legends.
Photo Credit: Wikipedia

Click for More Culture Corner.