Traditions, folklore, history and more. If it's Irish, it's here. Or will be!
"People will not look forward to posterity who never look backward to their ancestors."
-Edmund Burke
---
Quotes

Library: Books, Movies, Music

Prints & Photos

Poetry

Jokes

---
---
Shops Ireland
---
Bunús na Gaeilge
(Basic Irish)

---
---
Did You Know?
---
Himself/Herself
Write to Us
Readers Write..
Links/Link to Us
---
Advertise with us
---
Awards & Testimonials

Submissions Guide
---
Music Review: Celtic Woman
by Bridget Haggerty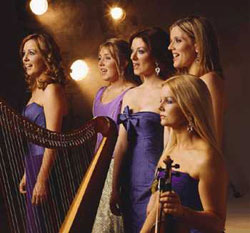 Captivating and compelling, Celtic Woman is a celebration of lilting Irish voices and masterful playing on the fiddle and harp. But the title may be a bit misleading. What we have here is the debut recording of the five-member collective who call themselves Celtic Woman. It doesn't mean the music is Celtic. Mind you, it's all good, but it's more new age than old Irish.

Recorded live in front of a Dublin audience last year, the polished performance is a dream come true for Sharon Browne, Managing Director of Celtic Collections - one of Ireland's most successful independent record labels.

Brilliantly guided by the talents of David Downes, musical director, conductor, composer, arranger, and former musical director of Riverdance, the group is superbly supported by the Irish Film Orchestra, Aontas Choral Group, and a host of talented musicians, including percussionists Ray Fean and Robbie Casserly.

The unique voices and styles of each of the women are spotlighted as soloists and also blended beautifully in lovely ensemble numbers. Classics include The Last Rose of Summer but it's rendered as an all too brief haunting intro; She Moved Through The Fair and Danny Boy are also here - but with all of the less-often played Irish music available, one has to wonder why these somewhat hackneyed tunes were chosen. In our humble opinion, we think the production could have been much truer to its Irish roots - and its name - if the creators had included more traditional fare like Siuil A Run - the kind of material that inspired the Irish triad: "The merciful word, the singing word, and the good word. May the power of these three holy things be in Erin for evermore!"

All of that said, we thoroughly enjoyed listening to the CD. As long as your expectations are confined to mostly contemporary tunes, you won't be disappointed. Each of the women is extremely talented and the overall production is excellent. We also think that seeing the group in concert might make a huge difference to our opinion. We understand that the group is also going to be touring in the US during 2005 and it's expected that the 90-minute show will bring audiences cheering to their feet, just as they did at the Helix Centre in Dublin.

Addendum
We saw the show on public TV and it does make a difference!

It's fund-raising time on Public Broadcasting in the United States, but it was well worth the interruptions to see this performance. Now, we can't wait to order th DVD - the show was that good. We would also love to see it live, but we're in Cincinnati and, as of right now, the closest it will be playing is Peoria.

In the meantime, we'll have to be content with playing the CD and waiting for the DVD to arrive, because the difference goes beyond watching the performers - there are tunes on the DVD that aren't on the CD, including Jesu, Joy of Man's Desiring, My Lagan Love, Somewhere, and others.

Overall, seeing the show doesn't change our original opinion that this is more new age than old Irish, but we are proud of these talented women from Ireland and we think they will become a huge success.

We also hope there will be a sequel to Celtic Woman.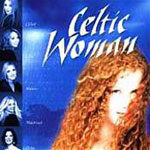 CD
Celtic Woman

DVD
Celtic Woman

Visit their web site: Celtic Woman Show.

Link to relevant article: The Singing Word.

Fri, Feb 2, 2018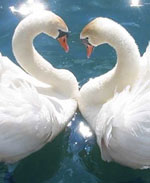 Irish God and Goddess of love
Oengus is the Irish God of love, beauty and youth. According to the old folklore, his kisses became birds. It is also said that he dreamed of a beautiful maiden, named Caer, for whom he searched all over Ireland. Eventually, he found her chained to 150 other maidens, destined to become swans at the time of Samhain. Legend has it that Oengus transformed himself into a swan and was united with his love.
Aine of Knockaine is the Irish Goddess of love. She is also known as the Fairy Queen of Munster and as a goddess of fertility beause she has control and command over crops and animals, especially cattle. Another name by which she is known is Aillen. To learn more about Irish mythology, please click Irish Myths & Legends.
Photo Credit: Wikipedia

Click for More Culture Corner.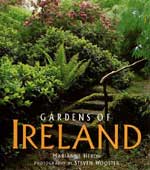 Gardens of Ireland
Visit 30 of Ireland's most beautiful gardens. Includes a stunning collection of 200 full-color photos.