Traditions, folklore, history and more. If it's Irish, it's here. Or will be!
"People will not look forward to posterity who never look backward to their ancestors."
-Edmund Burke
---
Quotes

Library: Books, Movies, Music

Prints & Photos

Poetry

Jokes

---
---
Shops Ireland
---
Bunús na Gaeilge
(Basic Irish)

---
---
Did You Know?
---
Himself/Herself
Write to Us
Readers Write..
Links/Link to Us
---
Advertise with us
---
Awards & Testimonials

Submissions Guide
---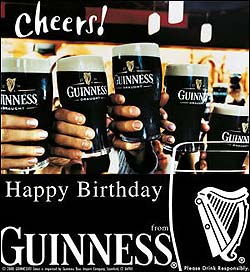 Arthur's Day - "a Celebration of Substance"
by Bridget Haggerty

All around the world, starting at 17.59 on a designated day in September, fans of the black stuff celebrate what has come to be known as the Feast of St. Guinness, i.e. the remarkable life and legacy of "Uncle Arthur" - Sir Arthur Guinness, entrepreneur, visionary, philanthropist and the founder of the world-famous brewery.

He was born in Celbridge, County Kildare on September 28, 1725. There is much debate as to Sir Arthur's birthdate. Many sources say September 24, although there is no evidence to support that claim. Charles Mosely of 'Burke's Peerage and Barontage says that March 2nd was the date Arthur made his debut. To end all the speculation, in 1991 the Guinness Company chose September 28th. To confuse matters further, in 2009, Guinness celebrated its 250th birthday; but it would appear that many people are interchanging the birth of the stout with the founder of the company who makes it. No matter. Whatever the date, Arthur's Day is cause for a celebration with substance.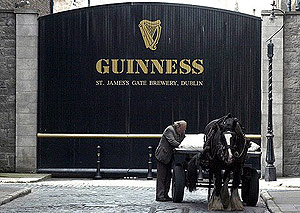 How it all began
It seems that Arthur first learned the art of brewing from his father Richard, whose job as a land steward included brewing beer for workers on the estate of Dr. Arthur Price, later Archbishop of Cashel. In 1759, craft learned and career aspirations in place, at age 34, Arthur signed a 9000-year lease for the St. James's Gate Brewery, Dublin, at an annual rent of £45. The brewery was only four acres in size, disused, and had little brewing equipment. But in just 10 years, despite competition from imported English beers, Arthur began to export his beer to England. By the 1830s, St. James's Gate Brewery was the largest brewery in Ireland. and by 1914 was the largest in the world, covering 64 acres. Although no longer the largest brewery on the planet, it is still the biggest brewer of stout. It's a remarkable legacy and the reason that in 2009, the company created a special Arthur's Day to mark the 250th anniversary of when the lease on St. Jame's Gate was signed. During the inaugural event, thousands of fans across every continent enjoyed over 60 live music acts while raising millions of pints of Guinness in a "celebration with substance". Ireland's mail service An Post also marked the anniversary with the release of a a special 82 cent stamp.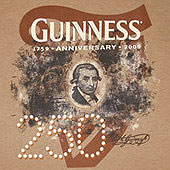 Since that first celebration, Arthur's Day has become an annual invitation to" paint the town black" with special events taking place all over the globe, and as one might expect, especially in Ireland. Guinness marketing manager John Burns was quoted as saying in 2010 that he believed a similar number of people would attend that year's event and that one of the reasons for a repeat of Arthur's Day was because of the unique opportunity it gave for the brand to engage with customers and encourage converts to the black stuff. "This is not about selling pints of Guinness ...."

Beyond the past and the toast
There's even more to Arthur's Day than just the party that begins with the traditional toast to his memory at 5.59 pm in whatever time zone you happen to be. In 2009, to ensure Arthur's philanthropical legacy would continue, the Arthur Guinness Fund was established with an initial investment of more than €6.5m. Since its founding, the fund has raised millions of euros and has become an investment vehicle that supports the big ideas and the passion for community of social entrepreneurs - people with business heads and social hearts. Each is making a significant difference by delivering measurable, transformational change to communities in Ireland and worldwide. According to the company: "The Arthur Guinness Fund is designed as a springboard to enable social entrepreneurs to take their initiatives to the next level, and further expand their vision for making a real difference to the people around them." For a list of awardees, please visit the Guinness web site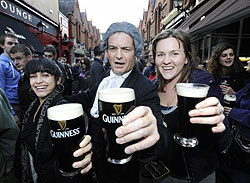 In summary, Ronan Beirne, Guinness Global Marketing Manager, said: "Arthur's Day is a celebration with substance designed to recognise and honour the legacy of Arthur Guinness and the Guinness brand he brought to the world. We are excited to announce that we will be celebrating this again with people all over the world on Arthur's Day, and I am personally looking forward to raising a Guinness to toast a truly inspirational man."
To Arthur" and to the next 250 years: "Sláinte!
Photo Credit & Related Story: Journal Ireland/Sasko Lazarov/Photocall Ireland

Video: You Tube/Guinness

Content Source: Guinness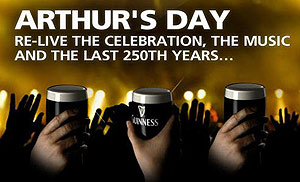 Photo Credits:
St. James Gate - brewery - Watoday
Sources:
Guinness


Fri, Feb 2, 2018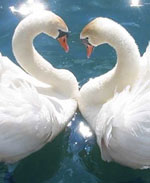 Irish God and Goddess of love
Oengus is the Irish God of love, beauty and youth. According to the old folklore, his kisses became birds. It is also said that he dreamed of a beautiful maiden, named Caer, for whom he searched all over Ireland. Eventually, he found her chained to 150 other maidens, destined to become swans at the time of Samhain. Legend has it that Oengus transformed himself into a swan and was united with his love.
Aine of Knockaine is the Irish Goddess of love. She is also known as the Fairy Queen of Munster and as a goddess of fertility beause she has control and command over crops and animals, especially cattle. Another name by which she is known is Aillen. To learn more about Irish mythology, please click Irish Myths & Legends.
Photo Credit: Wikipedia

Click for More Culture Corner.