Traditions, folklore, history and more. If it's Irish, it's here. Or will be!
"People will not look forward to posterity who never look backward to their ancestors."
-Edmund Burke
---
Quotes

Library: Books, Movies, Music

Prints & Photos

Poetry

Jokes

---
---
Shops Ireland
---
Bunús na Gaeilge
(Basic Irish)

---
---
Did You Know?
---
Himself/Herself
Write to Us
Readers Write..
Links/Link to Us
---
Advertise with us
---
Awards & Testimonials

Submissions Guide
---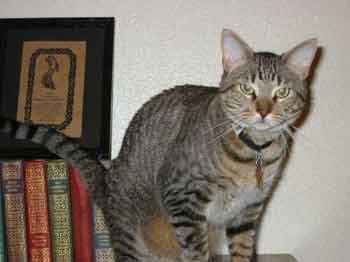 Review: Irish Drinking Songs For Cat Lovers/Marc Gunn & The Dublin Tabby Cats
by Bridget Haggerty (and others)
Are you a cat lover? Do you love to sing Irish drinking songs? Then this unique CD for the die-hard cat fanatic was made for you! Listen to all the tunes you hear on st. Patrick's Day by the Dubliners, the Clancy Brothers, the Wolfe tones, and the Irish Rovers. Then laugh out loud at the clever lyrics Marc Gunn has created to accompany the music - for example, Lord of the Pounce - a parody of Lord of the Dance. It goes on like that through fifteen feline adapted tracks which have garnered applause, encores and four-paws up from combo cat and Irish music lovers all over the world.

Should you be concerned over your dignity? An old Irish Saying goes: "Never trust a man who doesn't like cats."

Now then, are you saying to yourself, is this man daft, drunk, or both? Well, he was sober when he made the CD - you can tell that from the quality of the music. But he is a bit over the top when it comes to his unabashed love of cats. And that's purrfectly alright with us; we definitely understand what these amazing creatures will do to one's mind and heart. And we're not the only ones who appreciate what Marc has accomplished when he combined cats and celts to create this furry well-done collection: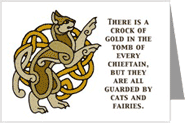 Three meows and a round of milk on the house!
Reviewer: Edward Burke, a Celtic music fan and College DJ

Are you Scots/Irish in heritage and just happen to be a cat person, too? Do you tend to take things with a grain of salt? Ever tried milk mixed with beer? Then you may just enjoy "Irish Drinking Songs for Cat Lovers", the latest solo effort put out by Austin, Texas' modern minstrel Marc Gunn and his group the Dubliner's Tabby Cats. So much more then a mere novelty, on "Irish Drinking Songs…" you'll find melodies to classic Irish jigs and ballads you may hear wafting out of a corner pub on St. Patrick's Day, but only re-written with lyrics about America's (and possibly the world's) other best friend. The music, led by Gunn's autoharp and lead vocals is mostly acoustic and as light-hearted as a cat at play. The songs will make you laugh such as "Wild Kitty", and

"Furagone's Wake", make you cry such as "Black is the Color of my Cat's Fur", and make you realize why you love cats so much, such as "The Demented Cat Game". If this was not enough, there is a song about a character named Cat on the now off-air British comedy Red Dwarf and a song about a group of 100 alley cats who witnessed the infamous adventures of the infant Harry Potter. All of the tracks on "Irish Drinking Songs…" are equally noteworthy and folksy; Gunn and company deliver solid musicianship and produce a fantastic sounding album, (not to mention put their all into meowing where needed for emphasis). Some people don't like cats…it's true, but they have the jingle-bell dogs to keep them happy. I say let them eat cake…or dry kibbles. We feline-inclined people have this album to call our own. I highly recommend this album, for if you own a cat or have ever owned a cat before, then you will understand why I, and Gunn and Co., love them so.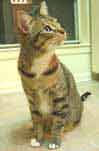 Kitty album hit of the wedding reception
Reviewer: Nancy Douglas de Baca
Long before it came out, this album was being buzzed on several e-lists that I belong to. We all downloaded the samples and read the newsletters. I had been waiting breathlessly for months, ever since I heard about this hysterical album, waiting for the cat songs to come out. I love cats. Also, I belong to a historical research and re-creational group, so I wanted it not only for myself, but for my friends who play celtic, filk* and other music. The release coincided with my theme wedding, so I bought CDs as attendant gifts for all the musicians. I also took my personal CD to the reception and played some of the slower ones to dance to. It's difficult to dance when everyone is laughing so hard.
Classic songs come back in new furry form!
Reviewer: Amanda Kamnitzer (Foltz)
What could be better than sitting around drinking (milk) with your cats on a crisp fall day? Why, sitting around drinking with your cats while listening to Irish Drinking Songs for Cat Lovers, of course! Clean sounds, great lyrics and amazing as a whole! If I'm down, it brings me up and if I'm already up it sets me to song. Classic songs come back in new furry form! My kitties and I love to laze about the house and yowl with the sounds of Irish folk music to the key of C Major(for cats, ha!) Such witty writing, such a lovely voice... Here's to Marc Gun and his proud owners Tore & Tiziano! May your dishes be forever full of milk and your catnip in good supply! We hope you love this CD as much as we did!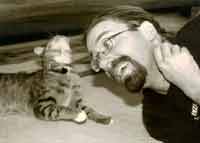 Reviewer: Penny Waugh, Isle of Skye
Found this CD while trawling the internet for cat-related items. Love it! Cat Rosie who runs a mile when I sing actually paused in her washing to listen.
Reviewer: Faith
All your favorite familiar songs with new favorite lyrics about those fabulous furry folk that love milk, sardines and tuna. My cats really are listening to it. When you have excellent musicians, it really doesn't matter what they sing about, but cats are near and dear to me so I absolutely love it!

Reviewer: Bonnie Earnhardt
This CD is a real hoot and a joy to Irish mug-tipping cat lovers everywhere! I enjoyed it so much I ordered a copy for a friend. Marc Gunn has a rare mix of great talent, musicianship, and pure fun!
Reviewer: Sheryl
All of my Christmas presents were cat-lover related (we had 31 stray kittens born in our backyard this spring and decided to keep SOME of them). The CD is a hoot! We listened to it all the way to and from Christmas Dinner an hour away from our house and laughed out loud at the lyrics. While probably not a grammy contender, it was GREAT fun!
And this is just a sampling of the raves the CD has received!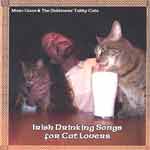 So there you have it - and we hope you'll buy it. Marc funded the project himself because none of the labels could be persuaded that an irish music CD featuring feline related lyrics would be of any interest. Our hope is that it will become such a huge hit Marc will be able to finance a sequel - the songs are written; but there's no money in the kitty - ahem, we mean we're out to prove the music label's are wrong. There IS money in the kitty!


Click here to buy the CD: CD Baby.

And click here for special packages of more than one CD

Bios:
The Cats
Their Man


Images: Front Cover Photo by Kristen Roger

Celtic Cat Logo by Ingrid Houwers

*Filk
What is this? One definition focuses on filk as a genre: filk is folk music, usually with a science fiction or fantasy theme. This definition is not exact; filkers often also write filk songs about computers or cats. To read more about filk, please click Wikipedia.




Fri, Feb 2, 2018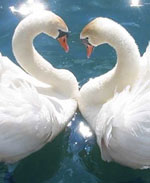 Irish God and Goddess of love
Oengus is the Irish God of love, beauty and youth. According to the old folklore, his kisses became birds. It is also said that he dreamed of a beautiful maiden, named Caer, for whom he searched all over Ireland. Eventually, he found her chained to 150 other maidens, destined to become swans at the time of Samhain. Legend has it that Oengus transformed himself into a swan and was united with his love.
Aine of Knockaine is the Irish Goddess of love. She is also known as the Fairy Queen of Munster and as a goddess of fertility beause she has control and command over crops and animals, especially cattle. Another name by which she is known is Aillen. To learn more about Irish mythology, please click Irish Myths & Legends.
Photo Credit: Wikipedia

Click for More Culture Corner.
Visit 30 of Ireland's most beautiful gardens. Includes a stunning collection of 200 full-color photos.
Click here for Gardens
---