Traditions, folklore, history and more. If it's Irish, it's here. Or will be!
"People will not look forward to posterity who never look backward to their ancestors."
-Edmund Burke
---
Quotes

Library: Books, Movies, Music

Prints & Photos

Poetry

Jokes

---
---
Shops Ireland
---
Bunús na Gaeilge
(Basic Irish)

---
---
Did You Know?
---
Himself/Herself
Write to Us
Readers Write..
Links/Link to Us
---
Advertise with us
---
Awards & Testimonials

Submissions Guide
---
The Bells of Dublin - The Chieftains
by Bridget Haggerty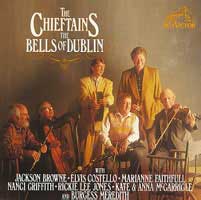 We've owned The Bells of Dublin for many years and it remains one of our favorite Christmas recordings. The Chieftains are impeccable as always but, in addition to their traditional Irish sound, they team up with a group of contemporary vocalists; for the most part, the mix works well. In fact we like every cut except one.

We have a couple of Rickie Lee Jones CDs which we play often, but we always skip over her rendition of O Holy Night on The Bells of Dublin. We'll never understand why The Chieftains allowed this cut to remain because Rickie's voice just can't handle it. That said, the rest of the CD is a thoroughly enjoyable combination of popular carols, toe-tapping instrumental medleys and inspirational choral pieces.

As one reviewer on amazon put it, the way some of the cuts are recorded, you feel as if you're in an Irish pub; but I think what we like the best is the medley of carols toward the end; sung by a truly magnificent choir, it's easy to imagine you are in an Irish cathedral. The finale of church bells is simply glorious.
Here are some other reviews and a play list:
Ken from Michigan
Truly an album you don't want to end, and I have a very hard time putting it away after the holidays. I like the fact that they don't do all the same old songs heard over and over every year. Throw this CD in the multi disc player with Johnny, Nat, and Bing, hit the shuffle button, then sit back and enjoy a wonderful mix. OK Chieftains, where's volume 2?
Daniel from Michigan
If you like Irish music and you like Christmas music, this CD is definitely for you. In their usual inimitable style, the Chieftains transport you to the warmth and hospitality you might expect to find in a friendly village in western Ireland. If such a journey sounds appealing, put on this CD, sit back, and enjoy.
A music fan from Vermont
This is the best Christmas album I've ever listened too. My Christmas would not be complete without having it playing while I wrap presents and make cookies or just drive down the road to work. You will love it. I am especially fond of the medleys and Ile Est Ne. I give this album away as presents each year to people on my list regardless of their musical interests and they are all uniformly impressed. Enjoy.
Eileen from Massachusetts
This CD has been in my collection for several years and it is the first Christmas CD I reach for every year. The songs are a nice mix of traditional and modern with the constant Irish influence of the Chieftains that gets your feet tapping and your spirits soaring. Again this year I am completely content to listen to it again and again. A must have for any Irish music lover's Christmas collection.
Rebecca from Texas
I've had this CD for several years now and I'm still stunned by its quality and beauty every time I listen to it. With several hundred CDs in our collection, my husband and I still find ourselves rating it as the best one we own.
A music fan from Virginia I bought this CD a few years ago, but I make it apart of my Christmas music tradition every year. "The Wren in the Furze" and "The Bells of Dublin - Christmas Eve" are my favorite. I wish the Chieftains would release more Christmas music.
Play List
1. The Bells Of Dublin Christmas Eve
2. Past Three O'Clock
3. St. Stephens Day Murders
4. Il Est Ne/Ca Berger
5. Don Oiche Ud I MBeithill
6. I Saw Three Ships A Sailing
7. A Breton Carol
8. Carol Medley: O The Holly She Bears A Berry
9. Carol Medley: God Rest Ye Merry Gentlemen
10. Carol Medley: The Boar's Head
11. The Wexford Carol
12. The Rebel Jesus
13. Skyline Jig
14. O Holy Night 15. Medley, 'The Wren! The Wren!': The Arrival Of The Wren Boys
16. Medley, 'The Wren! The Wren!': The Dingle Set--Dance
17. Medley, 'The Wren! The Wren!': The Wren In The Furze
18. Medley, 'The Wren! The Wren!': A Dance Duet--Reels
19. Medley, 'The Wren! The Wren!': Brafferton Village/Walsh's Hornpipe
20. Medley, 'The Wren! The Wren!': The Farewell: The Piper Through The Meadow Strayed.
21. Medley: Once In Royal David's City
22. Medley: Ding Dong Merrily On High
23. Medley: O Come All Ye Faithful
To hear a sample, click here The Bells of Dublin.


Fri, Feb 2, 2018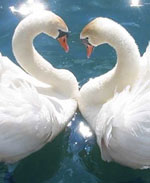 Irish God and Goddess of love
Oengus is the Irish God of love, beauty and youth. According to the old folklore, his kisses became birds. It is also said that he dreamed of a beautiful maiden, named Caer, for whom he searched all over Ireland. Eventually, he found her chained to 150 other maidens, destined to become swans at the time of Samhain. Legend has it that Oengus transformed himself into a swan and was united with his love.
Aine of Knockaine is the Irish Goddess of love. She is also known as the Fairy Queen of Munster and as a goddess of fertility beause she has control and command over crops and animals, especially cattle. Another name by which she is known is Aillen. To learn more about Irish mythology, please click Irish Myths & Legends.
Photo Credit: Wikipedia

Click for More Culture Corner.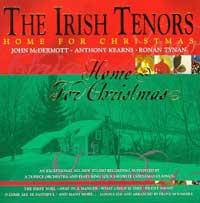 According to the 30 or more reviews we've read, if you own just one Irish Christmas recording, this should be it. Featuring Anthony Kearns, Ronan Tynan and John McDermott, we are treated to both solo and trio performances of a dozen or more best loved holiday airs, sung in their trade-mark Irish tenor style. As one reviewer cleverly observed, if these three sang the phone book, she'd buy it!
See Review
Click here for Home for Xmas
---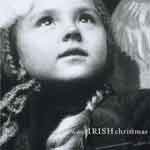 Real Irish Christmas
Various Artists

For a non-traditional Christmas (yet very traditional Irish) recording, this CD offers a wide variety of moods - from serious and reflective to joyful and exuberant. The cover photo is particularly appealing and reminds this reviewer of the eager anticipation she once knew - oh, to have that feeling back again.
Click here for Real Irish Christmas.
---