Traditions, folklore, history and more. If it's Irish, it's here. Or will be!
"People will not look forward to posterity who never look backward to their ancestors."
-Edmund Burke
---
Quotes

Library: Books, Movies, Music

Prints & Photos

Poetry

Jokes

---
---
Shops Ireland
---
Bunús na Gaeilge
(Basic Irish)

---
---
Did You Know?
---
Himself/Herself
Write to Us
Readers Write..
Links/Link to Us
---
Advertise with us
---
Awards & Testimonials

Submissions Guide
---
Ghosts
by Wm. B Yeats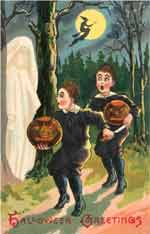 Ghosts, or as they are called in Irish, Thevshi or Tash (taidhbhse, tais), live in a state intermediary between this life and the next. They are held there by some earthly longing or affection, or some duty unfulfilled, or anger against the living. "I will haunt you", is a common threat; and one hears such phrases as, "She will haunt him, if she has any good in her". If one is sorrowing greatly after a dead friend, a neighbour will say, "Be quiet now, you are keeping him from his rest; or, in the Western Isles, according to Lady Wilde, they will tell you, "You are waking the dog that watches to devour the souls of the dead". Those who die suddenly, more commonly than others, are believed to become haunting Ghosts. They go about moving the furniture, and in every way trying to attract attention.

When the soul has left the body, it is drawn away, sometimes, by the fairies. I have a story of a peasant who once saw, sitting in a fairy rath, all who had died for years in his village. Such souls are considered lost. If a soul eludes the fairies, it may be snapped up by the evil spirits. The weak souls of young children are in especial danger. When a very young child dies, the western peasantry sprinkle the threshold with the blood of a chicken, that the spirits may be drawn away to the blood. A Ghost is compelled to obey the commands of the living. "The stable-boy up at Mrs. G-------'s there," said an old countryman, "met the master going round the yards after he had been two days dead, and told him to be away with him to the lighthouse, and haunt that; and there he is far out to sea still, sir. Mrs. G------- was quite wild about it, and dismissed the boy." A very desolate lighthouse poor devil of a Ghost! Lady Wilde considers it is only the spirits who are too bad for heaven, and too good for hell, who are thus plagued. They are compelled to obey some one they have wronged.

The souls of the dead sometimes take the shapes of animals. There is a garden at Sligo where the gardener sees a previous owner in the shape of a rabbit. They will sometimes take the forms of insects, especially butterflies. If you see one fluttering near a corpse, that is the soul, and is a sign of its having entered upon immortal happiness. The author of the Parochial Survey of Ireland, 1814, heard a woman say to a child who was chasing a butterfly, "How do you know it is not the soul of your grandfather". On November eve the dead are abroad, and dance with the fairies.
As in Scotland, the fetch is commonly believed in. If you see the double, or fetch, of a friend in the morning, no ill follows; if at night, he is about to die.

Source: Sacred Texts

Image: Halloween Greetings from All Posters
Item #: 881876


House Ghosts
Author unknown

This sort is very confusing because they take on many shapes, including that of the elf and sometimes also of a rat, cat, or black dog. In their natural state they are invisible to man, but they can become visible in these forms. They make a lot of noise in the house at night; they live between the walls, in the attic or in the cellar, in the stable, in the shed, sometimes even in a large tree beside the house. They are not particularly intelligent, and remain friendly as long as they are treated well. They like to tease lazy people by pulling the blankets off their beds and sending icy drafts through the room. They also delight in knocking over milk pails and keeping people awake by constantly tapping on the walls. When made very angry, they become malevolent. Their noisemaking becomes unbearable; they throw stones, the cattle become sick, drought or cold weather or continuous storms occur.

They leave the house or farm only when it has been totally overwhelmed by disaster and is lost.

See our other articles on Samhain and Halloween below:
An Irish Hallowe'en - Part 1
An Irish Hallowe'en - Part 2
How the Irish Invented Halloween
A Triple Treat For Hallowe'en
The Churchyard Bride
Creepy Irish Castles and Houses
Creepy Irish Creatures
Irish Ghosts
Something Wicked this way comes - Irish Ghosts by Region
Protect your property and yourself - Make a Parshell Cross for Hallowe'en
The Dullahan
Samhain - The Irish New Year
The Day after Samhain - All Souls Day


Fri, Feb 2, 2018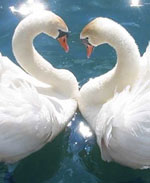 Irish God and Goddess of love
Oengus is the Irish God of love, beauty and youth. According to the old folklore, his kisses became birds. It is also said that he dreamed of a beautiful maiden, named Caer, for whom he searched all over Ireland. Eventually, he found her chained to 150 other maidens, destined to become swans at the time of Samhain. Legend has it that Oengus transformed himself into a swan and was united with his love.
Aine of Knockaine is the Irish Goddess of love. She is also known as the Fairy Queen of Munster and as a goddess of fertility beause she has control and command over crops and animals, especially cattle. Another name by which she is known is Aillen. To learn more about Irish mythology, please click Irish Myths & Legends.
Photo Credit: Wikipedia

Click for More Culture Corner.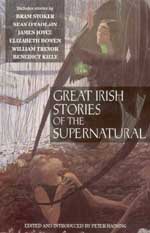 Great Irish Stories of the Supernatural
Edited by Peter Haining

No country is more richly endowed with faerie folk and restless spirits than Ireland, and Irish folklore contains hundreds of tales of ghosts, devils and witches. This collection includes chilling tales by writers ranging from Brams Stoker to W.B. Yeats with stories grouped according to the type of spirit. Intriguing titles include The Spectre Lovers by Le Fanu, The Fairy Goose by Liam O'Flaherty, The Eyes of the Dead by Daniel Corkery and many more.
Click here for Stories of the Supernatural.


---