Traditions, folklore, history and more. If it's Irish, it's here. Or will be!
"People will not look forward to posterity who never look backward to their ancestors."
-Edmund Burke
---
Quotes

Library: Books, Movies, Music

Prints & Photos

Poetry

Jokes

---
---
Shops Ireland
---
Bunús na Gaeilge
(Basic Irish)

---
---
Did You Know?
---
Himself/Herself
Write to Us
Readers Write..
Links/Link to Us
---
Advertise with us
---
Awards & Testimonials

Submissions Guide
---
Celebrating St. Patrick's Day in Old Ireland
by Bridget Haggerty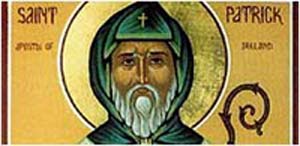 All over the world, St. Patrick's Day is celebrated with elaborate parades; families tuck into the traditional dinner of corned beef and cabbage (traditional everywhere except Ireland, that is); and, in the pubs, the green beer flows swifter than the River Shannon. It's odd to think that just a short time ago, none of the most popular customs we often take for granted even existed. In fact, today's international festivities are very different from how St. Patrick's Day was once celebrated in old Ireland

While St. Patrick's Day is now a national holiday, as well as a religious feast day, a few hundred years ago, the emphasis was on spirituality and a much needed break from the austerities of Lent.
Families would attend Mass, and every youngster proudly wore a St. Patrick's Cross. The week before the festival, children busied themselves in the making of the crosses, which differed, depending on whether you were a boy or a girl.
The boy's cross consisted of a three-inch square of white paper on which was drawn a circle divided by elliptical lines. Each compartment was shaded in with a different color. For yellow, an egg yolk was often used; green could be had by chewing young grass; laundry blue provided another shade; and red, well, it was a cross for a little boy and one can only imagine how proud he must have been to sacrifice a few drops of blood in honor of St. Patrick! Come the big day, the finished cross was jauntily worn, military style, on his cap.
While the cross for a boy was quite simple, the one for his sister was a bit fancier. It was formed by placing two three-inch pieces of cardboard or stiff paper at right angles to each other. To hold them in position, they were wrapped with ribbons of different colors and then a green rosette was placed in the center. The proper way for a girl to wear her cross was either pinned at the right shoulder or on her chest. And, speaking of proper, it would have been considered a major faux pas for a girl to wear a boy's cross or vice versa.
Besides the crosses for children, there was another type which was made only by the menfolk. This was formed out of twigs from wild sallow and, as with the St. Brigid's Cross, it was pinned to the thatch on the inside of the house. Each year a new one would be added.
With all of their crosses prepared, children went to bed on the eve of March 17th happy and contented - as did the adults. Tomorrow, all Lenten restrictions would be set aside for a day of feasting and merriment!
Whatever the weather, St. Patrick's Day was generally regarded as the middle day of spring. And, as the good saint had promised improved weather from March 17th onward, this was the time Ireland's farmers planted the main potato crop. Delaying this work long after the feast day would have been regarded by the neighbors as slovenly or lazy. That said, no-one expected any work to be done on the big day itself!
While we don't celebrate the way our ancestor's did, one custom has come down to us - the wearing of the Shamrock. I can well remember my mother joyfully opening the little package from her family in Dublin. It came every year, right before the feast day. Inside, was a sprig of live shamrock which she quickly plunged into tepid water; within a few minutes, it looked nearly as fresh as when it had been picked. Before he went to work on March 17th, my father tucked the shamrock into his cap. Not to be left out, the little package also contained badges for the children. These usually featured a gold harp surrounded by tiny shamrocks on a white background. My mother pinned these to our outfits and she always managed to find a lovely green ribbon for my hair. We never wore any more green than that - to do so, according to my mother, would have been too great a temptation for the fairies! She was a firm believer in the old superstition that green was their favorite color and they'd spirit away any child fully-garbed in green.
Meanwhile, back in the Ireland of our ancestors, when Mass was over, the mother and children would hurry back to the house to begin preparing the feast. Just as quickly, the men headed for the pub to drink the 'Pota Pádraig' or St. Patrick's Pot. This term is rarely heard today, but it continued in fairly general use until quite recently and was also applied to any treat given to friends, or gifts of money or sweets given to children.
After one (or more!) St. Patrick's Pots, the menfolk hurried home to the feast. Usually, the good wife would have ear-marked a nice piece of cured pork. Corned beef and cabbage? Not back then, and not even now is this a traditional St. Patrick' s Day dinner! It's a custom that was begun by emigrants who, in longing for their native land, tried to create a meal that would remind them of home. And so, the dinner of long ago would most likely have been similar to the one I remember when I was growing up. Dad would have brought home a nice piece of boiled bacon which was more like ham. This would be served with floury potatoes cooked in their jackets. Often, we did have cabbage and I well remember that we might go through nearly a pound of butter at one sitting. Who could resist when there was also warm soda bread on the side!
When dinner was over, many families either went to a caeli or held one in their homes. The musical instruments stored away on Shrove Tuesday were brought out and the evening was spent in singing, dancing, telling stories - and yes, the drinking continued! After all, there were still several weeks of fasting and abstinence ahead, so it was the order of the day to over-indulge. No doubt, the children were ill from eating too many sweets, and their parents probably suffered from sore heads the next day. In the eyes of the church, this would have been a most appropriate penance!
At the end of the evening, there was one last custom to observe: 'drowning the Shamrock.' A leaf that had been worn in the cap or coat was placed into the bottom of the final glass. When everyone's health had been drunk or a toast honored, the shamrock was taken from the bottom of the glass and thrown over the left shoulder. Also, in some parts of Southern Ireland, a cross was marked with the end of a burnt stick on the sleeve of each person at the gathering. This was done with a prayer that the individual so marked might be constant in their faith and in their love of Ireland's patron saint.
So there you have it - A typical St. Patrick's Day Celebration as it might have taken place in Ireland two or three hundred years ago. Did they have more fun than we do now? It's a matter of opinion. I know that I miss going to the Morris Hall with my folks on the evening of March 17th. I was enthralled by the music and the dancing. With mixed emotions, I do recall one very special evening when my father asked me to dance. I was about 14 at the time and he'd never invited me to take the floor with him. He'd won medals for ballroom dancing and his specialty was the Viennese Waltz. On that St. Patrick's Day, I received my first ballroom dancing lesson and, unfortunately, I did very poorly. "Daughter, yer too stiff," he said. You bet I was - stiff with fear that I'd make a fool of myself. As hard as I tried to relax, it was impossible. But, he twirled me around until the dance was over and then gave me a hug. It was the first and last time we danced together. To this day, I can't hear a waltz without being reminded of what a beautiful dancer he was.
Until next time, Happy St. Patrick's Day and a toast to you and yours:
St. Patrick was a gentleman
Who through strategy and stealth
Drove all the snakes from Ireland,
Here's a toasting to his health;
But not too many toastings
Lest you lose yourself and then
Forget the good St. Patrick
And see all those snakes again!
Resources:
Content The Year In Ireland by Kevin Danaher and Chronicle of Celtic Folk Customs by Brian Day.
Image of St. Patrick: Irish Abroad.


Fri, Feb 2, 2018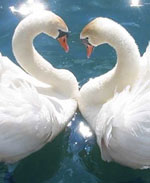 Irish God and Goddess of love
Oengus is the Irish God of love, beauty and youth. According to the old folklore, his kisses became birds. It is also said that he dreamed of a beautiful maiden, named Caer, for whom he searched all over Ireland. Eventually, he found her chained to 150 other maidens, destined to become swans at the time of Samhain. Legend has it that Oengus transformed himself into a swan and was united with his love.
Aine of Knockaine is the Irish Goddess of love. She is also known as the Fairy Queen of Munster and as a goddess of fertility beause she has control and command over crops and animals, especially cattle. Another name by which she is known is Aillen. To learn more about Irish mythology, please click Irish Myths & Legends.
Photo Credit: Wikipedia

Click for More Culture Corner.