Fáilte
Welcome to Irish Culture and Customs, a labor of love we began several years ago. What started as a surprise milestone birthday trip to Ireland became the beginning of a journey through time. A 2,000-year voyage on a quest to learn as much as we can about everything Irish. So here's where we are so far - more than 700 pages that range from Irish poetry, superstitions , Kids Stories and recipes to specific Irish calendar celebrations such as St. Patrick's Day , Beltane, Samhain and the Feast of St. Brigid. Whether it's an Irish symbol such as the shillelagh, the Shamrock and the Book of Kells or an Irish craft like Aran Isle knitting, you'll discover a wide range of topics in our index. We hope you find the little bit of Ireland you may be looking for and we encourage you to share what you discover with your loved ones on your family website, blog, or social network.





---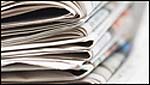 Today's Irish headlines
We comb the newspapers and web sites to find news to start your day with a positive spin. In this section you will also find links to stories from the past two weeks as well as links to the major Irish newspapers, the current time in Ireland and a link to the weather forecast.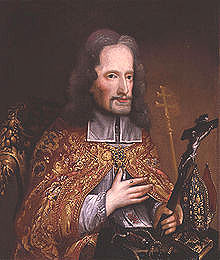 St. Oliver Plunkett
by Bridget Haggerty
Oliver Plunkett was born in 1629 in Loughcrew, County Meath, Ireland to well-to-do parents of Hiberno-Norman origin. He was related by birth to a number of landed families, such as the recently ennobled Earl of Roscommon, as well as the long-established Earl of Fingall, Lord Louth and Lord Dunsany. Until his sixteenth year, the boy's education was entrusted to his cousin Patrick Plunkett, Abbot of St Mary's, Dublin, and brother of the first Earl of Fingall who later became bishop, successively, of Ardagh and Meath. As an aspirant to the priesthood, he set out for Rome in 1647, under the care of Father Pierfrancesco Scarampi, of the Roman Oratory. At this time, the Irish Confederate Wars were raging in Ireland; these were essentially conflicts between native Irish Roman Catholics, English, and Irish Anglicans and Protestants. Scarampi was the Papal envoy to the Roman Catholic movement known as the Confederation of Ireland. Many of Plunkett's relatives were involved in this organisation
[Continue]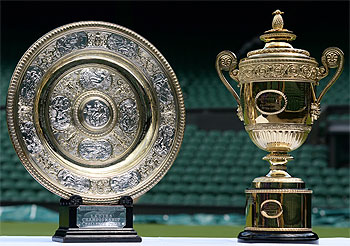 When the Irish dominated International tennis
Adapted from an article by Turtle Bunbury


The Irish have been playing tennis since at least 1609, when a tennis court was recorded on Thomas St, Dublin. But it was in the last decades of the 19th century that Irish men and women were dominating the world's tennis elite. The first Wimbledon championship was held in 1877 with the first Men's title falling to Spencer Gore, a grandson of the Earl of Arran and scion of the Gores of Mayo. The first Irish Championship was held a few weeks later at the Limerick Lawn Tennis Club. The world's first Ladies Championship took place in Dublin in 1879 and attracted nearly as many spectators as Wimbledon.
During the Golden Age of the 1890s and early 20th century, Ireland's tennis legends racked up nine Wimbledon titles as well as two Olympic Golds, the Australian Open, the US Open and, effectively, the Davis Cup.
[Continue]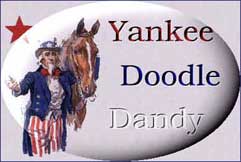 A Dandy of an Irish Yankee...
by Bridget Haggerty
...born on the Fourth of July? While the birth certificate says July 3rd, 1878, George M. Cohan's parents, who were famous for their honesty, insisted that he came into the world on Independence Day.
George Michael Cohan was born in Providence, Rhode Island, the second child of Jeremiah and Helen Costigan Cohan, better known as Jerry and Nellie. Both New England natives of Irish descent, these dedicated variety entertainers interrupted their tour so Nellie could give birth in her hometown.
[Continue]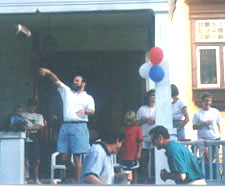 From our Front Porch - July 4th
by Bridget Haggerty
On the Sunday afternoon closest to the 4th of July, they descended on Haggerty's Toad Hall - the McCloys, Calhouns, Kellys, Aherns, and O'Flahertys. Armed with coolers, fireworks, lawn chairs, extra grills, and dishes to share, the stage and cast were set for an old-fashioned Independence Day picnic.
For our part, we'd been making preparations for days. Out came the garland of red, white and blue pennants which we tied from tree to tree around the property. We put the local used car lot to shame.
[Continue]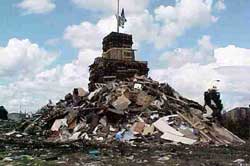 What the Twelfth means to me
by Stephen Moore
I have fond memories of the Twelfth of July and for those first twelve days in July where everyone in the street and the community at large got excited for Ulster's National Holiday. For this is Ulster's Fourth of July, Ulster's Mardi Gras, potentially the biggest celebration and largest single tourist attraction Ulster and indeed Western Europe could have, if only the Northern Ireland Tourist Board, the British Government and the nationalist community would recognise it as such.
[Continue]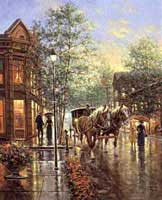 Watching the weather on St. Swithin's Day
by Bridget Haggerty
St Swithin's Day, if it does rain
Full forty days, it will remain
St Swithin's Day, if it be fair
For forty days, t'will rain no more."


This charming weather-rhyme is well known throughout the British Isles and Ireland. St. Swithin was an early Saxon Bishop of Winchester and legend says that as he lay on his deathbed, he asked to be buried in the common graveyard, "where the rain would fall on him and the feet of ordinary men could pass over him." For nine years, his wishes were followed, but then, the monks of Winchester attempted to remove his remains to a splendid shrine.
[Continue]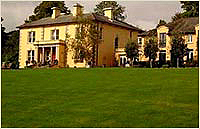 The irish Kitchen: Ballymaloe Salad with Shanagarry Cream Dressing
At Ballymaloe, they serve an old-fashioned salad on individual plates. Each plate features a few lettuce leaves, a couple of tomato quarters, two hard-boiled egg quarters, cucumber slices and a radish. For garnish they used scallions and watercress. There was also a scattering of egg white and some chopped parsley on top of the salad and a slice of home-pickled beetroot on the side. What caught our attention wasn't the salad - it was the dressing. It was so good, we asked for the recipe. Thanks to Lydia Strangman, here it is:
[Continue]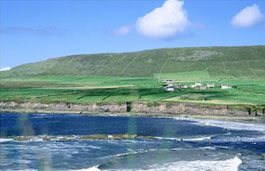 Basic Irish: Summertime
'Tis the season for fun in the sun! In this lesson, you'll find a slew of words and phrases related to everyone's favorite season - summertime!
Word: Summertime
Irish: ráithe an tSamhraidh
Pronunciation: raw-hyeh on thow-ree
[Continue]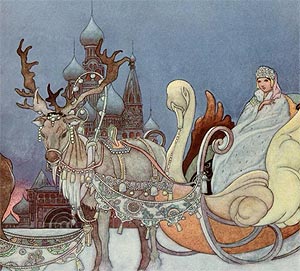 Kids' Ireland: The Remarkable Rocket
adapted from a story by Oscar Wilde by Bridget Haggerty
ED. NOTE:
The original story was very long and included archaisms which would be difficult to understand today, especially by children. Thus, with all due respect to Oscar, his tale is now shorter and we hope easier for parents or grandparents to read to the children or for young people to read for themselves.
The King's son was going to be married. He had waited a whole year for his bride, and at last she had arrived. She was a Russian Princess, and had driven all the way from Finland in a sleigh drawn by reindeer. The sleigh was shaped like a great golden swan, and between the swan's wings lay the Princess herself. Her long ermine cloak reached right down to her feet, on her head was a tiny cap of silver tissue, and she was as pale as the Snow Palace in which she had always lived. So pale was she that as she drove through the streets all the people wondered. 'She is like a white rose!' they cried, and they threw down flowers on her from the balconies.
[Continue]
Music Review: The Wolfe Tones: A Celtic Symphony of Unity, Still "Singing Out for Ireland"
by William Ramoutar


Well... to say the late 1950's and early 1960's were a hotbed for Irish folk groups and singers in Dublin has to be one of the biggest understatements of all time. In those days, young lads went away to camp and on outings to the mountains and campfire sing songs were the last thing you did before your weary head hit the sleeping bag. Many a career was started from the dreams and visions of those fledgling performers, not least of all, one of the longest running and biggest promoters of the Irish struggle, The Wolfe Tones.
[Continue]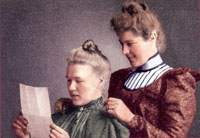 Letters
We receive many lovely letters from visitors to our web site and subscribers to our newsletter. As we're fond of saying, your feedback helps to make all of the time and effort worth while. While we have a Readers Write Page where we post comments from time to time, we've decided to also select a Letter - one that, for whatever reason, tickled our fancy.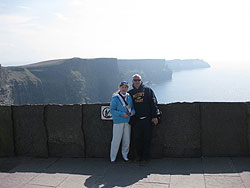 This past spring I went to Ireland with my son and his wife & her family. What a wonderful experience - way too short a time. I would have loved to sit and plan my days in a much more leisurely fashion but what we saw was all too wonderful This was my first time there - did a bit of checking on my grandmother's birth place: Roscommon. I would so love to return.
Thank you for this opportunity to be a part of your wonderful home page. Thank you, too, for "Irish Culture & Customs" - it gives us the chance to know more about Ireland and its people.
Bonnie Hirschler
Photo Caption: This is Bonnie and her son Michael Hirschler at the Cliffs of Moher.
ED. NOTE: When we asked Bonnie to send us a photo, she very kindly sent us two. We choose the one of her and her son at the Cliffs of Moher because it is such an iconic image of Ireland and one that is immediately recognizable. Standing more than 500 feet at the highest point and ranging for for nerly five miles over the Atlantic Ocean, on a clear day one can see the Aran Islands, Galway Bay, as well as The Twelve Pins, the Maum Turk Mountains in Connemara and Loop Head to the South. The cliffs take their name from a ruined promontory fort "Mothar" which was demolished during the Napoleonic wars to make room for a signal tower
Live Music from Mayo
A link to the internet service from Midwest Radio out of Mayo. Broadcasting from their state of the art studios; Midwest Irish Radio plays nothing but the best Irish music. No matter where you are in the world, you are never too far from Ireland when you listen in.
Click here for:
Irish Midwest radio
.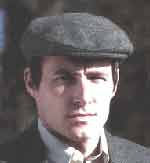 Shop for the best of Irish products from the comfort of your home
We combed the internet to find reliable resources for the most popular Irish products: Aran Isle sweaters, Guinness glasses, Waterford Crystal, genuine blackthorn walking sticks, the flag of the Republic and more. Some of these shops have become friends; others we trust from their reputations and some offer products that are completely unique. We hope you enjoy browsing through what's on offer and we are confident you will find gifts for any occasion or person, all with an Irish flair.
Notices

Did you get your Newsletter?
We try to send one out once or twice a month. If you aren't receiving it, something is wrong. Let us know and we'll try to solve the problem. Note: subscribers are automatically deleted from the data base if the newsletter bounces back multiple times. Full or disabled mailboxes will also cause a subscription to be cancelled. If you have any questions, please contact
Bridget
.