Fáilte
Welcome to Irish Culture and Customs, a labor of love we began several years ago. What started as a surprise milestone birthday trip to Ireland became the beginning of a journey through time. A 2,000-year voyage on a quest to learn as much as we can about everything Irish. So here's where we are so far - more than 700 pages that range from Irish poetry, superstitions , Kids Stories and recipes to specific Irish calendar celebrations such as St. Patrick's Day , Beltane, Samhain and the Feast of St. Brigid. Whether it's an Irish symbol such as the shillelagh, the Shamrock and the Book of Kells or an Irish craft like Aran Isle knitting, you'll discover a wide range of topics in our index. We hope you find the little bit of Ireland you may be looking for and we encourage you to share what you discover with your loved ones on your family website, blog, or social network.





---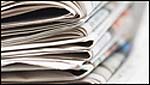 Today's Irish headlines
We comb the newspapers and web sites to find news to start your day with a positive spin. In this section you will also find links to stories from the past two weeks as well as links to the major Irish newspapers, the current time in Ireland and a link to the weather forecast.
Just want entertaining facts about Ireland? Please click here for
Did you Know?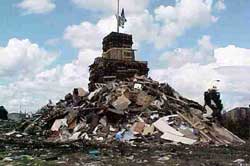 What the Twelfth means to me
by Stephen Moore
I have fond memories of the Twelfth of July and for those first twelve days in July where everyone in the street and the community at large got excited for Ulster's National Holiday. For this is Ulster's Fourth of July, Ulster's Mardi Gras, potentially the biggest celebration and largest single tourist attraction Ulster and indeed Western Europe could have, if only the Northern Ireland Tourist Board, the British Government and the nationalist community would recognise it as such.
[Continue]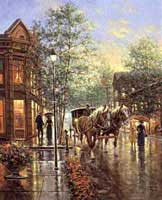 Watching the weather on St. Swithin's Day
by Bridget Haggerty
St Swithin's Day, if it does rain
Full forty days, it will remain
St Swithin's Day, if it be fair
For forty days, t'will rain no more."


This charming weather-rhyme is well known throughout the British Isles and Ireland. St. Swithin was an early Saxon Bishop of Winchester and legend says that as he lay on his deathbed, he asked to be buried in the common graveyard, "where the rain would fall on him and the feet of ordinary men could pass over him." For nine years, his wishes were followed, but then, the monks of Winchester attempted to remove his remains to a splendid shrine.
[Continue]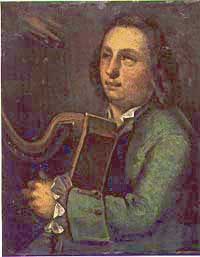 Tribute to Turlough
by Bridget Haggerty
When Turlough O'Carolan died at the house of his patron Máire MacDermott Roe in 1738, his former music-pupil Charles O'Conor recorded his passing in sadness: "Saturday, the 25th day of March, 1738. Turlough O'Carolan, the wise master and chief musician of the whole of Ireland, died today and was buried in the O'Duignan's church of Kilronan, in the sixty-eighth year of his age. May his soul find mercy, for he was a moral and religious man."
[Continue]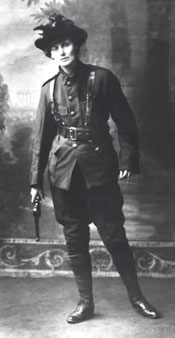 Constance Georgina de Markievicz
Suffragette, Socialist, Soldier
by Joe McGowan
"How can I voice my grief
For the patriot dead?
Sorrow and tears are often brief,
Though many will be shed —
Not alone in Lissadell
But around the peopled earth,
Wherever Irish exiles dwell
Or freedom struggles to have birth."
Dr. James P. Gallagher
Who was this woman with the unpronounceable surname, whose name and deeds blazed across the Irish skies in the momentous years of the early 20th century? From what noble Gaelic stock was she sprung? Surely her family pedigree must rank among the finest of the old Gaelic aristocracy, be as eminent as the O'Neill or the O'Donnell, as proud as the O'Connor or the O'Dowd!
[Continue]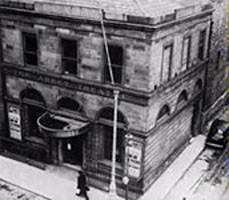 Irish Landmarks:The Abbey Theatre
by Bridget Haggerty
Led by W.B. Yeats, a group of prominent figures in Irish literature came together with the intention of championing, promoting and preserving the works of Irish-born playwrights. It's thanks to Yeats, Lady Augusta Gregory, J.M. Synge and George Russell that many of the most memorable plays of all time are still being enjoyed by theater-goers all over the world.
The group met in 1903 and founded the Irish National Theatre Society. Then, in 1904, with the assistance of a subsidy from Miss Annie Horniman and free use of a theater on Old Abbey Street, the Abbey Theater opened its doors for the first time on December 27th.
[Continue]
A Taste of Ireland: Guinness - For Strength!
by Bridget Haggerty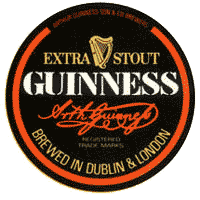 Peter O' Toole was once asked what was his favorite Irish food: "My number one choice is Guinness. My number two choice would be Guinness. My number three choice would have to be Guinness." While there are other stouts brewed in Ireland, including Beamish and Murphys, Mr. O'Toole's choice is shared by seven out of ten Irish drinkers — and probably an equivalent ratio of stout drinkers throughout the world.
Who could have anticipated how important it was to become when, in 1759, Arthur Guinness took over the lease of an abandoned brewery just outside the city walls of Dublin at St. James' Gate. Arthur followed the fashion of the times and started out by brewing malty, reddish ales. But, within a decade, he introduced a different kind of beer which would eventually win over the taste of his countrymen and eclipse the dark beers of England.
[Continue]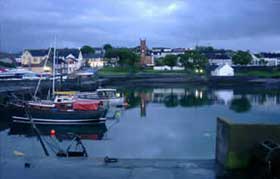 The irish Kitchen: Guinness & Malt Wheaten Bread
This recipe is adapted from one that originated in Margaret Waterworth's Adelbone Country Lodge and Kitchen, located in the coastal town of Groomsport, Co. Down. Guinness and Malt Wheaten Bread. An adaptation also appears in
Margaret Johnson's Cooking with Irish Spirits
. She says "It's a lovely bread to enjoy anytime of year."
[Continue]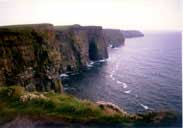 Basic Irish: Travel
It's that time of year when many people are packing their bags and leaving for a holiday in Ireland. Whether it's your first trip or you've been many times before, our collection of words and phrases might come in handy. At the very least, they'll be fun to practise on the tour bus or in the car!
[Continue]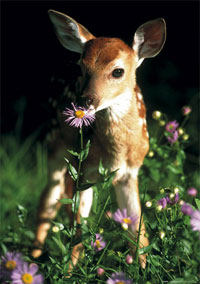 Kids' Ireland: The Story of Sadhbh
by Grainne Rowland

Not long after the twin wolfhounds, Sceolan (shkih-oh-lawn) and Bran came to live with Finn, they went out hunting with their master and the Fianna. They came across a young deer and gave chase. But, much to their surprise, the deer was very fast of foot and easily outran most of the men. At last, only Finn, Bran, and Sceolan were still chasing the deer. Finn was getting tired and was ready to stop when Bran and Sceolan gave a bark. When Finn drew close to the dogs, he saw that the deer had stopped and was resting quietly. The dogs were laying beside her, resting their heads on her soft hide.
[Continue]
Music Review: Loreena McKennitt - Masked, Mirrored and Magical
An overview of her music by William Ramoutar
From the gates of Istanbul to the Skellig Islands, there is one thing about her - she does her homework. I have heard from the begrudgers about how she uses other people's ideas, but to tell you the truth, there is no one else like her I can remember. Whether it is her interpretation of Alfred Noyes' epic poem or lyrics by St. John of the Cross, there is no one that leaves their stamp on a song like this lady.
[Continue]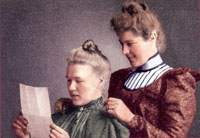 Letters
We receive many lovely letters from visitors to our web site and subscribers to our newsletter. As we're fond of saying, your feedback helps to make all of the time and effort worth while. While we have a Readers Write Page where we post comments from time to time, we've decided to also select a Letter - one that, for whatever reason, tickled our fancy.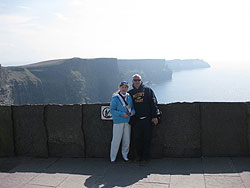 This past spring I went to Ireland with my son and his wife & her family. What a wonderful experience - way too short a time. I would have loved to sit and plan my days in a much more leisurely fashion but what we saw was all too wonderful This was my first time there - did a bit of checking on my grandmother's birth place: Roscommon. I would so love to return.
Thank you for this opportunity to be a part of your wonderful home page. Thank you, too, for "Irish Culture & Customs" - it gives us the chance to know more about Ireland and its people.
Bonnie Hirschler
Photo Caption: This is Bonnie and her son Michael Hirschler at the Cliffs of Moher.
ED. NOTE: When we asked Bonnie to send us a photo, she very kindly sent us two. We choose the one of her and her son at the Cliffs of Moher because it is such an iconic image of Ireland and one that is immediately recognizable. Standing more than 500 feet at the highest point and ranging for nearly five miles over the Atlantic Ocean, on a clear day one can see the Aran Islands, Galway Bay, as well as The Twelve Pins, the Maum Turk Mountains in Connemara and Loop Head to the South. The cliffs take their name from a ruined promontory fort "Mothar" which was demolished during the Napoleonic wars to make room for a signal tower
Live Music from Mayo
A link to the internet service from Midwest Radio out of Mayo. Broadcasting from their state of the art studios; Midwest Irish Radio plays nothing but the best Irish music. No matter where you are in the world, you are never too far from Ireland when you listen in.
Click here for:
Irish Midwest radio
.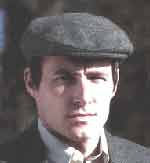 Shop for the best of Irish products from the comfort of your home
We combed the internet to find reliable resources for the most popular Irish products: Aran Isle sweaters, Guinness glasses, Waterford Crystal, genuine blackthorn walking sticks, the flag of the Republic and more. Some of these shops have become friends; others we trust from their reputations and some offer products that are completely unique. We hope you enjoy browsing through what's on offer and we are confident you will find gifts for any occasion or person, all with an Irish flair.
Notices

Did you get your Newsletter?
We try to send one out once or twice a month. If you aren't receiving it, something is wrong. Let us know and we'll try to solve the problem. Note: subscribers are automatically deleted from the data base if the newsletter bounces back multiple times. Full or disabled mailboxes will also cause a subscription to be cancelled. If you have any questions, please contact
Bridget
.