Fáilte
Welcome to Irish Culture and Customs, a labor of love we began several years ago. What started as a surprise milestone birthday trip to Ireland became the beginning of a journey through time. A 2,000-year voyage on a quest to learn as much as we can about everything Irish. So here's where we are so far - more than 700 pages that range from Irish poetry, superstitions , Kids Stories and recipes to specific Irish calendar celebrations such as St. Patrick's Day , Beltane, Samhain and the Feast of St. Brigid. Whether it's an Irish symbol such as the shillelagh, the Shamrock and the Book of Kells or an Irish craft like Aran Isle knitting, you'll discover a wide range of topics in our index. We hope you find the little bit of Ireland you may be looking for and we encourage you to share what you discover with your loved ones on your family website, blog, or social network.





---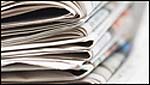 Today's Irish headlines
We comb the newspapers and web sites to find news to start your day with a positive spin. In this section you will also find links to stories from the past two weeks as well as links to the major Irish newspapers, the current time in Ireland and a link to the weather forecast.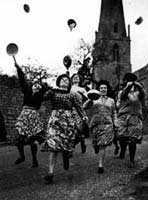 Shrove Tuesday Pancakes!
by Bridget Haggerty
Throughout the British Isles the day before Ash Wednesday - Shrove Tuesday - is commonly known as Pancake Day. In Ireland, It's called Pancake Tuesday. As the child of Irish parents living in London, I loved watching the Pancake Races. Usually, the contestants were housewives. Each of them carried a skillet which contained a large, very thin pancake. The idea was for the women to race to the finish line, tossing their pancakes as they ran. It was hilarious - especially when a stray pancake landed where it wasn't supposed to!
My other vivid memory of the day is my dad fixing our Shrove Tuesday supper - pancakes! As good as they were, we never had them at any other time of year. And, as good a cook as my mother was, she always let Dad take over the kitchen. Mum always claimed she was too heavy-handed to make good pancakes. I think it was a ploy on her part to let Dad have all the fun.
[Continue]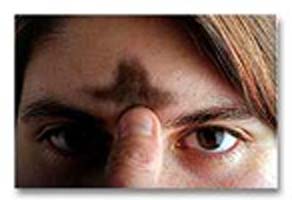 The Lenten Season in Old Ireland
by Bridget Haggerty
Ash Wednesday marks the beginning of the holiest time of the Christian year in Ireland. For centuries, the faithful have gone to church on this day to have their brow symbolically marked with a cross of ashes. Traditionally, the ashes came from burning the palms saved from the previous Palm Sunday, but, in some areas, the custom was for people to bring ashes from their turf fire into the church to be blessed.
At least one person from every household attended the Ash Wednesday ritual and they would bring home a pinch or two, so that all family members could have their foreheads marked. And so, with the priest having used his right thumb to apply the ashes while saying the prayer, "Remember that you are dust and to dust you shall return," the 40-day Lenten season commenced.
[Continue]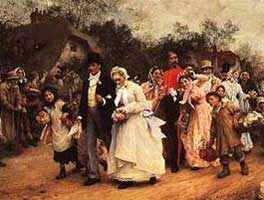 Shrovetide - The Marrying Season
by Bridget Haggerty
Well into the 20th century, the busiest time for match-making in Ireland began right after Epiphany - January 6th. This was because the Irish had misinterpreted a Church ruling set forth in November, 1563 which prohibited weddings during Lent. The popular reasoning that evolved from this decree was that if you could not marry during Lent, then you had to marry before. Thus, it was taken for granted that Shrovetide was the proper time to marry and Shrove Tuesday - the day before Ash Wednesday - became the most favored day of all.
With most weddings these days taking place on a Saturday, it may seem strange to us that just a few decades ago, marriages in Ireland would be performed on any day of the week except Saturday and Sunday.
[Continue]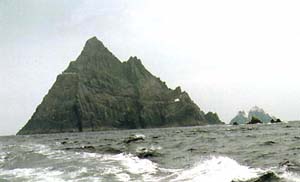 What if you were still single by Ash Wednesday?
by Bridget Haggerty
In 1751, King George II decreed that Great Britain would switch over from the Julian Calendar to the Gregorian Calendar - the one we use today. The switch went into effect in September, 1752. The day after September 2nd of that year became September 14th. There were riots in the streets because people believed that the king had stolen 12 days out of their lives. Meanwhile, in Ireland, the monks kept what came to be known as Old Time.
In my article, Shrovetide, the Season For Marrying, I described why the days before Ash Wednesday were when the majority of marriages took place in Ireland long ago. But, what if Shrovetide went by and you were still single when Ash Wednesday dawned? It was popular opinion in those times, that this was a major neglect of your social duty to the community; but, you could make amends by "Going to the Skelligs."
[Continue]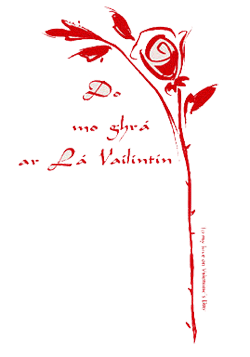 The Irish Link to St. Valentine
by Bridget Haggerty
As a young girl growing up in England in the 50s, I loved sending and receiving Valentine cards - messages that were always unsigned. As the sender, one would go to great lengths to disguise the source of the card. As the recipient, the fun was in trying to figure out the identity of your secret admirer.
When I came to the United States in the early 60s, imagine my surprise to learn that the custom here was to identify the sender. Not only that, cards were often sent to relatives, such as your mom and dad! It didn't seem very appropriate to me, then or now. In fact, I still think it's very odd and, while I have capitulated to custom and sign the card I give to my husband, there's a part of me that still wishes Valentine's Day could be like it once was - shrouded in romantic mystery.
[Continue]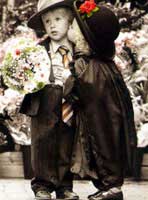 The Irish In Love
by Bridget Haggerty
'The Realm of Romance' is bigger than West Virginia and smaller than Ohio. But for such a tiny place, Ireland is a magnificent, multi-faceted gem, blessed with an abundance of details and differences. Majestic mountains sweep down to the sea. Miles of stone walls line fields filled with black-faced sheep. Tall, flowering hedges shade narrow, winding roads. Ancient castles and mystical abbeys dominate pastoral vistas. And, pastel-hued cottages dot river valleys strewn with wild flowers. What a magical place to begin a romance or married life together!
[Continue]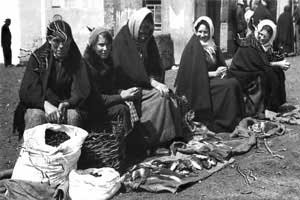 The Irish Kitchen: Recipes for the Lenten Season
Contributed by Hartson Dowd


Herring or smelts have always been a mainstay on the Irish table, especially during Lent. But, to enjoy them to the fullest, they have to be as fresh as possible and preferably eaten on the day they are caught - or bought.
[Continue]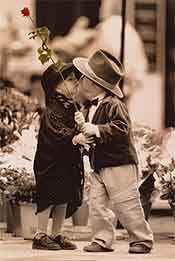 The Language of Love - in Irish
This is a revised and updated version of our St. Valentine''s Day offering. The difference is that some of the following words and phrases can be used at any time of the year, whenever romance is in the air.
[Continue]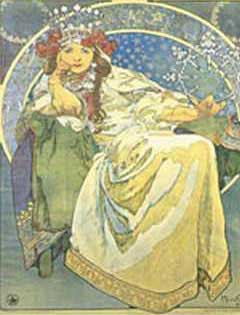 Kids' Ireland: The White Trout
by Grainne Rowland

Long ago, in a place called Cong in County Mayo, there lived a young woman. She was promised in marriage to a king's son, whom she loved very much. But, one day, the king's son was killed by an enemy.

The lady pined away from sadness. Everyone in the village was sorry for her. They knew how much she had been in love. After a while, the beautiful lady disappeared. The villagers thought that the good people1 had taken her away.

Some time later, a white trout was noticed in the lake. This was curious, for a white trout had never before been seen in the area. The white trout was watched for many generations, and it never changed its appearance or its habits. The people thought the trout must be a magic fish. So they never bothered the trout and always treated it with great respect.

[Continue]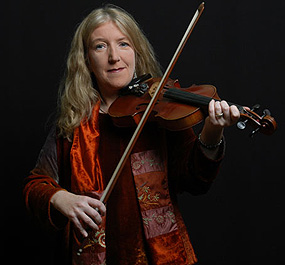 Music Review: Celtic Lovers - Máire Breatnach
by Bridget Haggerty

Máire Breatnach's third solo album takes us on a journey through Irish mythology, with great romances as its central theme. While the music would be a pleasure to listen to without any knowledge of Irish myths and sagas, the details that Máire provides about the various couples in the accompanying booklet adds considerably to one's appreciation of the work.

From the opening enchantments of Mannan's polkas, to the blandishments of Grainne's slip jigs, to the tender evocations of lost love on Fand's air, the melodies and rhythms hold the listener spellbound.

[Continue]




Live Music from Mayo

A link to the internet service from Midwest Radio out of Mayo. Broadcasting from their state of the art studios; Midwest Irish Radio plays nothing but the best Irish music. No matter where you are in the world, you are never too far from Ireland when you listen in.
Click here for: Irish Midwest radio.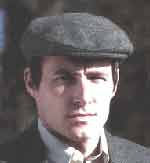 Shop for the best of Irish products from the comfort of your home

We combed the internet to find reliable resources for the most popular Irish products: Aran Isle sweaters, Guinness glasses, Waterford Crystal, genuine blackthorn walking sticks, the flag of the Republic and more. Some of these shops have become friends; others we trust from their reputations and some offer products that are completely unique. We hope you enjoy browsing through what's on offer and we are confident you will find gifts for any occasion or person, all with an Irish flair.





Notices

Did you get your Newsletter?
We try to send one out once or twice a month. If you aren't receiving it, something is wrong. Let us know and we'll try to solve the problem. Note: subscribers are automatically deleted from the data base if the newsletter bounces back multiple times. Full or disabled mailboxes will also cause a subscription to be cancelled. If you have any questions, please contact Bridget.

---
Graduate students use Dissertation Quest for helpful thesis writing guides.
Math homework problems? Visit mathprepa.com for free help.
---