Traditions, folklore, history and more. If it's Irish, it's here. Or will be!
"People will not look forward to posterity who never look backward to their ancestors."
-Edmund Burke
---
Quotes

Library: Books, Movies, Music

Prints & Photos

Poetry

Jokes

---
---
Shops Ireland
---
Bunús na Gaeilge
(Basic Irish)

---
---
---
Himself/Herself
Write to Us
Readers Write..
Links/Link to Us
---
Advertise with us
---
Awards & Testimonials

Submissions Guide
---
Fáilte
Welcome to Irish Culture and Customs, a labor of love we began several years ago. What started as a surprise milestone birthday trip to Ireland became the beginning of a journey through time. A 2,000-year voyage on a quest to learn as much as we can about everything Irish. So here's where we are so far - more than 700 pages that range from Irish poetry, superstitions , Kids Stories and recipes to specific Irish calendar celebrations such as St. Patrick's Day , Beltane, Samhain and the Feast of St. Brigid. Whether it's an Irish symbol such as the shillelagh, the Shamrock and the Book of Kells or an Irish craft like Aran Isle knitting, you'll discover a wide range of topics in our index. We hope you find the little bit of Ireland you may be looking for and we encourage you to share what you discover with your loved ones on your family website, blog, or social network.





---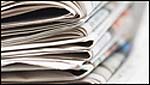 Today's Irish headlines
We comb the newspapers and web sites to find news to start your day with a positive spin. In this section you will also find links to stories from the past two weeks as well as links to the major Irish newspapers, the current time in Ireland and a link to the weather forecast.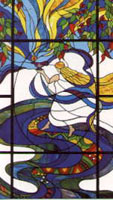 St. Brigid - The Giveaway
by Bridget Haggerty
Known variously throughout Ireland as St. Brigid, Brighid, Brigit, Bridget or Bride, it was believed that she travelled around the countryside on the eve of her festival, blessing both the people and their livestock.
To show that her visit was welcome, families would place a cake or pieces of bread and butter on the windowsill. In some parts of Ireland, the bread would be an
oatmeal loaf in the shape of a cross
which was specially baked for the occasion. A sheaf of corn was often placed beside it as refreshment for the saint's favorite white cow which accompanied her. In some places, the offering was left to be taken by a hungry, homeless person.
[Continue]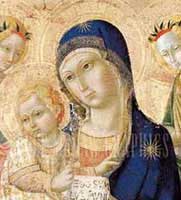 Celebrating Candlemas in Old Ireland
by Bridget Haggerty
Candlemas - February 2nd - celebrates the Presentation of Jesus in the Temple and the Purification of the Virgin Mary. As with many festivals in the liturgical calendar, this one has its origins in ancient Rome.
In Roman times, candles were carried through the streets and women observed purification rites. Even today, in many countries, women who had borne children the year before participate in candlelit processions - an activity the Church gladly welcomes as it symbolizes the purification of the Virgin Mary.
[Continue]
Armagh - The Garden of Ulster
by Bridget Haggerty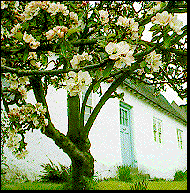 There's one fair county in Ireland
with mem'ries so glorious and grand,
where nature has lavished its bounty
it's the orchard of Erin's green land.
I love her cathedrals and cities
once founded by Patrick so true,
and it holds in the heart of its bosom
the ashes of Brian Boru

It's my dear Irish home, far across the foam
although I've often left her in foreign lands to roam
no matter where I wander in cities near or far sure my heart belongs in old Ireland
in the County of Armagh....

[Continue]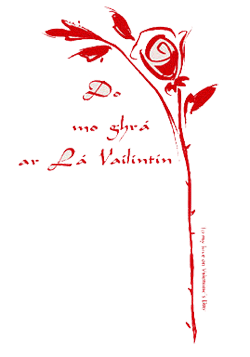 The Irish Link to St. Valentine
by Bridget Haggerty

As a young girl growing up in England in the 50s, I loved sending and receiving Valentine cards - messages that were always unsigned. As the sender, one would go to great lengths to disguise the source of the card. As the recipient, the fun was in trying to figure out the identity of your secret admirer.

When I came to the United States in the early 60s, imagine my surprise to learn that the custom here was to identify the sender. Not only that, cards were often sent to relatives, such as your mom and dad! It didn't seem very appropriate to me, then or now. In fact, I still think it's very odd and, while I have capitulated to custom and sign the card I give to my husband, there's a part of me that still wishes Valentine's Day could be like it once was - shrouded in romantic mystery.

Whether you sign your cards or choose to remain anonymous, have you ever wondered how this annual ritual began? Here's what the research into the history of St. Valentine revealed - and, much to my surprise - a link to Ireland that I was totally unaware of.


[Continue]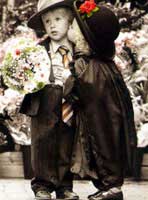 The Irish In Love
by Bridget Haggerty

'The Realm of Romance' is bigger than West Virginia and smaller than Ohio. But for such a tiny place, Ireland is a magnificent, multi-faceted gem, blessed with an abundance of details and differences. Majestic mountains sweep down to the sea. Miles of stone walls line fields filled with black-faced sheep. Tall, flowering hedges shade narrow, winding roads. Ancient castles and mystical abbeys dominate pastoral vistas. And, pastel-hued cottages dot river valleys strewn with wild flowers. What a magical place to begin a romance or married life together!


[Continue]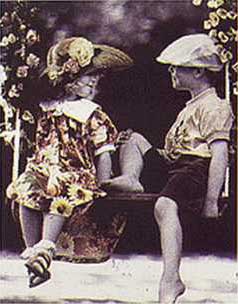 The Irish In Love - part two
by Bridget Haggerty

There's still time to put some Irish flair into your St. Valentine's Day celebrations!

What follows is a brief compilation of proverbs, sayings, a poem and then a few ideas for Irish books to buy or borrow, music to play, and then a romantic menu that's sure to quicken the pulse. An alternate menu with recipes is also featured in the Irish Kitchen.

While there are many gods who are said to preside over affairs of the heart, in Celtic folklore, there's only one that is equivalent to our modern day Cupid. Aengus Og was born of a secret union between Daghdagh, the mightiest of Irish gods and Boann, the river goddess. Depicted as an eternally youthful purveyor of romance, the Celts believed the magic kisses of Aengus Og became tiny birds and whoever heard their sweet singing would suddenly be overcome with passionate ideas. His kisses obviously were a lot more enchanting than the ones bestowed on the author of the following poem:
While my father was from Galway and was very prejudiced against Protestants from the North, he didn't allow his political leanings to interfere with his love of certain ballads about northern counties and their breath-taking landscapes. He had a wonderful voice and I loved to hear him sing The Green Glens of Antrim... "Far across yonder blue lies a true fairy land,with the sea rippling over the shingle and sand, where the gay honeysuckle is luring the bee and the green glens of Antrim are calling to me..."


[Continue]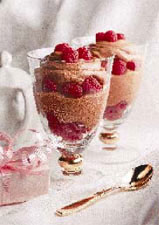 The Irish Kitchen: A Romantic Irish Menu for Valentine's Day

For starters, might we suggest Irish Oysters washed down with Black Velvets (half Guinness and half champagne). Next up is Lobster in Bunratty Potcheen, new potatoes & fresh asparagus. And, for the finale, Mocha Mist Mousse enhanced with raspberries. A decadent, delectable and delightful diet downfall. But when it comes to a romantic dinner, whose more deserving than an Irish couple in love!


[Continue]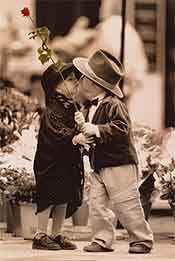 Basic Irish: The Language of Love - in Irish


This is a revised and updated version of our St. Valentine''s Day offering. The difference is that some of the following words and phrases can be used at any time of the year, whenever romance is in the air.


Phrase: St Valentine's Day
Irish: Lá Fhéle Vailintín
Pronunciation: law ay-leh val-in-theen


[Continue]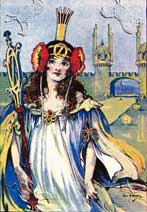 Kids' Ireland: Old Whiskers Wins a Wife and Aine Learns a Lesson
by Grainne Rowland

King Laoghaire's daughter, Aine, was of an age to be married. But, she was being very stubborn about the possible husbands her father presented to her.

"No, Father!" yelled Aine, stamping her foot. "Not one of these chieftains is good enough for me. I've looked at 79 of them. They are all too old, or too fat, or too thin, or too tall, or too short! Why, the last one had a scraggly beard down to his chest. No wonder I turned him down - Old Whiskers, indeed!"

"Then," roared King Laoghaire to his daughter, "I will marry you off to the first beggar who comes to the door!"


[Continue]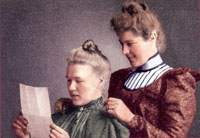 Letters
We receive many lovely letters from visitors to our web site and subscribers to our newsletter. As we're fond of saying, your feedback helps to make all of the time and effort worth while. While we have a Readers Write Page where we post comments from time to time, we've decided to also select a Letter - one that, for whatever reason, tickled our fancy.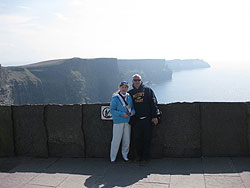 This past spring I went to Ireland with my son and his wife & her family. What a wonderful experience - way too short a time. I would have loved to sit and plan my days in a much more leisurely fashion but what we saw was all too wonderful This was my first time there - did a bit of checking on my grandmother's birth place: Roscommon. I would so love to return.

Thank you for this opportunity to be a part of your wonderful home page. Thank you, too, for "Irish Culture & Customs" - it gives us the chance to know more about Ireland and its people.

Bonnie Hirschler
Photo Caption: This is Bonnie and her son Michael Hirschler at the Cliffs of Moher.


ED. NOTE: When we asked Bonnie to send us a photo, she very kindly sent us two. We choose the one of her and her son at the Cliffs of Moher because it is such an iconic image of Ireland and one that is immediately recognizable. Standing more than 500 feet at the highest point and ranging for for nerly five miles over the Atlantic Ocean, on a clear day one can see the Aran Islands, Galway Bay, as well as The Twelve Pins, the Maum Turk Mountains in Connemara and Loop Head to the South. The cliffs take their name from a ruined promontory fort "Mothar" which was demolished during the Napoleonic wars to make room for a signal tower




Live Music from Mayo

A link to the internet service from Midwest Radio out of Mayo. Broadcasting from their state of the art studios; Midwest Irish Radio plays nothing but the best Irish music. No matter where you are in the world, you are never too far from Ireland when you listen in.
Click here for: Irish Midwest radio.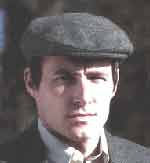 Shop for the best of Irish products from the comfort of your home

We combed the internet to find reliable resources for the most popular Irish products: Aran Isle sweaters, Guinness glasses, Waterford Crystal, genuine blackthorn walking sticks, the flag of the Republic and more. Some of these shops have become friends; others we trust from their reputations and some offer products that are completely unique. We hope you enjoy browsing through what's on offer and we are confident you will find gifts for any occasion or person, all with an Irish flair.





Notices

Did you get your Newsletter?
We try to send one out once or twice a month. If you aren't receiving it, something is wrong. Let us know and we'll try to solve the problem. Note: subscribers are automatically deleted from the data base if the newsletter bounces back multiple times. Full or disabled mailboxes will also cause a subscription to be cancelled. If you have any questions, please contact Bridget.

---
Wed, Jan 28, 2015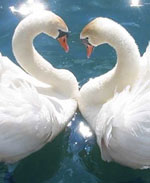 Irish God and Goddess of love
Oengus is the Irish God of love, beauty and youth. According to the old folklore, his kisses became birds. It is also said that he dreamed of a beautiful maiden, named Caer, for whom he searched all over Ireland. Eventually, he found her chained to 150 other maidens, destined to become swans at the time of Samhain. Legend has it that Oengus transformed himself into a swan and was united with his love.
Aine of Knockaine is the Irish Goddess of love. She is also known as the Fairy Queen of Munster and as a goddess of fertility beause she has control and command over crops and animals, especially cattle. Another name by which she is known is Aillen. To learn more about Irish mythology, please click Irish Myths & Legends.
Photo Credit: Wikipedia


Click for More Culture Corner.
Sunday Blessing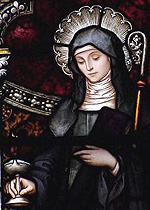 St. Brigid's Blessing for a home
May Brigid bless the house where you dwell,
every fireside door and every wall;
every heart that beats beneath its roof,
every hand that toils to bring it joy,
every foot that walks its portals through.
may Brigid bless the house that shelters you.
Photo credit: Catholic Forum



---
Weekly Quote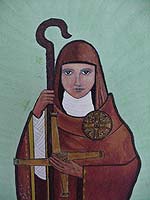 I would like a great lake of beer for the King of Kings. I would like to be watching Heaven's family drinking it through all eternity.
St. Brigid of Ireland
Image Credit: St. Bridgid's Church, Drum, Co. Roscommon

---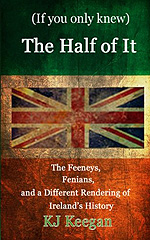 If you only knew
the Half of it
by KJ Keegan
The author's mother - an otherwise devout Roman Catholic - would often rant about the treatment of the Irish by the Brits and she would always end the rant with "if you only knew the half of it." This led the author on a quest to find out what she meant. The result is a thorough yet thoroughly entertaining retelling of Ireland's history and its unfortunate and luckless relationship with England (with no aplogy to the English, that is). Available in both paperback and Kindle editions on Amazon. Please click The Half of it.

---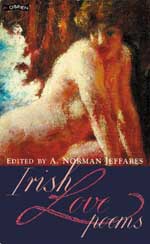 Irish Love Poems
edited by A. Norman Jeffares
All the poems in this anthology are neatly placed into categories such as "Intimations, "Flirtation and 'Courtship', 'Praise and Devotion', 'Youth, Age and Memory,' and many more. Included are works by Swift, Goldsmith, Yeats, Beckett, Wilde, Synge, and Seamus Heaney, as well as offerings from a young generation of emerging poets and several by our all-time favorite, "anonymous!"
Click for Irish Love Poems.
---
Top Irish Movie #4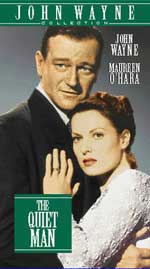 The Quiet Man

Yes, this film has almost become a cliche but if you haven't seen it, it is well worth the investment. As one reviewer puts it: "...it's no surprise The Quiet Man won an Oscar for cinematography. It also won an Oscar for John Ford's direction, his fourth such award. The film was a deeply personal project for Ford (whose birth name was Sean Aloysius O'Fearna), and he lavished all of his affection for the Irish landscape and Irish people on this film." We couldn't agree more.
Click here for The Quiet Man

---