Fáilte
Welcome to Irish Culture and Customs, a labor of love we began several years ago. What started as a surprise milestone birthday trip to Ireland became the beginning of a journey through time. A 2,000-year voyage on a quest to learn as much as we can about everything Irish. So here's where we are so far - more than 700 pages that range from Irish poetry, superstitions , Kids Stories and recipes to specific Irish calendar celebrations such as St. Patrick's Day , Beltane, Samhain and the Feast of St. Brigid. Whether it's an Irish symbol such as the shillelagh, the Shamrock and the Book of Kells or an Irish craft like Aran Isle knitting, you'll discover a wide range of topics in our index. We hope you find the little bit of Ireland you may be looking for and we encourage you to share what you discover with your loved ones on your family website, blog, or social network.



---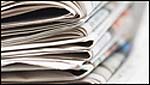 Today's Irish headlines
We comb the newspapers and web sites to find news to start your day with a positive spin. In this section you will also find links to stories from the past two weeks as well as links to the major Irish newspapers, the current time in Ireland and a link to the weather forecast.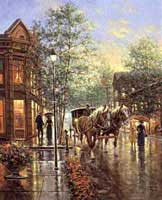 Watching the weather on St. Swithin's Day
by Bridget Haggerty
St Swithin's Day, if it does rain
Full forty days, it will remain
St Swithin's Day, if it be fair
For forty days, t'will rain no more."


This charming weather-rhyme is well known throughout the British Isles and Ireland. St. Swithin was an early Saxon Bishop of Winchester and legend says that as he lay on his deathbed, he asked to be buried in the common graveyard, "where the rain would fall on him and the feet of ordinary men could pass over him." For nine years, his wishes were followed, but then, the monks of Winchester attempted to remove his remains to a splendid shrine.
[Continue]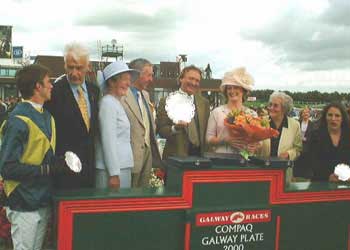 Galway Races - Where the Pint is the Unit of Currency!
by Gerard McLoughlin
The Galway Races, traditionally run in the last week of July, represent one of Ireland's most enduring and most characteristic festivals.
Throughout Ireland people of all ages and occupations prepare for the Galway Races with a fervour that is almost religious in its intensity. Budgets are planned, holidays are arranged and business is scheduled to conform with the sacrosanct dates of the annual week-long festival.
More significantly, perhaps, commemorative coups are prepared, often with horses that have abstained reverentially from victory for the obligatory twelve months. Horses will piously avail of the special dispensation permitting them to triumph twice in the one week at this exceptional venue.
On Monday, traditionally the opening evening, the turnstiles begin to rotate and the devotional crowds stream in regardless of prevailing economic or meteorological constraints. Mohair suits, elegant silks and clerical collars commingle spontaneously with cloth caps, braces (suspenders) and stout brown boots.
[Continue]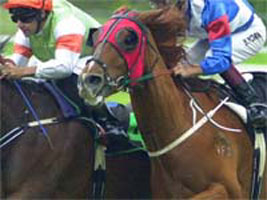 Lords of the Curragh Ring
by Gerard McLoughlin
In the privacy of their gleaming Merc's and BMW's, acquisitive bookmakers draw on their cigars and confide that never in the field of human conflict was so much given by so many to so few.
Be that as it may, thousands of us, undeterred by previous reversals, will once more be striding optimistically towards the betting ring at the Curragh on Irish Derby Day.
[Continue]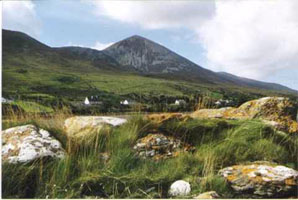 He Came To Mock - But Stayed to Pray
by Bridget Haggerty
The title for this article is an old Irish saying about "The Reek" - Croagh Patrick. It was once known as Crochan Aigh, the mount of the eagle, before it became associated with Ireland's best-loved saint.
According to legend, St. Patrick retired to the summit of Croagh Patrick for contemplation, fasting and prayer. He remained there for forty days and forty nights during which he was tormented by demons who assumed the form of black birds. He rang his bell so loudly that the men of Ireland heard it; finally he threw the bell at the demons so hard that it broke and the blackbirds departed. Patrick wept and an angel came to console him. As the story goes, he asked the angel to intercede on behalf of the Irish people and secure special dispensations for them.
[Continue]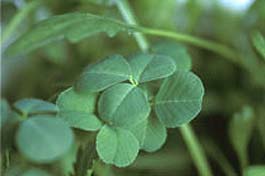 Emblems of Ireland: The Shamrock
by Bridget Haggerty
According to the Concise Columbia Encyclopedia, the identity of the true shamrock has long been debated, but the plants most often designated as the emblem of Ireland are the white clover, the small hop clover, and the wood sorrel, or oxalis.
It's likely that some or all of this information was provided by the botanist, Nathaniel Colgan, who endeavored to identify "the real shamrock" at the turn of the 20th century.
He asked people all over Ireland to send him living, rooted specimens which he carefully planted and labelled. When the plants matured and blossomed, he was able to identify four different plants - the three already mentioned and one called Black Medick.
[Continue]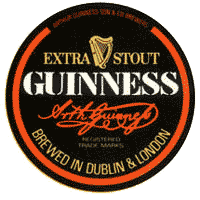 A Taste of Ireland: Guinness - For Strength!
by Bridget Haggerty
Peter O' Toole was once asked what was his favorite Irish food: "My number one choice is Guinness. My number two choice would be Guinness. My number three choice would have to be Guinness." While there are other stouts brewed in Ireland, including Beamish and Murphys, Mr. O'Toole's choice is shared by seven out of ten Irish drinkers — and probably an equivalent ratio of stout drinkers throughout the world.
Who could have anticipated how important it was to become when, in 1759, Arthur Guinness took over the lease of an abandoned brewery just outside the city walls of Dublin at St. James' Gate. Arthur followed the fashion of the times and started out by brewing malty, reddish ales. But, within a decade, he introduced a different kind of beer which would eventually win over the taste of his countrymen and eclipse the dark beers of England.
[Continue]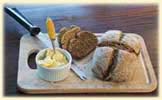 The Irish Kitchen: Soda Bread
by Bridget Haggerty
There's an ancient Irish proverb that says one should serve only "the newest of food and the oldest of drink." This illustrates exceedingly well the Irish attitude toward baking and distilling or brewing.
In old Ireland, the woman of the house made a variety of breads and cakes which she baked every day in a bastible or pot oven beside the open fire. Whatever she created - from griddle cakes to barm brack, it was seen as a sign of great respect to offer her guests bread that was still warm and uncut.
[Continue]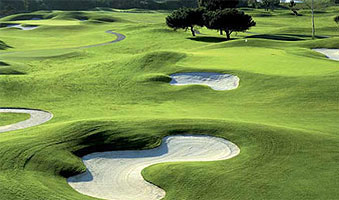 Basic Irish: Golf
Ever played golf in Ireland? It's no idle boast that the Emerald Isle has some of the most picturesque courses in the world. And they're challenging as well. Which is why movie stars like Mike Douglas fly in from the states just to play a round. In this week's lesson, Aideen offers words and phrases related to what one wag described as the greatest excuse for a walk. We especially like the phrase for Golf Club - as in the one you might belong to - sounds suspiciously close to Come and Golf!
[Continue]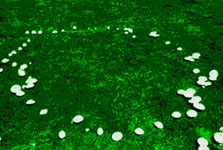 Kids' Ireland: Leary's New House
by Grainne Rowland


Leary was wild with excitement! He had just married the most beautiful wife, Aine. Better yet, he had bought six acres of the best land in the county. He would build the prettiest house for Aine.
Leary, his wife, and some friends walked over the six acres searching for the best spot on which to build the home. Leary looked at a spot in the middle of a large field. It had a ring of mushrooms and many wild flowers growing in it. It was a well-favored spot!
"There!" whooped Leary. "What do you think, wife? Isn't that a pretty place to build our home?"
[Continue]
[Continue]
Music Review: RUNA - a tradition in the making
by William Ramoutar
The mandolin has never been my thing. There – I've said it. I know I'll probably get chastised for this. But Dave Curley has changed my mind about it somewhat.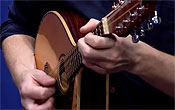 He is one of the members of the Philadelphia-based band, Runa. He plays mandolin, banjo, and sings, and until recently I was quite unaware of his superb talents. In fact, Runa were a bit of an unknown entity to me. I had received their latest cd, ironically called "Current Affairs," from the marvelous Patrick Garrett of Real Good Music, a promoter who works hard to get the word out about many new and upcoming bands and artists and who thankfully sees fit to inform me of his latest stable of artists. A chance meeting on Facebook with their effervescent percussionist Cheryl Prashker, born and raised in Montreal Canada, led me to the one decent listening room in Jacksonville – the Mudville, hosted by the ever faithful to the music, Ray Lewis. What a discovery this band are!
[Continue]



Live Music from Mayo
A link to the internet service from Midwest Radio out of Mayo. Broadcasting from their state of the art studios; Midwest Irish Radio plays nothing but the best Irish music. No matter where you are in the world, you are never too far from Ireland when you listen in.
Click here for:
Irish Midwest radio
.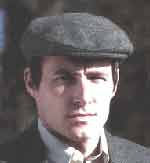 Shop for the best of Irish products from the comfort of your home
We combed the internet to find reliable resources for the most popular Irish products: Aran Isle sweaters, Guinness glasses, Waterford Crystal, genuine blackthorn walking sticks, the flag of the Republic and more. Some of these shops have become friends; others we trust from their reputations and some offer products that are completely unique. We hope you enjoy browsing through what's on offer and we are confident you will find gifts for any occasion or person, all with an Irish flair.
Notices

Did you get your Newsletter?
We try to send one out once or twice a month. If you aren't receiving it, something is wrong. Let us know and we'll try to solve the problem. Note: subscribers are automatically deleted from the data base if the newsletter bounces back multiple times. Full or disabled mailboxes will also cause a subscription to be cancelled. If you have any questions, please contact
Bridget
.
---
Authentic Irish clothing from Aran Sweaters Direct

---
Graduate students use Dissertation Geek - the best thesis writing company.
Math homework problems? Visit mathprepa.com for free help.
---