Fáilte
Welcome to Irish Culture and Customs, a labor of love we began several years ago. What started as a surprise milestone birthday trip to Ireland became the beginning of a journey through time. A 2,000-year voyage on a quest to learn as much as we can about everything Irish. So here's where we are so far - more than 700 pages that range from Irish poetry, superstitions , Kids Stories and recipes to specific Irish calendar celebrations such as St. Patrick's Day , Beltane, Samhain and the Feast of St. Brigid. Whether it's an Irish symbol such as the shillelagh, the Shamrock and the Book of Kells or an Irish craft like Aran Isle knitting, you'll discover a wide range of topics in our index. We hope you find the little bit of Ireland you may be looking for and we encourage you to share what you discover with your loved ones on your family website, blog, or social network.





---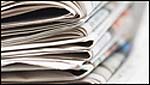 Today's Irish headlines
We comb the newspapers and web sites to find news to start your day with a positive spin. In this section you will also find links to stories from the past two weeks as well as links to the major Irish newspapers, the current time in Ireland and a link to the weather forecast.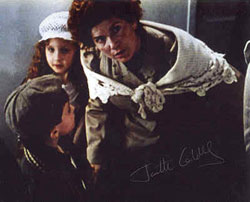 Poems & Lyrics in honour of Irish Mothers
Compiled by Bridget Haggerty
I well remember listening to my dad sing Mother Machree. I thought it was the mother's last name. It wasn't until I started learning a little bit of the Irish decades later that I discovered ma cree (mochrói) meant my heart. Certainly, it's a far better fit! But, regardless of the meaning, it has remained a favourite, joined along the way with other poems and tributes to Irish mothers. Herewith, just a sampling.
[Continue]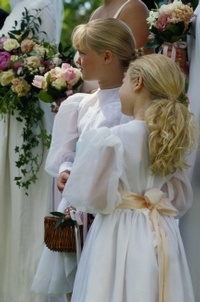 Marry in May and Rue the Day
by Bridget Haggerty
When I told our daughter about this old Irish verse, she changed her wedding date from May to April:
Marry in April if you can, joy for maiden and for man.

I am convinced that if couples make the effort, they can have a totally Irish celebration from beginning to end - even to the pre-wedding parties. There's one quaint custom where the groom was invited to the bride's house right before the wedding and they cooked a goose in his honor. It was called Aitin' the gander and it has to be where we get the expression "his goose is cooked!" We threw one of these dinner parties for our daughter and everyone had a great time. (The apple-potato stuffing has become a family favorite!).
[Continue]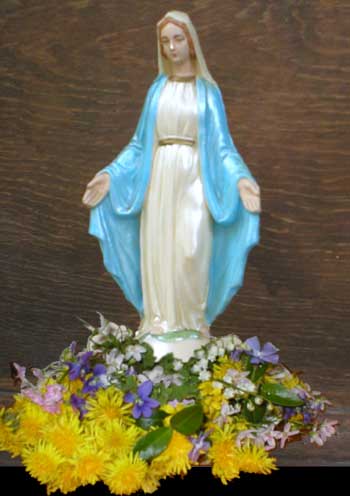 The Bright Flames of May
by Cormac MacConnell
It was a May Day that I remember well, a long time ago now, and I was wearing a pair of short trousers and the warm wood of the First Class desk was warm against the backs of my thighs and the Mahon twins were standing in front of the teacher, Miss Rooney. Oona was in floods of tears. Hughie was defiant, arms folded across his small gansied chest, but the tears were not too far away either. In between huge sucking kind of sobs Oona was looking deeply into her mother's cloth shopping bag.
To me it seemed to be filled with wadded pages of the local newspaper, The Fermanagh Herald, but everybody in the class already knew what was down in there and the terrible thing that had happened ten minutes earlier at Keenan's Cross beside the school.
"What ails you Oona at all?" asked Miss Rooney, tall, gentle, spinsterish, cardiganed, permed, and in her final year in the school as the Assistant Teacher. Oona was quite unable to answer. She looked deeply into the bag again and what she saw made her shudder all the way down to her wee sandals and the tears pattered down on the wadded newspaper.
[Continue]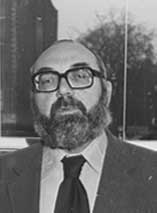 Poetry Corner: Thomas Kinsella
(b. May 4, 1928 - present)
...born in Dublin, to a family traditionally employed at the Guinness Brewery. Educated at the Model School, Inchicore followed by the O'Connell Schools (Christian Brothers). He abandoned a Science Scholarship at UCD and entered the Civil Service, where he stayed for 19 years, reaching post of assistant Principal officer in the Dept. of Finance.
He kept on, completing an Arts degree at UCD through night-classes. He published "Poems" in 1956 and "Another September" in 1958. Sometime later (1963?) he came to the United States. After many more papers and poetry collections, a Guggenheim Fellowship, and a Professorship of English at Temple University; he founded Peppercanister to publish his own verse,he returned to Ireland in 1976.
Peppercannister Press was finally subsumed in J. F. Deane's Dedalus Press.
There's a documentary on Kinsella made by Seán Ó Mordha with an appearance from Nuala Ní Dhomhnaill.
[Continue]
St. Brendan,The Navigator
by Bridget Haggerty
Also known as Brandan and Borodon, Brendan was born about 484 A.D. near Tralee in County Kerry. He was ordained by Bishop Erc and sailed around northwest Europe spreading the Christian faith and founding monasteries — the largest at Clonfert, County Galway. Legend says that the community had at least three thousand monks — their rule dictated to Brendan by an angel. He died at the age of 93 and he was buried at the monastery in 577 A.D.
Brendan and his brothers figure prominently in
Brendan's Voyage
, a tale of monks travelling the high seas of the Atlantic, evangelizing to the islands, and possibly reaching the Americas in the 6th century. At one point they stop on a small island, celebrate Easter Mass, light a fire - and then discover the island is an enormous whale!
[Continue]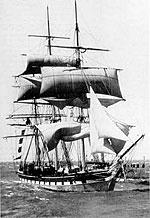 Irish Australian & looking for your ancestors?
by Bridget Haggerty

A very hot topic in Australia at the moment is where did you come from? According to the most recent census, there are almost 2m people living in Australia who claim Irish ancestry and Irish-Australians form the second largest migrant group after the English. If you are one of the many Australians who are proud of your irish roots, no doubt you are interested in how your family came to live in the land down under. Basically, the history of the Irish in Australia can be divided into two distinct groups - forced transport and subsidized travel.
Forced transport

It's a well known fact that many of the Irish who first went to Australia didn't go of their own free will. In the early nineteenth century, Britain embarked on a social engineering scheme that saw Australia become the first colony to build a society on the labour of convicted felons. About 50,000 of them were Irish men, women and juveniles who were sentenced to transportation for crimes that in the majority of cases were minor - petty theft being the most common.
[Continue]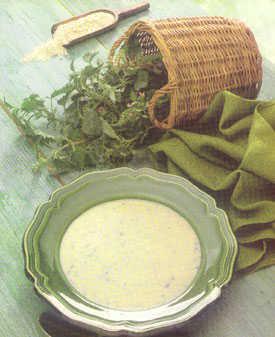 The Irish Kitchen: Traditional Irish Nettle Soup
Edited & adapted by Bridget Haggerty
"Eat Nettle Soup three times in May,
And For a year keep rheumatics away."
According to the old folklore, just three bowls of Nettle Soup eaten within the month of May would prevent the aches and pains of rheumatism for an entire year. This would have been of great interest to Irish monks as this nourishing dish was a part of their diet as far back as the 6th century. Did they know that it would help ease the stiffness in the knees when bent in prayer? Or soothe a back made to ache by hours in the garden wielding the rake?
If you decide to try this recipe, be sure to wear gloves when gathering the nettles - and choose only the young bright green leaves. Remove any stalks and chop up the leaves. Use a food-processor if you have one as it will do the job in a fraction of the time.
If you forget the gloves and get 'stung' by the nettles, find some dock leaves and rub the spot with the leaf. The pain will disappear. The secret to avoiding the sting is to grasp the nettle quickly and firmly (thus the ancient phrase "grasp the nettle" meaning "be swift and bold"). A light touch will produce the sting. Still, gloves are much easier.
[Continue]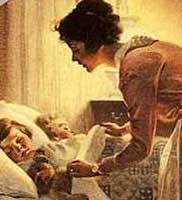 Basic Irish: Mothering Sunday
According to our native speaker, Aideen, a special day for mothers has become just as commercialized in Ireland as it has in other countries - whether you celebrate it in Ireland on the third Sunday before Easter, or elsewhere on the second Sunday in May. It's also a relatively new holiday, and while the history books do show that mothers were honored in special ways at a certain time of year, the concept of saying "Happy Mother's Day" is a contemporary custom. For that reason, Aideen cautions us that the following Mother's Day phrases have been translated into literal Irish; they aren't in common usage among native Irish speakers. So, while this isn't exactly an "authentic" Irish lesson, the value lies more in seeing how Irish words and phrases are put together and in learning how they are pronounced.
[Continue]

Kids' Ireland: St. Brendan's Adventures
by Grainne Rowland

Many people think that St. Brendan, an Irish monk, discovered America nearly 1,000 years before Christopher Columbus. The story of St. Brendan's travels is full of strange adventures.
St. Brendan lived from the year 489 to about 580. One day, a friend told him about the Promised Land of the Saints. On this island day never ends. The rocks are jewels.
Every tree had fruit which was good to eat.

Every plant had flowers with wonderful smells. The air was always warm. St. Brendan set out to find this wonderful island.

First he and some of his monks built a boat.

[Continue]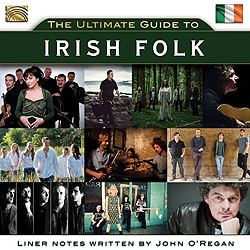 Music Review: The Ultimate Guide to Irish Folk
by William Ramoutar

I can honestly say there is no way I would have been the person to compile this collection of songs or artists. In my mind there are too many tunes that whizz around my head every week of my life that I sometimes obsess about– I would have needed 5, 6, or even 10 cd's. And, as for artists, well, that is another entirely different horse. Older songs and Artists pop into my recollections without invitations or indeed reason! Although I have to say the liner notes are so well done and really a quite comprehensive explanation of where the music came from (compiled by John O'Regan, a presenter on Limerick radio in Ireland), he also compiled the collection, and it is a clue to his own radio show's format. He is, as I say on Limerick Community Radio with a show called The Eclectic Celt. The tunes from the musicians on the cd are truly excellent. Mind you, probably everybody would have different tunes they would have chosen for a collection named as this, but what a package to promote our heritage and the great tradition of Irish music.


[Continue]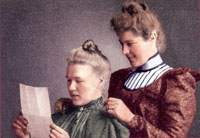 Letters
We receive many lovely letters from visitors to our web site and subscribers to our newsletter. As we're fond of saying, your feedback helps to make all of the time and effort worth while. While we have a Readers Write Page where we post comments from time to time, we've decided to also select a Letter - one that, for whatever reason, tickled our fancy.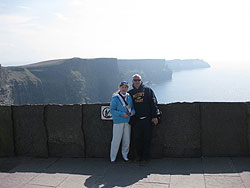 This past spring I went to Ireland with my son and his wife & her family. What a wonderful experience - way too short a time. I would have loved to sit and plan my days in a much more leisurely fashion but what we saw was all too wonderful This was my first time there - did a bit of checking on my grandmother's birth place: Roscommon. I would so love to return.

Thank you for this opportunity to be a part of your wonderful home page. Thank you, too, for "Irish Culture & Customs" - it gives us the chance to know more about Ireland and its people.

Bonnie Hirschler
Photo Caption: This is Bonnie and her son Michael Hirschler at the Cliffs of Moher.


ED. NOTE: When we asked Bonnie to send us a photo, she very kindly sent us two. We choose the one of her and her son at the Cliffs of Moher because it is such an iconic image of Ireland and one that is immediately recognizable. Standing more than 500 feet at the highest point and ranging for for nerly five miles over the Atlantic Ocean, on a clear day one can see the Aran Islands, Galway Bay, as well as The Twelve Pins, the Maum Turk Mountains in Connemara and Loop Head to the South. The cliffs take their name from a ruined promontory fort "Mothar" which was demolished during the Napoleonic wars to make room for a signal tower




Live Music from Mayo

A link to the internet service from Midwest Radio out of Mayo. Broadcasting from their state of the art studios; Midwest Irish Radio plays nothing but the best Irish music. No matter where you are in the world, you are never too far from Ireland when you listen in.
Click here for: Irish Midwest radio.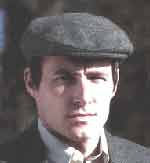 Shop for the best of Irish products from the comfort of your home

We combed the internet to find reliable resources for the most popular Irish products: Aran Isle sweaters, Guinness glasses, Waterford Crystal, genuine blackthorn walking sticks, the flag of the Republic and more. Some of these shops have become friends; others we trust from their reputations and some offer products that are completely unique. We hope you enjoy browsing through what's on offer and we are confident you will find gifts for any occasion or person, all with an Irish flair.





Notices

Did you get your Newsletter?
We try to send one out once or twice a month. If you aren't receiving it, something is wrong. Let us know and we'll try to solve the problem. Note: subscribers are automatically deleted from the data base if the newsletter bounces back multiple times. Full or disabled mailboxes will also cause a subscription to be cancelled. If you have any questions, please contact Bridget.