Fáilte
Welcome to Irish Culture and Customs, a labor of love we began several years ago. What started as a surprise milestone birthday trip to Ireland became the beginning of a journey through time. A 2,000-year voyage on a quest to learn as much as we can about everything Irish. So here's where we are so far - more than 700 pages that range from Irish poetry, superstitions , Kids Stories and recipes to specific Irish calendar celebrations such as St. Patrick's Day , Beltane, Samhain and the Feast of St. Brigid. Whether it's an Irish symbol such as the shillelagh, the Shamrock and the Book of Kells or an Irish craft like Aran Isle knitting, you'll discover a wide range of topics in our index. We hope you find the little bit of Ireland you may be looking for and we encourage you to share what you discover with your loved ones on your family website, blog, or social network.





---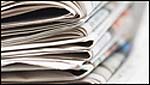 Today's Irish headlines
We comb the newspapers and web sites to find news to start your day with a positive spin. In this section you will also find links to stories from the past two weeks as well as links to the major Irish newspapers, the current time in Ireland and a link to the weather forecast.
Just want entertaining facts about Ireland? Please click here for
Did you Know?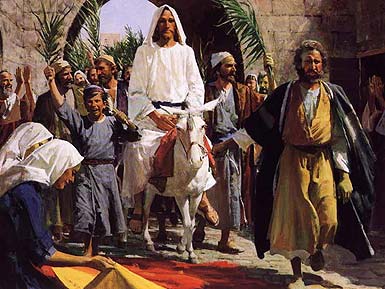 Palm Sunday in old Ireland
by Bridget Haggerty
Irish speakers once referred to Palm Sunday as Domhnach an Iúir - Yew Sunday. That's because the "palm" was most often a sprig from the yew tree or some other conifer such as a silver fir, spruce or cypress. In County Fermanagh, early on every Palm Sunday morning, a Protestant cut down sprigs of yew and placed them on his garden wall.
In the old days, families brought their own fronds of "palm" to the church to be blessed. While he didn't have a Palm Sunday ceremony in his own church, it's on record that this very considerate Protestant soul offered palms to his less than fortunate Catholic neighbors on their way to chapel.
[Continue]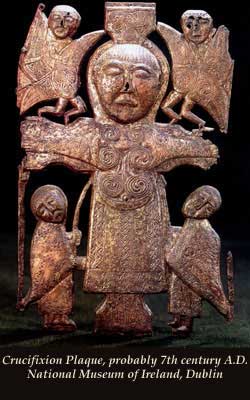 Good Friday Haircuts and Seaweed for Dinner
by Bridget Haggerty
The name Good Friday is generally believed to be a corruption of God's Friday. In Ireland, since the days of the early church, it has always been dedicated to penance, fasting, and prayer. As might be expected, it was the severest day of Lenten austerity. Most people went beyond even the black fast prescribed by the church. They ate nothing at all until midday and even then, all they took was three mouthfuls of bread and three sips of water - three being in honor of the Holy Trinity.
Little or no work was done on the land, except for the planting of a small quantity of grain or potatoes to invoke a blessing on the crops. The rest of the time was spent making sure the house, yard and out-buildings were clean and tidy.
Within the house, the women and girls loosened their hair and allowed it to hang down as a symbol of mourning. They, and the children, would also go barefoot throughout the day. The men and boys trimmed their finger and toenails and also cut their hair. According to superstition, a haircut on Good Friday would prevent headaches during the coming year.
[Continue]
Easter Saturday and a Funeral for a Fish
by Bridget Haggerty

Pity the poor butchers in old Ireland during the Lenten season. Not one good Christian soul would buy their beef, or any other kind of meat. The main source of protein for the long days of fasting was herring, because it was cheap and plentiful. But, after eating it so often, people were delighted to see the back of it. So much so, they celebrated with a mock funeral on Easter Saturday.
[Continue]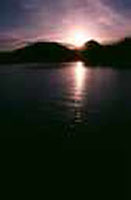 Easter Sunday: The dance of the Sun at dawn and a cake dance in the afternoon
by Bridget Haggerty
Long ago, the people of Ireland shared a common pious belief with many countries in Europe: when the sun rises on Easter Sunday morning, it dances with joy that the Saviour has risen.
Customarily, families would get up before dawn and make their way to a hill top or other elevated location. Most likely it would have been a place where there was a special holy well. There, they would wait to see the sun do a jig, as it rose above the rim of the earth. For those not wishing to risk damaging their eyesight by looking directly into the brightness, they would look at its reflection in a tub of water. Of course, someone would craftily agitate the vessel and the miracle would be manifest!
[Continue]
Easter Monday Mirth & Merriment at the Market
by Bridget Haggerty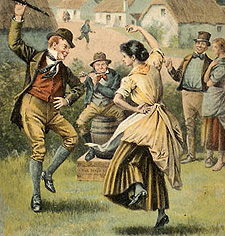 Long ago, the day after Easter was one that Irish people eagerly looked forward to. Not only was it a favorite day for buying and selling livestock and merchandise at fairs and markets, it was also a time for enjoying sports, games, sideshows, dancing, eating, drinking, gambling, and perhaps, even some fisticuffs!
For many years, Easter Monday was also a holy day of obligation in the Roman Catholic Church. That meant one had to go to Mass and abstain from work. All well and good, except that the riotous behavior which often followed during the day and well into the evening didn't sit well with the clergy. in 1828, the Bishop of Kildare and Leighlin, Dr. John Doyle, prevailed upon other bishops to petition the Pope to make Easter Monday an ordinary working day. The intention was to disassociate the Church from what was perceived as unseemly fun at the fair! The Pope granted the petition, so that from 1829, Easter Monday was no longer a holy day.
[Continue]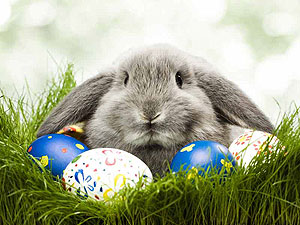 The Irish Kitchen: An Irish Easter
In old Ireland, Easter Sunday was a day of great celebration, not the least of which was the blessed relief from the abstinence of meat for nearly two months. Here, you can take your pick from lamb or ham. Following the main dish recipes is a perfect vegetable accompaniment to any spring-time dinner menu. And for "afters" - the Irish word for dessert - our resident Irish recipe collectors and contributors offer a delightful suggestion.
[Continue]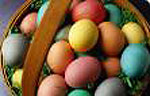 Basic Irish: Lent & Easter
This lesson features words and phrases related to giving up favorite foods like chocolate for Lent. Is Easter imminent? Our lesson covers appropriate words and phrases from Palm Sunday to Easter Monday.
[Continue]

Kids' Ireland: How The Causeway Came to Be
Edited and adapted from Irish folklore by Bridget Haggerty
What caused the Giants Causeway? Scientists say that millions of years ago, there were huge volcanic eruptions and after they were over, thousands of strange-looking columns appeared on the coast of Co. Antrim. Is that really what happened? The Seanchai*, or Irish story-teller, has a far different tale to tell.
[Continue]
Music Review: The Wolfe Tones: A Celtic Symphony of Unity, Still "Singing Out for Ireland"
by William Ramoutar


Well... to say the late 1950's and early 1960's were a hotbed for Irish folk groups and singers in Dublin has to be one of the biggest understatements of all time. In those days, young lads went away to camp and on outings to the mountains and campfire sing songs were the last thing you did before your weary head hit the sleeping bag. Many a career was started from the dreams and visions of those fledgling performers, not least of all, one of the longest running and biggest promoters of the Irish struggle, The Wolfe Tones.
[Continue]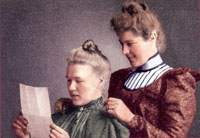 Letters
We receive many lovely letters from visitors to our web site and subscribers to our newsletter. As we're fond of saying, your feedback helps to make all of the time and effort worth while. While we have a Readers Write Page where we post comments from time to time, we've decided to also select a Letter - one that, for whatever reason, tickled our fancy.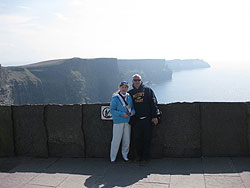 This past spring I went to Ireland with my son and his wife & her family. What a wonderful experience - way too short a time. I would have loved to sit and plan my days in a much more leisurely fashion but what we saw was all too wonderful This was my first time there - did a bit of checking on my grandmother's birth place: Roscommon. I would so love to return.
Thank you for this opportunity to be a part of your wonderful home page. Thank you, too, for "Irish Culture & Customs" - it gives us the chance to know more about Ireland and its people.
Bonnie Hirschler
Photo Caption: This is Bonnie and her son Michael Hirschler at the Cliffs of Moher.
ED. NOTE: When we asked Bonnie to send us a photo, she very kindly sent us two. We choose the one of her and her son at the Cliffs of Moher because it is such an iconic image of Ireland and one that is immediately recognizable. Standing more than 500 feet at the highest point and ranging for nearly five miles over the Atlantic Ocean, on a clear day one can see the Aran Islands, Galway Bay, as well as The Twelve Pins, the Maum Turk Mountains in Connemara and Loop Head to the South. The cliffs take their name from a ruined promontory fort "Mothar" which was demolished during the Napoleonic wars to make room for a signal tower
Live Music from Mayo
A link to the internet service from Midwest Radio out of Mayo. Broadcasting from their state of the art studios; Midwest Irish Radio plays nothing but the best Irish music. No matter where you are in the world, you are never too far from Ireland when you listen in.
Click here for:
Irish Midwest radio
.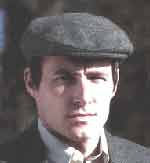 Shop for the best of Irish products from the comfort of your home
We combed the internet to find reliable resources for the most popular Irish products: Aran Isle sweaters, Guinness glasses, Waterford Crystal, genuine blackthorn walking sticks, the flag of the Republic and more. Some of these shops have become friends; others we trust from their reputations and some offer products that are completely unique. We hope you enjoy browsing through what's on offer and we are confident you will find gifts for any occasion or person, all with an Irish flair.
Notices

Did you get your Newsletter?
We try to send one out once or twice a month. If you aren't receiving it, something is wrong. Let us know and we'll try to solve the problem. Note: subscribers are automatically deleted from the data base if the newsletter bounces back multiple times. Full or disabled mailboxes will also cause a subscription to be cancelled. If you have any questions, please contact
Bridget
.