Fáilte
Welcome to Irish Culture and Customs, a labor of love we began several years ago. What started as a surprise milestone birthday trip to Ireland became the beginning of a journey through time. A 2,000-year voyage on a quest to learn as much as we can about everything Irish. So here's where we are so far - more than 700 pages that range from Irish poetry, superstitions , Kids Stories and recipes to specific Irish calendar celebrations such as St. Patrick's Day , Beltane, Samhain and the Feast of St. Brigid. Whether it's an Irish symbol such as the shillelagh, the Shamrock and the Book of Kells or an Irish craft like Aran Isle knitting, you'll discover a wide range of topics in our index. We hope you find the little bit of Ireland you may be looking for and we encourage you to share what you discover with your loved ones on your family website, blog, or social network.





---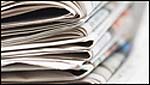 Today's Irish headlines
We comb the newspapers and web sites to find news to start your day with a positive spin. In this section you will also find links to stories from the past two weeks as well as links to the major Irish newspapers, the current time in Ireland and a link to the weather forecast.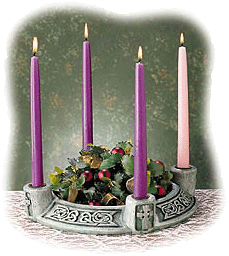 An Advent Memory
by Bridget Haggerty
Right after supper, on the first Sunday of Advent, everyone at St. Vincent's Boarding School for Girls, waited in eager anticipation for the lighting of the first candle.
A huge wreath was somehow magically suspended below the main chandelier in the center of the dining hall. Tables and chairs were quickly pushed back so there was enough space for all of us to gather in a circle, three or four tiers deep, with the youngest in front. As excited as we were, all of us were very careful to remain silent - that was the rule.
[Continue]

Tribute to Patrick Kavanagh
(b. Oct. 21 (23?), 1904 - d. Nov. 30, 1967)
"Literary Adventure": In tribute to Patrick Kavanagh
Having just heard from the agent representing the Patrick & Katherine Kavanagh Trust that we can't publish any of the poet's works without paying a fee, we have tried to come up with an alternative which might actually prove to be of more value to those readers who want to know about the man. His works are well represented in books, so herewith, is an essay from the official web site. It captures something of who he was and how or why his poetry came to be.
[Continue]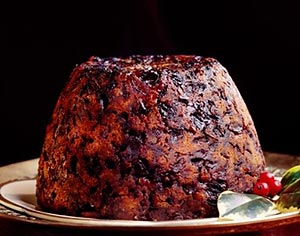 Preparing the Puddings
by Bridget Haggerty
At our house, my mother served three different kinds of Christmas pudding. Not all at the same time, mind you. If we could afford it, which was seldom in my memory, she'd begin making an incredibly rich version weeks before the big day; when times were lean, which was often, we had a much simpler dessert which could be made on Christmas Eve, or even on Christmas. Then, there were the really hard years, when we had a commercially-made travesty that came in a tin...
[Continue]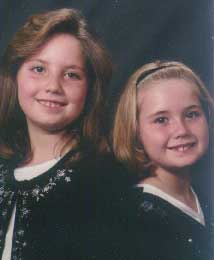 Yes, Kelsey & Maddie O'Flaherty, there is a Santa Claus
by Bridget Haggerty
This article came about because our nieces revealed to us right before Christmas that they no longer believe in Santa Claus.
In an effort to set them straight, we took a closer look at the legendary editorial written by Francis Church and we were delighted to discover that it was inspired by a letter from another young Irish-American girl - Virginia O'Hanlon.
[Continue]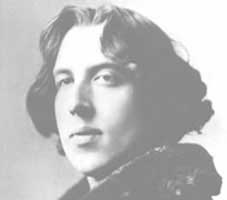 Oscar Wilde Remembered
by Bridget Haggerty
"My wallpaper and I are fighting a duel to the death. One or the other of us has got to go." Those were the last words of Oscar Fingal O'Flahertie Wills Wilde who died on November 30, 1900, in the Hotel D'Alsace, a Left Bank flophouse.
Biographers attribute his death to meningitis caused by syphilis, but on November 24th, 2000, it was reported by Reuters that South African researchers now believe his death was due to a chronic and destructive middle ear disease.
[Continue]
Poetry Corner: Derek Mahon
(b. Nov. 23, 1941 - present)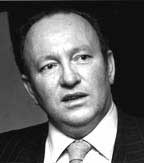 ...was born in Belfast, North Ireland. He was educated at Trinity College in Dublin. His books of poetry include The Hudson Letter (Wake Forest University Press, 1996); Selected Poems (1993); The Yaddo Letter (1992); Selected Poems (1991); Antarctica (1985); A Kensington Notebook (1984); The Hunt by Night (1982); Courtyards in Delft (1981); Poems, 1962-1978 (1979); The Sea in Winter (1979); In Their Element: A Selection of Poems (with Seamus Heaney, 1977); Light Music (1977); The Snow Party (1975); The Man Who Built His City in Snow (1972); Lives (1972); Beyond Howth Head (1970); Ecclesiastes (1970); Night-Crossing (1968); Design for a Grecian Urn (1967); and Twelve Poems (1965).
(Whew!)
He has also written a number of plays but this
is
a poetry page.
Here is one of the better reasons for giving thanks to the Irish Times.
When we first saw the list of 100 favorite poems, we looked at it with one eye closed. It was interesting, but the heart did not 'leap up'. Tsk tsk, how myopic. Derek Mahon for example, was unknown to us (we know, we know). The following is as astonishing for its concept as it is well crafted. I mean, I ask you, a poem about the plight of mushrooms?! All the same, you read and it breaks your heart.
[Continue]
The Irish Kitchen: Michaelmas Goose with Potato & Apple Stuffing
The goose was stuffed with potato, onion and sage stuffing and roasted slowly. Every now and then the fat would be poured off; some was used to roast potatoes but the rest was stored for myriad purposes apart from cooking — it was rubbed into congested chest as a remedy for wheeziness, rubbed in to the range to give it a shine, or even into leather shoes. Nothing was wasted!
Edited from The Festive Food of Ireland by Darina Allen.
[Continue]
Basic Irish: The Big Dinner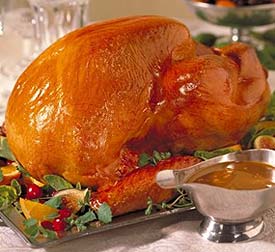 With the holidays right around the corner, this month's lesson focuses on the all-important festive feast. Our resident Irish speaker gave this offering a most appropriate title: An Dinnéar Mór - The Big Dinner.
Photo Credit:
Ivan Elsas
[Continue]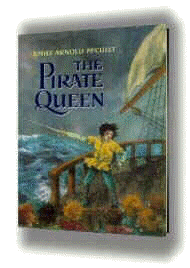 Kids' Ireland: A Plate at Howth
by Grainne Rowland

Grannuaile knocked at the door of the castle. It was noon and she and her men were hungry. They had sailed from London and were low on supplies.
The great wooden door opened quickly. A servant frowned as she looked at Grannuaile. Who are these country bumpkins, she wondered.
"What do you want?" the servant asked rudely.
"We ask hospitality," replied Grannuaile. "We are hungry."
"Well," said the servant girl, "you may not come in now. My master is at his dinner. He left orders that he is not to be bothered. You can go to the servants' entrance and see if there are leftovers. Or you can leave!"




[Continue]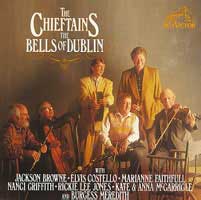 Music Review: The Bells of Dublin - The Chieftains
by Bridget Haggerty

We've owned The Bells of Dublin for many years and it remains one of our favorite Christmas recordings. The Chieftains are impeccable as always but, in addition to their traditional Irish sound, they team up with a group of contemporary vocalists; for the most part, the mix works well. In fact we like every cut except one.

We have a couple of Rickie Lee Jones CDs which we play often, but we always skip over her rendition of O Holy Night on The Bells of Dublin. We'll never understand why The Chieftains allowed this cut to remain because Rickie's voice just can't handle it. That said, the rest of the CD is a thoroughly enjoyable combination of popular carols, toe-tapping instrumental medleys and inspirational choral pieces.

[Continue]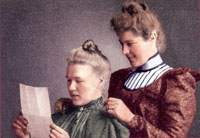 Letters
We receive many lovely letters from visitors to our web site and subscribers to our newsletter. As we're fond of saying, your feedback helps to make all of the time and effort worth while. While we have a Readers Write Page where we post comments from time to time, we've decided to also select a Letter - one that, for whatever reason, tickled our fancy.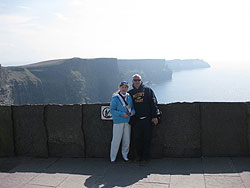 This past spring I went to Ireland with my son and his wife & her family. What a wonderful experience - way too short a time. I would have loved to sit and plan my days in a much more leisurely fashion but what we saw was all too wonderful This was my first time there - did a bit of checking on my grandmother's birth place: Roscommon. I would so love to return.

Thank you for this opportunity to be a part of your wonderful home page. Thank you, too, for "Irish Culture & Customs" - it gives us the chance to know more about Ireland and its people.

Bonnie Hirschler
Photo Caption: This is Bonnie and her son Michael Hirschler at the Cliffs of Moher.


ED. NOTE: When we asked Bonnie to send us a photo, she very kindly sent us two. We choose the one of her and her son at the Cliffs of Moher because it is such an iconic image of Ireland and one that is immediately recognizable. Standing more than 500 feet at the highest point and ranging for for nerly five miles over the Atlantic Ocean, on a clear day one can see the Aran Islands, Galway Bay, as well as The Twelve Pins, the Maum Turk Mountains in Connemara and Loop Head to the South. The cliffs take their name from a ruined promontory fort "Mothar" which was demolished during the Napoleonic wars to make room for a signal tower




Live Music from Mayo

A link to the internet service from Midwest Radio out of Mayo. Broadcasting from their state of the art studios; Midwest Irish Radio plays nothing but the best Irish music. No matter where you are in the world, you are never too far from Ireland when you listen in.
Click here for: Irish Midwest radio.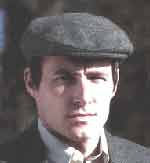 Shop for the best of Irish products from the comfort of your home

We combed the internet to find reliable resources for the most popular Irish products: Aran Isle sweaters, Guinness glasses, Waterford Crystal, genuine blackthorn walking sticks, the flag of the Republic and more. Some of these shops have become friends; others we trust from their reputations and some offer products that are completely unique. We hope you enjoy browsing through what's on offer and we are confident you will find gifts for any occasion or person, all with an Irish flair.





Notices

Did you get your Newsletter?
We try to send one out once or twice a month. If you aren't receiving it, something is wrong. Let us know and we'll try to solve the problem. Note: subscribers are automatically deleted from the data base if the newsletter bounces back multiple times. Full or disabled mailboxes will also cause a subscription to be cancelled. If you have any questions, please contact Bridget.