Fáilte
Welcome to Irish Culture and Customs, a labor of love we began several years ago. What started as a surprise milestone birthday trip to Ireland became the beginning of a journey through time. A 2,000-year voyage on a quest to learn as much as we can about everything Irish. So here's where we are so far - more than 700 pages that range from Irish poetry, superstitions , Kids Stories and recipes to specific Irish calendar celebrations such as St. Patrick's Day , Beltane, Samhain and the Feast of St. Brigid. Whether it's an Irish symbol such as the shillelagh, the Shamrock and the Book of Kells or an Irish craft like Aran Isle knitting, you'll discover a wide range of topics in our index. We hope you find the little bit of Ireland you may be looking for and we encourage you to share what you discover with your loved ones on your family website, blog, or social network.





---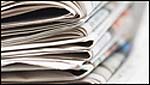 Today's Irish headlines
We comb the newspapers and web sites to find news to start your day with a positive spin. In this section you will also find links to stories from the past two weeks as well as links to the major Irish newspapers, the current time in Ireland and a link to the weather forecast.
Just want entertaining facts about Ireland? Please click here for
Did you Know?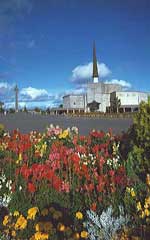 The Annual Novena at Our Lady of Knock
by Bridget Haggerty
In the summer of 2003, Pope John Paul's prayers were answered at Knock. It rained buckets. Considering the Pope's role in making it one of the major Marian Shrines in the world, it was appropriate that, of all of them, it was at Knock that his plea on behalf of "the victims of this calamity" (Europe's heatwave) that all "ask the Lord fervently to grant the thirsty Earth the coolness of rain."
It's estimated that over the nine-day novena period - between August 14th and 22nd - as many as 100,000 people visited the shrine. The pilgrims are mainly Irish and come from all over the island but many are from overseas. Literature at the shrine is in Polish, Italian, German and Spanish, as well as English.
[Continue]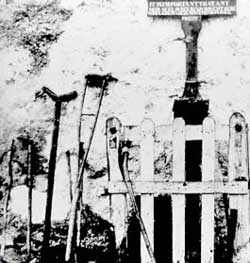 Our Lady of Knock Shrine - Place of Mystery and Miracles
by Bridget Haggerty
Cured pilgrims still leave their sticks and crutches by the Apparition gable - evidence of the healing power of Knock.
On the evening of Thursday, 21 August 1879, two women from the small village of Knock, Mary McLoughlin and Mary Beirne, were walking back to their home in the rain when they passed by the back of the village church. It was then that they saw the apparition.
[Continue]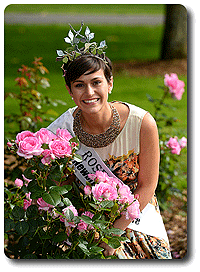 The Rose of Tralee Festival
Edited and adapted by Bridget Haggerty


This annual event takes its inspiration from a nineteenth century ballad of the same name about a woman called Mary. The words of the song are credited to C. (or E.) Mordaunt Spencer and the music to Charles William Glover, but a story circulated in connection with the festival claims that the song was written by William Pembroke Mulchinock, a wealthy Protestant, out of love for Mary O'Connor, a poor Catholic maid in service to his parents.*
[Continue]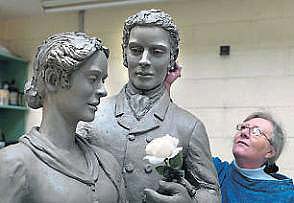 The Rose of Tralee
How The Ballad Came To Be
One of Ireland's most popular songs was written by William Pembroke Mulchinock who fell in love with one Mary O'Connor, a maid in service to his parents. Fact or fiction, the following account, which was compiled from various sources, tells of an unrequited romance between a wealthy Protestant lad and a poor Catholic colleen.
At 17, Mary was a dark-haired beauty with large, lustrous eyes. When William's sister took him to see her children in the nursery, he saw Mary for the first time - and was totally smitten. From then on, he sought out every opportunity to be with her and eventually, they fell in love. She was especially taken by the lovely poem he had written, just for her:
[Continue]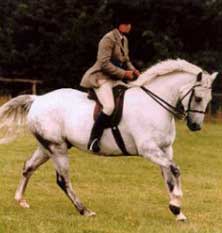 The Connemara Pony
by Bridget Haggerty
Connemara, in the west of Ireland, is famous for its rugged landscape of mist-shrouded mountains, desolate moors and bogs, and seemingly endless strands pounded by the waves of the stormy Atlantic ocean. It's in this often-inhospitable and unforgiving terrain that the Connemara Pony developed the qualities essential to survival - hardiness, agility and an extraordinary jumping ability.
The only breed unique to Ireland, the origins go back some 2,500 years to when Celtic warriors brought their dun-colored ponies onto the island and used them to draw war chariots and carts along the beaches and river plains. While the history is obscure, folklore tells us that the tribes of western Ireland were mounted in battle and used horses in everyday life. One legend says that in the 16th century, when the Spanish Armada sank off the Galway coast, the horses swam to shore and bred with the ponies running wild in the mountains. They learned to thrive on the sparse vegetation and to survive the hardships of their habitat. Here, one false step could be fatal.
[Continue]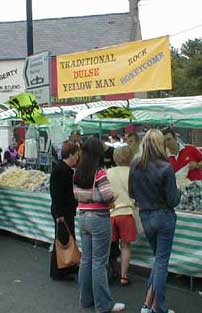 The Ould Lammas Fair
by Bridget Haggerty
The Ould Lammas Fair takes place in Ballycastle, Co. Antrim on the last Monday and Tuesday in August. It's one of the oldest fairs in Ireland and has been held without interruption for more than three centuries.
It once took place at Dunanyie Head, now known as Castle Point. Some say that it started out as a sheep market, others that it originated when Sorley Boy MacDonnell ordered a celebration for his nephew. Either way it grew and migrated to Ballycastle. Whether or not today's event is because Sorley Boy ordered it up, Lammastide celebrations have a long history in Ireland.
[Continue]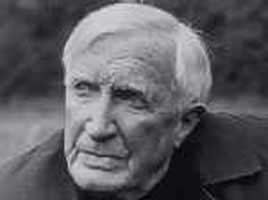 A tribute to Liam O'Flaherty in honor of an August birthday
by Bridget Haggerty
My maiden name is O'Flaherty and, while I cannot claim any direct kinship with Liam, I am very proud to be a member of his clan, if only by name. So, it is with a great deal of respect and admiration that I'd like to share with you something of his background and his life.
Liam O'Flaherty was born on August 28th, 1896. His birthplace was Inishmore, one of the rugged Aran Islands that sit in the Atlantic, off the coast of Galway — the setting for many of his stories and novels.
[Continue]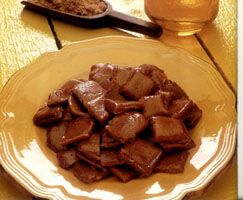 The irish Kitchen: Traditional Irish Toffee - Yellowman
"Did you treat your Mary-Ann
To dulse and yellow man
At the old Lammas Fair at Ballycastle-oh?"
Until recently, we didn't know where this verse or lyric originated, but thanks to a lovely Welshman, we do now. He kindly sent us the following:
The Lammas Fair, or as Mr. John McAuley wrote in his famous song '"the Oul' Lammas Fair", takes place on the last Monday and Tuesday in August in Ballycastle, Antrim, Northern Ireland. The town also had a vibrant weekly market day which was founded in 1612, though it is virtually non existent today. The Lammas Fair is also famed for having an 'unbroken history', having taken place annually for the past 300 years but it origins go back to the legends and myths of Ireland. McAuley died in 1937.
[Continue]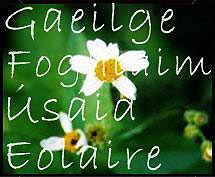 Basic Irish: Starters
Unless you can arrange to spend a year or so living in the Gaeltacht - an Irish speaking part of the country - learning the language will probably be nigh on impossible for most people. That said, in our basic Irish section, we have attempted to share with you simple words and phrases we think you will find both fun and useful.
Photo credit:
Cluiche
[Continue]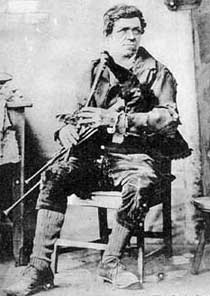 Kids' Ireland: The Piper's Tale
by Grainne Rowland
"Collin, how did you ever learn to play the pipes* like that? For years, you've only known one tune. Now you've played for more than an hour, and every tune is different. What happened?"
"Well," said Collin, "do you remember the party on All Hallow's Eve? They asked me to play my one tune, 'The Black Piper', and to tell some jokes."
"I started home just before midnight. I hadn't gone far. There was no moon. Suddenly, I heard the sound of galloping behind me. The hoofbeats were coming closer and closer. They were getting louder and louder. I whipped around and saw bursts of fire coming from a huge, black horse's nostrils. His hooves were kicking up fiery sparks from the stones on the road."
[Continue]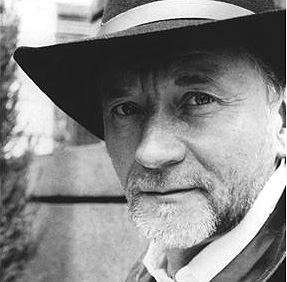 Music Review: Phil Coulter - A Master Class in Musical Landscapes
by William Ramoutar

He was born in 1942, in Derry, Northern Ireland to a Catholic policeman in the Royal Ulster Constabulary - a predominantly Protestant organization; that was probably hard enough in those days in the North. But to give up the piano because he hated both the instrument and the teacher was almost a losing stroke. Fortunately for the world, he came back to it and formed a musical partnership with Bill Martin, which lasted ten years and brought about a string of hit records with bands from many disparate genres.
[Continue]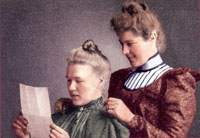 Letters
We receive many lovely letters from visitors to our web site and subscribers to our newsletter. As we're fond of saying, your feedback helps to make all of the time and effort worth while. While we have a Readers Write Page where we post comments from time to time, we've decided to also select a Letter - one that, for whatever reason, tickled our fancy.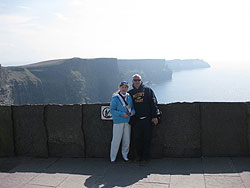 This past spring I went to Ireland with my son and his wife & her family. What a wonderful experience - way too short a time. I would have loved to sit and plan my days in a much more leisurely fashion but what we saw was all too wonderful This was my first time there - did a bit of checking on my grandmother's birth place: Roscommon. I would so love to return.
Thank you for this opportunity to be a part of your wonderful home page. Thank you, too, for "Irish Culture & Customs" - it gives us the chance to know more about Ireland and its people.
Bonnie Hirschler
Photo Caption: This is Bonnie and her son Michael Hirschler at the Cliffs of Moher.
ED. NOTE: When we asked Bonnie to send us a photo, she very kindly sent us two. We choose the one of her and her son at the Cliffs of Moher because it is such an iconic image of Ireland and one that is immediately recognizable. Standing more than 500 feet at the highest point and ranging for nearly five miles over the Atlantic Ocean, on a clear day one can see the Aran Islands, Galway Bay, as well as The Twelve Pins, the Maum Turk Mountains in Connemara and Loop Head to the South. The cliffs take their name from a ruined promontory fort "Mothar" which was demolished during the Napoleonic wars to make room for a signal tower
Live Music from Mayo
A link to the internet service from Midwest Radio out of Mayo. Broadcasting from their state of the art studios; Midwest Irish Radio plays nothing but the best Irish music. No matter where you are in the world, you are never too far from Ireland when you listen in.
Click here for:
Irish Midwest radio
.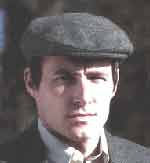 Shop for the best of Irish products from the comfort of your home
We combed the internet to find reliable resources for the most popular Irish products: Aran Isle sweaters, Guinness glasses, Waterford Crystal, genuine blackthorn walking sticks, the flag of the Republic and more. Some of these shops have become friends; others we trust from their reputations and some offer products that are completely unique. We hope you enjoy browsing through what's on offer and we are confident you will find gifts for any occasion or person, all with an Irish flair.
Notices

Did you get your Newsletter?
We try to send one out once or twice a month. If you aren't receiving it, something is wrong. Let us know and we'll try to solve the problem. Note: subscribers are automatically deleted from the data base if the newsletter bounces back multiple times. Full or disabled mailboxes will also cause a subscription to be cancelled. If you have any questions, please contact
Bridget
.