Traditions, folklore, history and more. If it's Irish, it's here. Or will be!
"People will not look forward to posterity who never look backward to their ancestors."
-Edmund Burke
---
Quotes

Library: Books, Movies, Music

Prints & Photos

Poetry

Jokes

---
---
Shops Ireland
---
Bunús na Gaeilge
(Basic Irish)

---
---
---
Himself/Herself
Write to Us
Readers Write..
Links/Link to Us
---
Advertise with us
---
Awards & Testimonials

Submissions Guide
---
Fáilte
Welcome to Irish Culture and Customs, a labor of love we began several years ago. What started as a surprise milestone birthday trip to Ireland became the beginning of a journey through time. A 2,000-year voyage on a quest to learn as much as we can about everything Irish. So here's where we are so far - more than 700 pages that range from
Irish poetry
,
superstitions
,
Kids Stories
and
recipes
to specific Irish calendar celebrations such as
St. Patrick's Day
,
Beltane
,
Samhain
and the
Feast of St. Brigid
. Whether it's an Irish symbol such as the
shillelagh
, the
Shamrock
and the
Book of Kells
or an Irish craft like
Aran Isle knitting
, you'll discover a wide range of topics in our
index
. We hope you find the little bit of Ireland you may be looking for and we encourage you to share what you discover with your loved ones on your family website, blog, or social network.
---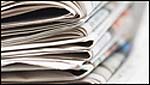 Today's Irish headlines
We comb the newspapers and web sites to find news to start your day with a positive spin. In this section you will also find links to stories from the past two weeks as well as links to the major Irish newspapers, the current time in Ireland and a link to the weather forecast.
And last, but not least, once a month, we gather bits and bobs from all 32 counties.
The current edition of the Regional County News is for March 2014.

Just want entertaining facts about Ireland? Please click here for
Did you Know?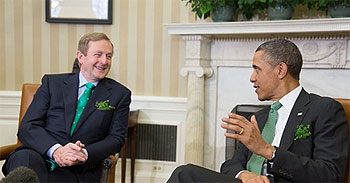 Presidential Proclamation -- Irish-American Heritage Month, 2014
A PROCLAMATION
Centuries after America welcomed the first sons and daughters of the Emerald Isle to our shores, Irish heritage continues to enrich our Nation. This month, we reflect on proud traditions handed down through the generations, and we celebrate the many threads of green woven into the red, white, and blue.

Irish Americans have defended our country through times of war, strengthened communities from coast to coast, and poured sweat and blood into building our infrastructure and raising our skyscrapers. Some endured hunger, hardship, and prejudice; many rose to be leaders of government, industry, or culture. Their journey is a testament to the resilience of the Irish character, a people who never stopped dreaming of a brighter future and never stopped striving to make that dream a reality. Today, Americans of all backgrounds can find common ground in the values of faith and perseverance, and we can all draw strength from the unshakable belief that through hard work and sacrifice, we can forge better lives for ourselves and our families.

The American and Irish peoples enjoy a friendship deepened by both shared heritage and shared ideals. On the international stage, we are proud to work in concert toward a freer, more just world. As we honor that enduring connection during Irish-American Heritage Month, let us look forward to many more generations of partnership. May the bond between our peoples only grow in the centuries to come.

NOW, THEREFORE, I, BARACK OBAMA, President of the United States of America, by virtue of the authority vested in me by the Constitution and the laws of the United States, do hereby proclaim March 2014 as Irish-American Heritage Month. I call upon all Americans to observe this month with appropriate ceremonies, activities, and programs.

IN WITNESS WHEREOF, I have hereunto set my hand this twenty-eighth day of February, in the year of our Lord two thousand fourteen, and of the Independence of the United States of America the two hundred and thirty-eighth.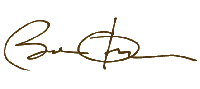 BARACK OBAMA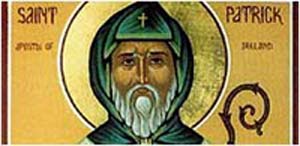 Celebrating St. Patrick's Day in Old Ireland
by Bridget Haggerty
All over the world, St. Patrick's Day is celebrated with elaborate parades; families tuck into the traditional dinner of corned beef and cabbage (traditional everywhere except Ireland, that is); and, in the pubs, the green beer flows swifter than the River Shannon. It's odd to think that just a short time ago, none of the most popular customs we often take for granted even existed. In fact, today's international festivities are very different from how St. Patrick's Day was once celebrated in old Ireland

[Continue]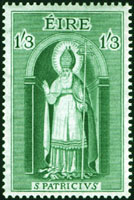 "I, Patrick, the sinner..."
by Bridget Haggerty

The high veneration in which the Irish hold St. Patrick is evidenced by the common salutation, "May God, Mary, and Patrick bless you." His name occurs widely in prayers and blessings throughout Ireland and it is said that he promises prosperity to those who seek his intercession on his feast day, which marks the end of winter.

[Continue]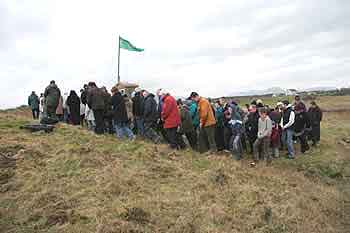 A Visit to St. Patrick's Well
by Joe McGowan

Far away from the razamataz and the ballyhoo, the leprechaun hats and the plastic shamrocks of the big city and town parades, there are still some who celebrate the feast of St. Patrick as it has always been done. One such place is a quiet field in Corbeg, roughly half a mile from the Duff River on the Sligo-Leitrim border. This, we are told, was one of the saint's favourite places.

[Continue]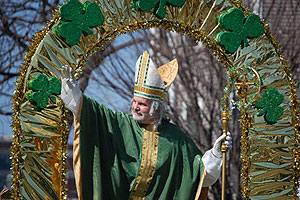 St Patrick gets the party, but there are many saints to honour in Ireland
By Helen O'Neill

St Patrick may have banished snakes and brought Christianity to Ireland, but perhaps his greatest feat was one of sheer endurance. After all, there were hundreds of other future saints roaming Ireland at the time, but Patrick is the one who gets the party.

On March 17, Guinness will flow from Malin to Moscow, the Chicago River will run green and parades will be held worldwide to celebrate the fifth-century preacher and patron saint of Ireland.

[Continue]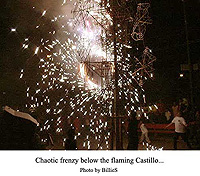 Madness in Melaque – Saint Patrick's Day Mexican Style.
by Helen Paris Riemer

Beside me a man starts burning. He shouts, and the crowd surges toward him, shrieking laughter, the nearest beating his head with loose open hands. The acrid smell of scorched hair drifts to where I cower by the bandstand. He is quickly extinguished and they turn back, clutching each other, ducking behind trees, hiding behind neighbours, waiting in gleeful terror for the next flaming missile. Welcome to Melaque/San Patricio, home of the best darn Saint Patrick's Day festival you'll ever see.


[Continue]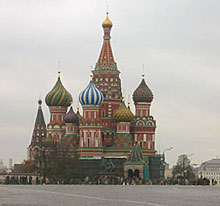 O'Reilly introduces the Russians to a St. Patrick's Day Parade
by Bill Witcomb

It wasn't all hockey for the Verdun Midget Leafs on their 1974 tour of the Soviet Union that took them to Moscow, Leningrad and Riga. There were some laughs and some eyebrow-raising incidents as well. Star Sports reporter Bill Witcomb, who accompanied the team, looks at a few of the more humorous incidents.

The Verdun Midget leafs' recently completed tour of the Soviet Union had its touchy moments, but there were funny times as well. Times few people on the trip will ever forget.
Some of the laughs were halfhearted, more from frustration than anything else. Others came from the pit of the stomach and kept you laughing for hours. Picture for example a St Patrick's Day Parade in Moscow.

[Continue]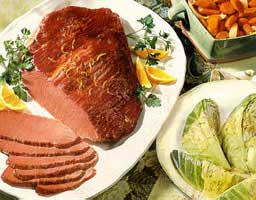 Corned Beef & Cabbage - The Feeding of A Myth
by Bridget Haggerty

What's the national dish of Ireland? Corned Beef and Cabbage, you say? Since March has undoubtedly become "Irish Awareness Month", we thought it would be fun to explore the truth behind yet another Irish myth.

Our research took us to an informative page on European Cuisine. According to the article written by an Irishman, Corned Beef first turns up in the Vision of MacConglinne, a 12th-century poem which describes Irish food as it was eaten at the time.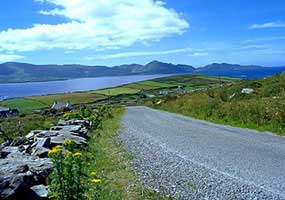 The irish Kitchen: Celebrate St. Patrick's Day With A Real Irish Feast!
by Bridget Haggerty

Are you're planning on serving Corned Beef and Cabbage? If you're one of more than 40 million Americans of Irish descent, it's definitely the traditional meal. But what if you don't like corned Beef? Or, saints preserve us, you're ready to rebel against the masses and try something new and different? Well, the truth is, if you serve just about anything but the usual Irish-American cliché, you'll be more in step with your Irish ancestors and any of your kin still living in Ireland.


[Continue]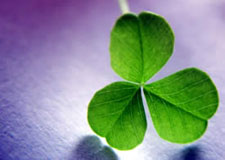 Basic Irish: Saint Patrick's Day
Learn how to say happy St. Patrick's Day in irish and many other words and phrases related to the happiest day in the irish calendar, ie: whatever we're given up for Lent we get a special dispensation to dispense with the austerities!

Phrase: St Patrick's Day
Irish: Lá Fhéile Pádraig or Lá 'le Pádraig
Pronunciation: law ay-leh paw-rig or law leh paw-rig
Note: The first is used in writing, the second in conversation, literally 'Patrick's Festival Day'.

[Continue]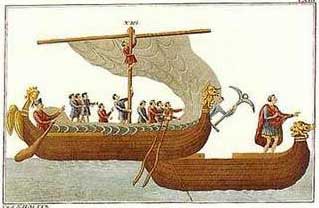 St. Patrick: From Slave to Saint
by Grainne Rowland

"Watch out! Hide! Here come the raiders!" My family's servants were screaming and running for cover. I watched in horror as my father's land and house were overrun. The raiders came with the Irish king, Niall of the Nine Hostages.

Suddenly, I was grabbed from behind, tied up, and roughly pushed towards a waiting ship. I, Succat, was being taken as a slave!




[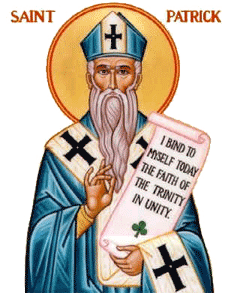 Continue]

Music Review: Tunes about St. Patrick?
by William Ramoutar

Even though St Patrick is our Patron Saint, there are not that many songs written about him. In fact, the other revered Saints of Ireland are almost, if you'll pardon the expression, in the same boat.

Take St Brendan the Navigator; supposedly, even before Columbus crossed the pond to discover America, he was there a donkey's age before him. Something we Irish know - Columbus stopped off in Ireland to consult ould St. Brendan's maps, before he started out on his epic voyage. Who knew? As I said, the Irish did!


[Continue]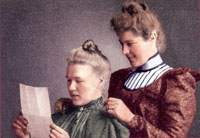 Letters
We receive many lovely letters from visitors to our web site and subscribers to our newsletter. As we're fond of saying, your feedback helps to make all of the time and effort worth while. While we have a Readers Write Page where we post comments from time to time, we've decided to also select a Letter - one that, for whatever reason, tickled our fancy.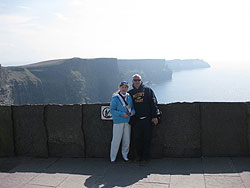 This past spring I went to Ireland with my son and his wife & her family. What a wonderful experience - way too short a time. I would have loved to sit and plan my days in a much more leisurely fashion but what we saw was all too wonderful This was my first time there - did a bit of checking on my grandmother's birth place: Roscommon. I would so love to return.
Thank you for this opportunity to be a part of your wonderful home page. Thank you, too, for "Irish Culture & Customs" - it gives us the chance to know more about Ireland and its people.

Bonnie Hirschler
Photo Caption: This is Bonnie and her son Michael Hirschler at the Cliffs of Moher.


ED. NOTE: When we asked Bonnie to send us a photo, she very kindly sent us two. We choose the one of her and her son at the Cliffs of Moher because it is such an iconic image of Ireland and one that is immediately recognizable. Standing more than 500 feet at the highest point and ranging for nearly five miles over the Atlantic Ocean, on a clear day one can see the Aran Islands, Galway Bay, as well as The Twelve Pins, the Maum Turk Mountains in Connemara and Loop Head to the South. The cliffs take their name from a ruined promontory fort "Mothar" which was demolished during the Napoleonic wars to make room for a signal tower




Live Music from Mayo

A link to the internet service from Midwest Radio out of Mayo. Broadcasting from their state of the art studios; Midwest Irish Radio plays nothing but the best Irish music. No matter where you are in the world, you are never too far from Ireland when you listen in.
Click here for: Irish Midwest radio.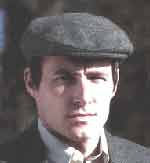 Shop for the best of Irish products from the comfort of your home

We combed the internet to find reliable resources for the most popular Irish products: Aran Isle sweaters, Guinness glasses, Waterford Crystal, genuine blackthorn walking sticks, the flag of the Republic and more. Some of these shops have become friends; others we trust from their reputations and some offer products that are completely unique. We hope you enjoy browsing through what's on offer and we are confident you will find gifts for any occasion or person, all with an Irish flair.





Notices

Did you get your Newsletter?
We try to send one out once or twice a month. If you aren't receiving it, something is wrong. Let us know and we'll try to solve the problem. Note: subscribers are automatically deleted from the data base if the newsletter bounces back multiple times. Full or disabled mailboxes will also cause a subscription to be cancelled. If you have any questions, please contact Bridget.

---
Tue, Mar 11, 2014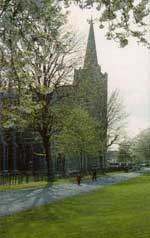 St Patrick's Cathedral
The National Cathedral and Collegiate Church of St. Patrick is the full official name and, according to tradition, St Patrick baptised several converts at a well in what is now a park adjacent to the cathedral. To commemorate this event, a small wooden church was built. In 1901, the well was rediscovered and an ancient granite stone, marked with a Celtic cross which covered the well, was moved into the cathedral. The parish church on this site was one of four Celtic churches in Dublin and was known as St Patrick's in Insula - on the island - as it was built on an island between two branches of the River Poddle which still flows under the cathedral.
Image: StPatrick's Cathedral.ie

Click for More Culture Corner.
Sunday Blessing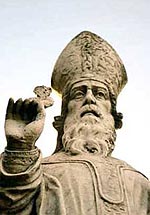 St. Patrick's Blessing
As he brought new faith to Ireland
So may he bring out in you
A touch of Irish kindness
in everything you do.
And through the good St. Patrick
May your home and life be blessed
with all the special favours
That make you happiest.
Adapted from a blessing by the Norbertine Fathers
Image Credit: Sr. Colleen


More Blessings

---
Quote of the Week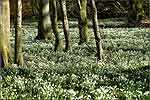 St. Patrick's Day is an enchanted time - a day to begin transforming winter's dreams into summer's magic.
Adrienne Cook
Photo Credit: Lissadellhouse