Traditions, folklore, history and more. If it's Irish, it's here. Or will be!
"People will not look forward to posterity who never look backward to their ancestors."
-Edmund Burke
---
Quotes

Library: Books, Movies, Music

Prints & Photos

Poetry

Jokes

---
---
Shops Ireland
---
Bunús na Gaeilge
(Basic Irish)

---
---
Did You Know?
---
Himself/Herself
Write to Us
Readers Write..
Links/Link to Us
---
Advertise with us
---
Awards & Testimonials

Submissions Guide
---
Season of the Corn
by Bridget Haggerty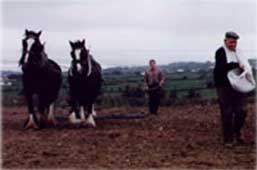 While we were surfing the net, we came across a fascinating story about a group of Donegal farmers who stepped back in time and used the old ways to raise and harvest the crops. Here, in the first two paragraphs, they describe what they do. At the end, there is information on how to order a videotape.

"We are a group of five farmers from the Inishowen Peninsula in Co. Donegal, Ireland, who have come up with a novel way to raise funds to provide a local facility for mentally challenged adults."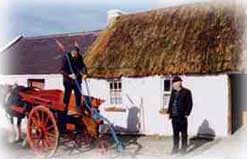 "Using only horses and traditional farm implements, we ploughed a field, prepared the ground and sowed the seed to produce a field of oats.
In the Autumn, we harvested the crop, again using the old methods, and followed the threshing and milling of the grain right through till the flour was used to bake a traditional Irish scone on an open hearth in an Irish cottage."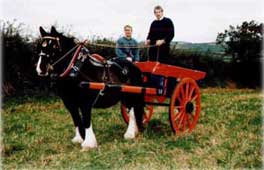 Doesn't that sound delightful - sitting in a cozy, thatched-roof cottage, relishing a delicious fresh-baked scone in front of an open turf fire? In the old days, it was back-breaking labor to get to that kind of sweet reward. Back then, when the harvesting was done with a binder and threshing machine, first on the agenda was the cutting of the crop. The reaper and binder would rumble into the fields, cut the barley, wheats or oats, bind the stooks and split them so they could be built into conrstacks. A few weeks later, when the stacks were dried out, they were brought into the haggard and built into huge ricks. There, they waited until it was the farmer's turn to have the threshing machine and elevator. On that morning, a group of men on foot or bicycle would arrive from neighboring farms to put in long hours, piking sheaves, clearing chaff and filling the sacks.
It was dry, thirsty work, and one of the great attractions was a barrel of beer or porter set up nearby so the men could refresh themselves. In the meantime, the womenfolk were busy baking and cooking a grand dinner for the men who were fed in relays. Wives competed with each other to provide the season's best "feed." Larger establishments had roasts of beef or lamb with roast potatoes, gravy and vegetables. The more humble farms served bacon and cabbage, or perhaps a pig's head - but always with lots of potatoes and mugs of milk. A sweet treat of apple or rhubarb tart and mugs of hot tea rounded off one of the most satisfying meals in an Irish year. There was a profound contentment in knowing the family and livestock would have food for the long winter ahead.
A complete recording of the year-long project is now available on video as a permanent record of how things were done in days gone by. This is how our forefathers tilled the soil and reaped the crops in an Ireland now long gone.
The two-hour videotape has been very successful in Ireland and now the organizing committee is making the tape available worldwide, so that I people everywhere can enjoy this remarkable re-enactment of a way of life that is part of our Irish heritage.
To order, send Cheque or Money Order to:
The Step Back in Time Committee, Umricam, Buncrana, Co. Donegal, Ireland.
Prices (including Postage & Handling):
Ireland: Irish Punts £16
Britain: Sterling £17
USA & Canada: $40US
Australia: $50AU
For further information, please send an email to: Seamus O'Donnell
NOTE: Herself has been in contact with the video-production company and has been assured that tapes sent from Ireland to other parts of the world will be properly formatted so that they can be played on any VCR. She also wants to make sure the reader understands that Irish Culture and Customs receives no commission for any sales generated by this article. However, she does encourage readers to consider purchasing copies for gifts. This is a unique way to keep our heritage and history alive, so that we can pass it on to our children and grandchildren.
Resources:The paragraph on Threshing was adapted from The Festive Food of Ireland by Darina Allen. All other text and images are published with permission from The Step Back In Time Project


Wed, Jan 3, 2018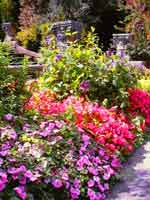 Ilnacullen, Co. Cork - an Island Garden
Located in the sheltered harbour of Glengarriff in Bantry Bay. Ilnacullin, which means island of holly, is a small island known to horticulturists and lovers of trees and shrubs all around the world as an island garden of rare beauty.
The vivid colours of Rhododendrons and Azaleas reach their peak during May and June, whilst the hundreds of cultivars of climbing plants, herbaceous perennials and choice shrubs dominate the midsummer period from June to August.
Because of its sheltered situation and the warming oceanic influence of the Gulf Stream, the climate is favourable to the growth of ornamental plants from many parts of the world.
Even for those who aren't particularly interested in gardens, there are many other scenic views, especially in the surrounding waters where seals frequent the rocks on the southern shore.
The cover photo on Bridget's book The Traditional Irish Wedding shows a wrought iron garden gate on Ilnaculen. I took that photo. To see it, go to the home page. It's part of the opening paragraph Failte.
—Russ
Resource: Copy and Image - Cork Guide

Click for More Culture Corner.
Glorious Gardens of Ireland
by Melanie Eclare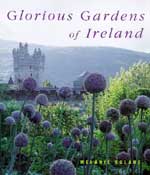 A magnificent pictorial tribute to the splendor of Irish gardens, featuring more than 200 color images.
Eclare ushers readers into spectacular Irish garden settings...
Equally captivating are the book's gorgeous photographs of plants, beautiful stonework, outstanding statuary, and the voluptuous floral compositions that adorn Ireland's great castle estates, rural herb growers, country guest houses, and quaint cottages.
Alice Joyce
Click for Glorious Gardens.
---