Traditions, folklore, history and more. If it's Irish, it's here. Or will be!
"People will not look forward to posterity who never look backward to their ancestors."
-Edmund Burke
---
Quotes

Library: Books, Movies, Music

Prints & Photos

Poetry

Jokes

---
---
Shops Ireland
---
Bunús na Gaeilge
(Basic Irish)

---
---
Did You Know?
---
Himself/Herself
Write to Us
Readers Write..
Links/Link to Us
---
Advertise with us
---
Awards & Testimonials

Submissions Guide
---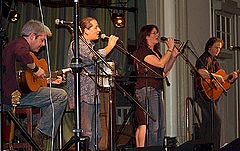 Sunny Spells and Supergroups: Solas
by William Ramoutar

Funny thing about Irish music is, that as old as it is, there has never really been a "supergroup". In pop music, rock music, jazz, and other genres, there have always been huge superstars... Irish, no...."Why?" I hear you ask. Well my take, for what it is worth, is that we have always been "a nation of begrudgers" back home, and that means there is always some joker who says he can do it better. Never does, but always there is one – (sometimes many!) – claiming they can. Anyhow, I think most traditional musicians are fairly modest - at least the ones I have had the good fortune to have met. I think there are indeed many who would like you to know their accomplishments, but let's face it, isn't that human nature?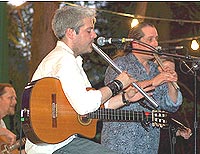 Well, back to the supergroup thingie. You could well call Solas a "supergroup" and you would not be wrong. They have been on the road for about fifteen years and are the brainchild of Irish American musician Seamus Egan and his now partner Winnie Horan. Seamus started out as a child prodigy, in "the music," playing everything that you could pluck or blow into! In fact he won the "All Ireland" championships in the late 1970's on both mandolin and banjo, which I wish he would play more of. In fact, by the time he was the ripe old age of fourteen he had won the "All Ireland" four times on different instruments. How's that for a game of soldiers?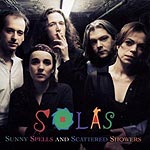 He joined Chanting House with Susan McKeown and another emigrant, none other than John Doyle, with whom he formed Solas a few years later. His sister Siobhan was the fiddle player with Cherish the Ladies, so you might see how he met Winnie, who was at one time the fiddle player with that group (of course, Joanie Madden and her Cherish the Ladies band are still on the "tare" all over the known world!). On another pertinent note, one of Cherish's genius whistle and accordion players of some years back, Mary Rafferty, is now married to a former Solas guitarist, one, Donal Clancy. Brilliant, isn't it?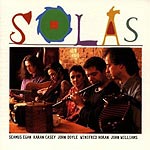 In fact now, just like "Cherish" after all these years, Solas have had the privilege of having some of the "new" greats of Irish music come through their ranks – artists such as John Doyle, guitarist and singer, Karan Casey, amazing singer, John Williams, button accordionist, and Deirdre Scanlan, another exceptional singer. On their latest restructuring they have added a new singer, Mairead Phelan, who I think is superb, but different from any of their songstresses of yore. Also Eamon McElholm holds the rhythm section together with his guitar and sings too. Mick McAuley, their new, (several years now), box player, uilleann piper and whistle player, is unsurpassed as a traditional player. That is, unless, you might count the "bould" Seamus, who can play, or outplay, just about anyone. The cross rhythms, intermingling melodies and just plain old knock 'em down forcefulness of their combined or individual musicianship is enough to get anyone's attention. They play with such fervor and gusto, you almost think you have walked into a battlefield. Not that that is confusing, or disturbing, it is just a feast for the ears of such quality and talent, that I know many I have played them for, just take a step back. Really and truly mindboggling.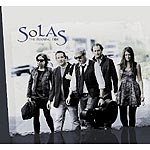 Now, I will add, that I think Karan was their best singer and she is doing her own solo thing now, but each singer or musician that has come along has brought his or her own touch to the music and has added another dimension to the sound. They are already so far in front of so many bands that have come along, most other bands simply pale in comparison to Solas. There are a couple of fistfuls of cds out, by Solas and I would be hard pressed to select my favorite, as they all offer something different. Magical in some cases, musical in all. There is a cd/dvd combo of their tenth anniversary (2006) that, to me, is a must-have for any person claiming to be a follower of the trends that Irish music has enveloped. Their concert sound on the dvd is awe-inspiring. To watch them take flight is akin to watching the shuttle launch. No joke and no lie. They are a "Supergroup".


Photo Credits:
Band: Five Prime

A great selection of Solas CDs are available at amazon including their latest - "Turning Tide"

Hot link for CD Cover Solas

Hot link for CD cover Sunny Spells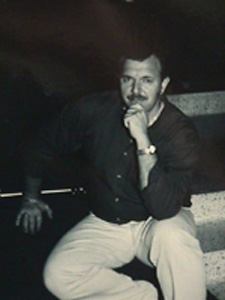 BIO William Ramoutar
IRISH WAYS RADIO PROGRAMME
WFCF Radio 88.5 FM
Every Sunday 11:00 am to Noon eastern standard time on the radio WFCF 88.5fm
We are now an iheart Station on your smartphone or computer
streaming live on iheart.

Review written by William Ramoutar Presenter of Irish Ways Radio Programme, St Augustine Florida


Fri, Feb 2, 2018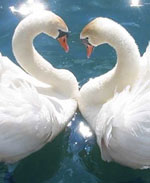 Irish God and Goddess of love
Oengus is the Irish God of love, beauty and youth. According to the old folklore, his kisses became birds. It is also said that he dreamed of a beautiful maiden, named Caer, for whom he searched all over Ireland. Eventually, he found her chained to 150 other maidens, destined to become swans at the time of Samhain. Legend has it that Oengus transformed himself into a swan and was united with his love.
Aine of Knockaine is the Irish Goddess of love. She is also known as the Fairy Queen of Munster and as a goddess of fertility beause she has control and command over crops and animals, especially cattle. Another name by which she is known is Aillen. To learn more about Irish mythology, please click Irish Myths & Legends.
Photo Credit: Wikipedia

Click for More Culture Corner.