Traditions, folklore, history and more. If it's Irish, it's here. Or will be!
"People will not look forward to posterity who never look backward to their ancestors."
-Edmund Burke
---
Quotes

Library: Books, Movies, Music

Prints & Photos

Poetry

Jokes

---
---
Shops Ireland
---
Bunús na Gaeilge
(Basic Irish)

---
---
Did You Know?
---
Himself/Herself
Write to Us
Readers Write..
Links/Link to Us
---
Advertise with us
---
Awards & Testimonials

Submissions Guide
---
Shrovetide - The Marrying Season
by Bridget Haggerty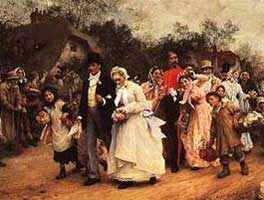 Well into the 20th century, the busiest time for match-making in Ireland began right after Epiphany - January 6th. This was because the Irish had misinterpreted a Church ruling set forth in November, 1563 which prohibited weddings during Lent. The popular reasoning that evolved from this decree was that if you could not marry during Lent, then you had to marry before. Thus, it was taken for granted that Shrovetide was the proper time to marry and Shrove Tuesday - the day before Ash Wednesday - became the most favored day of all.

With most weddings these days taking place on a Saturday, it may seem strange to us that just a few decades ago, marriages in Ireland would be performed on any day of the week except Saturday and Sunday. In fact, there's a little verse that illustrates the Irish luck associated with whichever day a couple chose to exchange their vows:

Monday for health
Tuesday for wealth,
Wednesday the best day of all,
Thursday for losses,
Friday for crosses,
And Saturday, no day at all!

It's all very logical when one remembers that Ireland was a rural country and Saturday was market day - the day when families bought and sold livestock, produce and whatever else was needed to support and sustain them. And, as far as I know, the Catholic church would not have allowed marriages on the Sabbath.

But, back to the wedding plans. Once a union was arranged, there'd be the "walking out" - always chaperoned, of course. Often, the girl's parents would send a younger sibling along, ostensibly to pick flowers, but, in reality, to make certain there were no liberties taken by either party. These escorts were often known as "daisy pickers."

While an arranged marriage may not seem very romantic to us, many of the engaged couples had known each other since they were children - and, in a lot of cases, feelings of affection were already established. So, even though romantic love as we know it was unheard of back then, families would do their best to match a son or daughter with a mate they thought would be a compatible companion.

At some point during the walking out period, another important event took place - that of "walking the land." This was when the daughter's parents would do an inspection of the future son-in-law's family home. Afterwards, they'd partake of the hospitality of the house to make certain there were no miserly tendencies in the young man's family. It was most likely after this special occasion that my favorite pre-wedding party was scheduled. It was called Aitin' the Gander.

Here is a description from my book, The Traditional Irish Wedding.:

Not so long ago, to hear the old storytellers tell about it, there used to be a custom that makes me wonder if today's term 'to cook one's goose' didn't have its origins in Ireland. When the matchmaker had succeeded in having the respective families of the bride and groom agree to a union, the groom was invited to come meet his future wife. It was on this occasion that the bride's family would roast a goose in honor of the up-coming nuptials. It was a chance for the couple to become better acquainted and all involved in the wedding would be invited, including the priest. Following dinner, there'd be dancing and plenty of opportunity for the couple to take a gander at what their families had lined up for them.

Another version of this same custom was called 'picking the gander.' It came by its name from when family members discussed the implications of married life with the blushing bride-to-be as they plucked or picked the feathers from the goose. After Aitin the Gander,' the families would get together to do 'The Bindings' or marriage agreement. This agreement could often be extremely complicated. In many instances, for example, the daughter's mother and father would include a proviso that when they were old, they would get their full need of essentials such as milk, turf, butter, eggs and a ride to Sunday Mass.

To quote Kevin Danaher from his wonderful book, The Year In Ireland, "Shrovetide, then, was the time to marry." Not surprisingly, while making a match is a fascinating part of Irish history and folklore, the customs surrounding the big day itself are just as engaging. No pun intended. Or, perhaps it is.

NOTE: Match-making was once very common in Ireland. There are still a few of them left, including this fine-looking gentleman.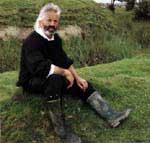 To read about him and how he goes about the business of bringing a couple together, please click here: The Irish Match-Maker

For those who are planning a wedding or know someone who is, click our Weddings page for more.
Resources:
Content: The Year in Ireland by Kevin Danaher.
Images: Village Wedding


Fri, Feb 2, 2018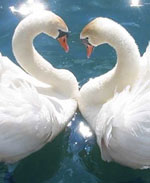 Irish God and Goddess of love
Oengus is the Irish God of love, beauty and youth. According to the old folklore, his kisses became birds. It is also said that he dreamed of a beautiful maiden, named Caer, for whom he searched all over Ireland. Eventually, he found her chained to 150 other maidens, destined to become swans at the time of Samhain. Legend has it that Oengus transformed himself into a swan and was united with his love.
Aine of Knockaine is the Irish Goddess of love. She is also known as the Fairy Queen of Munster and as a goddess of fertility beause she has control and command over crops and animals, especially cattle. Another name by which she is known is Aillen. To learn more about Irish mythology, please click Irish Myths & Legends.
Photo Credit: Wikipedia

Click for More Culture Corner.
Back in Print!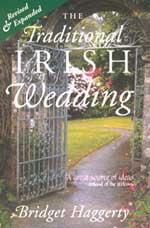 The Traditional Irish Wedding

In this expanded, revised, and updated version, Bridget has added sections on Getting Married in Ireland and ideas for a vow renewal "with the sound and feel of Ireland." This new edition also includes the origins of Irish Coffee; the truth about Aran Isle Sweaters and information about kilts.
Shipped directly from the author, the latest edition of The Traditional Irish Wedding can be personally inscribed and signed if desired. Please contact Bridget.
---
Shown, a lovely gold ring from the Mo Anam Cara range of rings, pendants, bracelets and brooches for both men and Women.
Available in a variety of precious metals, this intricately crafted ring also features the classic Claddagh design which symbolizes Love, Loyalty and Friendship.
Having achieved enormous international popularity, any one of the items in the stirring Soul Mate collection would make an ideal gift for that very special person in your life - Irish or not.
To see the entire range, please click Anam Cara Jewelry.