Traditions, folklore, history and more. If it's Irish, it's here. Or will be!
"People will not look forward to posterity who never look backward to their ancestors."
-Edmund Burke
---
Quotes

Library: Books, Movies, Music

Prints & Photos

Poetry

Jokes

---
---
Shops Ireland
---
Bunús na Gaeilge
(Basic Irish)

---
---
Did You Know?
---
Himself/Herself
Write to Us
Readers Write..
Links/Link to Us
---
Advertise with us
---
Awards & Testimonials

Submissions Guide
---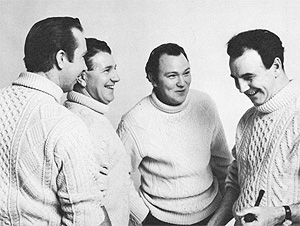 Aran knitwear - From plain and practical socks to one of Ireland's most popular souvenirs
by Bridget Haggerty

I first saw a traditional Aran sweater when I watched the Clancy Brothers & Tommy Makem perform on the Ed Sullivan show - a popular TV program in the United States. What I didn't know back then was that when the three brothers became professional and very popular folk singers – along with their countryman, the great Tommy Makem – their mother, worrying about her boys' health in the freezing New York winters, sent them the thick sweaters which became their trademark. Almost overnight, the sweaters were in high demand. According to Liam Clancy, after their performance on the show, sales of Aran sweaters rose by 700%. During the 1960s, even with all available knitters recruited from the three Aran islands and from other parts of Ireland, there was difficulty in fulfilling orders from around the world.

What the Clancy Brother's mother had sent her boys was a unique knitwear style in the traditional white báinín colour - pronounced bawneen. The Aran jumper, as the word sweater is known in Ireland, takes its name from the Aran Islands off the west coast of Ireland. Originally, the sweaters were knitted using unscoured wool that retained its natural oils (lanolin) which made the garments water-resistant and meant they remained wearable even when wet. Nowadays the lanolin is generally removed, but it was this waxy substance secreted by sheep that gave the sweater its all-weather versatility and the perfect garment for island farmers and fishermen who had to brave the elements.

There is considerable debate about when Aran islanders first started making sweaters. The few records that mention knitting refer only to socks. Some sources say the islanders had been producing a local version of a gansey jumper similar to other areas of the British Isles for several centuries. However, these sweaters use different construction methods and are knit from a finer wool. Other sources have suggested that the sweater is an ancient design that has been used on the islands for hundreds of years. Proponents of this theory often point to an illustration in the Book of Kells that appears to depict an ancient "Aran jumper". Also, many megaliths around Europe depict similar sweater patterns carved into the stone and date back several thousand years, thus begging the wildly improbable question - which came first? The megalith or the sweater? Ultimately, most historians agree that far from being an ancient craft, the Aran sweater was invented as recently as the early 1900s by a small group of enterprising island women, with the intention of creating garments not just for their families to wear but which could be sold as a source of income. These women adapted the traditional gansey jumper by knitting with thicker wool and modifying the construction to decrease labour and increase productivity.

Sweater exports from the west of Ireland to the United States began in the early 1950s. Standún in Spiddal, Co Galway was the first to export the Aran sweater to the USA. Standún was founded in 1946 by May and Máirtín Standún and has been a landmark in Spiddal, Connemara, Co. Galway ever since. To this day, you could talk with women from Donegal to Kerry and anywhere in between who depended on Standún for the very necessary supplement to their household income derived from hand knittied Aran sweaters. At one time, there were over 700 knitters on their books and it became the first store in Ireland to export the Aran Sweater to large department stores in the US.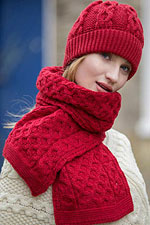 The development of the export trade began in earnest when journalist, author, lawyer, Irish language activist and entrepreneur P.A. Ó Síocháin organised an instructor to go to the islands and teach the knitters how to make garments to standard international sizings. He commissioned the Irish artist Seán Keating, who had spent much time on the islands, to design and illustrate marketing brochures. And, in 1952, he acquired a company Galway Bay Products Ltd. from a Dublin client Norman Baillie-Stewart, to develop, market and export hand-knit Aran Islands knitwear, pioneering in the later 1950s and early 1960s the big sales boom of Aran sweaters and cardigans to North America.

It is sometimes said that island families had sweaters with a unique design, so that a body washed up on the beach could be identified by the pattern. This misconception may have originated with J.M. Synge's play Riders to the Sea, in which the body of a drowned fisherman is identified by the hand-knitted stitches on one of his garments. However, even in the play, there is no reference to any decorative Aran-type pattern. The garment referred to is a plain stocking and it is identified by the number of stitches, the quote being "it's the second one of the third pair I knitted, and I put up three score stitches, and I dropped four of them". In real life, there is no record of any such event ever having taken place, nor is there any evidence to support there being a systematic tradition of family patterns. There is, however, a small grain of truth to what has become the wide spread stuff of legend. Sweater patterns do have a regional or local look about them. It is said that the county, or parish, or township of an Islander could be recognized by its sweater pattern. A far better indication of identity than the stitching pattern were the wearer's initials which were traditionally knit into the bottom of the garment.

As for the meaning behind each stitch, the Do Chara web site informs us that there are several origins. The first is an article written in 1938 by a German man - Heinz Keiwe, who never visited the Aran isles and never met anyone who knit a sweater; he simply made up the meanings. His work however was widely accepted as truth by many people and the sellers of Aran knitwear were not about to contradict such marketing magic. Secondly, the so-called meanings were embellished and added to by many later writers who, having found little literature on the knitting, were relieved to discover Keiwe's article and freely expanded on his 'meanings' and added others – a fair few of them totally contradictory. And thirdly, the reason the myths have persisted for so long and are so widely believed comes down to marketing. Aran knit sweaters was always a commercial enterprise and the attribution of meaning to stitches greatly increased interest in the sweaters. Those producing them realised that and played up to it in promotional literature. In a similar way, they now play up the notion of there being patterns specific to families, which is complete fiction but it sells sweaters.

Fast forward to the 21st century and the demand for Aran sweaters by tourists from all over the world is as strong as ever - but nowadays, as the number of hand knitters continues to decline, the sweaters are more likely to be machine made. Created from soft Merino wool, they have less complex patterns, are generally flatter, lighter and less substantial, without the pronounced texture of a hand knitted garment. However, they are so well made, most people really can't tell the difference and best of all, they are a lot less expensive!

Today, Carraig Donn Manufacturing is the largest knitwear producer in Ireland and the number one global manufacturer. It's from this source that most souvenir shops in Ireland buy their sweater stock. Founded in the 1960s by the Hughes family on Inis Mor, their state of the art manufacturing facilities are located in the picturesque town of Westport in Co. Mayo. It's from here that they produce literally thousands of sweaters every year, fulfilling the dream of tourists from all over the world to own one of Ireland's most popular souvenirs - second only to Irish whiskey! Oh...and if you really want a pair, you can still buy authentic Aran plain and practical socks!

Main Photo Credit: The Clancy Brothers & Tommy Makem

Content sources: Wikipedia/
Do Chara
Standún


Fri, Feb 2, 2018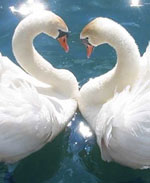 Irish God and Goddess of love
Oengus is the Irish God of love, beauty and youth. According to the old folklore, his kisses became birds. It is also said that he dreamed of a beautiful maiden, named Caer, for whom he searched all over Ireland. Eventually, he found her chained to 150 other maidens, destined to become swans at the time of Samhain. Legend has it that Oengus transformed himself into a swan and was united with his love.
Aine of Knockaine is the Irish Goddess of love. She is also known as the Fairy Queen of Munster and as a goddess of fertility beause she has control and command over crops and animals, especially cattle. Another name by which she is known is Aillen. To learn more about Irish mythology, please click Irish Myths & Legends.
Photo Credit: Wikipedia

Click for More Culture Corner.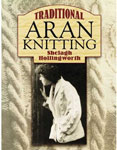 Traditional Aran Knitting
by Shelagh Hollingworth
Inside you will find a short history of the Aran Islands, and a concise overview of the history of Aran knitting and its patterns. Then, the author introduces the yarn, the tools and the techniques used in creating an Aran sweater. There is also an excellent chapter on Designing an Aran Sweater complete with diagrams and a beautifully clear explanation of who to marry the stitch patterns you love with the construction necessary for a sweater. And, with that introduction under your belt, away you may go to discover 76 Aran stitch patterns followed by 20 complete patterns for everything traditional fisherman's sweaters to family sweaters, cardigans, coats, hats, mittens, even cushion covers (which double as great stitch samplers!). All of which is presented so clearly and simply that you can just jump right in and start knitting in full confidence of a wonderful result. From a review we found on The Knitter's Bookshelf.
Click here for Traditional Aran Knitting.

---
Patterns for Guernseys, Jerseys and Arans
by Gladys Thomson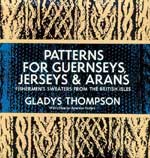 I have used the patterns in this book for many sweaters; it has a wealth of knit/purl and crossed stitch patterns for people who design their own knits. It's also a good read for historical information on the history of these garments. Amazon reviewer
Click here for Patterns
---
New edition of a knitting classic! Traditional handknit designs for men and women. Features colorful Fair Isles, hard-wearing Arans and Guernseys, delicate Shetland patterns, and garments from Iceland and the Falklands. Includes re-usable pattern sections.
Click here for Irish Knitting.
---