Traditions, folklore, history and more. If it's Irish, it's here. Or will be!
"People will not look forward to posterity who never look backward to their ancestors."
-Edmund Burke
---
Quotes

Library: Books, Movies, Music

Prints & Photos

Poetry

Jokes

---
---
Shops Ireland
---
Bunús na Gaeilge
(Basic Irish)

---
---
Did You Know?
---
Himself/Herself
Write to Us
Readers Write..
Links/Link to Us
---
Advertise with us
---
Awards & Testimonials

Submissions Guide
---
Music Review: Whiskers in the Jar - Marc Gunn & The Dubliners' Tabby Cats
by Bridget Haggerty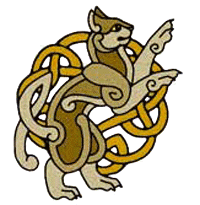 "Beware of people who dislike cats." This old Irish proverb definitely does not apply to Marc Gunn, a brilliant Celtic musician and unabashed cat lover who is having way too much fun creating parodies of traditional Irish tunes with a feline perspective.

According to Marc, it all began with a phone call. He started meowing in the middle of "Wild Rover". That's when he wrote his first cat song. Irish Drinking Songs for Cat Lovers was born. The CD was wildly popular. Before he knew it he had people asking when he would release his next Cat CD.He spent two years writing some songs and asking fans of the first album to submit some lyrics. The results are now here!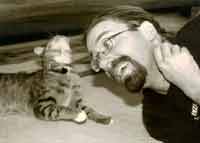 More Irish Songs for Cat Lovers
The recording features twelve songs and two sets of Irish tunes. The songs are a mix of Irish and Scottish songs rewritten about cats. You'll hear songs about cats eating catnip, waking you up in the middle of the night, staring off into nothingness. You'll laugh as cats take over a dairy farm, splashing milk all over the place or a nice feline friendly twist to the Sylvester and Tweety Bird cartoon. Cats fight off canine pack recruitment and Harry Potter makes an appearance as does cat cloning. No really! It's twisted, but brilliant fun.

Other Reviews
Uplifting music that is smartly silly
Marc's vocals are impressively strong and resonate and are well-controlled. At the same time, the woman and former violin player in me can't stop appreciating the lovely complex string arrangements and the genuine tenderness shown towards the kitties and the other subjects in the songs.This is very uplifting music that is smartly silly and counterbalances the seriouslness and weights of life. This would appeal to children, to people with a sense of humor, to the elderly, and to people who appreciate quality music that is Celtic and strings-oriented. And of course, to those who love cats!! :)

Addictive - once you listen to it you can't stop
Marc Gunn did a fantastic job with this CD. The songs are addictive and once you listen to it you can't stop. It is not only for cat lovers but for anyone who enjoys listening to great music. If you have listened to "Irish Drinking Songs For Cat Lovers" and liked what you heard you will really love this one. I still can not get "What Shall We Do with a Catnipped Kitty" out of my head. Now when I hear the original songs all that comes to mind is the "Cat" version. Great Job Marc.

If you liked Marc's first cat album, "Irish Drinking Songs For Cat Lovers," this one is a must-own. Marc surpasses all his prior CDs with fine production values, richly layered instrumentation, and versatile vocal performance. The songs are varied and clever, and the lyrics are well-turned and inventive. It's great for cat lovers of all ages, filk music fans, Celtic music fans, and comedy music fans, too. You can enjoy it as a new spin on old favorite tunes, or use the album as a gateway to appreciating a whole new kind of music!

In summary, the Dubliners' Tabby Cats forage their way out of the gutters of Ireland to create a musical menagerie that combines Irish drinking songs and the folk music stylings of groups like The Dubliners, The Clancy Brothers, the Irish Rovers, and "Weird" Al Yankovic to create a sound unlike any Celtic music group you've heard today. The songs will make you laugh and cry with delight or distension as this feline group reinvents Irish trad.

Tracks:
1. What Shall We Do With a Catnipped Kitty
2. Molly Malone, The Cat's Perspective/Planxty Hewlett
3. Kitty at the Door
4. Danny Boy
5. To Catch a Cat
6. Big Strong Cat (My Puddy Tat, Sylvester)
7. Cuddles McGish
8. When the Dairy Farm Caught Fire
9. Kitty's Rambles/Dowd's 9 Lives/Jenny's Chickens
10. The Old Woman and Her Cat
11. Kitty Martin
12. Harry Potter and the Rising of the Moon
13. Orange Kitten's Mew
14. Whiskers in the Jar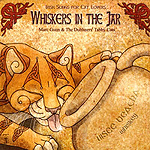 The CD was produced by Celtic music lover, Rich Brotherton, and it shows. Whiskers in the Jar is an album of purrlicious fun for cat lovers everywhere.

Buy the album here: Whiskers in the Jar

And click here for special packages of more than one CD

Bios:
The Cats
Their Man

Read our review of Marc's first Cat - Irish CD here: Irish Drinking Songs For Cat Lovers


Images: Front Cover Photo by Kristen Roger

Celtic Cat Logo by Ingrid Houwers

*Filk
What is this? One definition focuses on filk as a genre: filk is folk music, usually with a science fiction or fantasy theme. This definition is not exact; filkers often also write filk songs about computers or cats. To read more about filk, please click Wikipedia.




Fri, Feb 2, 2018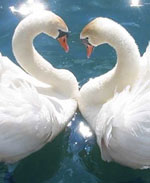 Irish God and Goddess of love
Oengus is the Irish God of love, beauty and youth. According to the old folklore, his kisses became birds. It is also said that he dreamed of a beautiful maiden, named Caer, for whom he searched all over Ireland. Eventually, he found her chained to 150 other maidens, destined to become swans at the time of Samhain. Legend has it that Oengus transformed himself into a swan and was united with his love.
Aine of Knockaine is the Irish Goddess of love. She is also known as the Fairy Queen of Munster and as a goddess of fertility beause she has control and command over crops and animals, especially cattle. Another name by which she is known is Aillen. To learn more about Irish mythology, please click Irish Myths & Legends.
Photo Credit: Wikipedia

Click for More Culture Corner.
Visit 30 of Ireland's most beautiful gardens. Includes a stunning collection of 200 full-color photos.
Click here for Gardens
---