Traditions, folklore, history and more. If it's Irish, it's here. Or will be!
"People will not look forward to posterity who never look backward to their ancestors."
-Edmund Burke
---
Quotes

Library: Books, Movies, Music

Prints & Photos

Poetry

Jokes

---
---
Shops Ireland
---
Bunús na Gaeilge
(Basic Irish)

---
---
Did You Know?
---
Himself/Herself
Write to Us
Readers Write..
Links/Link to Us
---
Advertise with us
---
Awards & Testimonials

Submissions Guide
---
A Tribute to Bram Stoker
by Bridget Haggerty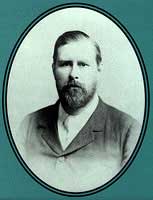 Best-known as the author of Dracula - one of the most famous novels of all time - Abraham "Bram" Stoker was born near Clontarf, Co. Dublin on November 8, 1847. He is referred to by his own nephew, Daniel Farson, as "one of the least known authors of one of the best known books ever written."

He was the third-born child in a family of seven siblings. During his early years, he was confined to his bed and his mother entertained him with vivid interpretation of Gaelic myths and folk tales. There's very little documentation, but it seems he had an illness which prevented any normal association with other children. However, by the time he was a teenager, the once sickly and very shy child had become an accomplished athlete and scholar.

While attending Trinity College, he was named "University Athlete" for his impeccable skill in soccer and marathon walking, and in 1870, he graduated with honors in mathematics.

He had always dreamed of becoming a writer. But his father's wishes won out and he followed him into a career as a civil servant in Dublin Castle. During his eight years as a civil servant, he wrote a dream fantasy entitled The Crystal Cup (1872), which was published by The London Society. A serialized four-part horror piece, entitled The Chain of Destiny followed three years later in the The Shamrock. He also wrote his first novel - Duties of Clerks of Petty Sessions in Ireland - which was a satirical account of the bureaucratic lifestyle he so dearly wanted to escape. What was to totally change his life was becoming an unpaid theatrical critic for Dublin's Evening Mail.

While at Trinity College, Stoker had been dazzled by the acting talents of Henry Irving, whom he saw perform at Dublin's Theatre Royal. It was about ten years later that Irving returned to Dublin to star in Hamlet. After reading Stoker's review of Hamlet, he invited Bram backstage. It was from that meeting a friendship flourished which would last for almost 30 years.

In 1878, Henry Irving offered Bram a position as business manager at London's Lyceum Theatre. Bram promptly resigned the civil service, married Florence Balcombe - the nineteen-year-old beauty he had planned to wed the following year - and set off for a new life in London. Within a year, Florence had given birth to their only child, a son, Noel.

Stoker's heavy workload left him little time for home life. His duties included keeping track of more than a hundred and twenty staff members, handling international tour arrangements, writing volumes of correspondence, balancing the Lyceum's books and protecting the wildly-admired actor from those who would exploit his fame. Somehow, Stoker found the time to write. his first book, Under the Sunset (1882), which consisted of eight eerie fairy tales for children. His first full-length novel, The Snake's Pass, was published in 1890. That same year marks the beginning of Stoker's research for his masterpiece, Dracula, The Undead.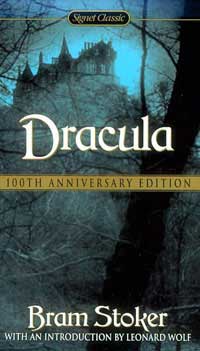 While he had never traveled farther east then Vienna, Stoker read extensively about Romania and its vampire history and made numerous visits to the British Museum to study maps and collect data for the novel. He also took many trips to Cruden Bay near Aberdeen, Scotland, and Whitby Bay on the English coast near York, where the rocky coastlines and local stories of shipwrecks and storms captured his imagination.

Although Stoker wrote a number of short stories and 18 books during his lifetime, his reputation as an author stands almost wholly on Dracula which was first published in 1897. While moderately successful and published as a six-penny paperback edition in 1900, it wasn't until the 1920s that it finally found its audience and eventually became a classic of Gothic literature.

During the last years of his life, a series of unfortunate setbacks served to cause him a great deal of anguish and stress. In 1898, there was a fire in the Lyceum storehouse which destroyed most of the scenery and stage props. Audience attendance had already fallen off, but what really ruined the Lyceum was not having enough insurance to repair the damage. Sold to a syndicate that failed, it was later turned into a music hall. In October, 1905, his dear friend Henry Irving passed away; not long afterwards, Bram was stricken by a stroke which left him unconscious for 24 hours. He recovered enough to continue his writing for several more years but eventually passed from this life on April 20,1912. Some resources say the cause was exhaustion.

"The days of Donnybrook Fair and all it meant, the days of the stage Irishman and the stagey Irish play, of Fenianism and landlordism are rapidly passing away, if they have not even now to an end - to be replaced by a strenuous, industrious spirit, spreading its revivifying influence so rapidly over the old country as to be worth more than historical bitterness and sentimental joys."

Resources:
Content: The Literature Network and also our faithful contributor, Hartson Dowd, who did a lot of our homework for us.
Images:
Bram Stoker: Broadway to Vegas
Dracula Cover: Amazon Books
Wed, Jan 3, 2018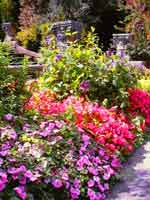 Ilnacullen, Co. Cork - an Island Garden
Located in the sheltered harbour of Glengarriff in Bantry Bay. Ilnacullin, which means island of holly, is a small island known to horticulturists and lovers of trees and shrubs all around the world as an island garden of rare beauty.
The vivid colours of Rhododendrons and Azaleas reach their peak during May and June, whilst the hundreds of cultivars of climbing plants, herbaceous perennials and choice shrubs dominate the midsummer period from June to August.
Because of its sheltered situation and the warming oceanic influence of the Gulf Stream, the climate is favourable to the growth of ornamental plants from many parts of the world.
Even for those who aren't particularly interested in gardens, there are many other scenic views, especially in the surrounding waters where seals frequent the rocks on the southern shore.
The cover photo on Bridget's book The Traditional Irish Wedding shows a wrought iron garden gate on Ilnaculen. I took that photo. To see it, go to the home page. It's part of the opening paragraph Failte.
—Russ
Resource: Copy and Image - Cork Guide

Click for More Culture Corner.