Traditions, folklore, history and more. If it's Irish, it's here. Or will be!
"People will not look forward to posterity who never look backward to their ancestors."
-Edmund Burke
---
Quotes

Library: Books, Movies, Music

Prints & Photos

Poetry

Jokes

---
---
Shops Ireland
---
Bunús na Gaeilge
(Basic Irish)

---
---
---
Himself/Herself
Write to Us
Readers Write..
Links/Link to Us
---
Advertise with us
---
Awards & Testimonials

Submissions Guide
---
Sean-nůs: The music of what happens
by Bridget Haggerty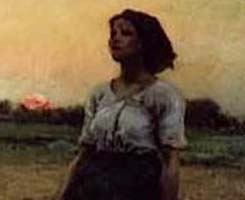 When the warrior Finn mac Cumaill was being questioned by a druid, the druid asked him what was the most beautiful music. 'Is it,' the druid asked, 'the waves of the sea crashing against the Cliffs of Moher? Is it the sound of the skylark rising over the Dingle Peninsula at dawn? Is it the sound of a butterfly hovering above daffodils on the Aran Isles in the springtime?' 'No,' said mac Cumaill. 'Well, what is it then?' And mac Cumaill answered, 'It is the music of what happens.'

According to Anthony Bluett in his book Things Irish, it isn't certain who gave Sean-nós or "old style" singing its name. But, the intention is obviously to distinguish this form of singing from other styles.
What makes Sean-nós distinctive is that the song is sung in Irish and is unaccompanied. Often, the singer seems to stay detached and in a kind of trance. For those of us who are used to performers who gesture, show emotion and sing dramatically, Sean-nós may seem somewhat strange.
The point of it all is that Sean-nós is about telling a story or reciting a poem. The meaning is all-important and the style is purposely understated. The songs themselves cover all aspects of Irish life - love, nature, laments, and even humor; but most often, the songs are stories about the singer's locality and can be about current happenings or social history - the music of what happens, then and now.
There are three main styles of Sean-nós, corresponding to the three areas where Irish is still spoken: the Gaeltachtaí of Munster, Connacht and Ulster. Munster Gaeltachtaí include parts of Cork, Kerry, and Waterford; the Connacht Gaeltachtaí are on the west coasts of counties Galway and Mayo, and the Ulster Gaeltacht is entirely within county Donegal.
While Sean-nós is practised beyond these areas, only these three styles are recognized. Singers from English-speaking areas of Ireland and outside Ireland may sing in one of the three styles, or may blend them, depending on where they learned the art.
The most obvious difference between the styles is that Donegal Sean-nós has been heavily influenced by Scots Gaelic singing, which is much less ornamented. Donegal singers tend to keep a steady pulse throughout the song and the melody is presented with minimal ornamentation. The Munster and Connacht styles can be more difficult to distinguish and both are highly ornamented, with the forms familiar to a traditional instrumentalist and with other more complex forms.
Some good examples of Ulster singing can be heard on Altan's first few albums. Mairéad Ní Mhaonaigh is a very talented traditional singer, and her unaccompanied tracks are outstanding. (Most of Altan's recordings are available on amazon).
There are many other fine Sean-nós singers, including Lillis Ó Laoire from Donegal, Seosamh Ó hÉanaí from Connemara and Diarmuid Ó Súilleabháin from west Cork, just to name a few. It's not a style that appeals to everyone, but if the song is followed along with a translation close by, the beauty of the story or poem slowly unfolds and reveals a depth of emotion and expression that belies the seeming detachment of the singer. Once you understand what he or she is sharing, the thing to do then is to listen to the song again - this time with your eyes closed. It is fair to say that those of us with an ounce of Irish spirit in the blood will feel the pulse of old Ireland surging through the veins.
Resources:Things Irish by Anthony Bluett; Bill Harrison and Ceolas
Image: Song of the Lark from All Posters and Prints.
Sun, Jul 20, 2014
Ireland's oldest city
Waterford
Situated in south eastern Ireland on the river Suir - pronounced Shure - Waterford was founded by the Vikings in 914. It was taken over by the Anglo-Norman invaders of the 12th century and was one of the most important Old English centres in medieval Ireland. Today, Waterford is world famous for its intricately cut crystal which was made in the city from 1783 until early 2009. Waterford is also known for being the home of Ryanair which began operations in the city with a 14-seat turboprop aircraft flying between Waterford and Gatwick Airport. Other claims to fame include being the first place where the the tri-colour flag of the Irish Republic was flown; it's also where the the modern bacon curing process was invented and it's where Ships Biscuits were first manufactured by Jacobs - they're better known nowadays as cream crackers!
Source: Wikipedia
Image: Collage: Coleman Huge2

Click for More Culture Corner.
Altan is a beautiful example of TRUE Celtic folk music! From the fast, up-beat reels, to Mairead's beautifully sung lullabies, The Best of Altan is sure to keep your spirit soaring, and your feet dancing!
Click for Best of Altan
---