Traditions, folklore, history and more. If it's Irish, it's here. Or will be!
"People will not look forward to posterity who never look backward to their ancestors."
-Edmund Burke
---
Quotes

Library: Books, Movies, Music

Prints & Photos

Poetry

Jokes

---
---
Shops Ireland
---
Bunús na Gaeilge
(Basic Irish)

---
---
Did You Know?
---
Himself/Herself
Write to Us
Readers Write..
Links/Link to Us
---
Advertise with us
---
Awards & Testimonials

Submissions Guide
---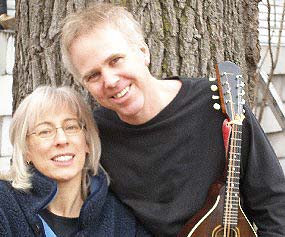 The Hammers from Canada!
by William Ramoutar

Well you probably don't know this, but, being Irish and a man, usually the last thing I do is read the instructions! I know, I know, it is so lame. But to tell you the truth, most times when I get a new cd, I am so anxious to hear the music, I don't read the liner notes or the press release for a while. So when I got the cd "From Distant Shores, Irish music from Canada" by The Hammers, I just assumed first of all it was a band trying to emulate The Pogues or some such rock band beltin' out old trad tunes! Boy, was I wrong!

It is, in fact, Paul and Susan Hammer, a married couple from the Northern part of this sphere and they play exceedingly well on their instruments and sound like they just got off the boat from my homeland! I am not trying to be facetious, but there are so many musicians, purporting to be traditional, or even proficient, that it was so refreshing to hear the music played properly.

Whistle, mandolin, banjo, guitar, bodhrán, concertina, they split between them. Him, the stringed and her, the wind, and they are really fine musicians. She, Susan, has a fine sound on the whistle. Whether fast or slow, the notes are sparklingly clear as a bell and as fluid as a stream running through an Irish Countryside. She even slows down a reel and it sounds like it was meant to be. But winding in and out of the melody is her forte. I don't know, but if she didn't learn from a master whistle player, then I give up!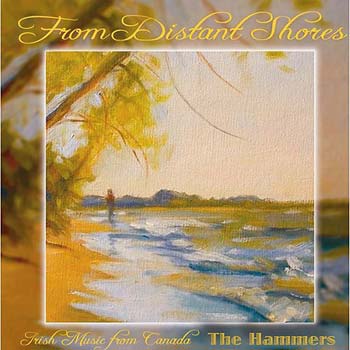 Paul plays the mandolin, banjo and guitar very tastefully too, even though the guitar was frowned upon by the Irish traditionalists for so many years. Eddie Furey was originally a marvelous fiddle player. He played fiddle for years with his brother, Finbar, before they were The Furey Brothers and Davey Arthur, winning "All Ireland Competitions" and all. Then one day, to rebel against all the Irish music he felt was being forced on him, he picked up a guitar and that was all she wrote, as they say. To this day he still plays guitar with his brothers, but never the fiddle! And him a Champion! Paul has the touch too. An adventurous parade of tunes that bring out the very best in both he and the Missus.

There can be such division in our "Tradition", that it would make your head spin. But to further the music, I remember, the great James Kelly from Planxty and Patrick Street fame, said to me one day, "what you do is, you give them two trad tunes and then one of yer own"! That is how the music squeaks by the "Traddies". It is also how the new people to "the Music" are recruited. They hear the old tunes done in a new fashion and we're off to the races! Conversely, it is also how the "Traddies" cop on to the fact that musicians such as The Hammers need to be given a listen.

Jigs, reels, airs, flings. They are all here and played very well, thank you very much. They even throw in a bit of the baroque on the guitar with "Flax in Bloom" taking over the second part of the tune in a jaunty contemporary style on the whistle. Not my favourite tune on this cd, but tasty nonetheless. But having said that, all the other tunes, I really like.

The flings are by Junior Crehan, one of the legends of Irish music, and are given a wonderful airing on the only appearance of the concertina. They should do more tunes on the concertina, and I am fairly sure they do in their concerts, or even workshops. Yes, they travel down to the States for some of the festivals, and you might even get to hear them that way. But get out there and torture "the know-it-alls" in the record shops, if you can find one, that is. My information is, as I have imparted before, the record shops are closing like the gates on Kelly's cows! Or get on the Internet, through amazon.com and find this superb offering by two hard hitting musicians. Get it? The Hammers!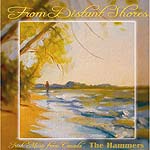 To purchase the CD on Amazon or listen to samples, please click The Hammers.

Photo & CD Cover Painting: Anne Hanley

William Ramoutar Bio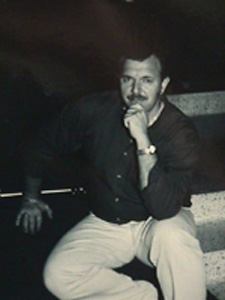 BIO William Ramoutar
IRISH WAYS RADIO PROGRAMME
WFCF Radio 88.5 FM
Every Sunday 11:00 am to Noon eastern standard time on the radio WFCF 88.5fm
We are now an iheart Station on your smartphone or computer
streaming live on iheart.

Review written by William Ramoutar Presenter of Irish Ways Radio Programme, St Augustine Florida


Fri, Feb 2, 2018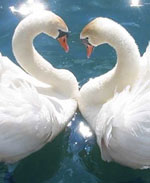 Irish God and Goddess of love
Oengus is the Irish God of love, beauty and youth. According to the old folklore, his kisses became birds. It is also said that he dreamed of a beautiful maiden, named Caer, for whom he searched all over Ireland. Eventually, he found her chained to 150 other maidens, destined to become swans at the time of Samhain. Legend has it that Oengus transformed himself into a swan and was united with his love.
Aine of Knockaine is the Irish Goddess of love. She is also known as the Fairy Queen of Munster and as a goddess of fertility beause she has control and command over crops and animals, especially cattle. Another name by which she is known is Aillen. To learn more about Irish mythology, please click Irish Myths & Legends.
Photo Credit: Wikipedia

Click for More Culture Corner.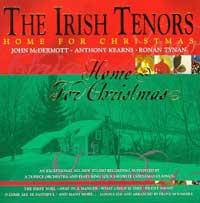 According to the 30 or more reviews we've read, if you own just one Irish Christmas recording, this should be it. Featuring Anthony Kearns, Ronan Tynan and John McDermott, we are treated to both solo and trio performances of a dozen or more best loved holiday airs, sung in their trade-mark Irish tenor style. As one reviewer cleverly observed, if these three sang the phone book, she'd buy it!
See Review
Click here for Home for Xmas
---