Today
in
Irish
History

April 27

1696 - Act 'for encouraging the linen manufacture of Ireland': Irish linen gains duty-free access to the British market on this date
1739 - Lord Barry of Santry is tried by his peers in the parliament house for the murder of his former servant Laughlin Murphy in August 1738. They unanimously find him guilty, but recommend him to the royal mercy. The Lord Lieutenant endorses this plea, and Santry is pardoned under the great seal on 17 June. His estates, which had been forfeited for life, will be restored in 1741
1827 - Mary King Ward, Irish naturalist and astronomer is born
1880 - The Royal University of Ireland is founded by charter
1891 - The first ever Irish musical comedy, The Irish Girl, written by Percy French and Dr. W. Houston Collisson, is staged at the Queen's Theatre, Dublin
1904 - Cecil Day-Lewis, poet, novelist, critic, and Ireland's poet laureate from 1968 to 1972, is born in Ballintogher, Co. Sligo
1920 - Georgina Frost wins a legal battle to allow her to be clerk of the petty sessions for Sixmilebridge and Newmarket-on-Fergus, Co. Clare; she is thus the first woman to hold public office from central government in the UK
1923 - De Valera announces end of operations against the Irish Free State, effectively ending the Irish Civil War
1937 - The Most Rev. Robert Eames, Church of Ireland Archbishop of Armagh and Primate of all Ireland, is born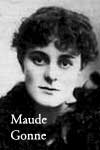 1953 - 1953 - Irish revolutionary, feminist and actress Maude Gonne McBride dies in Roebuck, Clonskeagh, and is later buried in Dublin in the Glasnevin Cemetery. She is best remembered for her turbulent relationship with William Butler Yeats.
1966 - Farmers protest against low milk prices; 28 are arrested in Dublin
1998 - Sinn Féin president, Gerry Adams, forecasts an end to the RUC in its present form. His prediction comes following a 55-minute review with Tony Blair in Downing Street of critical issues arising from the Good Friday settlement
1999 - Legal history is made when the country's first ever convicted gangland murderer, self-confessed drugs dealer and gang boss Joseph Delaney, is jailed for life
2001 - Ireland's foremost literary town officially opens a permanent home for its famous wordsmiths and their works. A 19th century Georgian house, in the heart of Listowel, has become the Kerry Literary and Cultural Centre, where life-size models and audio-visual presentations help portray the personalities and output of various writers. The £1.5 million centre is appropriately named Seanchaí after the art of storytelling and in recognition of the folklore and traditions that inspire great literature.
Sources:
History of Ireland –
Stair na hÉireann
Irish History
Boat People Photo Credit:
RTÉ Archives
For more Irish History "On This Date" click the desired month below: