Today
in
Irish
History

July 31
1661 - The Act of Settlement confirms some adventurers' landowning rights but allows claims from 'innocents' and royalist supporters
1689 - Robert Lundy, Governor of Derry/Londonderry, advises surrender at the approach of James's army but is overruled and allowed to escape. The city holds out under siege for 105 days and is relieved on this date
1689 - The Enniskillen Protestants defeat Jacobite forces at Newtownbutler, Co. Fermanagh
1737 - Robert Adair, MP for Philipstown, dies on this date, having 'had one of his legs cut off above the knee for a mortification and died soon after'
1834 - Inauguration of the first Dublin — Dun Laoghaire horse-drawn "train service"
1838 - Enactment of the Irish Poor Law
1877 - Minority of Home Rulers begin obstruction tactics in Commons
1893 - Founding of the Gaelic League in order to revive the use of the Irish language and foster appreciation of Ireland's Celtic heritage
1917 - Death of poet
Francis Ledwidge
, from Slane, Co. Meath, who is killed by a stray shell at Ypres during World War I
1922 - Harry Boland shot by Free Staters in Skerries; he would die three days later
1981 - Kevin Lynch, political prisoner, dies on hunger strike in the Maze prison
1978 - U2 plays McGonagle's in Dublin in support of Modern Heirs and Revolver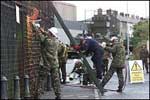 1998 - Parades Commission rejects a fresh application by Orangemen to parade along the nationalist Garvaghy Road in Portadown on August 2
2000 - The British Army begins dismantling the controversial Borucki observation post which has dominated the skyline in Crossmaglen for more than 20 years.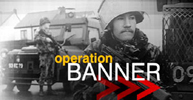 2007 - After 38 years, the occupation of Northern irland by the British Army ends at midnight. Operation Banner is the Army's longest continuous campaign in its history with more than 300,000 personnel serving and 763 directly killed by paramilitaries.
For more Irish History "On This Date" click the desired month below: