Today
in
Irish
History

December 9

1791 - Sir Thomas Wyse, politician and diplomat, is born in St John, Co. Waterford
1861 - John O'Donovan, Irish language scholar, dies
1952 - The Irish Management Institute holds its inaugural meeting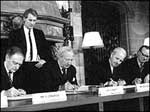 1973 - At Sunningdale, Berkshire, British Prime Minister Edward Heath, Irish premier Liam Cosgrave, and representatives of the Ulster Unionist Party, the Social Democratic and Labour Party and the Alliance Party of Northern Ireland, sign an historic agreement to set up a Council of Ireland
1994 - Sinn Fein, the Irish Republican Army's political wing, held its first formal talks with Britain in over 70 years.

2000 - Irish Prime Minister Bertie Ahern arrives for the third day of the European Summit in Nice. Leaders of the 15 EU states have convened in this heavily guarded city to tackle a tough agenda which centers on the future structure of the European Union and the integration of new member states
Photo Credit: REUTERS/Jean-Paul Pelissier
2002 - Carlow town wins first place in the inaugural all-Ireland anti-litter league. Accepting the award, Carlow's civic leader Mayor Michael Abbey said the town had enthusiastically embraced the competition which involved 29 towns, including three from Northern Ireland
2002 - Tourism Ireland and Bord Fáilte unveil plans to increase the number of tourists by 5% in 2003, despite the prospect of higher prices across the sector.
2005 - Nearly 150,000 people take to the streets as the Irish Ferries protest mushroomed into the largest public demonstration the country has seen for two decades.

2005 - President Mary McAleese and Queen Elizabeth II meet in Northern Ireland. According to President McAleese, this historic event could clear the way for an unprecedented State visit. No British monarch has made such a trip since George V visited Dublin in 1911, a decade before partition.
For more Irish History "On This Date" click the desired month below: