Today
in
Irish
History

October 4
1582 - Pope Gregory reforms the calendar introduced by Julius Caesar in 45BCE: 4 October is followed by 15 October. However, the reform will not be implemented in Ireland till 1752
1693 - Irish Brigade of France fights in the battle of Marsaglia
1733 - Henry Boyle, the future Earl of Shannon, is unanimously elected Speaker of the Irish parliament. He will serve till 1756 - the longest-serving Speaker of the 1692-1800 parliaments
1741 - Edmund Malone, editor and Shakespearian scholar, is born in Dublin
1842 - Birth of heavyweight bare-knuckle boxer Jim Dunne in Co. Kildare.
Dunne won the American heavyweight title from fellow Irishman Jim Elliot - the pair were jailed after the illegal event
1886 - Lennox Robinson, playwright and one-time Abbey Theatre manager, is born in Douglas, Co. Cork
1959 - Direct dialing is launched in Ireland
1961 - General election is held in the Republic. Fianna Fáil gains 70 of the 144 seats
1999 - Aer Lingus announces it will drop its Knock Birmingham route. The decision by the national airline to cease operations on this route also means the severing of its only regular link with Knock Airport. A spokesperson for Aer Lingus confirms that the last flight on the Knock Birmingham route will be on October 29
2001 - Cork will be Europe's Culture Capital in 2005 after landing the prestigious title ahead of Galway
2002 - Thousands of people from all over the country march in protest over redundancy payments
2002 - The North's police service launch dawn raids on Sinn Féin's offices at the Northern Ireland parliament at Stormont
In the liturgical calendar, today is the feast day of St. Francis. Traditionally, many people have their pets blessed in honor of the patron saint of all animals.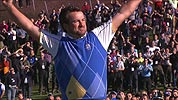 2010 - Graeme McDowell after delivering the match-winning point for Europe in his final singles match against the USA's Hunter Mahan at the Ryder Cup at Celtic Manor in Wales. For the first time in its history, the Ryder Cup stretched into a fourth day due to inclement weather
Photo Credit: Irish Times.
Sources:
History of Ireland –
Stair na hÉireann
Irish History
Boat People Photo Credit:
RTÉ Archives
For more Irish History "On This Date" click the desired month below: