Traditions, folklore, history and more. If it's Irish, it's here. Or will be!
"People will not look forward to posterity who never look backward to their ancestors."
-Edmund Burke
---
Quotes

Library: Books, Movies, Music

Prints & Photos

Poetry

Jokes

---
---
Shops Ireland
---
Bunús na Gaeilge
(Basic Irish)

---
---
Did You Know?
---
Himself/Herself
Write to Us
Readers Write..
Links/Link to Us
---
Advertise with us
---
Awards & Testimonials

Submissions Guide
---
Irish Linen - The Cloth of Kings
by Bridget Haggerty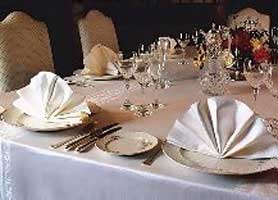 Did you know that linen is the oldest fabric known to man and even pre-dates the invention of the wheel? But, while it was prehistoric man who created the first-ever fabric from the fibres of the flax plant, it was probably the Egyptians who, in recognizing it as a noble fabric, pioneered the industrial production of what was to become the cloth of kings.

Three thousand years before Christ was born, linen was the favored fabric of the Pharaohs and the Egyptian aristocracy in both life and death. Indeed, mass production of linen was essential because it would have taken approximately 1000 yards of linen to wrap around an Egyptian king, as part of the mummifying process.

It was to be several thousand years before linen made its way to Ireland. It is thought to have arrived in early Christian times and it is said that St. Patrick is buried in a shroud of Irish Linen.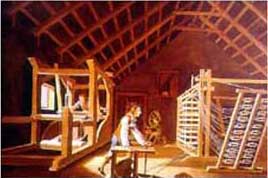 While historical records show that linen was being made in Ireland through the Middle Ages, it was not until the early 17th Century that the Irish Linen industry began to develop in any structured way. Production was concentrated in the north of the country, particularly in the area of land between the two great rivers of the north, the Bann and the Lagan. To this day, the area is known as The Linen Homelands.

In the late 17th Century, the Huguenots, who had recently fled from France to Ireland, added their expert textile skills to a now-well-established Irish Linen industry, and the fame and reputation of the fabric flourished. But what is it that sets Irish Linen apart? Why is it the preferred fabric of The White House, The Sultan of Brunei, Queen Elizabeth II, the Imperial Court of Japan and the Vatican?

Although pure linen is manufactured in other parts of the world, there are several special attributes that make the Irish fabric far superior. These are principally the fineness of the yarns and woven cloth that is still achievable by Irish spinners and weavers, as well as the skills - handed down from generation to generation - that are applied in the creation of delicately woven and intricately designed cloth. In addition, the softness of the water in Irish streams, which is harnessed for bleaching, dyeing and finishing, results in cloth which is of delightful and enviable handling and appearance. Irish Linen cannot be matched in these essential characteristics of a top-quality cloth.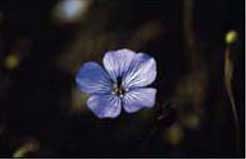 There are other reasons that Irish Linen has become the world's favorite. The linen manufacturing process is complicated and requires great skill at each stage of production. Linen is a natural fabric produced from fibres of the flax plant. The plant is sown in April, produces delicate blue flowers in June and is harvested in August. After pulling, the crop is laid out in the fields to ret, a process where the woody bark of the plant is naturally rotted so that the fibres come loose from the main stem. The seeds are removed and used for linseed oil or cattle cake and the bark is removed by a process called scutching. It is used for chipboard. No part of the flax plant is wasted.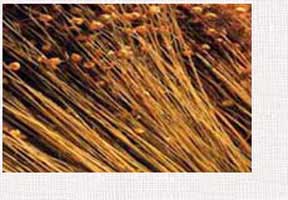 The fibres are hackled (combed), to separate the long line and short tow fibres. The line fibres are generally drafted and doubled, and then lightly twisted before undergoing a wet spinning process. This produces strong, fine yarn. The short tow fibres are carded and drafted and then spun using a dry spinning method. Dry-spun yarns have a heavier count and are used for furnishing fabrics, heavy apparel and household textiles and knitwear. Ireland is the home of the most advanced wet and dry spinners in the world.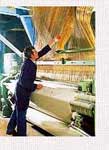 Weaving is an ancient craft which has been revolutionized by technology. The latest Computer Aided Design systems and dedicated sampling machinery ensure that new designs are turned around with utmost efficiency. Today, high-speed, computer controlled looms are operated under the watchful eye of an experienced weaver giving the industry an ideal mix of automation and skill.

Finishing linen is also a complicated process, and new techniques are continually being developed to give the final fabric new properties and handling characteristics. Different finishing treatments can produce the crisp elegance of a fine damask tablecloth, the cool comfort of linen sheets, or meet the demands of the fashion industry for new textures and performance. Recent developments in finishing include softwash and aero finishes for a relaxed look and easy-care finishes which cut down linen's creasability and allow the fabric to be fully machine washed and tumble-dried.

Irish Linen performs equally well on the fine dining table and al fresco at picnics Beautiful damask will absorb stains and release them like no other fabric. Linen napkins, glass cloths and teatowels are great for wrapping bread and other food to help keep it fresh. Linen does not lint when drying dishes, so there are no nasty streaks or fabric left on glasses and delicate china. Linen teatowels are highly absorbent and also dry out very quickly, making them the most practical of kitchen fabrics. Linen also adds luxury to the bathroom, either as refined hand towels, or as a coarse, looped friction towel which not only dries the skin very effectively but invigorates it by stimulating the blood supply.

Last but certainly not least, Irish Linen is admired because the production of it is environmentally friendly. The process from fibre to end product is monitored closely to ensure this. The entire flax crop is used - the left-over linseeds, oil, straw and fibre are used in everything from linoleum and soap to cattlefeed and paper. Waste is kept to a minimum during processing and the industry acts responsibly to ensure that all chemicals such as bleaches and dyes are treated fully before disposal.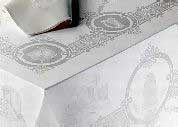 Indeed, Irish Linen is a wondrous fabric, touching every element of our lives. It is synonymous with elegance and comfort, and the longer it is worn the more beautiful it becomes. Five thousand years after the Egyptians first developed it as a true lifestyle fabric, linen is as appropriate today as it was for the pharaohs. And Irish Linen is the best and most appropriate of all.

Resources:The author would like to thank the Irish Linen Guild for their kind permission in allowing us to reprint images from their web site and also for providing invaluable background information.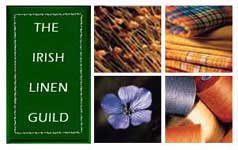 Founded in 1928, the Guild draws its membership from all sections of the industry, from spinners and weavers to designers, finishers and merchants. It promotes Irish Linen in national and international textile and clothing markets and ensures that high standards are always maintained. The Irish Linen Guild's registered trademark is the focus of the Guild's activities. It can only be used to mark Irish linen products manufactured from linen which has been woven and finished in Ireland by members of the Guild. It is recognized world-wide as a seal of quality, and its use is closely monitored.


Thu, Dec 7, 2017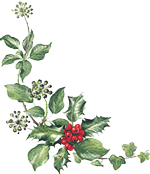 Holly and Ivy hanging up and
something wet in every cup*
Not so long ago, Irish Christmas decorations were much simpler than they are now. The children gathered holly and ivy for adorning, windows, doorways, mantles and pictures, and the father would carve out a turnip in which would be placed a large red candle. This would go in the window to light the way for the Holy Family on Christmas Eve. Only in relatively recent times did an Irish family have a Nativity scene and a decorated tree in the house. As for Mistletoe, it's quite rare in ireland and is generally associated with ancient Celtic and Druidic fertility celebrations; this is most likely where the custom of kissing under the mistletoe comes from.
*Old Irish Christmas toast
Image: Pashley Manor Gardens.