Traditions, folklore, history and more. If it's Irish, it's here. Or will be!
"People will not look forward to posterity who never look backward to their ancestors."
-Edmund Burke
---
Quotes

Library: Books, Movies, Music

Prints & Photos

Poetry

Jokes

---
---
Shops Ireland
---
Bunús na Gaeilge
(Basic Irish)

---
---
Did You Know?
---
Himself/Herself
Write to Us
Readers Write..
Links/Link to Us
---
Advertise with us
---
Awards & Testimonials

Submissions Guide
---
Irish Genealogy Q & As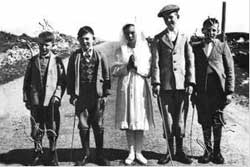 Searching for your ancestors, but don't know where to begin? In this section, we are pleased to offer the services of Eileen O' Duill, a Certified Genealogical Records Specialist and a Certified Genealogical Lecturer, who will answer general questions of 25 words or less. Please send your question(s) to Eileen O'Duill. It would be helpful if you put Genealogy questions in the subject line.

Q. I've traced my relatives (the Dougherty's) back to Co. Donegal. Unfortunately, I'm having a hard time getting anywhere from here - the name is so common that the local population use nicknames to distinguish the various families. I've also heard that many of the older family records from parishes throughout Ireland, were inadvertently burned during the 1916 rising in Dublin. My question is, where should I go from here? Would it be worthwhile to contact a source in Donegal and pay for their research services? Any help you can provide would be greatly appreciated.
A. I agree, without the branch or nickname, it is virtually impossible to trace Dohertys in Donegal. I am working on a family from Slievebawn, Malin Head - the family of James Doherty and having difficulty. However, civil registration of births marriages and deaths for the whole population of Ireland began in 1864. If your ancestor was born after that date and you know his parents' names, any competent genealogist can do a search to locate the birth record. We would start by finding the marriage of the parents of the immigrant (this is where we pray they were married after 1864) in order to pinpoint the correct registry district. Then, we would search for the birth of your ancestor who left Donegal and went to America. You can check the website www.irishgenealogy.ie for the location search service. It may be of use to you.

Q. My name is Justin Hand, I have consulted many genealogy sites and they say Hand is an Irish name, not sure these sites are good, Is Hand an Irish last name?
A. Justin, your surname is indeed Irish. Consulting the book, All Ireland Surnames by Sean deBhulbh, we find the following entry:
Hand(e): numerous N. Midlands, Ulster generally, Dublin. Ir: Mac Fhlsithimh, (the Irish word flaitheamh meaning prince). The name is of English origin in Dublin and Ulster. It is a nickname in this case. Additional information can be found in Surnames of Ireland by Edward MacLysaght.

Q: My grandfather was born in 1863. Where can I get his birth certificate?
A: Civil registration of all births, marriages and deaths for the whole population of Ireland began on January 1st 1864. To locate births prior to that date, the only source available to researchers are parish registers. Success in parish register searches is dependent upon knowing the religious denomination and approximate geographic area where the ancestor was born. so, while no birth certificate exists for him you may be able to locate a baptismal certificate.

Q. I have heard that my grandmother's birth certificate burned in the fire of 1922. Is that true?
A: No, it is not true. The fire you refer to happened at the Public Records Office in the Four Courts, 30 June 1922. At that time, the General Register Office was located in what is now Parnell Square. No civil records have been lost since the beginning of civil registration.

Q: I understand that births were first registered in 1864. I think I have seen a civil Irish marriage certificate for my great grandparents dated 1859. How is this possible?
A: Registration of marriages for non-Catholic marriages only commenced in April 1845. Marriages for the whole population of Ireland began in January 1864. The reason Catholic marriages were excluded in 1845 was that the Catholic clergy feared that civil registration would interfere with the religious nature of the ceremony.

Q: My grandfather was born in Kerry. Is it true that I can claim Irish citizenship?
A: Yes. As Ireland is a nation in Diaspora, citizenship is extended to grandchildren of Irish born people who were born outside of Ireland

The documentary evidence required by the Irish Government through its Consulates is:
1. Full birth certificate of claimant
2. Full marriage certificate of claimant's parents
3. Full death certificate or current passport of claimant's parent
4. Full birth certificate of claimant's parent
5. Full marriage certificate of claimant's grandparents
6. Full death certificate of grandparent
7. Full birth/baptismal certificate of grandparent or corroborating evidence

Q: Where can I find Census returns for Ireland for the year 1891?
A: Sadly, Census returns for Ireland for that year no longer exist. They were pulped by government order during the first World War. Returns for other years back to 1821 have also been destroyed, many in the fire at the Four Courts in 1922. The only fully extant Census returns for all 32 counties are for the years 1901 and 1911. These were released early by special legislation for research since we are so lacking in Census returns for other years.

Q: When will the 1921 Census of Ireland be released?
A: There was no Census taken in 1921 since there was a Civil War raging. The first Census of the Free State was taken in 1926. Since there was a confidentiality guarantee given at the time, special legislation would be required to make this Census available for research.

Q: What is a townland?
A: A townland is the smallest administrative division of land in Ireland. It is essentially a rural address.

Q: Are Haggerty and Hegarty the same name?
A: According to Edward MacLysaght, in his book, The Surnames of Ireland, Haggerty is a variant of Hegarty. Both variations come from the Irish Ó héigceartaigh. Primarily an Ulster sept, there is another branch found in Munster.

Q: My name is Doyle. What would that have been in Gaelic?
A: The masculine version of the surname is O'Dubhghaill from the two words, dubh: black and ghaill: foreigner. This was the name describing the Vikings who invaded Wexford while the Vikings who invaded the area around Dublin were called the Fingals, fionn: fair ghaills: foreigners. I use the modernized version of our surname, O'Duill, my husband and son are O'Dubhghaills and the girls are Ni Dhubhghaills. All are perfectly acceptable.

Q: I have no idea where in Ireland my ancestor came from. Can you help?
A: Space does not permit me to provide you with a detailed research plan. My best advice is to follow the paper trail left by your ancestor in records in his/her new country. Find passenger arrival records, marriage records (civil and church), land records, naturalization, military records, pension records, death certificate, cemetery records and headstones, wills, obituaries, family records, letters, Bibles, etc. Somewhere. during his or her lifetime, someone asked him or her where he was from and who his parents were....once you have this information, you can start your search in Ireland.

Q: Is the Irish government doing anything to promote Irish genealogy?
A: Yes, the government has established Irish Genealogy Ltd., a government company responsible for managing the Irish Genealogical Project which includes the county heritage centres. You can learn more about IGL and the new range of services they provide at: Irish Geneology Ltd.

Eileen's Bio


Eileen O'Duill, (nee O'Sullivan) was raised in Queens, New York, one of seven children of Irish parents. She is a Certified Genealogical Records Specialist and a Certified Genealogical Lecturer. In 1974, she followed her heart to Ireland where she met and married Sean O'Duill. Sean is a Mayo man with a great love for the Irish language. He is a secondary school teacher and a lecturer on Irish Folklore. Sean and Eileen have five Irish- speaking children ranging in age from 16 to 25.


Eileen specializes in legal and probate research locating rightful heirs in international intestate estates and post-1864 Irish research. She has lectured in the U.S. at NGS and FGS conferences. Eileen is a member of the Association of Professional Genealogists in Ireland and serves as a Director of Irish Genealogy Ltd. Eileen is one of the genealogists who provide the free Genealogical Advisory Service in the National Library of Ireland. To visit her website, please click Heirs Ireland.

Image: Connemara Children from Barewalls Posters and Prints


Fri, Feb 2, 2018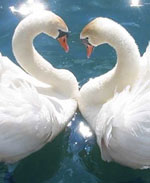 Irish God and Goddess of love
Oengus is the Irish God of love, beauty and youth. According to the old folklore, his kisses became birds. It is also said that he dreamed of a beautiful maiden, named Caer, for whom he searched all over Ireland. Eventually, he found her chained to 150 other maidens, destined to become swans at the time of Samhain. Legend has it that Oengus transformed himself into a swan and was united with his love.
Aine of Knockaine is the Irish Goddess of love. She is also known as the Fairy Queen of Munster and as a goddess of fertility beause she has control and command over crops and animals, especially cattle. Another name by which she is known is Aillen. To learn more about Irish mythology, please click Irish Myths & Legends.
Photo Credit: Wikipedia

Click for More Culture Corner.
Beautifully illustrated map measures 14 1/2 x 23 1/2 inches and shows the locations of over thirteen hundred clans and families, some of which go back over a thousand years. Also featured are miniature illustrations of St. Patrick, and the castles of Bunratty and Dunluce.
Click for Map.

---
Armorial history combines a full color rendition of the family coat of arms associated with your name along with the history of your surname. A seal guarantees authenticity. Presented on parchment paper; unframed. Cherry wood framing is available.
Click for Armorial Histories.

---
Your family Coat of Arms is hand-painted on a heavily embossed copper armorial and then mounted on a dark mahogany base. A vast range of names and crests are available.
Click for Plaque.

---
A wonderful example of Irish craftsmanship, this stunning Irish pewter tankard features intricate detail and quality throughout. Unique heirloom or memento of any special occasion such as a wedding, anniversary or graduation. Most Irish names are available.
Click for Tankard.