Traditions, folklore, history and more. If it's Irish, it's here. Or will be!
"People will not look forward to posterity who never look backward to their ancestors."
-Edmund Burke
---
Quotes

Library: Books, Movies, Music

Prints & Photos

Poetry

Jokes

---
---
Shops Ireland
---
Bunús na Gaeilge
(Basic Irish)

---
---
Did You Know?
---
Himself/Herself
Write to Us
Readers Write..
Links/Link to Us
---
Advertise with us
---
Awards & Testimonials

Submissions Guide
---
Gregory Peck's Irish Connections
by Bridget Haggerty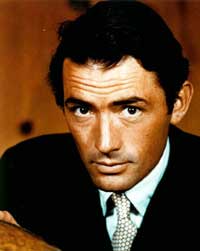 "I expect that every Irish-American coming to Ireland says visiting makes them feel good to be here. But I feel drawn to Dingle, I feel a sense of coming home. For me that is what it is. This is where my grandmother, Catherine Ashe, came from. And I look forward to coming back again."

On that particular trip to Killarney in the spring of 2000, he was accompanied by his wife Veronique, daughter Cecilia, her partner Daniel and their son. He described it as "...an emotional experience - not a sentimental one." He met his cousins at the Skellig Hotel, where he signed autographs, posed for photos for family albums and proudly introduced his one-year-old grandson. A group photo of him and his family and about 30 Dingle relatives is proudly displayed in the living room of his Beverly Hills home; in the study, lined with books by Shaw, Yeats, Wilde and all the classics, is displayed a portrait of the Kerry patriot, Thomas Ashe, who took part in the 1916 Rising and died while on hunger strike in 1917. This recently named all-time hero of American movies is also related to that long-ago hero of 1916.

After his reunion with the relatives, Mr. Peck toured the Ring of Kerry and visited Monsignor Hugh O'Flaherty's grave in Cahersiveen, saying he greatly admired all the monsignor did to save the lives of thousands during the German occupation of Rome in World War Two. (Peck played the part of the Kerry-born Monsignor in the movie 'The Scarlet and the Black' - see right margin.) He described the visit to the grave as like "that marvellously sunny day on the Ring - one of the great experiences of my life. I want to buy a little place somewhere around there so I can come back to enjoy the spectacular beauty and peace".

There were many other trips back home. Gregory Peck first researched his Kerry roots in September, 1968, when he visited cousins in Minard, Lispole, telling them "I'm your cousin from America". The actor also visited the sacristy in Dingle to pore over the records of births and marriages to work out his connection with Thomas Ashe and to find out more about his grandmother.

Catherine emigrated to the US and married a baker named Samuel Peck; they had a son also named Gregory, and lived in Rochester, NY. Samuel died at a young age and Catherine returned to Ireland. She and her son lived in Kerry for a few years and then went back to America where she became a successful sales lady in the undergarment business; her son grew up, became a pharmaceutical chemist, and married a woman from Missouri.

Gregory Peck was born in California in 1916. His parents divorced when he was six, and at 10 he was sent to a Roman Catholic military academy in Los Angeles, where he was indoctrinated by "tough Irish nuns". "I had that stubborn streak, the Irish in me I guess," he once said.

Retired Dingle publican Thomas Ashe, one of Peck's Kerry cousins, recalled him as "a gentleman to his fingertips." A regular visitor to Kerry, Peck was a warm, friendly, generous man "who never talked about the films he had been in at all, at all. He never boasted about his achievements."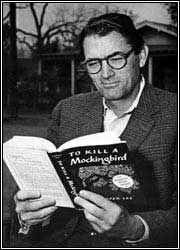 Thomas remembered the many evenings he spent having a pint or two with the Hollywood giant best known for his Oscar-winning role in the 1962 movie "To Kill A Mockingbird." A few years ago, Thomas, realising his cousin's fondness for the pint of plain, used his contacts in Guinness to make a dream of Peck's come true. "We were having a few pints one night and he mentioned that he would love to have a tap back in his place in California. I got in contact with Guinness in Dublin and they got on to their reps in California and the tap was installed. He was delighted.
His neighbours Jack Nickolson and Frank Sinatra's wife would meet in Peck's house regularly to play cards and drink pints, they all loved the stuff, he told me."

The star always maintained a close relationship with Ireland, and in 1997 he was named Irish-American of the Year by Irish America magazine in New York. In an interview with Irish America, he said that President Lyndon Johnson told him that if he had served a second term he would have nominated the actor as ambassador to Ireland. Mr. Peck said he probably would have accepted. "It would have been a great adventure."

In April 2000, at the age of 84, he was made a Doctor of Letters of the National University of Ireland. In the ceremony at Iveagh House, UCD president, Dr. Art Cosgrove, said he was "one of the greatest names to come out of Hollywood" who would always be remembered for his "classic portrayal of a Lincolnesque lawyer" in the 1962 "To Kill a Mockingbird."

Just a few months ago, Mr Peck attended the launch in Beverly Hills of the John Huston School of Film and Digital Media, named after the late Irish-American film-maker. Mr. Peck was a patron.

He passed away on June 12, 2003, and according to all reports, he left us holding Veronique's hand. His funeral service ended with a film-clip showing an interview with the actor in which he said he wanted to be remembered as a good husband, father and storyteller.

In a wonderful tribute, PBS wrote: While continuing to act on television and in Hollywood throughout the 1980s and 1990s, including a remake of "Cape Fear, Peck focused much of his energy on spending time with his wife, children, and grandchildren. For Peck, life as a father and as a public figure have been inseparable; he was simultaneously a major voice against the Vietnam war, while remaining a patriotic supporter of his son who was fighting there. If years of breathing life into characters such as Captain Keith Mallory and General MacArthur taught him anything, it was that life during wartime was profoundly complex; and rarely has there been a time free from war or struggle. In his more than fifty films, Peck continually attempted to investigate these complex struggles, and in doing so has created a library of stories that shed light on human possibility and social reality.

At 85, Peck turned his attention back to where he got his start, the stage. He traveled the country visiting small play houses and colleges, speaking about his life and experiences as a father, a celebrity, and as an actor.

In saying goodby to the man who appears to be the epitome of Atticus Finch on and off the screen, we like to think that besides the photo of Thomas Ashe on the wall of his study, there also might lie among his papers, a copy of a poem his ancestor wrote. He once said "The Irish influence has been a big thing in my life. Kind of an anchor – it means a lot to me."

Let me Carry your Cross for Ireland, Lord
by Thomas Ashe

Let me carry your Cross for Ireland, Lord
The hour of her trial draws near,
And the pangs and the pains of the sacrifice
May be borne by comrades dear.

But, Lord, take me from the offering throng,
There are many far less prepared,
Through anxious and all as they are to die
That Ireland may be spared.

Let me carry your Cross for Ireland, Lord
My cares in this world are few.
And few are the tears will for me fall
When I go on my way to You.

Spare. Oh! Spare to their loved ones dear
The brother and son and sire.
That the cause we love may never die
In the land of our Heart's desire!

Let me carry your Cross for Ireland, Lord!
Let me suffer the pain and shame
I bow my head to their rage and hate,
And I take on myself the blame.
Let them do with my body whate'er they will,
My spirit I offer to You.
That the faithful few who heard her call
May be spared to Roisin Dubh.

Let me carry your Cross for Ireland, Lord!
For Ireland weak with tears,
For the aged man of the clouded brow,
And the child of tender years;
For the empty homes of her golden plains;
For the hopes of her future, too!
Let me carry your Cross for Ireland, Lord!
for the cause of Roisin Dubh.

In closing, we received an interesting message from one Tom Laramie who appears to be a distant relative:
"My mother, Catherine Kennedy grew up in Boston. (The poor Kennedys). Her grandfather, Thomas Michael Kennedy, from Kilmacthomas, Co. Waterford, was an ash man. He had a room in his house where he had shoes of every kind and style he had picked up in the trash. Any kid or adult he saw in the need of shoes, he'd bring them up to the room to see if they could find something. Curiously enough, he married an Ashe, Nora Ashe, who was Gregory Peck's grandmother's sister. At least that is the story. She was from Dingle. I have seen a couple of pictures of Thomas Ashe's funeral. He died from a hunger strike after the Easter Rising - one with him in his uniform, still lying on his hospital bed. He looked pretty gaunt. He was part of that family, but I am not sure how related. Anyway, the Nora Ashe story just may be good folklore. I haven't done the research on it."

Resources: Irish Independent, The Age - Australia

Images: Feature Image - All Posters - Item #: 307056
Peck reading To Kill a Mocking Bird - Google images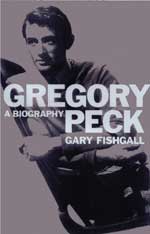 Links:
Gregory Peck - A Biography by Gary Fishgall
Following up on his tributes to Jimmy Stewart and Burt Lancaster, Fishgall reveals the star of Cape Fear, The Man in the Gray Flannel Suit and To Kill a Mockingbird as "the consummate professional"- probably to no one's great surprise. Adapted from an amazon review
Click here for Gregory Peck Biography.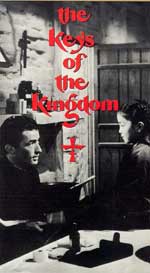 Keys of The Kingdom
Faithful to the book of the same name by A. J. Cronin, this movie was one of the vehicles that launched Gregory Peck's career. He plays a Roman Catholic priest on a mission in China before and during the Revolution. All reviews on amazon rate it 5 stars - ad we agree; this is a movie well worth seeing again and again.
Click here for The Keys of the Kingdom.




Fri, Feb 2, 2018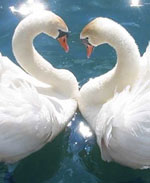 Irish God and Goddess of love
Oengus is the Irish God of love, beauty and youth. According to the old folklore, his kisses became birds. It is also said that he dreamed of a beautiful maiden, named Caer, for whom he searched all over Ireland. Eventually, he found her chained to 150 other maidens, destined to become swans at the time of Samhain. Legend has it that Oengus transformed himself into a swan and was united with his love.
Aine of Knockaine is the Irish Goddess of love. She is also known as the Fairy Queen of Munster and as a goddess of fertility beause she has control and command over crops and animals, especially cattle. Another name by which she is known is Aillen. To learn more about Irish mythology, please click Irish Myths & Legends.
Photo Credit: Wikipedia

Click for More Culture Corner.
A dear friend sent us a copy of this thrilling true-life World War II story about an Irish monsignor in the Vatican who saves escaped POWs, hides Jews and thwarts the Nazis at every turn. Gregory Peck as Monsignor Hugh O'Flaherty is superb.
Click here for Scarlet & Black

---