Traditions, folklore, history and more. If it's Irish, it's here. Or will be!
"People will not look forward to posterity who never look backward to their ancestors."
-Edmund Burke
---
Quotes

Library: Books, Movies, Music

Prints & Photos

Poetry

Jokes

---
---
Shops Ireland
---
Bunús na Gaeilge
(Basic Irish)

---
---
Did You Know?
---
Himself/Herself
Write to Us
Readers Write..
Links/Link to Us
---
Advertise with us
---
Awards & Testimonials

Submissions Guide
---
Loreena McKennitt - Masked, Mirrored and Magical
An overview of her music by William Ramoutar

From the gates of Istanbul to the Skellig Islands, there is one thing about her - she does her homework. I have heard from the begrudgers about how she uses other people's ideas, but to tell you the truth, there is no one else like her I can remember. Whether it is her interpretation of Alfred Noyes' epic poem or lyrics by St. John of the Cross, there is no one that leaves their stamp on a song like this lady.

A lot of the Middle Eastern influences are hypnotic and thoroughly entertaining. With her fiddle player Hugh Marsh weaving his way through dumbeks and bass patterns, you are left swaying to the beat and images of swirling sands and veils flowing in the sultry breeze of the richness of the melodies.

There is always a lot musically going on in her tunes, and you can tell she is the one who picks her sidemen, and picks them very carefully. The Celtic arranged and written songs are so well done, they sound like they have been around for a thousand years, yet it does not seem that long ago that I heard her for the first time. And that first time I was amazed to hear that she was a Canadian, who had gone to the Willie Clancy School in Clare, where I was born. It was there she learned tin whistle and bodhran and made her first couple of cds, which brought her almost cult status. Many people I knew were so proud to flaunt her name, like an astronomer touts the name of a new planet. She was and is exquisite.

Such stories her tunes tell! They are the stuff of legend. Women who give up their life for their lover, a highwayman. Sisters twisted by their love for another. Monks toiling on craggy islands in a far off time. All stories that will fill you with wonder at the days of yore. How these characters come alive in her telling of their triumphs or trials, not one of them forgettable.

Loreena also had her "pop" tune. Well, it was a huge hit for weeks on the telly and so much so, that it was one to be avoided. However, appearing as it does on her new CD, it is great to hear it again. That would be "The Mummer's Dance". Bringing the sounds of ancient instruments to her music is also one of her attributes because no one else is using hurdy gurdies or ouds on recent releases.

On one of the recent double cds she included a magnificent dvd, and to see and hear the perfection of a live performance by her band is an absolute thrill. Because she had cut back drastically on concerts, this dvd is the only chance many might get to enjoy the experience of one of her appearances. Her fiancé was involved in a freak accident and drowned with his brother and one of their friends on a lake in Canada. She was distraught and stopped touring for eight years, making her comeback with "An Ancient Muse," her 2006 release. She also set up a fund for water safety in his memory, The Cook-Rees Memorial, and all the proceeds of a double album raised three million dollars in its behalf.

I consider myself a fan from the first album and if you are just getting to hear of her now, how lucky are you? If you like her, you have such a body of her work available to collect (not like people like me who waited with baited breath to see where she would go with each of her releases). And let me tell you it has been a journey - a journey of never ending rewards. You will discover the tunes and then go back, to obsess about one track or the whole cd. She is truly a wonderful artist, and so clearly committed to the honest portrayal of poets, traditional sounds, fascinating myth and legend, transporting the listener to such magical far off times and lands. Start your journey.

ED. NOTE:
Amazon features a comprehensive collection of Loreena's work as well as photos, reviews and a bio. To access these pages, please click Loreena McKennitt.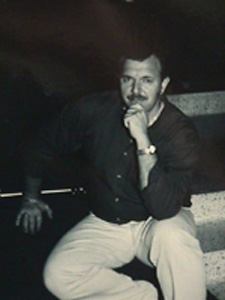 BIO William Ramoutar
IRISH WAYS RADIO PROGRAMME
WFCF Radio 88.5 FM
Every Sunday 11:00 am to Noon eastern standard time on the radio WFCF 88.5fm
We are now an iheart Station on your smartphone or computer
streaming live on iheart.

Review written by William Ramoutar Presenter of Irish Ways Radio Programme, St Augustine Florida


Fri, Nov 3, 2017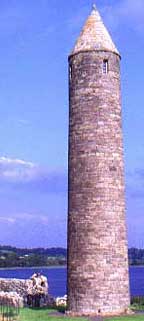 The Round Towers
The Round Towers of Ireland are remarkable among the world's ancient monuments; one author has called them 'Elegant, free-standing pencils of stone.' Today, 65 survive in part or whole. Hand-crafted in native stone and cemented with a sand, lime, horsehair and oxblood mortar - a technique imported from Roman Britain - it's said by many historians that they were built by monastic communities to thwart Viking invaders. And yet, there's reason to believe that the towers were built long before Christianity came to Ireland. Whatever their origins, monasteries did indeed flourish where the round towers existed. And why not. These imposing edifices provided a watch tower, a keep and a refuge.
Image: By kind permission of Stephen Cassidy, The Cassidy Clan.


Click for More Culture Corner.