Traditions, folklore, history and more. If it's Irish, it's here. Or will be!
"People will not look forward to posterity who never look backward to their ancestors."
-Edmund Burke
---
Quotes

Library: Books, Movies, Music

Prints & Photos

Poetry

Jokes

---
---
Shops Ireland
---
Bunús na Gaeilge
(Basic Irish)

---
---
Did You Know?
---
Himself/Herself
Write to Us
Readers Write..
Links/Link to Us
---
Advertise with us
---
Awards & Testimonials

Submissions Guide
---
The May Day Dew - Should you roll naked in it?
by Bridget Haggerty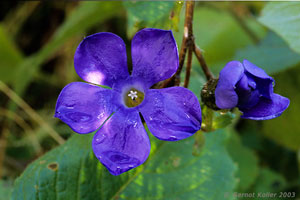 The plainest girl will be beautiful if she rises early on May Day and bathes her face in morning dew at sunrise. So goes the old Irish saying...

If she was daring enough to undress and roll naked, she was given great beauty of person; the dew was also believed to bring immunity to freckles, sunburn, chapping, and wrinkles during the coming year. It cured or prevented headaches, skin ailments and sore eyes and, if applied to the eyes, it ensured that its user rose every morning clear-eyed, alert and refreshed, even after a very short sleep.

The man who washed his hands in the dew of May Day gained skill in opening knots and locks, in mending nets and disentangling ropes. The woman who did like-wise could unravel tangled threads with ease.

To walk barefoot in the dew cured soreness, prevented corns and bunions and ensured healthy feet during the year. In his Natural History of Ireland, Dr. Gerard Boate (1652) writes of the virtues of May Day Dew:
"The English women and gentlewomen in Ireland, as in England, did use in the beginning of the summer to gather good store of dew, to keep it by them all the year after for several good uses both of physick and otherwise. Their manner of collecting and keeping it was this. In the month of May especially, and also in part of the month of June, they would go forth betimes in the morning, and before sun-rising, into a green field, and there either with their hands strike off the dew from the tops of the the herbs into a dish, or else throwing clean linnnen cloaths upon the ground, take off the dew from the herbs into them, and afterwards wring it out into dishes: and thus they continue their work until they have got a sufficient quantity of dew according to their intentions. That which is gotten from the grass will serve, but they chuse rather to have it from the green corn, especially wheat, if they can have the convenience to do so, as being persuaded that this dew hath more vertues and is better for all purposes than that which hath been collected from the grass or other herbs. The dew thus gathered they put in a glass bottle and so set it in a place where it may have the warm sunshine all day long, keeping it there all the summer; after some days rest some dregs and dirt will settle to the bottom; the which when they perceive, they pour off all the clear dew into another vessel, and fling away those settings. This they do often as those good women see any notable quantity; they still pour off the the clear dew from them: doing thus al summer long, until it be clear to the bottom. The dew thus thoroughly purified looketh whitish, and keepeth good for a year or two after."
In another (May the month of mirth and merriment) article, we posed a riddle:
I washed my face in water
that had neither rained nor run,
And I dried it on a towel
that was never woven or spun.
When we published this article, of all the answers we received, Audrey, Judith and Tina came closest, but not quite close enough. This year Deiridh sent us the correct answer. Not to leave it there, she gave us another riddle:
A white mare in the lake and she does not wet her foot.

Well done Deiridh!

Sure enough we received an answer to Deiridh's riddle:

G'day Bridget

The answer to the riddle - the white mare is a wave.
Phil Lynch
Geraldton
Western Australia

Many thanks for solving that riddle, Phil!


Wed, Jan 3, 2018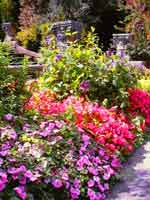 Ilnacullen, Co. Cork - an Island Garden
Located in the sheltered harbour of Glengarriff in Bantry Bay. Ilnacullin, which means island of holly, is a small island known to horticulturists and lovers of trees and shrubs all around the world as an island garden of rare beauty.
The vivid colours of Rhododendrons and Azaleas reach their peak during May and June, whilst the hundreds of cultivars of climbing plants, herbaceous perennials and choice shrubs dominate the midsummer period from June to August.
Because of its sheltered situation and the warming oceanic influence of the Gulf Stream, the climate is favourable to the growth of ornamental plants from many parts of the world.
Even for those who aren't particularly interested in gardens, there are many other scenic views, especially in the surrounding waters where seals frequent the rocks on the southern shore.
The cover photo on Bridget's book The Traditional Irish Wedding shows a wrought iron garden gate on Ilnaculen. I took that photo. To see it, go to the home page. It's part of the opening paragraph Failte.
—Russ
Resource: Copy and Image - Cork Guide

Click for More Culture Corner.