Traditions, folklore, history and more. If it's Irish, it's here. Or will be!
"People will not look forward to posterity who never look backward to their ancestors."
-Edmund Burke
---
Quotes

Library: Books, Movies, Music

Prints & Photos

Poetry

Jokes

---
---
Shops Ireland
---
Bunús na Gaeilge
(Basic Irish)

---
---
Did You Know?
---
Himself/Herself
Write to Us
Readers Write..
Links/Link to Us
---
Advertise with us
---
Awards & Testimonials

Submissions Guide
---
Easter Monday Mirth & Merriment at the Market
by Bridget Haggerty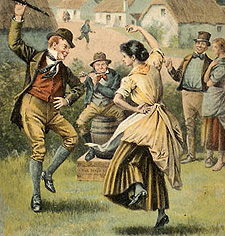 Long ago, the day after Easter was one that Irish people eagerly looked forward to. Not only was it a favorite day for buying and selling livestock and merchandise at fairs and markets, it was also a time for enjoying sports, games, sideshows, dancing, eating, drinking, gambling, and perhaps, even some fisticuffs!

For many years, Easter Monday was also a holy day of obligation in the Roman Catholic Church. That meant one had to go to Mass and abstain from work. All well and good, except that the riotous behavior which often followed during the day and well into the evening didn't sit well with the clergy. in 1828, the Bishop of Kildare and Leighlin, Dr. John Doyle, prevailed upon other bishops to petition the Pope to make Easter Monday an ordinary working day. The intention was to disassociate the Church from what was perceived as unseemly fun at the fair! The Pope granted the petition, so that from 1829, Easter Monday was no longer a holy day.

If the clergy had hoped that by making it an ordinary working day, the Irish would simply go back to their jobs, they were very much mistaken. For a long time, people kept what they called 'the old holiday' and honored the tradition of taking the time off to enjoy themselves.

From tugs of war to hurling matches and card games to reels and jigs, Easter Monday was always filled with fun and festivities. Eventually, however, the fairs began losing their joyful character and evolved into just another day of trade. Which is why some Easter customs that used to take place on this day either died out or were transferred to Sunday— the children's egg feast, for example. In Co. Wexford, it had always taken place on Easter Monday.

Would that dear old Ireland could go back to the Easter Mondays of long ago. Today, while it's a national holiday, it's expected that there will be huge traffic jams and gridlock as thousands head home to the cities after a long weekend away. No doubt, there'll be many a frustrated driver who'd give anything to be at an old-fashioned country fair instead.

Image Credit: The Ould Irish Jig/David Radcliffe - Pinterest

Postcard Inscription:
"The OULD IRISH JIG"
"Then a fig for the new fashioned waltzes
Imported from Spain and from France,
And a fig for the thing called a polka,
Our own Irish jig we will dance."
Lawrence Publisher, Dublin, Ireland. Printed in Saxony. Postmarked 1904.


Fri, Feb 2, 2018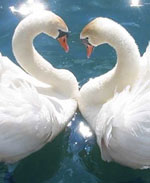 Irish God and Goddess of love
Oengus is the Irish God of love, beauty and youth. According to the old folklore, his kisses became birds. It is also said that he dreamed of a beautiful maiden, named Caer, for whom he searched all over Ireland. Eventually, he found her chained to 150 other maidens, destined to become swans at the time of Samhain. Legend has it that Oengus transformed himself into a swan and was united with his love.
Aine of Knockaine is the Irish Goddess of love. She is also known as the Fairy Queen of Munster and as a goddess of fertility beause she has control and command over crops and animals, especially cattle. Another name by which she is known is Aillen. To learn more about Irish mythology, please click Irish Myths & Legends.
Photo Credit: Wikipedia

Click for More Culture Corner.