Traditions, folklore, history and more. If it's Irish, it's here. Or will be!
"People will not look forward to posterity who never look backward to their ancestors."
-Edmund Burke
---
Quotes

Library: Books, Movies, Music

Prints & Photos

Poetry

Jokes

---
---
Shops Ireland
---
Bunús na Gaeilge
(Basic Irish)

---
---
Did You Know?
---
Himself/Herself
Write to Us
Readers Write..
Links/Link to Us
---
Advertise with us
---
Awards & Testimonials

Submissions Guide
---
The Ould Lammas Fair
by Bridget Haggerty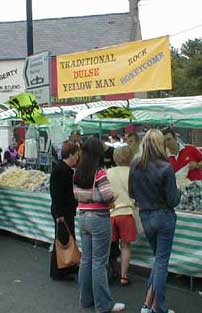 The Ould Lammas Fair takes place in Ballycastle, Co. Antrim on the last Monday and Tuesday in August. It's one of the oldest fairs in Ireland and has been held without interruption for more than three centuries.

It once took place at Dunanyie Head, now known as Castle Point. Some say that it started out as a sheep market, others that it originated when Sorley Boy MacDonnell ordered a celebration for his nephew. Either way it grew and migrated to Ballycastle. Whether or not today's event is because Sorley Boy ordered it up, Lammastide celebrations have a long history in Ireland.

The name of Lammas originated from the 'Feast of Lughnasadh' or Lugh. In Irish legend, Lugh was a Sun God who had a mortal foster-mother named Tailtiu. She was a queen or princess of the Firbolgs - Men of Bags. These early inhabitants of Ireland are said to have come from Greece or Spain where they were put into servitude and forced to carry soil from the fertile plains to the higher ground. To do this, they devised leather bags which they later used to build boats and escape from their enslavement.

The Firbolg lived in Ireland until they were conquered and ruled by the people of Dana (Tuatha de Danna). According to legend, the Dana forced Tailtiu to clear a large area of woodland for the planting of grain and she died of exhaustion. She was buried under a great mound which was called the 'Hill of Tailtiu' and Lugh instructed that each year a festival should be held to commemorate his foster-mother's death and that there should be games and feasting on the first fruits of the harvest.

Throughout ancient Irish history, one will find references to the 'Tailthiu Games' and the 'Games of Lugh'. However, with the arrival of Christianity, the old pagan festival was modified and adapted to suit the teachings of the church. The name was changed to Lammas which means 'loaf mass' and this was reflected in the custom of placing loaves of bread baked from the first harvest grains on the church altar.

In the middle ages there are frequent historical references to Lammastide when craft fairs and pageants would be held. It is also thought to have been around this time when the feast of St. Catherine was celebrated, which gave rise to the term 'Catherine Wheel.' This originated in pagan worship when a wagon wheel would be tarred, taken to the top of a hill, set on fire and then rolled down, symbolizing the decline of the Sun God at the Autumn Equinox. It is well known that the Catholic Church was never comfortable with St. Catherine. Tied so closely as she was with myths, mystics and the old beliefs, they changed her day of celebration many times and at one point, even tried to de–saint her.

Today's Lammastide is a time when thousands of visitors invade Ballycastle. While there's always a good crowd, if the fair is blessed with fine weather, one can expect miles of tailbacks (traffic jams) around the seaside town as families flock to enjoy the festivities. To avoid total gridlock, this year (2003) the town was closed off to all but pedestrian traffic by 10 am each day of the fair.

Within the town, streets are lined with more than 400 stalls selling a wide variety of goods, from livestock to painted scrolls. But the busiest trade is always at the stalls offering the traditional Lammas treats of Yellow Man, a sticky honeycomb toffee; and Dulse, a reddish sea weed of the variety 'palmaria palmata' which has long been eaten and also used in medicine by the Irish - especially in the north. For the fair, it's collected from the nearby shores, dried out until it's crisp, and then packaged in bags for sale.

Every year, regulars show up to entertain the crowds. Ballycastle street entertainer Steve the Piper, who has played the bagpipes for audiences as far away as Australia and New Zealand, is always thrilled to be back in his home town. "It's great to perform at home. You see the same people at the Lammas Fair year after year, it's always good to catch up."

There's much to see and do. For the young ones, there's face-painting and pony rides. In the pubs, there are traditional music sessions; and for the die-hard shoppers, there's everything from jewellery, clothes, music and bedding to tools, fruit and carpets on offer.

Bargains are struck between horse buyers and sellers; there's singing and dancing in the streets, and overall, there's a carnival atmosphere that's probably very much like it was in the old days. For while the goods in the stalls may reflect 21st century life, the Ould Lammas Fair itself is an on-going reminder of Ireland's rich culture and heritage. It was also the inspiration for one of her most popular songs:

The Ould Lammas Fair
by John Henry MacAuley

At the Ould Lammas Fair in Ballycastle long ago
I met a pretty colleen who set me heart a-glow
She was smiling at her daddy buying lambs from Paddy Roe
At the Ould Lammas Fair in Ballycastle-O!
Sure I seen her home that night
When the moon was shining bright
From the ould Lammas Fair in Ballycastle-O!
Chorus
At the Ould Lammas Fair boys were you ever there
Were you ever at the Fair In Ballycastle-O?
Did you treat your Mary Ann
To some Dulse and Yellow Man
At the Ould Lammas Fair in Ballycastle-O!
In Flander's fields afar while resting from the War
We drank Bon Sante to the Flemish lassies O!
But the scene that haunts my memory is kissing Mary Ann
Her pouting lips all sticky from eating Yellow Man
As we passed the silver Margy and we strolled along the strand
From the Ould Lammas Fair in Ballycastle-O!
Chorus
There's a neat little cabin on the slopes of fair Knocklayde
It's lit by love and sunshine where the heather honey's made
With the bees ever humming and the children's joyous call
Resounds across the valley as the shadows fall
Sure I take my fiddle down and my Mary smiling there
Brings back a happy mem'ry of the Lammas Fair
Chorus*

*This well-known ballad was composed by John Henry "The Carver" MacAuley, the proprietor of the Bog Oak Shop in Ann Street, Ballycastle (now Dan McLister's News agency & Toy Shop). MacAuley was a bog-oak carver and from his skilled hands came all sorts of small objects such as round towers, pipe stands, ash trays, pen and ink stands, ornamental picture frames, farm animals and various designs. Born on a farm in Glenshesk, he was expected to follow in the farming tradition but when he was a child, he met with an accident which left him crippled. MacAuley was a gifted and a well known fiddle player. He also wrote a number of songs but the only one to be published was 'The Ould Lammas Fair'. He died in 1937, long before the song became popular.

Ruby Murray, one of Ireland's favorite singers, recorded the ballad and it's now available on a two-disc set which was released the year after she died: When Irish Eyes are Smiling/Irish...and Proud of It

While the Ould Lammas Fair is popular and well-attended, other events may need to generate more interest to bring in the big crowds. Event organizers can use a variety of methods to generate interest such as designing their own custom wristbands for their cause. Wearing custom wristbands is a helpful way to get people talking about an upcoming event or charitable group.

Resources:
Content:
The Lammas Fair
IC Northern Ireland.ie
Images:
Yellowman Stall



Wed, Jan 3, 2018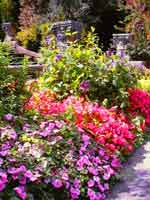 Ilnacullen, Co. Cork - an Island Garden
Located in the sheltered harbour of Glengarriff in Bantry Bay. Ilnacullin, which means island of holly, is a small island known to horticulturists and lovers of trees and shrubs all around the world as an island garden of rare beauty.
The vivid colours of Rhododendrons and Azaleas reach their peak during May and June, whilst the hundreds of cultivars of climbing plants, herbaceous perennials and choice shrubs dominate the midsummer period from June to August.
Because of its sheltered situation and the warming oceanic influence of the Gulf Stream, the climate is favourable to the growth of ornamental plants from many parts of the world.
Even for those who aren't particularly interested in gardens, there are many other scenic views, especially in the surrounding waters where seals frequent the rocks on the southern shore.
The cover photo on Bridget's book The Traditional Irish Wedding shows a wrought iron garden gate on Ilnaculen. I took that photo. To see it, go to the home page. It's part of the opening paragraph Failte.
—Russ
Resource: Copy and Image - Cork Guide

Click for More Culture Corner.
A '2 on 1' special in memory of Belfast-born Ruby who passed away a few years ago. These are the two most successful 'Irish' albums from the late 50's and early 60's. In all, there are 22 cuts which include favorites such as Christmas in Killarney, Miss O'Leary's Irish Fruit Cake, Dear Old Donegal, Mountains of Mourne and many more. With recordings that were impossible to find until this collection became available, if you're a fan of the "Irish Nightingale," this is one set that belongs in your music library.
Adapted and edited from an amazon review.
Click here for Ruby Murray.