Traditions, folklore, history and more. If it's Irish, it's here. Or will be!
"People will not look forward to posterity who never look backward to their ancestors."
-Edmund Burke
---
Quotes

Library: Books, Movies, Music

Prints & Photos

Poetry

Jokes

---
---
Shops Ireland
---
Bunús na Gaeilge
(Basic Irish)

---
---
Did You Know?
---
Himself/Herself
Write to Us
Readers Write..
Links/Link to Us
---
Advertise with us
---
Awards & Testimonials

Submissions Guide
---
Mary's Valentine
by Pat Watson

Another lonely year—or?
In Ireland "seraft" is the time between Christmas and Lent and was always the time for match-making, love and marriage. By Ash Wednesday a "would be" lovers chances would appear to have faded for another year!

Mary had a nodding acquaintance with Mick, Jack and Paddy, all eligible bachelors, and she had a feeling that this February one or more of them might make a move.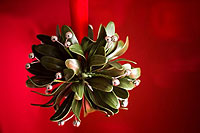 Then, to her surprise and delight, on 14th February, just before Lent, three messages arrived. When she opened her front door in the morning, there was a grand bunch of mistletoe hanging from the thatch above her head. She pulled a note from its lower side. It read, I am Michael, called after the Arch Angel and with my mighty sword, I have cut down this romantic mistletoe, from a high tree, and hung it above your door, where beneath its branches we can seal our love with a kiss. Wow! That was breath taking if a little frightening.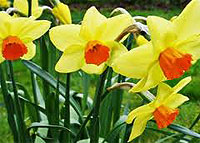 Mary took her pail and went to milk her cow in the field. Tied to the cow's horns was a beautiful bunch of daffodils. The note on them read, from John, called after St John the evangelist and the Disciple that Christ loved. With those daffodils adorning your table I hope we can start a new life together.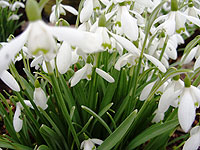 When Mary arrived back at the little out-house, called the dairy, with her bucket of milk and the daffodils, there was a little basket, containing a small clay pot of living Snow Drops on the table. The note read, Dear Mary, I am Paddy, called after a poor pig herding slave. Why did I leave humble Snow Drops? There was once a devious, dour Emperor called Claudius who hated lovers so much that he forbade his solders to marry and forbade priests from officiating at such marriages. A priest called Valentine ignored this rule and set up a secret hideaway where many loving solders had their marriages solemnised by him. Eventually, Claudius heard about this and had Valentine beheaded. His blood ran down and reddened the snow as it was winter. When the snow melted a few weeks later, little white flowers appeared where his blood was spilt. When people remembered, they called the little flowers Snow Drops. They are always the first Spring flowers heralding the end of Winter's dark days. That is why on this St Valentines day I've left you living Snow Drops that I hope we might sow under our hedge, where they will burst forth and renew our love every year and forever.

Whom did she pick? What do you think?



BRIEF BIO: I was born in co Roscommon, near Athlone and the Shannon in the late 1930s. During the war my mother used to light the oil lamp, that hung high up on the wall, every evening to read the daily paper, with news of the war, for the assembled neighbours. Then she would stand on a chair and blow out the lamp by holding her hand sideways above the glass globe and directing the draft to the lighted wick below. This was to spare the rationed paraffin oil. Every thing would then be discussed by the flickering fire light. In this way I gained information about Germans, British, French, Americans and everybody else in all their ferocity long before I could read.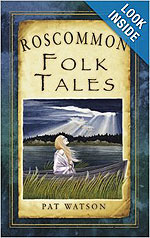 ED. NOTE: Pat is the author of Roscommon Folk Tales, published by History Press Ireland and available on amazon


Pat also wrote Original Irish Stories: 60 Lyrical Yarns. It too, is available on amazon

To purchase a signed edition of either book directly from the author, please contact Pat at this email address:
pjwatson@utv.com

Photo Credits:
Main Image: Shamrock hearts Irish Jaunt
Mistletoe: Her Ireland

Daffodils: Garden Shop

Snowdrops: Kelli Boyle's Garden



Fri, Feb 2, 2018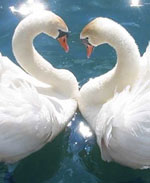 Irish God and Goddess of love
Oengus is the Irish God of love, beauty and youth. According to the old folklore, his kisses became birds. It is also said that he dreamed of a beautiful maiden, named Caer, for whom he searched all over Ireland. Eventually, he found her chained to 150 other maidens, destined to become swans at the time of Samhain. Legend has it that Oengus transformed himself into a swan and was united with his love.
Aine of Knockaine is the Irish Goddess of love. She is also known as the Fairy Queen of Munster and as a goddess of fertility beause she has control and command over crops and animals, especially cattle. Another name by which she is known is Aillen. To learn more about Irish mythology, please click Irish Myths & Legends.
Photo Credit: Wikipedia

Click for More Culture Corner.
Back in Print!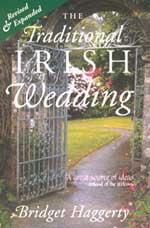 The Traditional Irish Wedding

In this expanded, revised, and updated version, Bridget has added sections on Getting Married in Ireland and ideas for a vow renewal "with the sound and feel of Ireland." This new edition also includes the origins of Irish Coffee; the truth about Aran Isle Sweaters and information about kilts.
Shipped directly from the author, the latest edition of The Traditional Irish Wedding can be personally inscribed and signed if desired. Please contact Bridget.
---