Traditions, folklore, history and more. If it's Irish, it's here. Or will be!
"People will not look forward to posterity who never look backward to their ancestors."
-Edmund Burke
---
Quotes

Library: Books, Movies, Music

Prints & Photos

Poetry

Jokes

---
---
Shops Ireland
---
Bunús na Gaeilge
(Basic Irish)

---
---
Did You Know?
---
Himself/Herself
Write to Us
Readers Write..
Links/Link to Us
---
Advertise with us
---
Awards & Testimonials

Submissions Guide
---
Poetry review: Something Beginning with P
by Russ Haggerty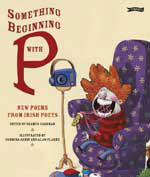 Right from the start I feel incapable of giving this book all the credit it deserves. Something Beginning with P published by the O'Brien Press in association with Poetry Ireland, is a collection of new poems for children including poems from leading Irish poets.
Poetry is not a money maker for most poets. I would like to think this book would help to change that. Ostensibly, it is a collection for children - bah! I suppose I may be a case of arrested development but I believe this is a book for adults to enjoy. Perhaps, even more than the children.
Not that the children won't enjoy it, immensely; it's simply that the talent displayed here is beyond most children's recognition.
Here are gathered poems by world class poets and world class poems by lesser known poets.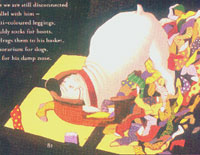 The book itself is a work of art (lots of art) and is beautifully crafted. This is something to keep and read again and again for many years. Read it first to your children and then sneak off and read it to yourself - smothering your chuckles and sighs from 'serious' people.
From 'A Keen for the Coins' by Seamus Heaney and 'Bordeaux Macho' by John Montague to 'Pangur Ban's Revenge' by Iggy McGovern and 'The first Giraffe to be Forced to Live in a Shoe' by Dermot Bolger (aged 44 and three-quarters), you are transported, delighted and rejuvenated by the ideas and sparkling words.
Some must be read twice in a sitting; you can't help it. Others make your hair stand up and you go back to them slowly (but you do go back).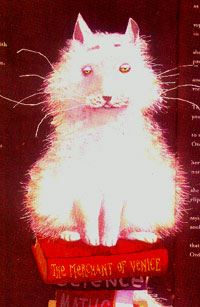 The Illustrations are so good you find yourself admiring the image before you read the poem and all the better for that.
For anyone who ever enjoyed poetry, here is the place to restart the pleasure you may have neglected. The bonus is to introduce your children (or someone else's children!) to the wonders of the poetic world.
Of course, I like some better than others. My choices do not match up with the recognition of the poet. Some poets I don't know have delighted me and some of the best poets poems are not in my favorites.
I suspect that, like good music, my favorites will change over time. I also suspect that I will see beauty that I missed on my first readings. That's all right, I certainly intend to read them many, many times.
I confess I might be a little uncomfortable showing this off to some people I know; it will bruise my dignity a bit. Nevertheless, I will show it off, it's too good to hide away. I will show it even to the lawyers, judges and bureaucrats I know. The whimsey here will do them some good (and watching them react will do me some good).
So, don't waste a moment in acquiring this book for yourself. You won't regret it and the rest of the family will be grateful to you for your brilliant purchase.
Before I go I should include some personal notes. This collection was edited by Seamus Cashman and we know him well and like him. He was Bridget's publisher for Her 'Traditional Irish Wedding' (at the time Seamus was Wolfhound Press; he has since sold but not retired). This brought about another connection: Bridget's editor was Siobhan Campbell, one of the poets in this book (and a nice bit she does too). In the 'small world' department, we met and had a wonderful conversation with Rita Ann Higgins (another contributing poet) when she visited Cincinnati some years ago. On our first trip to Ireland, we bumped into a man walking his dog who guided us to one of Bridget's cousins - one of his neighbors. This gentleman turned out to be Rita Ann's father-in-law. We turned that up in the talk with Rita Ann years later.
I sometimes think the good people are pulling Bridget around on a rope.

In the hopes you may recognize some of the talented poets who contributed to this book, here is a partial list:
Seamus Heaney, Thomas Kinsella, Máighréad Medbh * Paula Meehan * Brendan Kennelly * Michael Longley * Rita Ann Higgins * Matthew Sweeney * Biddy Jenkinson * Desmond O'Grady * Richard Murphy * Nuala ní Dhomhnaill * Celia de Fréine * Cathal Ó Searcaigh * Frank McGuinness * Julie O'Callaghan * Tom McIntyre * Paul Muldoon * Dermot Bolger * Eiléan Ní Chuilleanáin * Frank Ormsby * Siobhán Campbell * Dennis O'Driscoll * John Montague * Moya Cannon * Peter Fallon * Mary O'Malley * Micheal O'Siadhail * John F Deane.

If you are still keeping up your interest in poetry, that list shows the quality you can expect.
I almost forgot to mention, some few of the poems are in Irish - don't despair. The translations are included in the back (albeit in very small type).


Sorry, it doesn't appear to be offered in the US yet. Still you can find it in the UK and Canada.
Click here for Something Beginning with P - UK.
Click here for Something Beginning with P - Canada.



Wed, Jan 3, 2018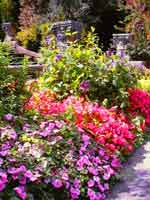 Ilnacullen, Co. Cork - an Island Garden
Located in the sheltered harbour of Glengarriff in Bantry Bay. Ilnacullin, which means island of holly, is a small island known to horticulturists and lovers of trees and shrubs all around the world as an island garden of rare beauty.
The vivid colours of Rhododendrons and Azaleas reach their peak during May and June, whilst the hundreds of cultivars of climbing plants, herbaceous perennials and choice shrubs dominate the midsummer period from June to August.
Because of its sheltered situation and the warming oceanic influence of the Gulf Stream, the climate is favourable to the growth of ornamental plants from many parts of the world.
Even for those who aren't particularly interested in gardens, there are many other scenic views, especially in the surrounding waters where seals frequent the rocks on the southern shore.
The cover photo on Bridget's book The Traditional Irish Wedding shows a wrought iron garden gate on Ilnaculen. I took that photo. To see it, go to the home page. It's part of the opening paragraph Failte.
—Russ
Resource: Copy and Image - Cork Guide

Click for More Culture Corner.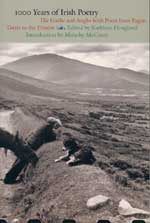 1000 Years of Irish Poetry: The Gaelic and Anglo Irish Poets from Pagan Times to the Present
by Kathleen Hoagland

Interested in Irish Poetry?Here's the easy way to collect them all (well, almost all, anyway).
Malachy McCourt says in his introduction, "With the republication of this book, the Irish recover under their roof of stars all the great poets and writers who have been falsely claimed by the saxon crown and its minions - even our reprobates."
Click here for 1000 years.
---
All contents copyright © 2001 through 2011 inclusive - all rights reserved.
March 4, 2011

Rollover button Images:
Wedding LaRose, Kids Reading & Kitchen Apples and Tea from All Posters prints.
The information provided on this site is offered as-is, without warranty. This site's owners, operators, authors and partners disclaim any and all liability from the information provided herein.
Any trademarks or registered trademarks on this site are the property of their respective owners.

This Web Site Bashed, Kicked & Glued together by Russ Haggerty.