Traditions, folklore, history and more. If it's Irish, it's here. Or will be!
"People will not look forward to posterity who never look backward to their ancestors."
-Edmund Burke
---
Quotes

Library: Books, Movies, Music

Prints & Photos

Poetry

Jokes

---
---
Shops Ireland
---
Bunús na Gaeilge
(Basic Irish)

---
---
Did You Know?
---
Himself/Herself
Write to Us
Readers Write..
Links/Link to Us
---
Advertise with us
---
Awards & Testimonials

Submissions Guide
---

Today
in
Irish
History - September
1st to 7th | 8th to 14th | 15th to 21st | 22nd to 30th

---
September 15
1851 - Sir William Whitla, physician and professor, is born in Co. Monaghan
1865 - Police raid and close the Irish People offices; Rossa, Luby and O'Leary are arrested
1866 - John Blake Dillon, Young Irelander and co-founder of The Nation, dies in Killarney
1881 - First soccer international in Ireland; England beats the Irish squad Total crowd receipts: £9.19s.7d
1889 - Birth in Castlebar of singer Margaret Burke Sheridan
1905 - Pat O'Callaghan, physician, hammer-thrower and first man to win an Olympic gold medal while representing Ireland, is born near Kanturk, Co. Cork
1976 - Anne Letitia Dickson is elected leader of the Unionist Party of Northern ireland, becoming the first woman to lead a political party in Ireland
1997 - Sinn Fein joins multiparty peace talks in Northern Ireland
1999 - The Corrs, the Cranberries and the Chieftains take the lion's share of £15.6 million collected by the Irish Music Rights Organisation (IMRO) on behalf of Irish song writers
2000 - Sonia O'Sullivan leads the Irish team at a spectacular Olympic opening ceremony in Sydney, Australia
2001 - Aer Lingus, Delta and Continental Airlines resume services to and from Ireland. The first trans-Atlantic flights to the US leave for New York, Newark, Chicago and Washington. Priority status is given to all relatives of the victims and injured in the 9/11 attack on the World Trade Center.
September 16
1732 - Birth in Castletown, Co. Clare of Thomas O'Gorman, physician, wine trader and courtier in France; made a chevalier by Louis XV
1798 - Small French force under James Napper Tandy makes brief landing on Rutland Island, Co. Donegal
1798 - Belfast United Irish leaders arrested
1808 - William Trench, land agent and author, is born near Portarlington, Co. Laois
1830 - Birth in Leighlinbridge, Co. Carlow of Patrick Moran, Archbishop of Sydney, first Australian cardinal, and church historian
1845 - Death of Thomas Davis, revolutionary, poet, and political theorist
1865 - Fenian newspaper, Irish People, ceases publication
1870 - Birth in Dublin of John Pius Boland, nationalist politician and Ireland's first Olympic gold medalist
1906 - Trevor G. McVeagh, cricket, hockey, squash and tennis player, is born in Athboy, Co. Meath
1925 - Charles Haughey, Fianna Fáil leader and Taoiseach, is born in Castlebar, Co. Mayo


1934 - Singer, guitarist and founder of the Dubliners, Ronnie Drew, is born in Dublin
1941 - Sixteen soldiers are killed in the Glen of Imaal, Co. Wicklow, while testing mines
1945 - World renowned Irish tenor, John McCormack, dies in Dublin
1998 - Irish-owned Musgrave Group becomes the biggest food distribution company in the country after signing an historic franchise deal with supermarket chain Roches Stores
1998 - Books of condolences opened in the aftermath of the Omagh tragedy are closed. More than 150,000 people from across Northern Ireland are estimated to have signed the books.
September 17
1711 - John Holwell, surgeon and survivor of 'Black Hole of Calcutta' is born in Dublin
1798 - 3000 French troops depart for Ireland from Brest
1903 - Frank O'Connor, (pseudonym of Michael O'Donovan), short-story writer and author of poetic translations from Irish is born in Cork
1913 - In Newry, Edward Carson says that a Provisional Government will be established in Ulster if Home Rule is introduced.
In Dublin, labour unrest grows with a march 5,000 through the city.
1920 - Birth of Chaim Herzog, former president of Israel, born in Belfast and educated in Dublin
1930 - The Free State is elected to the council of the League of Nations
1937 - Ten young men, potato-pickers from Achill Island, die when a bothy catches fire on a farm at Kirkintilloch, Scotland
1976 - The founders of the Peace Movement, Mairead Corrigan and Betty Williams, are awarded the Nobel Prize for Peace
1999 - Interest rates for thousands of home owners tumble as the mortgage war escalates


2003 - Mrs Harriet O'Donovan Sheehy unveils the new stamp of her late husband Frank O'Connor at St Patrick's National School, Gardiner's Hill, Cork.
Photo Credit: Gerard McCarthy.
September 18
1846 - James Standish O'Grady, novelist, is born in Castletownbere, Co. Cork
1867 - Kelly and Timothy Deasy are rescued in a Fenian attack on a police van in Manchester during which a police sergeant is shot dead
1889 - Kathleen Behan, née Kearney, 'Mother of All the Behans' and folk singer is born in Dublin
1851 - Anne Devlin, friend and comrade of Robert Emmett, dies in Dublin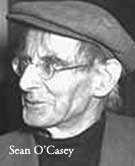 1914 - Home Rule Act on Statute Book but is suspended for the duration of World War
1941 - Stephen Hayes, a former IRA chief of staff, is kidnapped on 30 June; he later claims to have been 'court martialled' and tortured by the IRA; Seán McCaughey is convicted of his kidnapping on this date
1944 - Kathleen Murphy Stewart is born in Wilmer (now known as Rosemead) California USA.
1964 - Death of Sean O'Casey in England.
September 19
1757 - Having been funded by a bequest from Jonathan Swift, St Patrick's Hospital for the insane, Dublin, is opened
1889 - Seán Keating, painter, is born in Limerick
1880 - Parnell delivers his famous speech at Ennis in which he introduces the term for non-violent protest - boycotting. Parnell asked his audience, 'What are you to do with a tenant who bids for a farm from which another has been evicted?' Several voices replied, 'shoot him!' Parnell answered: "I wish to point out a better way, a more Christian way which will give the lost man an opportunity of repenting. When a man takes a farm from which another has been evicted, you must shun him on the roadside, on the streets, in the shop and even in the place of worship by putting him in a "moral Coventry." You must show him your detestation of the crime he has committed"
1881 - Kate Coll and Juan Vivion de Valera are married in St. Patrick's Church, Greenville, New Jersey. Just over a year later the couple give birth to Éamon
1905 - Death of Dr. Thomas Barnardo. Dublin-born Barnardo opened his first home for destitute boys in Stepney in 1870
2000 - Aodhnait Fahy, Ireland's top student is given £30,000 to allow her to pursue the course of her dreams at Oxford University. She swept the board in this year's Leaving Cert with nine A1s - the highest ever result in the country

2000 - Fishermen all around the coast tie up their boats in protest at the £15 million hike in their fuel bill which, they claim, will put many of them out of business before Christmas.
Photo Credit: Denis Minihane
September 20
1689 - The Enniskillen Protestants defeat Jacobite forces at Boyle, Co. Roscommon
1784 - Sir Richard Griffith, geologist and civil engineer, is born in Dublin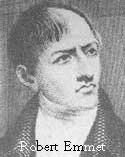 1803 - Robert Emmet, Irish patriot, is executed in Dublin. Emmet becomes a hero of Irish nationalists, largely on the basis of his stirring speech from the dock: "Let no man write my epitaph...When my country takes her place among the nations of the earth, then, and not till then let my epitaph be written"
1847- Birth in Carron, Co. Clare of Michael Cusack, GAA founder
1911 - Anna Catherine Parnell, Irish patriot, dies
1918 - Republican newspapers are banned by English
1920 - Black and Tans raid Balbriggan, Co. Dublin
1920 - Kevin Barry is captured
1960 - Frederick H. Boland becomes president of the United Nations Assembly
1968 - Traffic wardens appear in Dublin for the first time.
September 21
1170 - MacMurrough and the Normans march on the Norse kingdom of Dublin, avoiding an Irish force that awaits them to the south of it. Dublin falls to them on this date. Some Norsemen, including the king of Dublin, Askulv, flee to the Hebrides or the Isle of Man
1601 - A Spanish army under Don Juan del Aguila lands at Kinsale
1703 - The first Irish parliament of Queen Anne is called; Alan Brodrick is unanimously elected Speaker
1728 - Philip Embury, founder of the American Methodist Church, is born in Ballingrane, Co. Limerick
1745 - The Jacobites are victorious at Prestonpans
1795 - 'Battle of the Diamond' between (Protestant) Peep o' Day Boys and (Catholic) Defenders near Loughgall, Co. Armagh leaves 30 Defenders dead and leads to the foundation of the Loyal Orange Institution (later the Orange Order) '...to defend the King and his heirs as long as they shall maintain the Protestant ascendancy'
1827 - Michael Corcoran, Union General, is born in Co. Donegal
1881- Revolutionary Éamonn Ceannt, is born in Glenamaddy, County Galway
1909 - Artist Tom Carr is born is Belfast
1932 - Birth of Mariga Guinness, née Princess Hermione Marie Gabrielle von Urach, Countess Württemberg; co-founder of Irish Georgian Society
1949 - The Republic of Ireland soccer team beats England 2-0 at Goodison Park - England's first defeat by a foreign side
1981 - Death of author Christy Brown
1999 - Delegations from the Ulster Unionist Party and Sinn Féin meet at Stormont for their first direct talks in two months
1999 - Taoiseach Bertie Ahern pledges support for Arafat and the Palestinians


2000 - Taoiseach Bertie Ahern condemns the missile attack on the MI6 HQ in London
Photo Credit: Eamonn Farrell/Photocall/Ireland!
2000 - Gardaí arrest a man in connection with the bombing of Nelson's Pillar in O'Connell Street, Dublin, 34 years ago
2001 - Taoiseach Bertie Ahern announces that Ireland will put its airports, airspace, refuelling facilities and garda intelligence at the disposal of the US in the battle against terrorism.


2006: Golfing history on Irish soil.
The Ryder Cup officially opens at the K Club in Co. Kildare. It is the first time golf's premier team tournament has come to Ireland and to date, it is the biggest sporting event ever staged in the country.

Sources:
The Celtic League
This organization publishes the annual Celtic Calendar. To order your own copy, visit: The Celtic League.
Irish Abroad
Somewhat sporadic, but they often highlight an important date in Irish history. To visit, please click: Irish Abroad.
The Wild geese
They update Irish history weekly. To visit their keydates page, please click: The Wild Geese.



We also refer to an assortment of references. Among them are the Books of Days - see right margin on this page.


Wed, Jan 3, 2018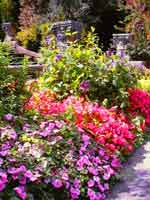 Ilnacullen, Co. Cork - an Island Garden
Located in the sheltered harbour of Glengarriff in Bantry Bay. Ilnacullin, which means island of holly, is a small island known to horticulturists and lovers of trees and shrubs all around the world as an island garden of rare beauty.
The vivid colours of Rhododendrons and Azaleas reach their peak during May and June, whilst the hundreds of cultivars of climbing plants, herbaceous perennials and choice shrubs dominate the midsummer period from June to August.
Because of its sheltered situation and the warming oceanic influence of the Gulf Stream, the climate is favourable to the growth of ornamental plants from many parts of the world.
Even for those who aren't particularly interested in gardens, there are many other scenic views, especially in the surrounding waters where seals frequent the rocks on the southern shore.
The cover photo on Bridget's book The Traditional Irish Wedding shows a wrought iron garden gate on Ilnaculen. I took that photo. To see it, go to the home page. It's part of the opening paragraph Failte.
—Russ
Resource: Copy and Image - Cork Guide

Click for More Culture Corner.
"Cahill's lovely prose breathes life into a 1,600-year old history." The L.A. Times
This is our most popular book. We understand why; the truth is fascinating.
Click here for Saved Civilization.
---