Traditions, folklore, history and more. If it's Irish, it's here. Or will be!
"People will not look forward to posterity who never look backward to their ancestors."
-Edmund Burke
---
Quotes

Library: Books, Movies, Music

Prints & Photos

Poetry

Jokes

---
---
Shops Ireland
---
Bunús na Gaeilge
(Basic Irish)

---
---
Did You Know?
---
Himself/Herself
Write to Us
Readers Write..
Links/Link to Us
---
Advertise with us
---
Awards & Testimonials

Submissions Guide
---

Today
in
Irish
History - February
1st to 7th | 8th to 14th | 15th to 21st | 22nd to 28/29

---
February 22
1772 - On the first occasion of his attendance after the death of his only child (a daughter), Thomas Eyre, MP for Fore, dies in the House of Commons - 'suddenly taken with an apoplectic fit and dropt down dead in his place'
1797 -The last invasion of England: Small French force commanded by Irishman William Tate lands in Wales
1832 - The first burial takes place at Glasnevin Cemetery
1886 - At Ulster Hall in Belfast, Lord Randolph Churchill gives his destructive speech which includes the incendiary comment, "Ulster will fight and Ulster will be right." The speech instills fear of rule by Roman Catholics in Dublin and incites militant loyalists
1893 - Peadar O'Donnell, novelist, editor of the newspaper An Phoblacht (The Republic) and social reformer, is born in Co. Donegal
1900 - Birth in Cork of short story writer Sean O'Faolain
1921 - Cecil King, painter, is born in Rathdrum, Co. Wicklow
1972 - IRA bomb kills six at Aldershot barracks in Surrey, including five women and a Roman Catholic army priest; 19 people are injured and one of these victims dies later
1995 - Death at the age of 76 of Dublin man Johnny Carey, soccer international, and one of Manchester United's great captains
1998 - Republicans take to the streets in the first of a series of demonstrations in protest at Sinn Féin's suspension from the Northern Ireland peace talks
1998 - Opposition parties are claiming the Government may have breached the Constitution by allowing planes carrying US troops to refuel at Shannon Airport over recent weeks
1998 - Neil Jordan, director of The Butcher Boy, is awarded a Silver Bear for best director at the 48th Berlin International Film Festival
1998 - Cross-border cooperation between the Irish Marine Emergency Services and the Northern Ireland Coastguard is put to the test as emergency teams from the Ambulance Service, the RUC, Irish Marine Emergency Service, the Coastal Rescue Teams and others join forces for a spectacular drill on Carlingford Lough
1998 - Criminal and security sources confirm that the man believed to have masterminded the Omagh bomb massacre has escaped the country on a false Irish passport
1999 - Labour Party TD Pat Upton dies of a massive heart attack
2001 - Authorities begin placing a massive security cordon on sea and airports and along the 300-mile border with Northern Ireland in a determined bid to prevent animals infected with foot and mouth disease from entering the country
2001 - President Mary McAleese launches the Manchester Irish Festival and a website to provide a record of Irish family histories
2001 - The British Government unveils a £12 million aid package for victims of the Troubles in Northern Ireland
2002 - A unique record of the life and times of Irish emigrant families throughout the world is launched by President Mary McAleese in Manchester. This first ever social history of emigrant activity will be set down by descendants and will detail the difficulties, frustrations and ultimate successes of ancestors in their adopted lands.


2011 - Enniskillen-born artist TP Flanagan passes away at the age of 80. For more than 60 years he shaped the face of landscape painting in Northern Ireland and was known internationally for his rural scenes of his native Fermanagh and Sligo. With his stunning watercolours and intricate brush strokes, he is described ss one of the most successful artists of his generation. Poet Seamus Heaney, who dedicated his 1969 poem Bogland to Flanagan, pays tribute saying "he was "a teacher and a friend" whose work held a "deep personal significance."
Photo Credit: Bobby Hanvey/ John Burns Library Boston College
February 23
1317 - Bruce's army marches south and reaches Castleknock, within sight of Dublin. The mayor of Dublin has imprisoned the Earl of Ulster, who is suspected of being sympathetic to Bruce. The citizens of Dublin destroy some of the northern and western suburbs, to prevent Bruce from using them as a base - to the later inconvenience of the administration, as many of the buildings it uses as law courts etc. are obliterated
1649 - Giovanni Battista Rinuccini returns to Rome. Originally from Rome, he takes his doctorate in law at the University of Pisa. During the next decade he wins distinction at the ecclesiastical courts in Rome and is made Archbishop of Fermo in 1625. In 1645, Pope Innocent X sends him to Kilkenny - then the capital of Ireland - to support the Catholics with arms, money and diplomacy. His determined support of the militant anti-English faction is doomed to failure, but gains him fame and infamy in Anglo-Irish history
1713 - Nicola Hamilton, widow of Tristram Beresford MP, dies on her 47th birthday. On the day of her death, she gave a party to celebrate her 48th birthday; one of those present was the priest who had christened her. He pointed out that it was in fact her 47th birthday - she had been born in 1666, not 1665 as she had always supposed. On hearing this she turned deathly pale; she sent for her children, told them the whole story, and died later that day. The Black Mark of Lord Tyrone
1935 - Thomas Murphy, a playwright best known for his portrayal of the people in the working class rural town of Tuam, is born
1943 - Thirty -five people die in a fire at St Joseph's Orphanage, Co. Cavan
1944 - Children's allowances are introduced in the Free State
1948 - Death of John Robert Gregg, Irish inventor of the Gregg shorthand system
1965 - Roger Casement's body is returned from England to be re-interred at Glasnevin Cemetery in Dublin
1998 - The Sinn Féin leadership takes to the stage at a Belfast hotel rally as fears grow that the party may not re-turn to the peace talks
2000 - According to a report released by the National Roads Authority, nearly half of Irish motorists never wear a seatbelt. Men are the worst offenders, with two-thirds admitting they do not strap themselves in
2001 - Measures to prevent livestock with foot and mouth disease entering Ireland are tightened as Britain halts all internal livestock movements amid fears that the outbreak there is spreading
2001 - A major recruitment drive for the Police Service of Northern Ireland goes ahead despite the refusal of the SDLP and Sinn Féin to support the new force
2002 - It is announced that Guinness is testing a new system that will slash the waiting time for a pint of the black stuff to 30 seconds. In an effort to combat declining sales in recent years, Guinness is hoping to appeal to people not prepared to wait the 1 minute 59 seconds for the traditional pint to be poured
2003 - Daniel Day-Lewis is named Best Actor for his role in Martin Scorsese's epic Gangs of New York, the only prize which the film takes at the British version of the Oscars.
February 24
1582 - Pope Gregory XIII announces the new Gregorian calendar, replacing the Julian calendar
1692 - The Treaty of Limerick is ratified by William of Orange
1780 - A British Act opens colonial trade to Irish goods
1797 - Birth in Dublin of writer, artist, musician and songwriter, Samuel Lover. To him is attributed the romantic proposal "Come live in my heart and pay no rent"
1841 - John Philip Holland, inventor and developer of the modern submarine, born in Co. Clare
1850 - Paul Cullen is consecrated Catholic archbishop of Armagh and primate of Ireland
1852 - George Moore, novelist, playwright and critic, is born in Ballyglass, Co. Mayo
1920 - Dublin Metropolitan District is placed under a curfew from midnight to 5 a.m.
1948 - Birth of Dermot Earley, Roscommon Gaelic footballer and GAA administrator, in Castlebar, Co. Mayo
2000 - The Government calls for a full public inquiry into the murder of Belfast solicitor Pat Finucane
2000 - The North's precarious peace process moves closer towards meltdown as Sinn Féin threatens to end their role as mediators with the IRA on decommissioning and warns of dissident republicans launching a renewed campaign of violence
2000 - A portrait of Queen Elizabeth II stolen from Edinburgh University by three inebriated Trinity College is returned
2002 - The Catholic Church and Government clash over next week's abortion referendum as a poll highlights confusion among voters. While bishops support the Government campaign for a Yes vote on the substantive issue of abortion, they question the future protection of the morning-after pill
2003 - Iarnród Éireann announces that it will not proceed with its plan to charge commuters for parking at three DART stations in Dublin.
February 25
1570 - Elizabeth I is excommunicated by Pope Pious V
1852 - Death of Thomas Moore, popular poet and editor of Irish Melodies


1891 - Edward "Ned" Daly, one of the leaders of the Easter Rising, is born in Limerick
1928 - Death of William O'Brien, architect of agrarian land reform
1934 - Ireland's first ever World Cup match takes place in Dublin. The Irish draw with Belgium 4-4
1937 - The Imperial Airways flying boat Cambria is delivered to Shannon to begin the first trans Atlantic air service
1947 - The worst snow blizzard in living memory hits Ireland
1951 - Neil Jordan, writer and film director, is born
1952 - Joey Dunlop, motorcycle racer, is born in Armoy, Co. Antrim
1991 - Birmingham Six on verge of freedom. An announcement by the Director of Public Prosecution, Alan Green, says their convictions can no longer be considered safe and satisfactory. Hugh Callaghan, Patrick Hill, Gerard Hunter, Richard McIlkenny, William Power and John Walker were all jailed in 1975 for an IRA attack on two pubs in Birmingham in November 1974 in which 21 people died
1998 - Security is stepped up in both Belfast and Derry amid fears the cities are targeted for a new wave of bombing attacks
2000 - The faltering peace process in the North suffer a double body blow with a bomb blast at an army base in Derry and a threat by the Progressive Unionists to withdraw support for the Good Friday Agreement
2001 - British supermarket chains draw up contingency plans to source supplies of fresh meat in Ireland if the ban on livestock transport is not lifted
2001 - It is announced that the birthplace of Daniel O'Connell, the Liberator, is for sale. The historic property at Carhan just outside Caherciveen, where O'Connell was born on August 6, 1775, is being put on the market by his descendants, a local family of O'Connells
2003 - The number of Catholics worldwide has exceeded one billion for the first time, according to figures released by the Vatican
2003 - North American Airlines and Miami Airlines, both charter troop carriers for the US military, end stopovers at Shannon because of recent security breaches
2003 - The Minister for Justice Michael McDowell and the Northern Secretary Paul Murphy hold two hours of talks in Dublin. The talks centre on cross border co-operation and anti terrorist measures.
February 26
1797 - The Bank of Ireland suspends gold payments
1854 - William Smith O'Brien, leader of the 1848 rebellion, is pardoned
1962 - Due to "lack of support", the Irish Republican Army ends what it calls "The Campaign of Resistance to British Occupation"; which is also known as the 'Border Campaign'
1978 - Film critic Ciaran Carty hails the Irish language film Poitín for its deromanticization of the west
1983 -Irishman Pat Jennings becomes the first footballer to play in 1,000 Football League matches
1998 - During talks at Downing Street, Taoiseach Bertie Ahern launches a bid to persuade British Prime Minister Tony Blair to sign up to an Anglo-Irish paper which would lay out the details of a final Northern Ireland peace settlement
1998 - An army recruitment programme to bolster the defence forces with 500 new members is officially launched with a commitment made to keep staffing levels at 11,500 by the end of 1998
1999 - During talks in Bonn, the Taoiseach Bertie Ahern and British Prime Minister Tony Blair agree to push for implementation of the Good Friday peace deal by the March 10 deadline
2001 - The Government imposes a temporary ban on the country's 120 livestock marts as the devastating foot and mouth disease spreads in Britain. Strict procedures are also implemented in airports around Ireland to keep the disease out of the country
2001 - Blizzards, gale force winds and driving hail sweep the country, leaving many householders without electricity or heat.
February 27
1495 - Garret More Fitzgerald, Eighth Earl of Kildare, is arrested in Dublin by Sir Edward Poynings, Lord Lieutenant of Ireland
1760 - François Thurot holds the castle and the town of Carrickfergus until this date
1792 - The Irish House of Commons is partly destroyed by fire
1841 - William Bruce, Sr., the last surviving member of the Ulster Volunteer convention of 1783, a group that fostered efforts towards reform, dies
1907 - Coslett Quin, clergyman, scholar and linguist, is born in Derriaghy, Co. Antrim
1975 - Scotland Yard announces that the man who shot dead a police officer in London on February 26 had been staying in a flat used as a "bomb factory" by the Provisional IRA
1997 - After a contentious court battle contesting the referendum, the new divorce law in the Republic is enacted
1998 - A recruitment programme to bolster the defence forces with 500 new members officially launched with a commitment made to keep staffing levels at 11,500 by the end of 1998
2000 - President Mary McAleese and former Taoiseach Charles Haughey are among the many people to pay tribute at the funeral of North Kerry Fianna Fáil TD and former minister, Tom McEllistrim
2001 - In an effort to help prevent the spread of hoof and mouth disease, the Six Nations match between Wales and Ireland is cancelled and the Government has asked the Irish racing industry not to participate in the Cheltenham racing festival this year. All horseracing, including point to point events, and all greyhound meets are also cancelled until further notice


2001 - Blizzard conditions bring parts of Leinster to a standstill; all flights are cancelled at Dublin Airport and many roads are left impassable after heavy falls of snow
Photo Credit: Charlie Collins
2002 - Former US Secretary of State Henry Kissinger visits University College Cork where he is confronted by more than 400 angry students protesting his presence
2003 - The funeral of former chief justice and government minister Tom O'Higgins takes place at St Patrick's Church in Monkstown, Dublin
2003 - The European Commission confirms that new cars cost, on average, are 10% more in Ireland than the lowest pre-tax prices recommended by manufacturers in other eurozone markets.
2009 - The largest bank robbery in the Republic of Ireland's history takes place at the Bank f Ireland College Green cash centre in Dublin. Ireland. Criminals engaged in the tiger kidnapping of a junior bank employee, 24-year-old Shane Travers, and force him to remove €7.6 million (US$9 million) in cash from the bank as his girlfriend and two others are held hostage.
February 28
1713 - Henry Pyne, MP for Dungarvan, aged about 24 and the father of three children, is killed in a duel with Theophilus Biddulph at Chelsea Fields, London; Biddulph will later be convicted of manslaughter
1790 - The Northern Whig Club is founded in Belfast
1799 - William Dargan, railway engineer and philanthropist, is born in Carlow
1830 - Whitley Stokes, jurist and Celtic scholar, is born in Dublin
1884 - Seán MacDiarmada, revolutionary, is born in Kiltycolgher, Co. Leitrim


1929 - Poet John Montague, best known for his volume, The Rough Field, is born
1933 - Birth of Noel Cantwell, captain of Manchester United and Irish international
1938 - Alice Taylor, writer, is born near Newmarket, Co. Cork
1944 - John O'Shea, journalist, charity worker and founder of GOAL, is born in Limerick
1955 - Premiere of Sean O'Casey's play The Bishop's Bonfire in Dublin


1961 - Birth in Clones, Co. Monaghan of Barry McGuigan, "the Clones Cyclone", world featherweight boxing champion (WBA) 1985-86
1973 - General election in the Republic leads to a Fine Gael-Labour coalition government; Liam Cosgrave becomes Taoiseach
1998 - Death of one of TV's best-loved comedy stars, Dermot Morgan, who played Father Ted in the hit Channel 4 show
1999 - Sinn Feín supporters rally in Belfast to urge an end to unionists delaying the establishment of a power-sharing executive
2001 - Economic disaster is threatened after the first case of foot and mouth disease for 60 years is confirmed in Meigh, South Armagh
2001 - Dublin Zoo and Fota Island in Cork are closed as a preventive measure designed to protect any animals that may be susceptible to foot and mouth disease
2002 - U2 and Enya lead the Irish victory celebrations at the Grammys in Los Angeles. Bono's boys scoop the best rock album title for All That You Can't Leave Behind, best rock performance by a duo or group with vocal for Elevation, and best pop performance by a duo or group for Stuck In A Moment You Can't Get Out Of. Donegal singer/songwriter Enya wins best new age album for A Day Without Rain
2003 - Soldiers add razor wire to Shannon Airport's perimeter fences as the army and gardaí brace for trouble at anti-war protest
2003 - Bono is made a knight of the French Legion - France's highest award.
2011 - First steps taken to form coalition government. Negotiators from Fine Gael are sit down with Labour representatives in round one of the complex talks. Both sides accept they are under pressure from Europe to strike a deal by the end of the week.
February 29
1888 - Birth of Thomas Paterson, historian and antiquarian
1948 - Dermot Weld, racehorse trainer, is born
2000 - The British and Irish governments come under fresh pressure from a range of political opinion in Northern Ireland to convene a meeting of the North's parties to resurrect devolution
2000 - Army bomb experts recover a hand held rocket launcher in Co. Tyrone just hours after it is learned that large amounts of Semtex high explosive have been stolen from Provisional IRA hides
2000 - Hospital waiting lists soar to their highest level in more than a year
2000 - Claire McCollum,a newsreader at Downtown Radio in Newtownards, Co. Down makes headlines herself when she proposes on air to Dungannon and Ulster rugby star Alastair Clarke. Mr. Clarke said yes
2000 - After weeks of controversy over the level of troop cuts and the lack of consultation with military chiefs, the White Paper on Defence gains Cabinet approval
2000 - The plan to allow solicitors be appointed as judges in the High and Supreme courts is broadly welcomed by the Law Society
2000 - Live on Today FM, Claudette Campbell pops the question to Richard Walsh 170 feet above the city of Dublin. Together for 14 years, the childhood sweethearts are among the first to take in the spectacular view from the capital's new observation tower. Richard accepts his sweetheart's proposal.

Sources:
The Celtic League
This organization publishes the annual Celtic Calendar. To order your own copy, visit: The Celtic League.
Irish Abroad
Somewhat sporadic, but they often highlight an important date in Irish history. To visit, please click: Irish Abroad.
The Wild geese
They update Irish history weekly. To visit their keydates page, please click: The Wild Geese.



We also refer to an assortment of references. Among them are the Books of Days - see right margin on this page.



Wed, Jan 3, 2018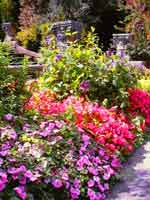 Ilnacullen, Co. Cork - an Island Garden
Located in the sheltered harbour of Glengarriff in Bantry Bay. Ilnacullin, which means island of holly, is a small island known to horticulturists and lovers of trees and shrubs all around the world as an island garden of rare beauty.
The vivid colours of Rhododendrons and Azaleas reach their peak during May and June, whilst the hundreds of cultivars of climbing plants, herbaceous perennials and choice shrubs dominate the midsummer period from June to August.
Because of its sheltered situation and the warming oceanic influence of the Gulf Stream, the climate is favourable to the growth of ornamental plants from many parts of the world.
Even for those who aren't particularly interested in gardens, there are many other scenic views, especially in the surrounding waters where seals frequent the rocks on the southern shore.
The cover photo on Bridget's book The Traditional Irish Wedding shows a wrought iron garden gate on Ilnaculen. I took that photo. To see it, go to the home page. It's part of the opening paragraph Failte.
—Russ
Resource: Copy and Image - Cork Guide

Click for More Culture Corner.
"Cahill's lovely prose breathes life into a 1,600-year old history." The L.A. Times
This is our most popular book. We understand why; the truth is fascinating.
Click here for Saved Civilization.
---