Traditions, folklore, history and more. If it's Irish, it's here. Or will be!
"People will not look forward to posterity who never look backward to their ancestors."
-Edmund Burke
---
Quotes

Library: Books, Movies, Music

Prints & Photos

Poetry

Jokes

---
---
Shops Ireland
---
Bunús na Gaeilge
(Basic Irish)

---
---
Did You Know?
---
Himself/Herself
Write to Us
Readers Write..
Links/Link to Us
---
Advertise with us
---
Awards & Testimonials

Submissions Guide
---

Today
in
Irish
History - September
1st to 7th | 8th to 14th | 15th to 21st | 22nd to 30th

---
September 22
1601 - Battle of Kinsale
1626 - Charles I offers twenty-six concessions ("graces") to the Irish in return for subsidies to expand his army
1798 - Colonel Trench marches from Castlebar and takes Ballina
1821 - Patrick Moore, Confederate General, is born in Galway
1864 - Col. James Mulligan, who commanded "Mulligan's Irish Brigade," dies of wounds sustained at the 3rd Battle of Winchester
1884 - The gunboat HMS Wasp is wrecked off Tory Island, Co. Donegal, with the loss of 52 lives; there are eight survivors
1913 - 12,000 Ulster Volunteers parade at the Royal Ulster Agricultural Society's show grounds at Balmoral (Belfast) in protest at the Home Rule Bill.
1913 - In Dublin the food ship, The Hare, arrives bringing forty tons of food raised by British trade unionists.
1920 - Mid-Clare Brigade, IRA, kill six policemen near Miltown Malbay, Co. Clare
1928 - The first professional artist ever to appear on British television, Irishwoman Miss Peg O'Neil, gives "a charming entertainment, chatting and smiling, and telling Irish stories." The broadcast takes place at Olympia on the first day of the Radio Exhibition
1943 - Robert Ballagh, artist, is born in Dublin
1998 - RUC chief constable Ronnie Flanagan announces further reductions in the level of British troop patrols
1998 - Taoiseach Bertie Ahern pushes for a decommissioning timetable from the IRA
1999 - Ferry sailings resume following unofficial 24 hour strike action by SIPTU members which disrupted sailings out of Dublin and Rosslare, affecting almost 1,000 passengers
2001 - High-ranking British and Spanish diplomats join President McAleese and Britain's Prince Andrew to celebrate the 400th anniversary of the Battle of Kinsale
2002 - David Trimble calls on all IRA members to quit the paramilitary organisation and join its political wing to save the Northern peace process.
September 23
1586 - At the battle of Ardnaree in Co. Mayo, Sir Richard Bingham, governor of Connacht, surprises a force of redshanks (Scottish mercenary light infantrymen) engaged by the Burkes of Mayo; 1,000 redshanks and 1,000 camp followers are killed. Bingham hangs the leaders of the Burkes
1641 - The Gaelic Catholics of Ulster stage an uprising against the Scottish Presbyterian planters
1970 - Sir Arthur Young announces his resignation as chief constable of the Royal Ulster Constabulary
1992 - The IRA destroys Belfast's forensic science laboratory with a huge bomb
2001 - Kevin Boland, who resigned from the Fianna Fáil Government during the 1970 Arms Crisis, dies after a short illness. He was the son of Gerald Boland, a 1916 veteran, confidant of Eamon de Valera, and long-time FF government minister; his uncle was the celebrated War of Independence hero, Harry Boland

1999 - Bob Geldof, Bono and other members of an international lobby group meet with Pope John Paul II to discuss the cancellation of third world debt repayments
Photo credit: AP Photo/Arturo Mari
2002 - The Listowel Races in Co. Kerry begin. For the first year in its history, which dates to 1858, it will be a seven-day meeting.
September 24
1661 - Faithful Tadpole is admitted as a clerical vicar choral of Christ Church Cathedral, Dublin
1786 - Birth of Charles Bianconi, Irish passenger-car entrepreneur
1798 - United Irishman, Bartholomew Teeling, is hanged in Dublin
1801 - James Moore O'Donell, former MP for Ratoath, is killed in a duel with Major Denis Bingham in a feud over Co. Mayo politics
1880 - Mayo agent, Captain Charles Boycott, was sent to a 'moral Coventry.' He described his plight in a letter to The Times: "...people collect in crowds upon my farm and order off all my workmen. The shopkeepers have been warned to stop all supplies to my house. My farm is public property, I can get no workmen to do anything, and my ruin is openly avowed as the object of the Land League unless I throw up everything and leave the country"
1944 - Birth in Dublin of Eavan Boland, a poet who helped develop Arlen House, a feminist publishing company
1959 - Ireland's first Ban Garda recruit - woman police-officer - is introduced to RTÉ listeners
1998 - Garda Commissioner Pat Byrne admits that the Real IRA leaders who ordered the Omagh bombing will probably never be prosecuted
1998 - First Minister David Trimble and his deputy Séamus Mallon are divided over the set-up of the Assembly's power-sharing Executive
2000 - Boy band Westlife makes British pop history by becoming the first act to have six consecutive number one singles.
September 25
1697 - During William III's reign, Catholic clergy are banished by Act of Parliament
1819 - George Salmon, mathematician and professor of divinity, is born in Cork
1880 - Viscount Mountmorres is killed near Clonbur, Co. Galway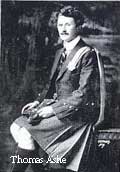 1917 - Thomas Ashe dies in the Mater Hospital in Dublin from the combined effects of a hunger strike and forced feeding at Mountjoy Jail. The following famous and much repeated Sean O'Casey quote "You cannot put a rope around the neck of an idea... you cannot confine it in the strongest prison cell that your slaves could ever build" was made on the subject of the death of Thomas Ashe
1961 - Ronnie Whelan, Home Farm, Liverpool, Reading and Republic of Ireland footballer, is born in Dublin
1983 - 38 IRA prisoners break out of the Maze prison, 19 succeed in escaping
1999 - Sam Tamsanguan from Wilton's Restaurant in London wins the world oyster opening championship title at the 45th annual Galway Oyster Festival
1999 - Protestant civil rights marchers blatantly defy a Belfast City Council ban to lay a wreath at the cenotaph to the victims of the Troubles during the so-called Long March

2000 - Sonia O'Sullivan wins a silver medal in the 5,000 meters at the Olympic Games in Sydney, Australia
Photo Credit: Patrick Bolger
2002 - Saying "He is no longer acceptable in our organisation," Loyalist chief Johnny "Mad Dog" Adair is dumped by the leadership of the paramilitary Ulster Defence Association.
September 26
1289 - 'All men of good will to the king', both Irish and English, in Munster and Leinster are summoned to Buttevant in Leix (Queen's County). A ten-day expedition which begins on this date, subdues and forces the local Irish into an uneasy peace
1713 - Charles Lucas, physician, MP and political radical, is born in Ballingaddy, Ennis, Co. Clare
1902 - James Dillon, politician and Fine Gael leader is born in Dublin
1930 - Saor Éire, a republican/socialist party, is founded by Peadar O'Donnell, Seán MacBride and other IRA members; it, the IRA and ten other organizations are declared illegal in the Free State on 23 October, and the Catholic Church excommunicates members of all 12 organizations. Saor Éire is soon dissolved
1932 - De Valera opens the 13th Assembly of the League of Nations in Geneva
1957 - Shamrock Rovers become the first League of Ireland team to play in the European Cup — they lose 6-0 to Manchester United
1997 - U2 plays its first-ever show in Greece, in the city of Thessaloniki
2000 - Ulster Unionist leader David Trimble warns that the Good Friday Agreement could vanish over plans for new policing arrangements and the IRA's failure to disarm
2000 - Financier George Finbar Ross, whose Gibraltar-based International Investments company went bust in the mid-eighties owning millions to Irish investors, is cleared of the bulk of the charges against him
2001 - Thousands of teachers will be docked up to £500 each because of industrial action they took prior to last year's State exams
In the liturgical calendar, today is Feast day of St. Colman.
September 27
1662 - An "act for encouraging Protestant strangers and others to inhabit and plant in the kingdom of Ireland" is passed in the Irish Parliament under Charles II
1725 - Patrick Darcy, scientist and soldier, is born in Kitulla, Co.Galway


1891 - Charles Stewart Parnell makes his last public appearance at Creggs, Co. Galway
1926 - Tim O'Keeffe, publisher, is born in Kinsale, Co. Cork
1954 - Brian Mullins, Dublin Gaelic footballer, is born in Dublin
1957 - Launch of the Royal Showband
1971 - Heath, Lynch and Faulkner meet for talks at Chequers
1973 - The first in an annual series of ecumenical conferences is held at Ballymascanlon, Co. Lout and is attended by representatives of al the main churches
1998 - Tony Blair calls for a crisis meeting with David Trimble, Seamus Mallon and Gerry Adams to try to break the deadlock which has arisen over the decommissioning of arms
1998 - Liam Neeson and Natasha Richardson announce they will donate a six-figure libel payout to a memorial fund for the victims of the Omagh bomb massacre
1999 - The Tipperary Rural and Business Development Institute opens in Thurles, Co Tipperary
2000 - Sinn Féin leader Gerry Adams accuses David Trimble of attempting to manufacture another artificial crisis in Northern Ireland
2000 - Thirty-three years after it was made, censors lift the ban on a film adaptation of James Joyce's epic novel Ulysses
2001 - British Airways announces it is to close its Belfast-Heathrow route with 160 job losses. BA's decision also means it will suspend its daily service to Gatwick from Shannon and Cork
2001 - Entrepreneur Denis O'Brien is ordered to leave the Oireachtas committee inquiring into the CIE rail signalling project after telling Deputy Seán Doherty he is unfit to be its chairman.


2008 - Six nurses made history yesterday when they graduated from university and became the first in the HSE-South region to qualify to prescribe a specific range of drugs. Up until now, only doctors could prescribe the medications involved. But under a programme introduced in 2007, nurses working in midwifery, coronary care, A&E and other areas will be able to prescribe medications from a specific category list. Pictured at the ceremony yesterday in Cork University Hospital were, from left, Helen O'Callaghan from Ballincollig, Aine Hurley from Tower and Claire O'Brien from Ardfield.
September 28
1678 - 'Popish plot' is alleged in England
1690 - Marlborough takes Cork for the Williamites
1703 - Francis Annesley is expelled from the Irish Commons for his part in The Report of the Commissioners appointed by Parliament into the Irish Forfeitures, printed in London, containing the paragraph: 'And indeed it does appear to us, that the Freeholders of this Kingdom, through length of time and by contracting new friendship with the Irish, or by inter-purchasing with one another, but chiefly through a general dislike of the disposition of the forfeitures, are scarce willing to find any person guilty of the late rebellion, even upon full evidence.' The House has found that Annesley 'scandalously and maliciously misrepresented and traduced the Protestant Freeholders of this Kingdom and thereby endeavoured to create a misunderstanding and jealousy between the people of England and the Protestants of this Kingdom'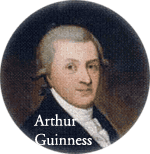 1725 - Sir Arthur Guinness is born in Celbridge, Co. Kildare. There is much debate as to Sir Arthur's birthdate. Many sources say September 24, although there is no evidence to support that claim. Charles Mosely 'Burke's Peerage and Barontage says that March 2nd was the date Arthur made his debut. To end all the speculation, in 1991 the Guinness Company chose September 28th. To confuse matters further, in 2009, Guinness celebrated its 250th birthday; but it would appear that many people are interchanging the birth of the stout with the founder of the company who makes it. No matter. Whatever the date, Arthur's Day is cause for a celebration with substance.
Read about Arthur's Birthday.
1912 - Edward Carson, leader of Ulster Unionists, stages signing of "Southern League and Covenant" against Irish Home Rule
1920 - Cork No. 2 Brigade, IRA, attacks and captures a military barracks in Mallow, Co. Cork. English forces later burn and sack the town
1960 - RTÉ broadcasts a report on the re-opening of Bunratty Castle to the public after extensive refurbishing
1964 - Divis Street riots follow Ian Paisley's insistence that the RUC remove the Tricolour from a window at Sinn Féin's Belfast headquarters
1978 - Pope John Paul I dies after just 33 days in office aged 65 - the shortest reign in the entire history of the Papacy
1987 - U2 is joined by the New Voices of Freedom choir onstage at Madison Square Garden in New York for a performance of "I Still Haven't Found What I'm Looking For"
1998 - Taoiseach Bertie Ahern vows to hand over all necessary papers to the Flood Tribunal investigation into alleged planning irregularities
1998 - The final strains of the Last Post symbolically close a 200-year-old military history in Fermoy and Ballincollig as the Tricolour is lowered and the troops leave the barracks. Both camps are closing and the soldiers are being transferred to Cork
1999 - The home of dual Olympian and arguably Ireland's greatest ever athlete, the late Dr Pat O'Callaghan, is demolished in his adopted Clonmel to make way for a Rehab training facility
1999 - Larchill Arcadian Gardens in Co. Kildare win's the top prize in the ESB Community Environment Awards
2000 - The Ulster Unionist Party warns that it may withdraw from all North South bodies established under the Good Friday Agreement unless guarantees are forthcoming on IRA decommissioning, and policing
2000 - According to official figures, the number of mobile telephone connections in Ireland exceeds the fixed line total for the first time
2000 - A call for the IRA to be disbanded is made by Taoiseach Bertie Ahern when he reiterates the view that Fianna Fáil cannot go into government with Sinn Féin while that party remains linked to an armed force.
September 29
1155 - A proposal for the invasion of Ireland by Henry II is discussed at the Council of Winchester and rejected, though soon after, Henry obtains a papal privilege approving the invasion
1603 - Rory O'Donnell kisses the king's hand and is created Earl of Tyrconnell
1678 - Count Peter Lacy, soldier, governor of Livonia (Latvia) and field-marshal in the Russian army, is born in Killeedy, Co. Limerick
1732 - Birth of Sir Henry Cavendish, politician and master of shorthand, who recorded parliamentary debates
1778 - Birth in Dublin of Catherine McAuley, founder of the Sisters of Mercy
1798 - Tandy and other Irish political prisoners in Hamburg are handed over to British authorities
1826 - Charles Cornwallis Chesney, professor of military history, is born in Kilkeel, Co. Down
1836 - Michael Mulhall, publisher and statistician, is born in Dublin
1854 - Birth in Kinvara, Co. Galway of Francis Arthur Fahy who wrote the song, Galway Bay
1898 - Fenian Thomas Clarke is released from Portland Prison
1905 - Francis Llewellyn Harrison, musicologist, is born in Dublin
1908 - Birth of film star Greer Garson in Co. Down
1929 - The last active Fenian, John Devoy, dies
1930 - George Bernard Shaw refuses a peerage
1972 - Kathleen Daly Clarke, Irish patriot, dies


1979 - Pope John Paul II arrives in Dublin for the first ever papal visit to Ireland
1999 - Smyth's bar on Haddington Road in Dublin, is sold 'virtually' and otherwise in Ireland's first Internet broadcast property auction
2002 - In Co. Wicklow, five paintings, including two by the renowned artist, Rubens, are stolen in another raid on Russborough House which has a history of art thefts.
In the liturgical calendar, today is the feast of St. Michael, the Archangel. Read our article Celebrating St. Michael's Day in Old Ireland.
September 30
1430 - A great council meets at Dublin on on this date; it states that Irish enemies and English rebels have conquered almost all of Limerick, Tipperary, Kilkenny, Wexford, Carlow, Kildare, Meath and Louth, so that hardly anything but Co. Dublin remains in the colony
1598 - The English poet Edmund Spenser is appointed Sheriff of Cork
1691 - The first recorded meeting of the Presbyterian general synod of Ulster is held at Antrim
1852 - Sir Charles Stanford, composer, is born in Dublin
1900 - Arthur Griffith forms Cumann na nGaedheal, which later becomes Sinn Féin
1949 - Birth of Finance Minister, Charlie McGreevy
1959 - World premiere of the Sean O'Riada's film Mise Éire, at Cork Film Festival
1994 - Michael Flannery, Irish patriot, dies in New York City
1997 - U2 performs in Tel Aviv, Israel for the first time
1998 - Northern Secretary Mo Mowlam holds out the prospect of troops being removed permanently from the streets of the North if paramilitary groups hand in their weapons
1998 - Gerry Adams warns there must be no slippage in full implementation of the Good Friday settlement


1998 - The first appearance together of David Trimble and Séamus Mallon on a Labour platform draws an enormous and spontaneous ovation from the 3,000 delegates attending the party conference in Blackpool
1999 - The Rev. Ian Paisley meets with Taoiseach Bertie Ahern on the question of arson attacks on churches in the border area
Photo credit: PA/Chris Bacon
2001 - Ireland assumes presidency of the United Nation's Security Council
2001 - Thousands of Irish, New Yorkers and Irish-Americans pay tribute to the many Irish people who died in the terrorist attacks. Bishop John Buckley of Cork celebrated the mass with the Bishop of Killaloe at the Roman Catholic Holy Trinity church in Manhattan.


Sources:
The Celtic League
This organization publishes the annual Celtic Calendar. To order your own copy, visit: The Celtic League.
Irish Abroad
Somewhat sporadic, but they often highlight an important date in Irish history. To visit, please click: Irish Abroad.
The Wild geese
They update Irish history weekly. To visit their keydates page, please click: The Wild Geese.



We also refer to an assortment of references. Among them are the Books of Days - see right margin on this page.


Wed, Jan 3, 2018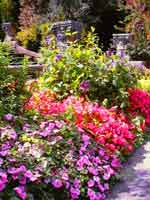 Ilnacullen, Co. Cork - an Island Garden
Located in the sheltered harbour of Glengarriff in Bantry Bay. Ilnacullin, which means island of holly, is a small island known to horticulturists and lovers of trees and shrubs all around the world as an island garden of rare beauty.
The vivid colours of Rhododendrons and Azaleas reach their peak during May and June, whilst the hundreds of cultivars of climbing plants, herbaceous perennials and choice shrubs dominate the midsummer period from June to August.
Because of its sheltered situation and the warming oceanic influence of the Gulf Stream, the climate is favourable to the growth of ornamental plants from many parts of the world.
Even for those who aren't particularly interested in gardens, there are many other scenic views, especially in the surrounding waters where seals frequent the rocks on the southern shore.
The cover photo on Bridget's book The Traditional Irish Wedding shows a wrought iron garden gate on Ilnaculen. I took that photo. To see it, go to the home page. It's part of the opening paragraph Failte.
—Russ
Resource: Copy and Image - Cork Guide

Click for More Culture Corner.
"Cahill's lovely prose breathes life into a 1,600-year old history." The L.A. Times
This is our most popular book. We understand why; the truth is fascinating.
Click here for Saved Civilization.
---