Traditions, folklore, history and more. If it's Irish, it's here. Or will be!
"People will not look forward to posterity who never look backward to their ancestors."
-Edmund Burke
---
Quotes

Library: Books, Movies, Music

Prints & Photos

Poetry

Jokes

---
---
Shops Ireland
---
Bunús na Gaeilge
(Basic Irish)

---
---
Did You Know?
---
Himself/Herself
Write to Us
Readers Write..
Links/Link to Us
---
Advertise with us
---
Awards & Testimonials

Submissions Guide
---

Today
in
Irish
History - March
1st to 7th | 8th to 14th | 15th to 21st | 22nd to 31st

---
March 1
1703 - Birth of Philip Tisdall, politician and Attorney General noted for his lavish hospitality
1726 - Abraham Shackleton, a Quaker, opens a school at Ballitore, Co. Kildare. Edmund Burke will later be a pupil
1794 - Statutes of Dublin University amended to allow Catholics to take degrees
1848 - Augustus St. Guadens, Irish sculptor of Dublin's Parnell monument, is born
1905 - Birth of Nano Reid, painter, in Drogheda, Co. Louth
1949 - Birth in Donegal of guitarist Rory Gallagher
1953 - Birth of Martin O'Neill, international soccer star and manager of Celtic
1965 - Roger Casement's body is re-interred in Glasnevin cemetery, Dublin
1976 - "Special Category" status is removed from political prisoners in Northern Ireland
1981 - Bobby Sands begins his hunger strike at Long Kesh prison
1998 - President McAleese defends her decision to hold a reception to mark Orange Day celebrations in the face of mounting criticism from unionists
1998 - DUP councillor Nigel Dodds calls for security to be stepped up following an INLA bomb attack at a school used by Catholic and Protestant children
1999 - The heroic action of a pilot and the crew of a Channel Express cargo plane avert a major tragedy as they land the plane safely at Shannon after two propellers on their ageing aircraft disintegrated, disabling two of their four engines and leaving a deep hole in the aircraft's fuselage
2001 - Fears of a foot and mouth outbreak in Kerry are eased with confirmation from the Department of Agriculture that no animals checked on two farms near Castleisland show symptoms of the disease
2003 - According to a new global survey, Dublin is one of the safest cities in the world.
March 2
1718 - Birth of John Gore. Baron Annal, lawyer, politician and Chief Justice of the King's Bench from1764 to 1784
1871 - Gladstone gives his first speech in the House of Commons on Home Rule
1888 - Birth in Dublin of Cyril Bentham Falls, military historian and journalist
1979 - Death of hurler Christy Ring
1996 - Thomas P. O'Neill, Irish historian, dies
1998 - The Kerry Bog Pony receives its "passport," from Weatherbys, which proves pedigree and opens up sales opportunities worldwide. The passport contains height, breeding details and blood type
2001 - In measures adding to the effects of Ireland's countrywide lock up, the United States bans Irish meat, and the Philippine government returns 1,000 plus boxes of processed Irish beef just 24 hours after France bans Irish livestock


2001 - Taoiseach Bertie Ahern presents Bill Whelan with the IMRO Lifetime Achievement Award at Dublin Castle
Photo Credit: Maxwells
2001 - Three farms in Monaghan and one in Louth are sealed off in a bid to stop the spread of foot and mouth disease
2001 - The massive beef and lamb slaughtering facility at Kildare Chilling — capable of processing almost 2,000 animals a day is closed as a precautionary measure against spreading foot and mouth disease.
March 3
1592 - A charter incorporates the College of the Holy and Undivided Trinity, near Dublin, later to become known as Trinity College
1766 - Four pirates are found guilty in Dublin of murdering on the high seas Captain Cochrane, Captain Glass and others, and of plundering and scuttling the Lord Sandwich; they are executed in St Stephen's Green on this date and later hanged in chains near the Liffey; complaints from the public lead to the removal of the corpses to Dalkey Island
1831 - In the 'tithe war', 120 police move in to Graiguenamanagh to seize cattle in payment of the tithe
1918 - Birth of Sir Peter O'Sullevan, "the voice of horseracing"
1954 - Birth of Ollie Campbell, rugby player, in Dublin
1977 - Birth of Ronan Keating of Boyzone fame
1998 - Two friends, one a Catholic the other a Protestant, are shot dead, after being ordered to lie on the floor of a bar in Pontyz Pass, near Newry, Co. Down
2000 - The hearing of the longest ever action in the High Court ends after a total of 281 days spread over a number of law terms since its 1997 opening
2002 - The Government has again refused to bail out RTÉ after a new consultants' report concludes that the national broadcaster will run out of cash by next year
2002 - It is anticipated that by 2035, total forestry production in Ireland will be €1.7 billion
2003 - According to a survey by the Dublin Institute of Technology's Tourism Research Centre, the US is the most desirable destination for Irish tourists. In second place is South Africa, while Italy is the favourite continental destination
2003 - Taoiseach Bertie Ahern and British Prime Minister Tony Blair conduct talks at Hillsborough Castle in the latest bid to restore devolution and secure the Provisionals' disarmament
2003 - Ambulance workers in Kilkenny abandon their fleets (responding to 999 calls only) in protest over changes in their working terms which they say are being enforced by their health board.
March 4
1704 - Penal law 'to prevent the further growth of popery' restricts landholding rights for Catholics; gavelkind is reimposed on Catholics (unless the eldest son converts to Protestantism, in which case he inherits the whole); a 'sacramental test' for public office is introduced, directed mainly at Ulster Presbyterians
1771 - John Ponsonby resigns as Speaker of the Irish parliament for political reasons; Edmond Sexton Pery is elected to replace him


1778 - Robert Emmet, one of Ireland's most famous revolutionaries, is born in Dublin
1864 - Daniel Mannix, Archbishop of Melbourne and advocate of Irish independence, is born in Charleville, Co. Cork
1867 - Fenian national uprising begins in Ireland


1888 - Grace Gifford Plunkett, Irish patriot, is born in Rathmines, Dublin
1902 - Ancient Order of Hibernians is revived at unity council
1916 - First Irish Race Convention is held in New York City. Serves as immediate call for the Easter Rebellion in Dublin
1923 - Birth of Sir Patrick Moore, broadcaster, astronomer and curate at the Armagh Observatory


1978 - Death of General James Emmet Dalton, aged 80 (today is also his birthday). Dalton led the bombardment of the Four Courts in what effectively is the start of the Civil War, and is with Michael Collins at Béal na mBlátha when they are ambushed and Collins is assassinated
1993 - U2 ties with REM as "best band" in a Rolling Stones magazine reader's poll
2001 - A car bomb explosion outside the BBC's London headquarters on Wood Lane in west London is said to be part of an ongoing campaign of ''murderous attacks'' by the Real IRA
2001 - 300 sheep are destroyed and eight Irish farms are cordoned off as a precaution against foot and mouth disease. Despite 69 confirmed cases in Britain and one in the North, there is still no case of the disease in the Republic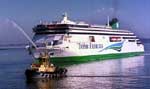 2001 -The world's largest car ferry arrives in Dublin Port. The £80 million Ulysses sailed from Finland following her construction for Irish Ferries. Once she has completed final sea trials the vessel will go into service on the Dublin-Holyhead route
Photo Credit: Mac Innes
2001 - After being left to rot for the last 22 years, the boat made famous for smuggling arms to the Irish Volunteers in 1914, the Asgard, is released from Kilmainham Gaol and moved to the Docklands where restoration, estimated to cost over £1 million, will take place
2002 - Fears of chaos around the country's schools prove to be unfounded as 2,500 non-teachers begin supervision and substitution duties in more than 600 schools
2003 - The North's assembly elections look set to be delayed for weeks following failure to reach an early agreement on a deal to restore the power-sharing government.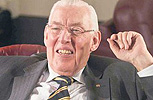 2008: The Rev Ian Paisley signals the end of an era by announcing he will step down as leader of Northern Ireland's power-sharing administration and the Democratic Unionist Party. The news represents a huge moment in the politics and recent history of Northern Ireland, removing from the scene as it does one of its most striking figures.
March 5
1389 - Thomas Mortimer is appointed justiciar
1716 - Martin Bladen, soldier, politician, civil servant, gambler and writer, is given leave in the British House of Commons to bring in a bill to continue the privilege of exporting Irish linen cloth to British plantations without the duty payable by exporters in England and Scotland. The bill eventually passes
1867 - Fenian Rising begins in Co. Dublin, Cork, Limerick, Clare and Tipperary
1911 - Birth in Portaferry, Co. Down of actor Joseph Tomelty
1998 - Dublin gangland criminal Georgie "the Penguin" Mitchell is arrested in Holland after a joint operation between Irish and Dutch police catch him red-handed stealing £4 million worth of computer parts
1998 - The remains of Dermot Morgan are received at St. Theresa's Church in his native Dublin. Taoiseach Bertie Ahern and Tanaiste Mary Harney are among the more than 1,000 mourners
1999 - As a precautionary measure, eighteen workers at the Warner-Lambert plant in Ringaskiddy, Co. Cork are taken to hospital following a chemical spillage. They are found to be unharmed and are released
2000 - The Government closes the book on the millennium bug after spending £40m preparing for a potential disaster that doesn't happen
2001 - A total of 520 farms are under investigation because of fears of foot and mouth, Agriculture Minister Joe Walsh reveals
2001 - The shortlist for the International IMPAC Dublin Literary Award is announced by Lord Mayor Maurice Ahern. Six novels are in contention for the world's richest literary prize (worth IR£100,000) for a single work of fiction, among them Colm Tóibín's The Blackwater Lightship
2003 - In Blarney, Co. Cork, pubs, restaurants and supermarkets enthusiastically embrace a no smoking day and the Blarney Stone restaurant in the town square takes the lead by slapping a permanent ban on smoking.
In the ecumenical calendar, today is the feastday of St. Kieran, sometimes listed as 'Kevin the elder'.
March 6
1791 - John MacHale, Archbishop of Tuam; nationalist campaigner and writer, is born in Tirawley, Co. Mayo
1831 - Philip Sheridan, general on Federal side in American Civil War and Commander-in-Chief of the US army, is born in Killinkere, Co. Cavan
1861 - Patrick McCall, songwriter, is born in Dublin
1918 - Death of John Redmond, Chairman of the Irish Parliamentary Party
1921 - The Lord Mayor of Limerick, George Clancy, his predecessor, Michael O'Callaghan, and another prominent nationalist, Joseph O'Donoghue, are killed by policemen in Limerick during curfew hours
1924 - A 'mutiny' in the Free State army begins on this date: dissident officers demand the suspension of demobilization, and discussions on progress towards a republic. Following the 'unauthorized' arrest of dissidents, two Government ministers and three senior officers resign and conservative elements take control of Cumann na nGaedheal. The 'army mutiny' signals the end of the Irish Republican Brotherhood
1935 - Ronnie Delany, 1500 meter gold medallist in the 1956 Olympic Games, is born in Arklow, Co. Wicklow
1978 - Micheál Mac Liammóir, poet, actor and founder of the Gate Theatre, dies
1998 - The jobless trend continues downward and falls to its lowest numbers in seven years
1998 - Hundreds of Dubliners turn out to pay their last respects to Dermot Morgan as his funeral cortege makes its way to Glasnevin Crematorium
2000 - Flamboyant journalist Jonathan Philbin Bowman is found dead in his Dublin home. Gardaí are investigating the possibility that he may have fallen down the stairs
2000 - An Bord Pleanála upholds Clare County Council's decision to refuse planning permissions to proposals by the Minister for the Arts and Heritage, Síle de Valera, to develop visitor facilities at Mullaghmore in the Burren National Park
2001 - The foot and mouth virus claims another Irish sporting casualty with the announcement that the world cross country championships is to be switched to Brussels, bringing with it some 1,000 runners from 80 countries who were due to converge on Dublin on March 24-25
2001 - Moves to provide nappies for Killarney's famous jaunting car horses are dropped. Against the advice of the Town Manager, the local urban council bows to the wishes of local jarveys who strongly oppose proposals to include "equine sanitary apparatus" in the jarvey bylaws.
March 7
1777 - Sir Philip Crampton, surgeon, is born in Dublin
1864 - Archbishop Paul Cullen issues a pastoral for St. Patrick's Day denouncing Fenianism


1920 - Éilis Dillon, novelist and children's writer, is born in Galway
1921 - Limerick Mayor George Clancy is shot and killed in his home by disguised members of the Black and Tans
1923 - Eight republican prisoners are executed by use of a mine at Ballyseedy, Co. Kerry
1936 - Freddie Gillen, amateur boxer, is born in Belfast
1988 - The IRA confirms that the three people shot dead by security forces in Gibraltar are members of an active service unit
1999 - A human chain is formed around the Central Bank in Dublin to highlight the campaign to cancel unpayable Third World debt for the millennium. Over 400 people take part in the ceremony organised by Trocaire, Jubilee 2000 and the One World Network of Students in Ireland. Similar events are held in as many as 50 other countries across the world.
2005 - Calling the story of the Irish in America "an important part of the history of our country," President George W. Bush proclaims March as Irish-American Heritage Month.

Sources:
The Celtic League
This organization publishes the annual Celtic Calendar. To order your own copy, visit: The Celtic League.
Irish Abroad
Somewhat sporadic, but they often highlight an important date in Irish history. To visit, please click: Irish Abroad.
The Wild geese
They update Irish history weekly. To visit their keydates page, please click: The Wild Geese.



We also refer to an assortment of references. Among them are the Books of Days - see right margin on this page.



Fri, Feb 2, 2018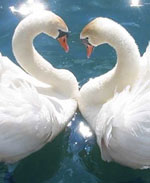 Irish God and Goddess of love
Oengus is the Irish God of love, beauty and youth. According to the old folklore, his kisses became birds. It is also said that he dreamed of a beautiful maiden, named Caer, for whom he searched all over Ireland. Eventually, he found her chained to 150 other maidens, destined to become swans at the time of Samhain. Legend has it that Oengus transformed himself into a swan and was united with his love.
Aine of Knockaine is the Irish Goddess of love. She is also known as the Fairy Queen of Munster and as a goddess of fertility beause she has control and command over crops and animals, especially cattle. Another name by which she is known is Aillen. To learn more about Irish mythology, please click Irish Myths & Legends.
Photo Credit: Wikipedia

Click for More Culture Corner.
"Cahill's lovely prose breathes life into a 1,600-year old history." The L.A. Times
This is our most popular book. We understand why; the truth is fascinating.
Click here for Saved Civilization.
---