Traditions, folklore, history and more. If it's Irish, it's here. Or will be!
"People will not look forward to posterity who never look backward to their ancestors."
-Edmund Burke
---
Quotes

Library: Books, Movies, Music

Prints & Photos

Poetry

Jokes

---
---
Shops Ireland
---
Bunús na Gaeilge
(Basic Irish)

---
---
Did You Know?
---
Himself/Herself
Write to Us
Readers Write..
Links/Link to Us
---
Advertise with us
---
Awards & Testimonials

Submissions Guide
---

Today
in
Irish
History - December
1st to 7th | 8th to 14th | 15th to 21st | 22nd to 31st

---
December 1
1494 - Poynings Law enacted. This forbids the Irish parliament to convene without the King's prior permission, and all intended legislation has to be approved by him
1848 - The paddle steamer The Londonderry, with immigrants fleeing the famine, takes shelter in Derry harbour. When the covers are removed from the hold it is discovered that 72 men, women and children have suffocated
1889 - Michael Hayes, politician and professor of Irish is born in Dublin
1890 - Six days of Irish Parliamentary Party debates begin, only to end in a split, with the majority opposing Parnell
1901 - Fenian Thomas Clarke Luby dies in New York. Luby was born in Dublin in 1821. He was the son of a Church of Ireland minister and graduate of Trinity College. His first political experience was in the Young Ireland movement
1946 - Singer Gilbert (Richard) O'Sullivan is born in Waterford
1955 - Birth of Pat Spillane, Kerry Gaelic footballer
1956 - Birth of hurler Joachim Kelly
1986 - Guinness shares plunge by £300m after the British government orders an inquiry into the affairs of the company
1998 - President Bill Clinton contacts First Minister, David Trimble, and his deputy, Seamus Mallon, in a bid to save the stalled Northern Ireland peace process
1999 - The British Prime Minister, Tony Blair hails the transfer of powers to Stormont as "one giant step forward"
1999 - Plans to develop Pol an Ionain cave, which according to the Guinness Book of Records contains the largest free hanging stalactite in the world, are given the go ahead by Clare County Council
2001 - Morans on the Weir, Kilcolgan, Co Galway, wins the prestigious Gilbeys Gold Medal Award
2002 - Film producer Noel Pearson and brother Billy Harris lead the tributes to Richard Harris as hundreds pack the Church of the Sacred Heart for a memorial mass
2002 - Gusts reaching up to 80 miles per hour and driving rain continue to sweep across the country; in the west Clare village of Quilty, six fishing boats sink as winds reached between gale force seven and nine along the Clare coast.
December 2
1791 - Death in Kilkenny of Henry Flood, founder of the movement which forces Britain to grant legislative independence to Ireland
1802 - Sir Dominic Corrigan, cardiologist, is born in Dublin
1805 - William Thompson, naturalist, is born in Belfast
1811 - The Kildare Place Society is formed to maintain non-denominational schools and to promote the education of the poor
1865 - The Fenian senate deposes founder John O'Mahoney as president, replacing him with William Roberts
1877 - Birth of nationalist politician Cahir Healy in Mountcharles, Co. Donegal
1924 - William Craig, unionist politician, is born
1998 - In an effort to break the deadlock in the stalled Northern Ireland political process, British Premier Tony Blair holds intensive discussions with David Trimble and Seamus Mallon at Stormont
1998 - Death of Mary McShain at Killarney House, Killarney, Co. Kerry.
In 1960, she and her late husband, John McShain, acquired the Killarney Estate, which had been owned by the Earls of Kenmare since the 16th century. Most of that property has since been turned over the State and Killarney House will now be turned over as well
1999 - The Good Friday Agreement comes into operation as the British and Irish governments formally notify each other that all the necessary arrangements are in place.The notification ceremony takes place at Iveagh House, St Stephen's Green, headquarters of the Department of Foreign Affairs, at a joint signing by Foreign Affairs Minister, David Andrews, and the Northern Ireland Secretary of State, Peter Mandelson
1999 - President Mary McAleese is entertained to lunch by Queen Elizabeth at Buckingham Palace
1999 - The IRA appoints an unnamed representative to enter into talks with General John de Chastelain on decommissioning
2002 - Former Fine Gael deputy leader Jim Mitchell loses his three-year battle with cancer.
December 3
1745 - John Toler, 1st Earl of Norbury and Chief Justice, is born in Beechwood, Co. Tipperary
1792 - Beginning on this date and continuing through December 8, a Catholic Convention is held in Tailors' Hall, Dublin to demand abolition of the remaining penal laws; a petition is presented to the king in London
1831 - Birth near Belfast of James Graham Fair, banker, mining tycoon and US senator
1897 - Birth in Limerick of Irish writer, Kate O'Brien who will become best known for her novels Land of Spices and That Lady
1942 - Birth in Belfast of rugby player Mike Gibson, former rugby player, 1945 - Ralph McTell, writer of From Clare To Here and Streets Of London is born
1956 - Limerick-born runner Ronnie Delaney wins Olympic Gold in Melbourne
1960 - Birth of broadcaster Eamonn Holmes
1990 - Inauguration of Mary Robinson as President of Ireland
1993 - Two bombs explode in the center of Manchester, injuring 65 people; the IRA claims responsibility the following day
1996 - Six officers are hurt as loyalists attack police with fireworks, bottles and stones in Portadown, Co Armagh
199 - The country's first three day International Flower Fair opens in Lismore, Co. Waterford
2000 - Hiúdaí, an Irish language cartoon character, is voted Best TV Personality at the Irish Film and Television Awards in Belfast
2000 - Browns on the Green wins the prestigious Gilbeys Gold Medal Award for excellence in catering
2002 - Up to 2000 mourners gather at St Joseph's Church, Terenure for the removal of Fine Gael minister and deputy leader, Jim Mitchell
2002 - Ulster Unionist leader, David Trimble, says there is little point in proceeding with multi-party talks in the North if the IRA refuses to address the need to give up all paramilitary activity.
December 4
1879 - Sir Hamilton Harty, musician and composer, is born in Hillsborough, Co. Down
1882 - John Curran, Dublin magistrate, opens a special inquiry into the Phoenix Park murders, in which Parnell is falsely implicated
1887 - Winifred Carney, trade unionist and revolutionary, is born in Bangor, Co. Down
1918 - Richard Bagwell, Irish historian, dies
1959 - Birth of Paul McGrath, footballer for St Patrick's Athletic, Manchester United, Aston Villa, Derby County and the Republic of Ireland
1971 - The UVF claims responsibility for a bomb blast which kills 17 people in a Belfast pub
1983 - SAS soldiers involved in an undercover operation in Northern Ireland shoot and kill two IRA gunmen and injure a third man who escapes
2000 -Ireland reluctantly agrees to a six months European Union wide ban on the feeding of meat and bone meal to all farm animals, including pigs and poultry
2001 - U2 frontman Bono and politician Pat Cox scoop two European of the Year awards at the first-ever such event in Brussels
2002 - Award-winning Cork-born author William Trevor receives an honorary knighthood in London in recognition of his services to literature.


2006 - Staff at an equestrian centre in Mullingar, Co Westmeath, return to the workplace prior to a planned Christmas party - and discover Gus, a newly-arrived camel from Morocco, had munched through 200 mince pies and cans of Guinness.
2009 - Liam Clancy of the Clancy Brothers passes away. Read our tribute Liam and the Clancy brothers
December 5
1640 - John Atherton, Bishop of Waterford and Lismore, is executed on a charge of immorality
1700 - Birth of Anthony Malone, prominent politician and prime serjeant at time of money bill dispute from1753 to 1756


1853 - Assembly's College, Belfast, opens for the training of Presbyterian clergy
1921 - After lengthy negotiations, the British give the Irish a deadline to accept or reject the Anglo-Irish treaty. In the words of Lloyd George, rejection would mean "immediate and terrible war"
1976 - A rally of twelve to fifteen thousand Peace People from both north and south takes place at the new bridge over the Boyne at Drogheda
1998 - The IRA Army Council and up to 60 Provisionals meet at a secret location near the border to debate arms decommissioning
1999 - The Portmarnock Hotel in north Dublin wins the Gilbeys' Gold medal in catering for the second year in a row
2000 - The IRA reaffirms its commitment to putting arms beyond use in a statement issued in advance of President Bill Clinton's visits to Dublin and Belfast
2000 - Ruth Le Goff, from Cork, is named as winner of the 15th Annual RTÉ Radio 1 Francis MacManus Short Story Competition
2001 - Police and custom officers on both sides of the Border smash a multi-million pound smuggling operation with links to dissident paramilitary groups
2002 - Tesco's Premier Cru Brut NV comes out top in a blind tasting of 24 champagnes and 11 sparkling wines by British consumer magazine Which?
December 6
1679 - St. Oliver Plunkett, Archbishop of Armagh, is accused of instigating the "Irish Popish" Plot and arrested
1820 - Spanish General Diego O'Reilly is defeated by Peruvian revolutionaries
1908 - Cornelius Cremin, diplomat, is born in Kenmare, Co. Kerry
1921 - Representatives of the Irish government appointed by President Eamon de Valera, and those negotiating for the Crown sign the Anglo-Irish Treaty, ending the Irish War of Independence against England. Michael Collins declares: "I have signed my own death warrant"
1922 - The Irish Free State, Saorstát Éireann, comes into being
1925 - Con Houlihan, journalist, is born in Castleisland, Co. Kerry


1999 - The Abbey Bridge is opened in Limerick. It is intended to relieve chronic traffic congestion and provide a link to the city's historic quarter of King's Island
1999 - Actor Gabriel Byrne brings out a host of stars for the Irish premiere of his new movie End of Days in Dublin
Image: Official Gabriel Byrne web site: Gabriel Byrne.
2002 - The RDS Irish Forestry and Wood Awards introduces a new special category award for hurley ash plantations and forests. This year's award is won by Theresa Greene, from Cappamurragh House, Dundrum, Co Tipperary, who has an eight-year-old plantation specifically geared towards the growing of suitable ash trees for hurley-making
2002 - Publicist to the stars, Chris Roche, loses his battle with cancer.
In the liturgical calendar, today is the feast of St. Nicholas.
December 7
521 - Birth of St. Columcille, Irish bard and monk honored in all the Celtic lands
1487 - The Earl of Desmond is murdered at the instigation of his brother, John; another brother, Maurice, is his heir
1688 - Thirteen 'Apprentice Boys' refuse to let a Catholic army into Derry/Londonderry (7 December); Tyrconnell backs down and allows the city to keep its Protestant garrison. Enniskillen also defies James II
1754 - Francis Rawdon-Hastings, 1st Marquess of Hastings, soldier and colonial administrator, is born in Dublin
1768 - William Bulkely, an officer in the Irish Brigade of France, is born in Clonmel, Co. Tipperary
1879 - Birth in Tralee, Co. Kerry of Austin Stack, anti-Treaty nationalist
1888 - (Arthur) Joyce Cary, author, is born in Derry/Londonderry. Two of his novels were made into films: The Horse's Mouth (1958) starring Sir. Alec Guinness and Mister Johnson (1990)
1922 - The six counties of Northern Ireland opt out of the Free State
1972 - "Special position" of the Catholic Church is removed by referendum from Irish constitution


1998 - The IRA makes an historic decision to start decommissioning following an IRA Army Convention meeting in Donegal
2000 - Blackrock Castle in Cork City goes on the auction block with a starting bid of £850,000. There are no bidders.


2010- The Irish government passes its most austere budget in living memory with most workers facing substantial tax increases, while social welfare recipients will have their benefits cut
Photo Credit: Photographers 2 Central/Brian Lenihan - Irish Minister for Finance


Sources:
The Celtic League
This organization publishes the annual Celtic Calendar. To order your own copy, visit: The Celtic League.
Irish Abroad
Somewhat sporadic, but they often highlight an important date in Irish history. To visit, please click: Irish Abroad.
The Wild Geese
They update Irish history weekly. To visit their keydates page, please click: The Wild Geese.



We also refer to an assortment of references. Among them are the Books of Days - see right margin on this page.


Fri, Feb 2, 2018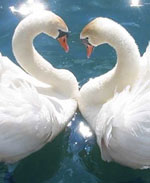 Irish God and Goddess of love
Oengus is the Irish God of love, beauty and youth. According to the old folklore, his kisses became birds. It is also said that he dreamed of a beautiful maiden, named Caer, for whom he searched all over Ireland. Eventually, he found her chained to 150 other maidens, destined to become swans at the time of Samhain. Legend has it that Oengus transformed himself into a swan and was united with his love.
Aine of Knockaine is the Irish Goddess of love. She is also known as the Fairy Queen of Munster and as a goddess of fertility beause she has control and command over crops and animals, especially cattle. Another name by which she is known is Aillen. To learn more about Irish mythology, please click Irish Myths & Legends.
Photo Credit: Wikipedia

Click for More Culture Corner.
"Cahill's lovely prose breathes life into a 1,600-year old history." The L.A. Times
This is our most popular book. We understand why; the truth is fascinating.
Click here for Saved Civilization.
---