Traditions, folklore, history and more. If it's Irish, it's here. Or will be!
"People will not look forward to posterity who never look backward to their ancestors."
-Edmund Burke
---
Quotes

Library: Books, Movies, Music

Prints & Photos

Poetry

Jokes

---
---
Shops Ireland
---
Bunús na Gaeilge
(Basic Irish)

---
---
Did You Know?
---
Himself/Herself
Write to Us
Readers Write..
Links/Link to Us
---
Advertise with us
---
Awards & Testimonials

Submissions Guide
---

Today
in
Irish
History - August
1st to 7th | 8th to 14th | 15th to 21st | 22nd to 31st

---
August 1st. Lughnasa
Today is Lúghnasa; in the old days this was the Feast of the god Lúgh, a thirty-day agrarian celebration with August 1 at the center. It is also the first day of Autumn in the Celtic Calendar
See our articles Celebrating the Harvest & Putting out the hare, putting on the harvest knots.
1166 - Dermot MacMurrough, King of Leinster and ally of Muirchertach Mac Lochlainn, is defeated in battle by Rory O'Connor and forced to flee from Ireland
1535 - John Travers, Chancellor of St Patrick's Cathedral, is executed for high treason at Oxmantown Green for conspiring with Lord Offaly
1649 - Jones defeats Ormond at Rathmines, ending royalist hopes of taking Dublin
1714 - Following the death of Queen Anne, George I accedes to the throne. The second Irish parliament of Anne's reign is thereby dissolved
1800 - The Act of Union dissolves the Irish parliament and transfers legislative powers to Westminster
1822 - Irish Constabulary Act sets up county police forces and salaried magistracy
1851 - The Ecclesiastical Titles Act forbids Catholic bishops to assume ecclesiastical titles taken from any place in the United Kingdom
1872 - Gladstone's first Land Act, decreeing that tenants who were evicted be compensated for improvements and that tenant who were evicted for any reason other than nonpayment of rent should also be compensated
1915 - Nationalist Jeremiah O'Donovan Rossa is buried in Glasnevin cemetery, Dublin
1931 - Seán Ó Riada, musician and composer, is born in Cork


1981 - After 71 days on hunger strike, Kevin Lynch dies at the Maze Prison in Belfast
2001 - One of Ireland's best loved actors, Joe Lynch, dies after being taken ill at his holiday home in Spain.
August 2
1800 - The last session of the Irish parliament ends
1820 - John Tyndall, physicist, and first to discover why the sky is blue, is born in Leighlin Bridge, Co. Carlow
1932 - Actor Peter O'Toole is born in Co. Galway


1981 - Death of Kieran Doherty, TD for Monaghan-Cavan, on the 73rd day of his hunger strike
1988 - The first Aer Lingus flight with an all-female crew departs Dublin for Shannon. The Shorts 360 commuter aircraft is piloted by Capt. Grainne Cronin and co-piloted by Elaine Egan
1998 - Renegade republicans tighten the screw on Northern Ireland's fragile peace process with a fresh wave of incendiary attacks
1999 - Ireland's longest-serving rain observer, John Joe 'Goggles' Doyle retires; he has taken daily rainfall readings in his native Tulla since 1943 for Met Eireann and earned his nickname because of the goggles he wears when he takes his daily readings
2000 - Co. Kerry, the country's top tourism area, claims that business is down by about 20% because of the rail strike
2001 - Torrential rain causes flash floods in Cork, Dublin, Tipperary and other areas of the country
August 3
1823 - Thomas Francis Meagher, nationalist and transportee; journalist and lecturer; brigadier-general on Union side in US civil war, and Governor of Montana, is born in Waterford
1857 - George F. FitzGerald, physicist who postulated the FitzGerald-Lorenze contraction, is born in Dublin
1916 - Roger Casement, Irish patriot, is hanged by the English in Pentonville Prison, London. He was the last to be executed as a result of the Easter Rebellion
1998 - In a landmark deal, the Apprentice Boys of Londonderry and Catholic residents of the city's Bogside reach agreement on a contentious parade after a weekend of tense negotiations
1998 - Between 20,000 and 25,000 people throng Youghal over the four days of the Murphy's-sponsored International Busking Festival
1999 - Continental Airlines announces increased availability of what it says are the cheapest direct flights between Ireland and the US
2001 - Met Eireann reports that up to 22 millimetres of rain has fallen in the south. Insurance companies believe the cost of flash-flooding in Cork and Tipperary could hit £2 million
2001 - A potentially fatal bacterium forces St. James Hospital in Dublin to close its general intensive care unit to new admissions.
August 4
1654 - Birth in Midleton, Co. Cork of Thomas Brodrick, politician in Irish and British Houses of Commons who led the inquiry into the 'South Sea Bubble'
1805 - Birth in Dublin of Sir William Rowan Hamilton, mathematician and astronomer
1846 - The Great Southern & Western Railway line between Dublin and Carlow opens
1878 - Birth of Margaret Pearse, teacher, politician and sister of Padraic Pearse, in Dublin
1998 - Gerry Adams is under growing pressure to declare the republican war over after loyalists warn that the North's peace agreement is in real danger of collapsing
1999 - The Government abandons all plans to transform the Great Blasket Island into a State Park and the 1,132 acre island is to remain in private ownership
2000 - The stand-off in the seven-week old train strike intensifies as Transport and Public Enterprise Minister Mary O'Rourke refuses to intervene
2000 - Loyalists protest after Northern Ireland health minister Bairbre de Brun, a member of Sinn Féin, refuses to fly the Union flag outside her Belfast offices to mark the 100th birthday of Britain's Queen Mother
2000 - Residents of Belfast's Lower Ormeau Road vote overwhelmingly against allowing Orange parades through the flashpoint district
2002 - Less than two months after turning professional, rookie Graeme McDowell from Portrush, Co Antrim, wins the Scandinavian Masters.
August 5
1722 - Birth of William Fortescuem, politician and sportsman, who tried unsuccessfully in the 1760s to introduce a bill 'to preserve partridges and hares and to take away the lives of above half the dogs in the nation'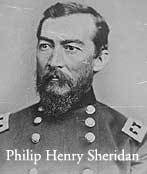 1888 - Philip Henry Sheridan, the son of Irish immigrants from Cavan, dies in Nonquit, Massachusetts. He became an officer in the Federal cavalry and is infamously credited with the phrase: "The only good Indian is a dead one"
1891 - The Land Purchase Act further facilitates tenants' purchase of acreage from former landlords and establishes a board to purchase and redistribute land at a local level in the west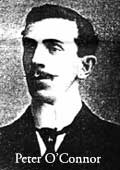 1901 - Peter O'Connor sets long jump record at 24' 11 3/4". He was born in Ashford, Co.Wicklow, but he lived and worked as a solicitor in Waterford City for most of his life. He won his first title in 1899 at the age of 25 years and his last in 1906 - but that was the Olympic title. He was the first IAAF ratified long jump world record holder and his remarkable world, and Irish, long jump record, set in Ballsbridge, Dublin on this date lasted for 20 years

1931 - Birth of Billy Bingham, Northern Ireland footballer and manager, in Belfast
1934 - Gay Byrne, broadcaster, is born in Dublin
1984 - U2 finish recording "The Unforgettable Fire"
1999 - A unique exhibition - "75 Years of Giving" - is officially opened in in Dublin by President Mary McAleese. It comprises a collection of treasures from museums and art galleries throughout the country and marks the 75th anniversary of the foundation of the Friends of the National Collections of Ireland (FNCI).
August 6
1312 - John de Wogan ceases to be justiciar; Edmund le Botiller will act as justiciar for the present
1761 - Richard Nugent, Lord Delvin, MP for Fore, and still a teenager, dies of wounds he received after fighting a duel with a Mr Reilly on July 30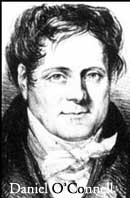 1775 - Daniel O'Connell, Irish patriot, is born in Cahirciveen, County Kerry
1853 - Sir William Ridgeway, classical scholar, is born in Ballydermot, Co. Offaly
1920 - The Dáil orders the boycotting of Belfast unionist firms
1927 - Poet Richard Murphy is born
1998 - Triple Olympic champion, Michelle de Bruin, is banned for four years by FINA, the swimming's world governing body, for tampering with a urine sample
1999 - Labour analysts at the Economic and Social Research Institute announce that the country is heading for full employment for the first time in history
2000 - In Waterford, a team of six men, five of them former international boxers, skip their way into the Guinness Book of Records by smashing the 24 hour relay skipping record
2000 - The first annual Witness Festival comes to a close at Fairyhouse in Co. Meath
2001 - The chairman of the International Commission on Decommissioning, General John de Chastelain, reveals that his members and an IRA representative have agreed on a method for decommissioning.
August 7
1798 - Examination by secret committee of MacNeven, O'Connor, Neilson, Thomas Emmet, and Bond begins in the House of Lords
1832 - The Parliamentary Reform Act increases Irish seats from 100 to 105 and introduces ten-pound franchise in the boroughs: the electorate is increased to 1.2% of the population (county electorate 60,000; borough electorate 30,000). 1 Irish urban dweller in 26 and one Irish rural dweller in 116 now has the vote, as compared to 1 in 17 and 1 in 24 in England
1892 - Birth of Tom Falcon Hazel, WWI Ace, in Clifden, Co. Galway
1916 - O'Neil of the Glen, the first production released by the Film Company of Ireland, premiers at Dublin's Bohemian Theatre
1937 - Rosemary Smith, rally driver, is born in Dublin
1943 - Sarah Purser, Irish painter, dies
1998 - Unemployment falls for the 16th month in a row to reach its lowest level in almost eight years
2001 - British Airways begin a training programme for the crew of the Concorde aircraft at Shannon Airport amid speculation the supersonic plane could be back in the air within the next number of weeks
2001 - Family and close friends gather in the Spanish resort of Alicante for the cremation of one of Ireland's best loved actors, Joe Lynch
2002 - The government announces that American Special Forces will not be allowed to use Irish airspace or airports during any attack on Iraq.

Sources:
The Celtic League
This organization publishes the annual Celtic Calendar. To order your own copy, visit: The Celtic League.
Irish Abroad
Somewhat sporadic, but they often highlight an important date in Irish history. To visit, please click: Irish Abroad.
The Wild geese
They update Irish history weekly. To visit their keydates page, please click: The Wild Geese.



We also refer to an assortment of references. Among them are the Books of Days - see right margin on this page.


Fri, Feb 2, 2018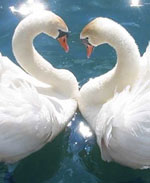 Irish God and Goddess of love
Oengus is the Irish God of love, beauty and youth. According to the old folklore, his kisses became birds. It is also said that he dreamed of a beautiful maiden, named Caer, for whom he searched all over Ireland. Eventually, he found her chained to 150 other maidens, destined to become swans at the time of Samhain. Legend has it that Oengus transformed himself into a swan and was united with his love.
Aine of Knockaine is the Irish Goddess of love. She is also known as the Fairy Queen of Munster and as a goddess of fertility beause she has control and command over crops and animals, especially cattle. Another name by which she is known is Aillen. To learn more about Irish mythology, please click Irish Myths & Legends.
Photo Credit: Wikipedia

Click for More Culture Corner.
"Cahill's lovely prose breathes life into a 1,600-year old history." The L.A. Times
This is our most popular book. We understand why; the truth is fascinating.
Click here for Saved Civilization.
---