Traditions, folklore, history and more. If it's Irish, it's here. Or will be!
"People will not look forward to posterity who never look backward to their ancestors."
-Edmund Burke
---
Quotes

Library: Books, Movies, Music

Prints & Photos

Poetry

Jokes

---
---
Shops Ireland
---
Bunús na Gaeilge
(Basic Irish)

---
---
Did You Know?
---
Himself/Herself
Write to Us
Readers Write..
Links/Link to Us
---
Advertise with us
---
Awards & Testimonials

Submissions Guide
---

Today
in
Irish
History - September
1st to 7th | 8th to 14th | 15th to 21st | 22nd to 30th

---
September 8
1783 - A second convention of Dungannon - a gathering of Volunteers from Ulster- is held and prepares the way for a National Volunteer convention on parliamentary reform
1798 - Battle of Ballinamuck - last major battle of "The Year of the French"; after a short fight, Humbert surrenders
1812 - John Martin, revolutionary, transportee and politician, is born near Newry, Co. Down
1830 - Thomas Nicholas Burke, Dominican friar, preacher and lecturer, is born in Galway
1852 - A conference of the Tenant League in Dublin adopts a policy of independent opposition in Parliament
1908 - Poet, educator and eventual Easter Rising rebel Patrick Pearse opens St. Edna's school for boys (Scoil Eanna), combining new European theories of education with a focus on the glory of the Gaelic past
1931 - Birth of Desmond Guinness, author and conservationist
1933 - Founding of Fine Gael Party
1980 - U2 plays the first of four consecutive Monday night performances at London's famous Marquee Club
1998 - A radical Government action plan aiming to cut thousands off the dole is launched
1999 - AB Airlines will cease operations on the Shannon to London Gatwick route at midnight
2000 - US President Bill Clinton announces he will visit Ireland in December
2000 - Clonakilty, Co. Cork claims the Best Village title in the prestigious European Entente Florale competition; in the town category, Letterkenny, Co. Donegal, wins a bronze medal in the highly competitive environmental contest
2002 - The Kilkenny Cats beat the Co. Clare Banners and collect their 27th All-Ireland hurling title in front of 76,254 fans at Croke Park
In the liturgical calendar, today is the feast day of St. Disbode, a 7th century Irish missionary. According to German legend, the Irish saint founded the German wine industry when wine started pouring from his pilgrim's staff.
September 9
872 - Earliest verifiable date of a Viking invasion of Ireland in Dunrally
1831 - 30,000 punds is allocated to establish "national" system of elementary education in Ireland
1845 - The arrival of the potato blight in Ireland is reported in the Dublin Evening Post
1852 - The last day of the Tenant League Conference in Dublin
1893 - House of Lords rejects Second Home Rule Bill
1922 - The newly elected Daíl Éireann meets to frame its constitution and elects William T. Cosgrave President of the Executive Committee
1963 - Cardinal William Conway becomes Primate of All Ireland
1978 - U2 support The Stranglers at the Top Hat Ballroom in Dublin before a crowd of 2,500 people, their biggest to date. The band is paid 50 pounds
2001 - Protestant residents of Ardoyne defy church leaders and politicians by continuing their protest outside north Belfast's Holy Cross primary school
2001 - Family, friends and fans pay tribute to actor Joe Lynch during a special commemorative mass at the Catholic Pro-Cathedral in Dublin
2001 - Three suspected IRA members - Niall Connolly, Martin McCauley and James Monaghan - are transferred from La Modelo federal prison to a high security jail in Bogota over fears for their safety
2002 - Bob Geldof delivers a moving speech at the launch of the world's first genocide centre in Nottinghamshire
2002 - Castletown, Co. Laois, is declared Ireland's Tidiest Town
In the liturgical calendar, this is the feast day of St. Kieran, founder of the great monastery at Clonmacnois. He dies on this date in 545.
September 10
1315 - Battle of Connor. Major victory for Edward Bruce in his invasion of Ulster
1602 - "Red" Hugh O'Donnell dies in Simancas, Spain; evidence suggests he was poisoned by an English spy
1641 - Oliver Cromwell seizes Drogheda
1763 - The Freeman's Journal is founded in Dublin by Charles Lucas
1831 - Jeremiah O'Donovan Rossa, Fenian, is born in Rosscarbery, Co. Cork
1850 - In Thurles, it is the final day of the first canonical synod of the Irish church, summoned by Paul Cullen
1916 - While serving in the Dublin Fusiliers during World War I, Irish poet Tom Kettle dies in attack on Ginchy
1919 - Dáil Éirean outlawed by the English as a "dangerous association."
1923 - The Irish Free State is admitted into the League of Nations
1985 - The first heart transplant takes place in Ireland
1987 - The third leg of the U2 Joshua Tree tour opens in New York's Nassau Coliseum
1998 - Students queue for food at an emergency soup kitchen and advice centre, set up in a bid to ease the impact of the stress and strain caused by one of the greatest accommodation shortages ever experienced in Dublin
1998 - Gerry Adams and David Trimble finally come face-to-face in an historic move aimed to bring to an end decades of mistrust between the two sides
2001 - Westport, Co. Mayo wins the Tidy Towns competition.
September 11
1649 - Massacre at Drogheda. Cromwell captures the town and slaughters the garrison
1766 - John Bligh, former MP for Athboy, who suffers from the delusion that he is a teapot, marries suddenly and unexpectedly at nearly 50 years of age. Between now and his death in 1781 he will father at least seven children, 'in spite of his initial alarm that his spout would come off in the night'
1919 - Dáil Eireann is suppressed as a 'dangerous association' by the British government and membership is deemed to be a crime
1922 - Proportional representation for local elections is abolished in Northern Ireland
1998 - British troops are withdrawn from the streets of Belfast in response to the ongoing republican and loyalist cease-fires
1998 - The Northern Ireland Office announces that more than 200 loyalist and republican prisoners will be freed from the Maze Prison before the end of the year
2000 - Gina Adair, the wife of jailed loyalist paramilitary boss Johnny Adair is thrown out of the public gallery after disrupting proceedings at the Northern Ireland Assembly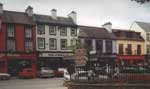 2000 - Picturesque Kenmare completes a unique double by becoming the first town in the country to take the prize as both Ireland's Tidiest Town and Ireland's Best Kept Town
2001 - President Mary McAleese goes on RTÉ Radio to express her shock and horror at the terrorist attacks in the US. In the wake of the attacks, the government immediately begins reviewing security arrangements
2002 - In a gesture of support and solidarity, schools, shops and businesses come to a symbolic halt at 1.46pm - the precise moment, Irish time, that the first terrorist hijacked plane hit the North Tower of the World Trade Center in NYC one year ago.


2008 - The Irish government-owned training yacht Asgard sinks in the Bay of Biscay, off the coast of France. All crew and trainees are rescued by the French coastguard after managing to get onto life rafts. They are taken to a hotel on the nearby island of Belle Isle where they are recovering from their ordeal. Trainees pay up to 430 euros to spend a week on board the vessel, which has taken part in Tall Ships events.
September 12
1653 - Ireland and Scotland are represented by six and five members respectively in the 'Barebones' parliament which is in effect from 4 July to this date
1798 - Rebels attack Castlebar and are repulsed
1907 - Louis McNeice, poet and classical scholar is born in Belfast
1919 - Dáil Éireann is declared illegal
1951 - Birth of Taoiseach Bertie Ahern
1957 - Birth of Mal Donaghy, former NI and Manchester United player
1983 - The first episode of RTɒs Glenroe is broadcast
1999 - It is announced that every household in Ireland is to receive a millennium candle to light when the sun sets on New Year's Eve
2001 - Irish aid agencies pull out of Afghanistan amid growing fears of a possible US retaliation on the Taliban regime and Osama bin Laden
2001 - Families in Limerick take in American tourists grounded since 9/11 at Shannon Airport after all flights in and out of the US are cancelled.
In the liturgical calendar, it is the feast day of St. Ailbe, Bishop of Emly, Tipperary.
September 13
1494 - Edward Poynings, best known for his introduction of "Poynings Law," which prevented the Irish Parliament from meeting without royal permission and approval of its agenda, is appointed Lord Deputy of Ireland
1803 - Death of John Barry, a native of Ballystampson, Co. Wexford, Commodore in the US Navy and renowned as the Father of the American Navy
1903 - Padraic Pearse arrives in Ros Muc, County Galway and takes up residence at his cottage in Inbhear
1912 - In a speech at Dundee, Winston Churchill announces his support of a policy of devolution for Ireland, Scotland and Wales
1999 - Former US Senator George Mitchell returns to Northern Ireland as he embarks on the second week of his review of the Good Friday Agreement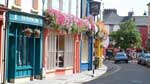 1999 - Clonakilty, Co. Cork wins the Tidy Town competition.
Photo Credit: Dave Parker
September 14
1607 - Hugh O'Neill, Ruari O'Donnell and other chiefs of their families depart Lough Swilly for the continent in what has become known as the 'Flight of the Earls"
1647 - Lord Inchiquin, a royalist turned Parliamentarian, sacks the Irish Catholic Confederate garrison at the Rock of Cashel
1752 - The Gregorian calendar is adopted in Ireland and Britain, 170 years after mainland Europe: 2 September is followed by 14 September. There are protests and riots by people who are convinced that they have lost 12 days out of their lives
1824 - Sir Frederick Falkiner, impoverished former MP for Athy, Co. Dublin and Co. Carlow commits suicide in Naples
1852 - Death of Arthur Wellesley, alias the Duke of Wellington. The Dublin born soldier served as MP for Meath before eventually becoming Prime Minister of Britain
1886 - Birth of author Alice Milligan
1907 - Edel Quinn, promoter of Legion of Mary in Africa, is born near Kanturk, Co. Cork
1955 - Dr. Kathleen Lynn, Irish Citizen Army officer, dies
1971 - Ian Paisley founds the Democratic Unionist Party
1982 - Grace Kelly, Princess of Monaco, dies in a car crash
1994 - At a London auction, Bono pays $53,400 for Charlie Chaplin's costume from The Great Dictator
1998 - Sinn Fein is warned by First Minister, David Trimble, that it could not take up seats in the new Northern Ireland Assembly's ruling executive until the IRA's vast armoury of weapons are decommissioned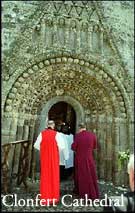 1999 - Clonfert Cathedral which ranks in importance with the Great Pyramids and dates back to the 12th century, joins the millennium list of the 100 Most Endangered Monuments. The list is compiled by The New York Times and in the past has included such famous landmarks as the Inca city of Machu Picchu in Peru and the Aztec site of Teotihuacan in Mexico City
Photo Credit: Kevin Clancy
1999 - UFF "godfather" Johnny Mad Dog Adair is released from the Maze Prison
1999 - The Pro-Agreement parties resume talks with former US Senator George Mitchell during the second week of his review of the Good Friday Agreement
1999 - Taoiseach, Bertie Ahern begins his official visit to Russia
2000 - Roy Keane, Pauline McLynn and Samantha Mumba are among the stars who are honoured at the Millennium Irish Post Awards held at the Millennium Brittania Hotel in Grosvenor Square
2001 - Following the 9/11 attack on the World Trade Center, as many as 15,000 Irish people are stranded in the US and Canada awaiting flights to Ireland
2001 - The Irish government declares a national day of mourning; schools, businesses and shops are shut down in an unprecedented gesture of sympathy following Tuesday's attack on the World Trade Center.

Sources:
The Celtic League
This organization publishes the annual Celtic Calendar. To order your own copy, visit: The Celtic League.
Irish Abroad
Somewhat sporadic, but they often highlight an important date in Irish history. To visit, please click: Irish Abroad.
The Wild geese
They update Irish history weekly. To visit their keydates page, please click: The Wild Geese.



We also refer to an assortment of references. Among them are the Books of Days - see right margin on this page.


Wed, Jan 3, 2018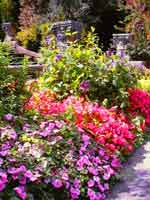 Ilnacullen, Co. Cork - an Island Garden
Located in the sheltered harbour of Glengarriff in Bantry Bay. Ilnacullin, which means island of holly, is a small island known to horticulturists and lovers of trees and shrubs all around the world as an island garden of rare beauty.
The vivid colours of Rhododendrons and Azaleas reach their peak during May and June, whilst the hundreds of cultivars of climbing plants, herbaceous perennials and choice shrubs dominate the midsummer period from June to August.
Because of its sheltered situation and the warming oceanic influence of the Gulf Stream, the climate is favourable to the growth of ornamental plants from many parts of the world.
Even for those who aren't particularly interested in gardens, there are many other scenic views, especially in the surrounding waters where seals frequent the rocks on the southern shore.
The cover photo on Bridget's book The Traditional Irish Wedding shows a wrought iron garden gate on Ilnaculen. I took that photo. To see it, go to the home page. It's part of the opening paragraph Failte.
—Russ
Resource: Copy and Image - Cork Guide

Click for More Culture Corner.
"Cahill's lovely prose breathes life into a 1,600-year old history." The L.A. Times
This is our most popular book. We understand why; the truth is fascinating.
Click here for Saved Civilization.
---