Traditions, folklore, history and more. If it's Irish, it's here. Or will be!
"People will not look forward to posterity who never look backward to their ancestors."
-Edmund Burke
---
Quotes

Library: Books, Movies, Music

Prints & Photos

Poetry

Jokes

---
---
Shops Ireland
---
Bunús na Gaeilge
(Basic Irish)

---
---
Did You Know?
---
Himself/Herself
Write to Us
Readers Write..
Links/Link to Us
---
Advertise with us
---
Awards & Testimonials

Submissions Guide
---

Today
in
Irish
History - April
1st to 7th | 8th to 14th | 15th to 21st | 22nd to 30th

---
April 1
1329 - From April onwards there are risings by the native Irish in various parts of Munster and Leinster, and reprisals against them. This will continue into 1330
1716 - The first Doggett Coat and Badge sculling race takes place on the Thames; one of the oldest sporting fixtures in the British sporting calendar, it is founded by Thomas Doggett, an Irish actor and theatre manager
1730 - Samuel Boyse, MP for Bannow, dies as a result of a duel at the age of 33
1776 - Irish-born Edward Hand is appointed a Brigadier General in the Continental Army
1839 - St. Clair Mulholland, Union Civil War General and Medal of Honor winner, is born in Lisburn, Co. Antrim
1848 - Augustus Saint-Gaudens, sculptor, is born in Dublin
1911 - The Titanic is launched in Belfast
1919 - DeValera is elected president of the first Dáil Éireann
1935 - Death of Francis Arthur Fahy from Kinvara, Co Galway, who wrote the ballad Galway Bay
1966 - Death of writer Brian O'Nolan, also known as Flann O'Brien and Myles na gCopaleen
1986 - US sub Nathaniel Green runs aground in the Irish Sea
1998 - The European Commission serves notice on the Government that Ireland faces prosecution in the European Court on charges of damaging the environment and failing to provide secure habitats for some of our most endangered bird species
1999 - One thousand people, the entire population of Belmullet in Co. Mayo, are evacuated from the town following a fire in a rubber factory
2000 - John Dennehy, Secretary General of the Department of Education and Science, makes academic history by being elected Chairman of the Education Committee of the Organisation for Economic Cooperation and Development (OECD) for a three year period. He is the first Irish person to be appointed to this position
2001 - One of Irish television's most familiar faces, Brendan O'Reilly, passes away. The 71 year old former television and radio broadcaster and commentator had been ill for a number of months
2001 - The Department of Agriculture orders the slaughter of all the remaining 15,000 or so sheep in the Cooley Peninsula, Co. Louth
2002 - Loyalist thugs posing as Glasgow Celtic supporters are hunted by police after a series of attacks in flashpoint north Belfast.
2003 - Veteran actress Pat Leahy, 66, collapses on the set of Fair City
April 2
1871 - A census on this date shows the population of Ireland to be 5,412,377; only 285 Jews are recorded in the census
1902 - Premiere of Yeats' Cathleen ni Houlihan starring Maud Gonne
1914 - Cumann na mBan, Irish women's Republican movement, is founded
1970 - Several days of rioting following Easter rising commemorations end on this date
1972 - Radio na Gaeltachta goes on the air for the first time and is launched by Eamon De Valera
1973 - Special Powers Act replaced by Northern Ireland (Emergency Provisions) Act
1998 - Dissident republicans, aligned to the 32 County Sovereignty Committee and a Louth-based former IRA Quartermaster are said to be behind a massive explosives find in Dun Laoghaire
1998 - Mentally exhausted and following the advice of his doctor, Christy Moore announces in an open letter to fans that he is taking a year off from live performances
1999 - More than 170 staff at the biggest Dunnes Stores branch in the west of Ireland are suspended in a row over a worker facing dismissal because she sampled food at the delicatessen counter
2000 - Westlife make pop history with five consecutive British number one chart hits
2002 - Linda and Declan Fleming win the second largest individual jackpot in Lotto history - £5.26 million
2003 - Protestors against the war in Iraq clash with gardaí outside the Dáil.
2003 - Pat Leahy, star of Fair City for eleven years, dies of kidney failure
April 3
1793 - Dionysius Lardner, scientific writer and lecturer, is born in Dublin
1798 - Writer John Banim, who was praised by Yeats as a writer who tried to "make one see life plainly," is born in Kilkenny
1807 - Maurice FitzGerald, MP for Co. Kerry, resigns as Commissioner of the Treasury (UK) over the issue of Catholic relief
1825 - Thomas D'Arcy McGee, Young Irelander, journalist and promoter of Canadian Federation, is born
1843 - Birth of James McCudden, WWI ace
1846 - Death of Michael Moran, aka Zozimus, balladeer and storyteller
1900 - Queen Victoria arrives at Kingstown for a three-day visit to Ireland
1946 - Birth of Ruari Quinn, former Labour leader
1951 - Birth of Michael Morris, jockey, winner of the 1977 Irish Grand National, trainer, and son of Lord Killanin
1998 - Taoiseach Bertie Ahern and British Prime Minister Tony Blair announce that with ''realistic negotiation'', agreement in the Northern Ireland peace process could be reached by Thursday's deadline
1998 - Witnesses for the new inquiry into Bloody Sunday launched on this date in Derry, will not be offered blanket immunity from prosecution, according to the presiding chairman of the tribunal
2000 - Thousands of gallons of diesel oil are pumped off a storm-stricken Dutch barge which ran aground on a sandbank in Bray Harbour, Co. Wicklow
2000 - At the Special Criminal Court, John Gilligan denies having any involvement in the murder of journalist Veronica Guerin
2001 - The Government agrees to a £2 million package to bail out the financially troubled Jeanie Johnston famine ship project
2001 - The United Nations High Commissioner for Human Rights Mary Robinson changes her mind about stepping down from the post on foot of a pledge that funding and staffing problems in her office will be addressed
2001 - It is announced that towns and villages within the current foot-and-mouth exclusion zone in Co. Louth have been barred from this year's national tidy towns' competition
2001 - Farm leaders from North and South meet in Dublin to pursue an agreed objective — the highest animal health status for all of Ireland.
April 4
1774 - Death of Oliver Goldsmith
1818 - Mayne Reid, pseudonym of Thomas Mayne; soldier, journalist, and writer of boys' stories, is born in Ballyroney, Co. Down
1933 - Paddy Hopkirk, international rally driver, is born in Belfast
1934 - Birth of novelist and journalist Mary Kenny
1951 - The Catholic hierarchy condemns the "Mother and Child" plan for free medical services, fearing the consequences of health education for women. Dr Noel Browne, Minister for Health, resigns; the scheme is abandoned on 6 April
1951 - Birth of singer and actress Adele King, better known as Twink
1952 - Gary Moore, rock guitarist, is born
1966 - Pirate Radio Scotland changes name to Radio Ireland
1994 - Riverdance appears in public for the very first time at the Eurovision Song Contest in Dublin
1999 - Sinn Féin warns that the peace process stands in crisis over provocative demands for arms decommissioning
1999 - The annual World Irish Dancing Championships come to an end in Ennis
2001 - Former employees and staff join three generations of the Barry family in a celebration of 100 years in business for a firm which has become an Irish institution
2001 - Dublin-born Butch Moore, the first singer to represent Ireland in the Eurovision Song Contest, dies after a very short illness
2001 - The Supreme Court strongly criticizes the State's failure to provide official Irish translations of laws and important legal materials.

2007 - History is made as Taoiseach Bertie Ahern and DUP leader Ian Paisley shake hands for the first time in public prior to their milestone meeting at Farmleigh House in Dublin.
April 5
1806 - William Dool Killen, ecclesiastical historian, is born in Ballymena, Co. Antrim
1818 - Bernardo O'Higgins defeats the Spanish at the battle of Maipo River, Chile
1855 - The Dublin-Belfast railway line is completed
1869 - Birth in Dublin of Margaret Tennant, née Abraham; trade unionist and campaigner for improved working conditions
1900 - Spencer Tracy, the son of an Irish father, is born in Milwaukee, Wisconsin
1916 - Patrick Pearse denies rumors of a possible rising to Irish Volunteer Chief of Staff Eoin MacNeill
1938 - Bill Attley, trade unionist, is born in Rathcoole, Co. Dublin


1961 - Death of Oscar-winning Irish actor of stage and screen Barry Fitzgerald. Born in Dublin in 1888, he pursues an acting career at the Abbey Theatre and then heads for Hollywood where he becomes Paramount's resident Irishman in such films as "Going My Way" for which he won a Best Supporting Actor Oscar. His finest works are under director John Ford, including "How Green Was My Valley" and "The Quiet Man."
1962 - Guinness formally adopts the harp as its symbol


1975 - L'escargot, ridden by Tommy Carberry, wins the Aintree Grand National
Art Print by G. Isom from All-Posters
1998 - All sides in the Northern peace talks talk up the chances of a new peace agreement as Stormont sources reveal that both Bertie Ahern and Tony Blair will fly to Belfast for the final hours of talks on Thursday
1998 - Cannabis worth £2 million is seized during a dramatic early morning raid by members of the National Drugs Unit (NDU) in Ashbourne, Co Meath
1999 - More than 300 Co. Waterford people armed with gloves and plastic bags brave a driving mist and head for the hills for the annual Clean up the Comeraghs campaign
1999 - The first major event of the Loyalist marching season a controversial Apprentice Boys parade along the predominantly Nationalist Ormeau Road in Belfast - passes off peacefully


2000 - Debbie Walsh and Jennifer McCarthy are shown at the opening of 'the father of the modern day submarine' exhibition in Cobh heritage centre. This year is the 100th anniversary of the commissioning of the first US submarine invented by John Phillip Holland from Liscannor, Co. Clare
Photo Credit: Michael MacSweeney/Provision
2000 - Marine Minister, Frank Fahey, announces new moves to protect Irish fishing vessels from harassment outside the 12 mile limit
2001 - Gardaí attempt to trace the origin of a herd of Friesian cattle found roaming without ear tags on a roadside at Rosadrehid in the Glen of Aherlow, Co. Tipperary
2002 - Forty-four young police graduates march their way into the North's history books as they become the first fully-fledged members of the new Police Service of Northern Ireland (PSNI)
2003 - Attended by the entire cast of Fair City, the popular RTÉ television soap in which she starred for 11 years, the funeral of veteran actress Pat Leavy takes place at the Church of the Holy Spirit in Ballyroan, south Dublin.


2011 - Filmmaker and lecturer Barry Dignam and and his partner of 17 years, Hugh Hugh Walsh become the first gay couple in Irish history to enter into a civil partnership. The event takes place at the Registry Office in Dublin city centre.
Photo Credit: A Images/Niall Carson
April 6
1830 - James Augustine Healy, the first black Roman Catholic bishop in America, was born to an Irish planter and a slave on a plantation near Macon, Georgia
1889 - Actor Barry Macollum is born
1926 - Birth in Armagh of Ian Paisley, clergyman and Unionist politician
1947 - Death of Henry Ford, automobile production pioneer and son of Irish immigrants
1954 - The Flags & Emblems Act legislates against interference with the Union Jack, effectively prohibiting display of the tricolor in Northern Ireland
1956 - Kerry GAA footballer Seanie Walsh is born
1964 - Birth of Nick Popplewell, former rugby international
1965 - Former international footballer Norman Whiteside is born
1982 - James Prior launches 'rolling devolution' for Northern Ireland
1998 - Hopes of an historic peace deal are put at "less than 50%" as the multi-party talks deadline looms
1998 - Telecom Eireann launches a commemorative 50 unit Call Card to mark the 25th anniversary of the University of Limerick
2000 - Gregory Peck receives an honorary Doctor of Literature from the National University of Ireland in recognition of his contribution to the art of film
2000 - British soldiers and police search the perimeter fence of Ebrington Army Base in Derry after a bomb explodes inside the base
2001 - The Government pledges to give the GAA £60 million over the next three years in return for their commitment to staging matches — including All Ireland semi finals — in the new National Stadium. This deal effectively undermines the argument to open up Croke Park for rugby and soccer matches
2001 -The Parades Commission agrees to allow an Apprentice Boys' march along Belfast's flashpoint Ormeau Road on Easter Monday
2002 - Galway man Richard Donovan becomes the first person in history to run a marathon at both the North and South Pole.
April 7
1720 - The Declatory Act defines the right of the British Parliament to legislate for Ireland and denies the appellate jurisdiction of the Irish House of Lords
1801 - The trial of United Irishman, Napper Tandy, begins
1861 - A census shows the population to be 5,798,967. Only 393 Jews are recorded
1922 - Special Powers Act is introduced in Northern Ireland
1926 - Mussolini's Irish wife breaks his nose
1927 - The world's first ever paid television broadcast takes place. An Irishman, Mr. A. Dolan was employed by the American Telephone and Telegraph company to provide a "short act of monologue and song". Interestingly, the first professional artist to be seen on television in Britain, a year later, was Irish singer Peg O'Neil


1941 - A Luftwaffe bomb kills 13 people in Belfast. Ultimately, the city is devastated by air raids; 700 people are killed and 400 seriously injured in what becomes known as Belfast's Blitz. The British government appeals to De Valera for help and he authorizes fire brigades from Dublin, Dundalk, Drogheda and Dun Laoghaire to give assistance
1973 - Death of Archbishop of Dublin John Charles McQuaid


2000 - Four environmental protesters, including Diana Peuker shown here, who had been jailed for their part in the Glen of the Downs protest in Co. Wicklow, are freed in the High Court
Photo Credit: Colin Keegan
2001 - The longest running legal action in the history of the State ends when the Superwood Group of companies, which claimed £90 million compensation from three insurance companies, are awarded a total of £300,000
2003 - A member of the British army's 1st Battalion of the Irish Guards, Lance Corporal Ian Malone from Ballyfermot, Dublin, is killed in the battle for Basra in southern Iraq.

Sources:
The Celtic League
This organization publishes the annual Celtic Calendar. To order your own copy, visit: The Celtic League.
Irish Abroad
Somewhat sporadic, but they often highlight an important date in Irish history. To visit, please click: Irish Abroad.
The Wild geese
They update Irish history weekly. To visit their keydates page, please click: The Wild Geese.



We also refer to an assortment of references. Among them are the Books of Days - see right margin on this page.


Fri, Feb 2, 2018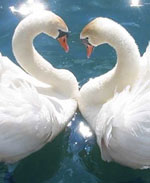 Irish God and Goddess of love
Oengus is the Irish God of love, beauty and youth. According to the old folklore, his kisses became birds. It is also said that he dreamed of a beautiful maiden, named Caer, for whom he searched all over Ireland. Eventually, he found her chained to 150 other maidens, destined to become swans at the time of Samhain. Legend has it that Oengus transformed himself into a swan and was united with his love.
Aine of Knockaine is the Irish Goddess of love. She is also known as the Fairy Queen of Munster and as a goddess of fertility beause she has control and command over crops and animals, especially cattle. Another name by which she is known is Aillen. To learn more about Irish mythology, please click Irish Myths & Legends.
Photo Credit: Wikipedia

Click for More Culture Corner.
"Cahill's lovely prose breathes life into a 1,600-year old history." The L.A. Times
This is our most popular book. We understand why; the truth is fascinating.
Click here for Saved Civilization.
---