---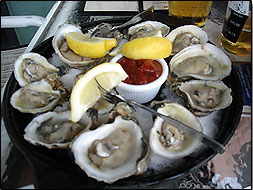 Irish Oyster Recipes

Contributed by Hartson Dowd

In honour of the annual Oyster Festivals in Galway, our Irish Kitchen offers tempting recipes contributed by our resident recipe collector, Hartson Dowd. We like our oysters raw on the half-shell with a dash of lemon and hot sauce - but we are equally as fond of these tender mollusks fried, sautéed, or simmered in stews.
Photo Credit:
Old Recipe Book
An Oyster "Souvenir" from Sketrick Island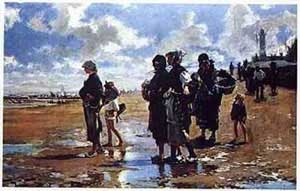 Ingredients:
Oysters and Breading
20 medium oysters
1 cup bread crumbs
1 tablespoon mint, fresh, chopped
1 tablespoon thyme, fresh, chopped
1 tablespoon marjoram, fresh, chopped
1 tablespoon oregano, fresh, chopped
1 tablespoon shallots, fresh, chopped
1 tablespoon parsley, fresh, chopped
2 tablespoons flour
3 large eggs
1 tablespoon butter
1 tablespoon olive oil
Method:
Shuck the oysters and remove from their shells. Drain in a strainer set over a bowl.
Mix the breadcrumbs together with the spices, and salt and pepper (to taste). Place this mixture in a shallow dish.
Whip the eggs and place in another shallow dish.
Heat the butter and olive oil in a pan, on medium heat. Olive oil and butter tend to burn easily, so be careful not to have the heat too high.
Dip the oysters one by one in the flour. Dip into the beaten eggs. Dredge each oyster in the breadcrumb mixture and place in the pan of heated oil and butter.
Cook the oysters over medium heat until crisp and golden brown on one side. Turn and cook on other side.
Meanwhile, toss some salad greens in a little dressing, Put a fistful of salad on each plate with four or five crisp sizzling oysters on top. Sprinkle with some snipped parsley and serve immediately.
Lemon Oil Dressing is a nice addition to the Salad Greens:
1 large shallot, minced
1 tablespoon orange juice>br> 1 tablespoon lemon juice
Salt and freshly ground pepper
2 tablespoons wine or champagne vinegar
3/4 cup extra virgin olive oil
Grated zest of 1/2 lemon
Grated zest of 1/2 orange
Put the minced shallot into a bowl and add the orange and lemon juices. Season well. Whisk together all the remaining ingredients for the dressing and add to the shallots. Serves: 4
Hangtown Fry

Ingredients:
8 Oysters
4 slices bacon cut in 1-inch pieces
2 oz. flour, + 1 oz. cup of bread crumbs-combined
Beat 8 eggs
1/3 teaspoon salt
Dash of pepper
Method:
Fry bacon until crisp. Remove from pan. Drain Oysters and roll in flour crumb mixture. Fry in bacon fat over moderate heat; cook two minutes each side. Place bacon pieces over oysters and cover with beaten egg mixture. Lift Oysters to let egg mixture flow to bottom of the pan. Cover pan and fry over low heat until eggs are cooked.
Serve hot, with parsley and lemon wedge.
Serves 3 to 4.
Potato Crusted Oysters
(Crisp and crunchy - these oysters are a delight)

Ingredients:
6 large oysters
1 egg
1 Tablespoon water
1/2 cup all-purpose flour
1/2 cup instant mashed potato flakes
4 Tablespoon butter
Carefully shuck the oysters, remove the meat, and discard the upper shells. Reserve the lower shells with their cup-shaped indentations. Pat the oysters dry on paper towels.
Beat together the egg and the water. Dredge the oysters first in the flour, then in the egg mixture, and finally in the potato flakes. In a nonstick saute pan, heat the butter until it is sizzling. Quickly add the oysters and brown them first on one side, then the other. Remove them from the pan, and place them on a paper towel for a moment. Transfer the oysters to their shells and serve immediately.
Steaming Oyster Stew

Ingredients:


8 fluid oz. milk
1 pint light cream
8 oysters
2 tablespoons butter
Dash cayenne pepper
Salt and pepper to taste
Method:
Heat milk and cream together until film shimmers over surface. Do Not Boil.
Drain Oysters. Add Oysters (sliced if you prefer), and butter to hot milk and cream mixture. Heat, but do not boil, for five minutes more.
Add seasonings and serve at once.
Serves 5 to 7.
Pan-fried Oysters in Corn Flour

Ingredients:
6 Oysters
4 oz. corn flour
2 eggs, beaten with 1 teaspoon water
2 tablespoons vegetable oil or cooking oil
Method:
Drain Oysters.
Dip prepared Oysters in egg, then in corn flour, coating thoroughly.
Set aside to dry.
Heat oil or fat in frying pan to 370 degrees Fahrenheit (or until quite hot).
Fry Oysters until golden brown on one side, then turn carefully to brown the other side (about 4 minutes on each side).
Serve immediately. Serves 3 to 5.
Mixed Oyster Grill - for the Barbecue

Ingredients:
10 - 12 Oysters
2 fluid oz. red wine vinegar
2 tablespoons minced shallots
1/2 teaspoon coarsely ground black pepper
1-1/2 teaspoons lemon juice
1/2 teaspoon fresh thyme (optional)
16 oz. mixed vegetable (sweet peppers, onions & zucchini)
Salt and ground pepper to taste
Method:
Heat grill.
Rinse Oysters very well; drain and pat dry.
In a shallow baking dish combine next five ingredients.
Marinate Oysters in vinegar mixture for 10 minutes.
Skewer vegetables for grilling (skewer like vegetables together for even cooking).
Brush vegetables with oil; season with salt and pepper and grill until tender.
When vegetables are almost done, skewer Oysters lengthwise for grilling.
Cook Oysters on grill for 4 minutes. Turn Oysters and cook 4 minutes more, or until oysters are firm when touched. Serve immediately on a bed of grilled vegetables. Makes 4 servings.
Sauteed Oyster and Spinach Salad

Ingredients:


10 - 12 Oysters
4 slices bacon
2 tablespoons red wine vinegar
3 teaspoons Dijon mustard
5 tablespoons olive oil
1 tablespoon bacon drippings
8 0z. cleaned and torn spinach leaves, loosely packed
small onion, chopped finely
Ground pepper to taste
8 slices French bread, rubbed with garlic and toasted
Method:
Rinse oysters very well; drain and pat dry.
Cut bacon into 1-inch dice; saut? until crisp. Drain bacon on paper towel.Pour off bacon drippings and reserve; remove pan from heat.
Whisk together vinegar, mustard, oil and 2 teaspoons bacon drippings for dressing; set aside.
Return pan to heat; add 1 teaspoon bacon drippings and Oysters.
Saute 8 minutes, or until Oysters are golden brown and firm to the touch.
Place Oysters on a bed of spinach and green onions.
Serve dressed with vinaigrette, saut?ed bacon, ground black pepper and garlic toast. Makes 4 servings.
Oyster Linguine with Carrots and Zucchini

Ingredients:
10 - 12 Oysters
8 ounces of dry, uncooked linguine
2 tablespoons olive oil
6 garlic cloves, peeled and smashed
2 oz. julienne carrots
2 oz. julienne zucchini
medium glass dry white wine
4 teaspoons fresh chopped parsley
1 teaspoon grated orange peel
Salt and ground pepper to taste
Method:
Rinse Oysters very well; drain and pat dry.
Bring water to a boil for pasta; cook according to package directions.
In a large skillet, heat oil; saute garlic until lightly browned.
Add Oysters, carrots and zucchini; saut? 8 minutes or until Oysters are golden brown and firm to the touch.
Add wine and remaining ingredients; simmer two minutes. Serve immediately over cooked pasta. Makes 4 servings.
Oyster Stuffing
(for a 12-pound bird)

Ingredients:


16 oz. bread crumbs
2 oz. melted butter
3 oz. finely diced celery
medium finely diced onion
1 egg well beaten
Salt and Pepper to taste
8 Oysters
Method:
Saute celery and onion lightly in butter. Cut each Oyster into 1/2 - inch pieces. Mix all ingredients thoroughly. Stull fowl, and roast.
Deviled Oysters

Ingredients:
12 well-cleaned oysters with deep shells
Cayenne pepper to taste
2 hard-boiled egg yolks
2 raw egg yolks
1 teaspoon fresh lemon juice
1 tablespoon melted butter
Salt to taste
2 tablespoons toasted bread crumbs
12 sprigs fresh thyme
Preheat oven to 350 degrees (f). Place one oyster in each shell and sprinkle with cayenne. In small bowl, mash hard-boiled yolks. Mix in raw yolks, lemon juice, butter, and salt. Spoon mixture over oysters, then cover with bread crumbs. Bake on cookie sheet for 5 minutes, or until bread crumbs are toasted. Garnish with thyme.
Oyster Casserole

Ingredients:
1 pt Stewing oysters
1/4 c Butter
Salt; to taste Pepper; to taste
Cracker crumbs
1 Egg; beaten
Method
Preheat oven to 350 degree (f) Butter casserole dish. Layer casserole with half the oysters, dot with butter. Season with salt & pepper; sprinkle with crumbs. Repeat; pour egg over all. Bake 30 minutes or until done. Makes 4 servings.
Oyster Loaves

Ingredients:
3 small loaves french bread
1/2 teaspoon garlic powder
2 tablespoons melted butter
3 dozen fresh oysters
2 tablespoons melted butter
Milk
Method:
First, almost split the loaves lengthwise, leaving a hinge. Scoop out the soft middle and save the crumbs. Then add a 1/2 tsp of garlic powder (not salt) to 2 tablespoons melted butter, and brush the cavities. Next, drain the oysters and save the liquid. Saute them in the rest of the butter till the edges curl (about 5 minutes). Put the oysters into the loaves, mix the crumbs you saved with the oyster liquid you saved, and add them, too. Shut up the loaves now. Then wrap them in cheesecloth dipped in milk, twisting the ends and tucking them under the loaf. Bake them on a baking sheet for half an hour at 350 degrees. Cut them in half before you serve them.
Fried Oysters Wrapped in Bacon

Ingredients:
1 dozen fresh, shucked oysters (in a small bowl)
2 eggs beaten
1/4 cup oyster liquor
1 bay leaf
1 cup bread crumbs
1 teaspoon Worcestershire sauce
2 cups oil (for frying)
4 slices bacon (1/2 oz each) lean
12 Toothpicks
1/2 cup unbleached white flour
Method:
In a 1 quart saucepan, on a medium flame, poach oysters in oyster liquor with bay leaf and Worcestershire (about 2 minutes, until the edges of the oysters curl).
Remove oysters from liquor and set aside. Discard liquor. Cut bacon strips in thirds. Wrap each oyster with bacon and fasten with a toothpick.
Roll in flour, dip in eggs, and then roll in bread crumbs. Heat oil in a 9 inch skillet. When oil
smokes
, reduce heat and fry oysters for 5 minutes. Drain on paper bag and serve immediately. Serves 2.
Strong aromas
and smoke can occasionally get out of hand while cooking in any kitchen. While air purifiers are usually used to reduce allergens in the air, strong cooking odors can usually be dissipated by the
best air purifier
if you have one installed in your home.