Traditions, folklore, history and more. If it's Irish, it's here. Or will be!
"People will not look forward to posterity who never look backward to their ancestors."
-Edmund Burke
---
Quotes

Library: Books, Movies, Music

Prints & Photos

Poetry

Jokes

---
---
Shops Ireland
---
Bunús na Gaeilge
(Basic Irish)

---
---
Did You Know?
---
Himself/Herself
Write to Us
Readers Write..
Links/Link to Us
---
Advertise with us

---

Help keep us free
Throughout the site you will see many items available for purchase from well-known merchants such as Amazon. Not interested in what we're featuring? It doesn't matter. Click on any link and then shop for whatever you wish - we will still get credit, if you buy something.
Thanks for your help.

---
Kitchen Index • Irish Kitchen Library

---

Irish Pork Pie
Contributed by Hartson Dowd

Pork pie and a pint - now there's a pub lunch for you! And if you're lucky enough to live in Ireland, the real thing - the pie, that is - is available at Tescos. However, a home-made version isn't that difficult to make - and it's a dish that goes sublimely well with the black stuff. (A few slices of sharp Irish cheddar and some pickled onions on the side are also nice accompaniments.)

Ingredients for pastry:
3 cup all-purpose flour
1 large egg yolk
1/2 cup water
4 oz butter
1/2 tsp salt
beaten egg for glaze

Ingredients for filling:
1 lb ground pork
1/4 cup cracker crumbs
1/4 cup water
1 tsp salt
1 tsp sage
1/2 tsp thyme
1/2 tsp oregano
1/2 tsp parsley
1/4 tsp fresh ground pepper
pinch crushed cloves
NOTE: For a more authentic pie, instead of using ground pork, use your food-processor to finely chop 1lb pork shoulder and a few rashers of uncooked Irish bacon.


Method:
1. To make pastry, slowly heat water and butter in a saucepan. Once the butter is melted, simmer for 2 minutes. Put flour in a bowl and make a well in the center. Add the seasoning and egg yolk into the well, cover with some flour and quickly pour in the contents of the saucepan, stirring continuously. Once cooled, kneed into a dough then leave covered for 30 minutes in a warm place. Separate about two thirds of the dough into five balls, each about the size of a billiard ball. The other third of the dough will be used later for the lids. Make each pie casing by molding a ball around the outside of the bottom of a pint glass. Stretch the dough up the glass for about 1 1/2 inches so that the pastry is reasonably thin. (The pastry is easier to remove if the glass is coated in flour first)

2. Mix all the filling ingredients together. Fill the pastry casings with the mixture. Roll out the remainder of the pastry. Cut out lids using the top of a pint glass as a pastry cutter. Place lids on pies, sealing around the edges with some water. Using the point of a knife, make a hole in the center of each lid to allow steam to escape.

3. Cook at 350F in the center of the oven for about 1 hour, glazing with the beaten egg yolk from time to time. When the pies are nicely browned, remove from oven and leave to cool on baking racks.

4. For extra authenticity, after the pies are completely cooled, pour a small amount of warmed, reduced stock into the holes and then store in the refrigerator to allow the stock to set into a jelly. To make the stock, boil some pork bones with pepper corns, cloves and a bouquet garni of celery, bay leaf, thyme and parsley for a few hours until most of the water evaporates. After cooling, a jelly should form on the surface, which can be scooped off and warmed to reliquefy before pouring into the pies.

NOTE: Irish pork pie is served cool - not hot.

Image: Google images





Thu, Jul 9, 2015
---
"...the freshest of food and
the oldest of drink"
- Irish Proverb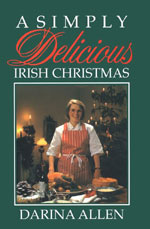 A Simply Delicious Christmas
by Darina Allen

Darina Allen has reissued "A Simply Delicious Christmas". It's a chatty cookbook, annotated with brief childhood tales of making the pudding and suggestions for how best to enjoy the food. But it's also filled with smart tips, such as a guide to the recipes indicating how long before the holidays each dish can be prepared, and suggestions for edible gifts, from truffles to jams. The range of recipes is impressive, with alternate versions of several recipes provided to accommodate fussier eaters. All the traditional favorites are here, along with many new ideas for fabulous holiday entertaining.
Review by Deirdre McFadden.
Click here for Delicious Christmas
---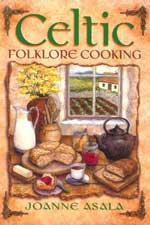 Celtic Folklore and Cooking
by Joanne Asala

Feast days, festivals, and informal gatherings all have something in common--food. But choosing the right food for the occasion can be difficult. Celtic Folklore Cooking takes the guesswork out of planning a feast, with plenty of sumptuous ideas for an entire meal, from soup to dessert and even drinks. Joanne Asala gathers generations-old recipes from Wales, Cornwall, Scotland, Ireland, and England, associates them with appropriate festivals and times of the year, then sprinkles a dash of folklore between them. Perhaps you would like to learn the 400-year-old "Song of Harvest Home" while making Marigold Buns? Celtic Folklore Cooking is like having centuries of Celtic tradition in your kitchen, and it will help you find just the right flavor for your festivities. Review by Brian Patterson
Click here for Folklore & Cooking.
The New Irish Table
by Margaret Johnson



Margaret Johnson's love of Ireland permeates page after glorious page of mouthwatering Irish dishes, from Smoked Salmon Chowder to Raspberry Buttermilk Tarts. Lavish color photographs of the food, the landscapes, and the people are woven through the text, making The New Irish Table the next best thing to sitting down to dinner in Ireland itself.
Click here for New Irish Table.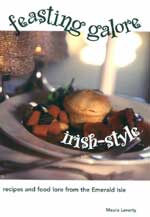 Feasting Galore Irish-Style:
Recipes and Food Lore from the Emerald Isle
by Maura Laverty, Robert Briscoe

With simple ingredients and easy to follow instructions, these recipes will help the home chef create a rich, plentiful feast! Among the 200 recipes are classics like Irish Stew, as well as Mince Pie, which Oliver Cromwell unsuccessfully attempted to ban because of its then-religious Irish shape. Each of the eleven chapters that puts the food into its context - whether its prepared for a celebration, to welcome guests - or even to seduce! Info' from back cover.
Click here for Feasting Galore.