Traditions, folklore, history and more. If it's Irish, it's here. Or will be!
"People will not look forward to posterity who never look backward to their ancestors."
-Edmund Burke
---
Quotes

Library: Books, Movies, Music

Prints & Photos

Poetry

Jokes

---
---
Shops Ireland
---
Bunús na Gaeilge
(Basic Irish)

---
---
---
Himself/Herself
Write to Us
Readers Write..
Links/Link to Us
---
Advertise with us

---

Help keep us free
Throughout the site you will see many items available for purchase from well-known merchants such as Amazon. Not interested in what we're featuring? It doesn't matter. Click on any link and then shop for whatever you wish - we will still get credit, if you buy something.
Thanks for your help.

---
Kitchen Index • Irish Kitchen Library

---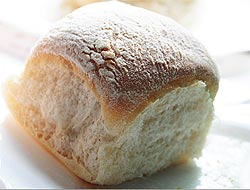 The Waterford Blaa
A blaa' is a soft-crusted floury roll exclusive to Waterford City which is eaten mainly at breakfast time. According to tradition, the name comes from a word used by French Huguenots who settled in the the city in the 17th century. When asking for white flour, they used the French word for flour which is blé and over time, the natives attached the word to the roll. Whether or not that is really where the name comes from, blaas are available in most Waterford bakeries and the locals relish them with a 'rasher' of bacon at breakfast or with some 'Red Lead' (luncheon sausage) in the middle as a mid morning snack. Other popular fillers include cheese and onion crisps and sliced ham, which the locals pronounce 'hang'. It is common for locals to eat hang blaas on the side of the road before the big match.*
INGREDIENTS
3 lbs bread flour
2 oz fresh yeast or 1 oz active dried yeast
1 tsp sugar
1 1/4 cups warm water
2 1/4 pints water
1 tsp salt
METHOD
1. Dissolve yeast and sugar in warm qater
2. When the yeast is frothy and the sugar is dissolved, add to the flour with salt and remaining water
3. Knead for five minutes until smooth and elastic
4. Put dough into a large oiled bowland covered with oiled cling wrap and put in a warm place for about an hour or until doubled
5. Punch dough down, cover, and leave to rise again for about a half hour
. 6. Punch down again gently and turn out onto a floured board. Divide dough into 24 even sized buns, slightly flattened (approx 3 oz each) and place on a lightly floured baking sheet. Allow to rise at room temperature until double in size - 2 to 3 hours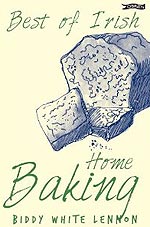 7. Heat oven 425F. Dust rolls lightly with all purpose flour and bake for about 15 minutes until or until they sound hollow when tapped on the bottom. Ideally, rolls should not be too brown on top.
Makes 24

*Sources:
Intro: Picture the Experience/Waterford City
Recipe: Best of Irish Home Baking by Biddy White Lennon -available on Amazon
Photo: The Daily Spud



Mon, Sep 15, 2014
---
"...the freshest of food and
the oldest of drink"
- Irish Proverb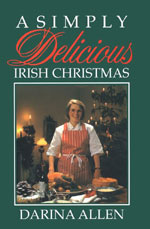 A Simply Delicious Christmas
by Darina Allen

Darina Allen has reissued "A Simply Delicious Christmas". It's a chatty cookbook, annotated with brief childhood tales of making the pudding and suggestions for how best to enjoy the food. But it's also filled with smart tips, such as a guide to the recipes indicating how long before the holidays each dish can be prepared, and suggestions for edible gifts, from truffles to jams. The range of recipes is impressive, with alternate versions of several recipes provided to accommodate fussier eaters. All the traditional favorites are here, along with many new ideas for fabulous holiday entertaining.
Review by Deirdre McFadden.
Click here for Delicious Christmas
---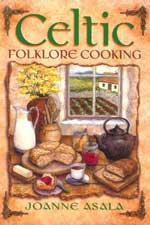 Celtic Folklore and Cooking
by Joanne Asala

Feast days, festivals, and informal gatherings all have something in common--food. But choosing the right food for the occasion can be difficult. Celtic Folklore Cooking takes the guesswork out of planning a feast, with plenty of sumptuous ideas for an entire meal, from soup to dessert and even drinks. Joanne Asala gathers generations-old recipes from Wales, Cornwall, Scotland, Ireland, and England, associates them with appropriate festivals and times of the year, then sprinkles a dash of folklore between them. Perhaps you would like to learn the 400-year-old "Song of Harvest Home" while making Marigold Buns? Celtic Folklore Cooking is like having centuries of Celtic tradition in your kitchen, and it will help you find just the right flavor for your festivities. Review by Brian Patterson
Click here for Folklore & Cooking.
The New Irish Table
by Margaret Johnson



Margaret Johnson's love of Ireland permeates page after glorious page of mouthwatering Irish dishes, from Smoked Salmon Chowder to Raspberry Buttermilk Tarts. Lavish color photographs of the food, the landscapes, and the people are woven through the text, making The New Irish Table the next best thing to sitting down to dinner in Ireland itself.
Click here for New Irish Table.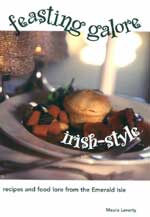 Feasting Galore Irish-Style:
Recipes and Food Lore from the Emerald Isle
by Maura Laverty, Robert Briscoe

With simple ingredients and easy to follow instructions, these recipes will help the home chef create a rich, plentiful feast! Among the 200 recipes are classics like Irish Stew, as well as Mince Pie, which Oliver Cromwell unsuccessfully attempted to ban because of its then-religious Irish shape. Each of the eleven chapters that puts the food into its context - whether its prepared for a celebration, to welcome guests - or even to seduce! Info' from back cover.
Click here for Feasting Galore.