Traditions, folklore, history and more. If it's Irish, it's here. Or will be!
"People will not look forward to posterity who never look backward to their ancestors."
-Edmund Burke
---
Quotes

Library: Books, Movies, Music

Prints & Photos

Poetry

Jokes

---
---
Shops Ireland
---
Bunús na Gaeilge
(Basic Irish)

---
---
---
Himself/Herself
Write to Us
Readers Write..
Links/Link to Us
---
Advertise with us

---

Help keep us free
Throughout the site you will see many items available for purchase from well-known merchants such as Amazon. Not interested in what we're featuring? It doesn't matter. Click on any link and then shop for whatever you wish - we will still get credit, if you buy something.
Thanks for your help.

---
Kitchen Index • Irish Kitchen Library

---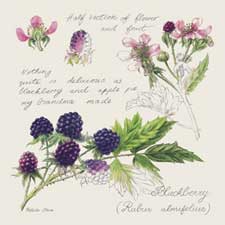 Michaelmas Pie
Contributed by Aideen

We spent a great deal of time looking for a recipe, but while many mentions of Michaelmas Pie can be found on the internet and in cook books - especially in reference to the Irish custom of hiding a ring in it - we've yet to find a source that lists the ingredients. Is it savory or is it sweet?

Determined to to solve the mystery, we asked our resident Irish speaker, Aideen, if she knew. She belongs to an internet recipe exchange club and gave them the challenge; but even this group of foodie fanatics was unable to come up with a definitive answer.

Reading through all of the information about Michaelmas day and the traditions associated with it - eating goose, for example, as well as carrots in some of the Celtic nations, we agree with Aideen's suggestion that the Michaelmas meal would most likely have ended with pie for dessert. And, since blackberries and apples are plentiful this time of year, we think it's just as likely the Michaelmas Pie would have been made with these ingredients.

There's another reason we believe blackberries would have been an ingredient. According to old folklore, at Michaelmas, the devil spits on the blackberries (or worse!), so it's considered ill-advised to eat them after September 29th.

If you happen to live where blackberries grow wild, why not take advantage of their abundance at this time of year and gather as many as you can for making crumbles, jam....and Michaelmas Pie!

Go raibth maith agat Aideen!

Ingredients:
12 oz plain flour, sifted
1/2 tsp ground cinnamon
3 oz white vegetable fat or lard
3 oz chilled butter, diced
3 fl oz chilled water
pinch salt
2 lbs cooking apples
2 oz sugar
1 tsp ground cloves
1 tsp ground nutmeg
12 oz) blackberries
1 egg, beaten

Method:

Pre-heat the oven to 180 C, 350 F, Gas 4.
1. Prepare the pastry. Place the flour in a large bowl and stir in the cinnamon and salt. Rub in the butter and white fat with your fingertips until the mixture resembles fine breadcrumbs. Make a well in the centre and add the chilled water. Bring the mixture together using a round bladed knife. Once it has come together, knead for a brief moment and place in a plastic bag in the fridge. Leave to rest for 30 minutes.

2. Peel and core the apples. Cut them into large chunks and place them in a saucepan with the sugar, cloves and nutmeg. Cover with a lid and gently cook for 5 minutes, until the apples have softened. Fold in the blackberries and remove the saucepan from the heat. Cool completely.

3. Remove the pastry from the fridge and roll out two thirds on a lightly floured surface. Line an 8-inch metal pie plate. Prick the base of the pastry with a fork. Strain the fruit, reserving the juices and spoon the fruit mixture over. Roll out the remaining pastry. Lay the pastry over the fruit. Lift back the edge and brush the base with a little egg and seal the edge. Trim and crimp the pastry edges. Brush the surface with the remaining egg and make a couple of slits in the top. Scatter a little more sugar over the pastry and bake for 35 minutes. Serve hot or cold with ice cream or fresh double (whipping) cream.


Image:
Blackberry by Petula Stone from All Posters Photos & Prints




Mon, Sep 29, 2014
---
"...the freshest of food and
the oldest of drink"
- Irish Proverb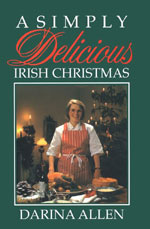 A Simply Delicious Christmas
by Darina Allen

Darina Allen has reissued "A Simply Delicious Christmas". It's a chatty cookbook, annotated with brief childhood tales of making the pudding and suggestions for how best to enjoy the food. But it's also filled with smart tips, such as a guide to the recipes indicating how long before the holidays each dish can be prepared, and suggestions for edible gifts, from truffles to jams. The range of recipes is impressive, with alternate versions of several recipes provided to accommodate fussier eaters. All the traditional favorites are here, along with many new ideas for fabulous holiday entertaining.
Review by Deirdre McFadden.
Click here for Delicious Christmas
---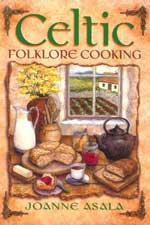 Celtic Folklore and Cooking
by Joanne Asala

Feast days, festivals, and informal gatherings all have something in common--food. But choosing the right food for the occasion can be difficult. Celtic Folklore Cooking takes the guesswork out of planning a feast, with plenty of sumptuous ideas for an entire meal, from soup to dessert and even drinks. Joanne Asala gathers generations-old recipes from Wales, Cornwall, Scotland, Ireland, and England, associates them with appropriate festivals and times of the year, then sprinkles a dash of folklore between them. Perhaps you would like to learn the 400-year-old "Song of Harvest Home" while making Marigold Buns? Celtic Folklore Cooking is like having centuries of Celtic tradition in your kitchen, and it will help you find just the right flavor for your festivities. Review by Brian Patterson
Click here for Folklore & Cooking.
The New Irish Table
by Margaret Johnson



Margaret Johnson's love of Ireland permeates page after glorious page of mouthwatering Irish dishes, from Smoked Salmon Chowder to Raspberry Buttermilk Tarts. Lavish color photographs of the food, the landscapes, and the people are woven through the text, making The New Irish Table the next best thing to sitting down to dinner in Ireland itself.
Click here for New Irish Table.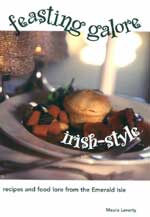 Feasting Galore Irish-Style:
Recipes and Food Lore from the Emerald Isle
by Maura Laverty, Robert Briscoe

With simple ingredients and easy to follow instructions, these recipes will help the home chef create a rich, plentiful feast! Among the 200 recipes are classics like Irish Stew, as well as Mince Pie, which Oliver Cromwell unsuccessfully attempted to ban because of its then-religious Irish shape. Each of the eleven chapters that puts the food into its context - whether its prepared for a celebration, to welcome guests - or even to seduce! Info' from back cover.
Click here for Feasting Galore.