Traditions, folklore, history and more. If it's Irish, it's here. Or will be!
"People will not look forward to posterity who never look backward to their ancestors."
-Edmund Burke
---
Quotes

Library: Books, Movies, Music

Prints & Photos

Poetry

Jokes

---
---
Shops Ireland
---
Bunús na Gaeilge
(Basic Irish)

---
---
---
Himself/Herself
Write to Us
Readers Write..
Links/Link to Us
---
Advertise with us

---

Help keep us free
Throughout the site you will see many items available for purchase from well-known merchants such as Amazon. Not interested in what we're featuring? It doesn't matter. Click on any link and then shop for whatever you wish - we will still get credit, if you buy something.
Thanks for your help.

---
Kitchen Index • Irish Kitchen Library

---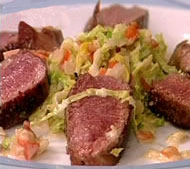 Sunday Dinner: Medallions of Lamb with Creamy Cabbage
Edited and adapted by Hartson Dowd

Cabbage may not be everyone's favourite vegetable as it is often overcooked and stewed. Mine is stir-fried and steamed in the same pan in seconds which brings out all of its lovely flavours, yet leaving it crisp, nutritious, and utterly delicious.

Ingredients:
4 lamb filets - approximately 6-oz each, trimmed
1 tbsp olive oil plus a splash more
4 rashers (strips) smoked streaky bacon
1 large onion, peeled and chopped finely
1 clove garlic, peeled and chopped finely
1 carrot, peeled and chopped finely
1/2 head Savoy cabbage, finely chopped
few sprigs fresh thyme and rosemary
1/3 pint chicken stock
1/3 pint whipping cream
salt and freshly ground pepper

Method:
1. Heat a splash of olive oil in a frying pan and brown the meat over a fairly high heat, add the thyme and rosemary. Reduce the heat and continue cooking until the meat is done to your liking. Remove to a plate. Cover and keep warm.
2. Remove the rind from the bacon and chop up
3. Add the tablespoon of olive oil to the frying pan and cook the chopped bacon until it is golden brown.
4. Add the onion, garlic and carrot and continue cooking for a couple of minutes.
5. Put in the cabbage and cook it over a high heat for about a minute then add the stock (it will give a lot of steam). Stir thoroughly to dislodge the sediments from the bottom of the pan.
6. Finally add the cream, briefly reheat and season to taste.
7. Arrange the lamb filets on a platter with the creamy cabbage and serve.
Serves 4

Original recipe and photo by Andrew Nutter from Good Food Bites


Grilled Mountain Lamb and Salad
Contributed by Hartson Dowd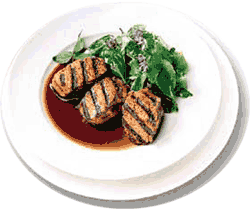 Mountain lamb, produced naturally in Ireland's wild and wonderful hills, is one of her legendary speciality foods. The following recipe, created by award-winning chef Gerry Galvin, serves 2.

Ingredients:
1 rack of lamb, chined. This means the bone is loosened
2 tablesp. oil
2 cloves garlic, crushed
2 tablesp. chopped fresh herbs
Salt and black pepper
Mixed salad leaves

Method:
Start by preparing the lamb. Remove the fillet/eye of the meat from the bone and trim off all the fat. Discard the fat, but keep the bones and trimmings for stock to make lamb gravy. Cut the lamb into six small steaks. Place in a shallow dish. Mix the oil, garlic, herbs and seasoning together. Spoon half this mixture over the lamb. Heat the griddle pan or grill until very hot. Cook the lamb steaks according to your preference.

Mix the salad leaves with remaining oil and herb mixture. Place on the serving plates with the lamb steaks and serve with the cooking juices or a little lamb gravy.



About the Chef
Gerry Galvin is one of Ireland's culinary pioneers – indeed he has been described as the father of modern Irish cuisine. Since the 1970s, when he and his wife Marie ran their famous Kinsale restaurant, The Vintage, Gerry has been outstandingly innovative in his development of original dishes.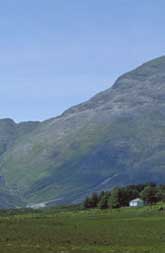 Today, Gerry and his family run Drimcong House, situated one mile beyond Moycullen village on the Oughterard road; reputed to be one of the best restaurants in the west of Ireland, the restaurant is located in an old 17th- century mansion which once belonged to the Lynch family, one of the original 'tribes' of Galway. It has not lost any of its former glory; three huge fireplaces burn turf on chilly nights, contributing to the warm atmosphere. On the menu are Connemara Lamb, Confit of Duck, Galway Venison and a selection of vegetarian dishes.

Always a great enthusiast for local suppliers - "the less ingredients have to travel, the fresher they are on the table" - many of the ingredients on his menus - the salads, herbs and apples - are grown in the garden at Drimcong, while Connacht Organic Growers supply other vegetables. For other ingredients, the Galvins rely on their dillisk from Cara Seaweeds, their pork from local butcher John Palmer and free range eggs from Mark Faherty; the mussels are from Kellys of Oranmore and the smoked eel comes from Willem at Galway market.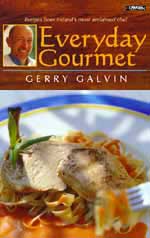 Among his many culinary honours, Gerry Galvin was the first 'New Irish Cuisine Chef of the Year' in 1996. He is also the author of of a very popular cookbook, The Everyday Gourmet - and, he's a poet as well!

Every Day Gourmet by Gerry Galvin


Images:
Gerry Galvin photo credit
Lamb salad photo credit



Any purchase made helps to support our site (and Christmas dinner). Thank you.



Tue, Apr 2, 2013
---
"...the freshest of food and
the oldest of drink"
- Irish Proverb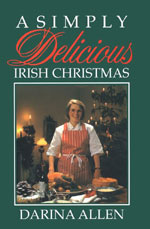 A Simply Delicious Christmas
by Darina Allen

Darina Allen has reissued "A Simply Delicious Christmas". It's a chatty cookbook, annotated with brief childhood tales of making the pudding and suggestions for how best to enjoy the food. But it's also filled with smart tips, such as a guide to the recipes indicating how long before the holidays each dish can be prepared, and suggestions for edible gifts, from truffles to jams. The range of recipes is impressive, with alternate versions of several recipes provided to accommodate fussier eaters. All the traditional favorites are here, along with many new ideas for fabulous holiday entertaining.
Review by Deirdre McFadden.
Click here for Delicious Christmas
---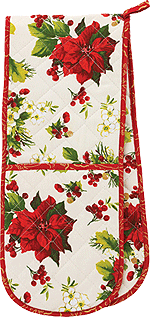 Festive Bouquet
Double Oven Glove
To purchase, Please click Ulster Weavers Special Offers
---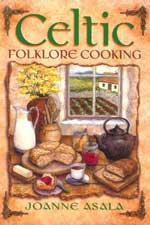 Celtic Folklore and Cooking
by Joanne Asala

Feast days, festivals, and informal gatherings all have something in common--food. But choosing the right food for the occasion can be difficult. Celtic Folklore Cooking takes the guesswork out of planning a feast, with plenty of sumptuous ideas for an entire meal, from soup to dessert and even drinks. Joanne Asala gathers generations-old recipes from Wales, Cornwall, Scotland, Ireland, and England, associates them with appropriate festivals and times of the year, then sprinkles a dash of folklore between them. Perhaps you would like to learn the 400-year-old "Song of Harvest Home" while making Marigold Buns? Celtic Folklore Cooking is like having centuries of Celtic tradition in your kitchen, and it will help you find just the right flavor for your festivities. Review by Brian Patterson
Click here for Folklore & Cooking.
The New Irish Table
by Margaret Johnson



Margaret Johnson's love of Ireland permeates page after glorious page of mouthwatering Irish dishes, from Smoked Salmon Chowder to Raspberry Buttermilk Tarts. Lavish color photographs of the food, the landscapes, and the people are woven through the text, making The New Irish Table the next best thing to sitting down to dinner in Ireland itself.
Click here for New Irish Table.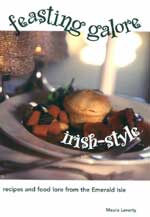 Feasting Galore Irish-Style:
Recipes and Food Lore from the Emerald Isle
by Maura Laverty, Robert Briscoe

With simple ingredients and easy to follow instructions, these recipes will help the home chef create a rich, plentiful feast! Among the 200 recipes are classics like Irish Stew, as well as Mince Pie, which Oliver Cromwell unsuccessfully attempted to ban because of its then-religious Irish shape. Each of the eleven chapters that puts the food into its context - whether its prepared for a celebration, to welcome guests - or even to seduce! Info' from back cover.
Click here for Feasting Galore.