Traditions, folklore, history and more. If it's Irish, it's here. Or will be!
"People will not look forward to posterity who never look backward to their ancestors."
-Edmund Burke
---
Quotes

Library: Books, Movies, Music

Prints & Photos

Poetry

Jokes

---
---
Shops Ireland
---
Bunús na Gaeilge
(Basic Irish)

---
---
Did You Know?
---
Himself/Herself
Write to Us
Readers Write..
Links/Link to Us
---
Advertise with us
---
Awards & Testimonials

Submissions Guide

Help keep us free
Throughout the site you will see many items available for purchase from well-known merchants such as Amazon. Not interested in what we're featuring? It doesn't matter. Click on any link and then shop for whatever you wish - we will still get credit, if you buy something.
Thanks for your help.

---
How to have the Irish wedding of your dreams
by Bridget Haggerty


Did he just propose - or, perhaps in these modern times, did she? These two old Irish wedding proposals indicate that gender might not have been a factor when a suitor in the old days popped the question:
"Would you like to be buried with my people" or...
"Would you like to hang your washing next to mine?"

Here, we have the intros to several articles on Irish courtship and weddings, as well as appropriate products to add extra Irish flair to your celebration.

Interested in Irish words & phrases related to Weddings? Click here for Irish Wedding vocabulary

Looking for Resources? Click here for Irish Wedding Resources


Image: Forever and Always by Kidstuff from All Posters Photos and Prints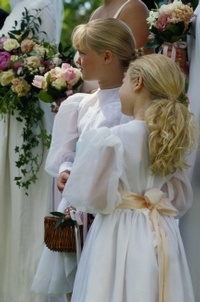 Marry in May and Rue the Day
by Bridget Haggerty

When I told our daughter about this old Irish verse, she changed her wedding date from May to April: Marry in April if you can, joy for maiden and for man.
I am convinced that if couples make the effort, they can have a totally Irish celebration from beginning to end - even to the pre-wedding parties. There's one quaint custom where the groom was invited to the bride's house right before the wedding and they cooked a goose in his honor. It was called Aitin' the gander and it has to be where we get the expression "his goose is cooked!" We threw one of these dinner parties for our daughter and everyone had a great time. (The apple-potato stuffing has become a family favorite!).


Give Me Your Hand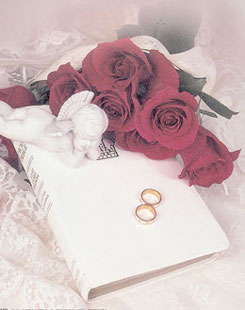 Music for an Irish Wedding Ceremony
by Bridget Haggerty

Recently, the Dublin Diocesan Liturgical Resource Centre compiled a CD to help couples identify appropriate music for a church ceremony. It hopes it will help avoid some of the more embarrassing choices couples have made in the past. As in: Waterloo, Will You Still Love Me Tomorrow or Help Me Make It Through The Night. We are not making these up. Among other choices on the list are: God Give Me Strength, Crazy, and The End of The World As We know It.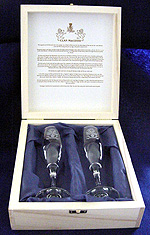 Heirloom Champagne Flutes
This elegant set features your family crest etched into the glass. Heraldic details are also laser carved on the inside panel of the box, as well as on the top. Bass hinges and brass latch. All Heraldry items take 3- 4 weeks to craft and deliver.
Please click Heirloom Champagne Flutes.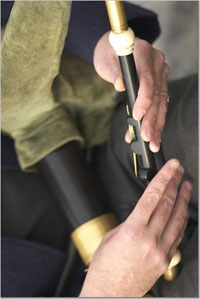 The Humour is on me now
Music for an Irish Wedding Reception
by Bridget Haggerty

As with the music for your ceremony, the possibilities for your reception are endless! While you may not want to play all Irish melodies, there's most certainly enough available to keep everyone singing and dancing for days! There are also so many choices for first dances that, unless you're really set on it, you can substitute clichés such as Daddy's Little Girl with Irish compositions that actually may have more meaning for you and your families. But be aware that some of the most popular tunes associated with the Emerald Isle are products of Tin Pan Alley. When Irish Eyes Are Smiling, for example, was actually written by George Graff, an American of Dutch and German descent. I'm not saying that you shouldn't play the old standards, especially if they are family favorites, but do check into the many recordings available that feature musicians playing traditional Irish airs and dances. You will discover a wealth of tenderness, passion and beauty that is soul-stirring.


Create Wedding Favors with an Irish Flair
Irish Meadow Flower Seeds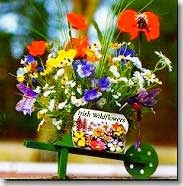 Gathered from the Dingle Peninsula in Co. Kerry, included are a variety of annuals and perennials. May we suggest giving each of your guests a generous handful, perhaps wrapped up in pretty tissue paper and secured with a ribbon in a shade to match your color scheme. Attach a small card to let your guests know you are giving them wild flowers from Ireland!
Note: As might be expected, this is a seasonal item.
Click for Irish Flower Seeds.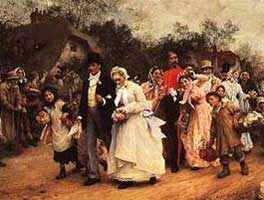 Shrovetide - The Marrying Season
by Bridget Haggerty

Well into the 20th century, the busiest time for match-making in Ireland began right after Epiphany - January 6th. This was because the Irish had misinterpreted a Church ruling set forth in November, 1563 which prohibited weddings during Lent. The popular reasoning that evolved from this decree was that if you could not marry during Lent, then you had to marry before. Thus, it was taken for granted that Shrovetide was the proper time to marry and Shrove Tuesday - the day before Ash Wednesday - became the most favored day of all.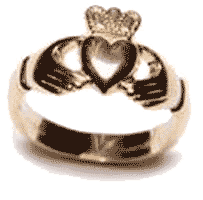 The Legend of the Claddagh Ring
by Bridget Haggerty

According to 16th-century Irish folk lore, a fishing boat from the village of Claddagh was captured by Algerian pirates and the crew was sold into slavery. One of the crew was a young man by the name of Richard Joyce, who was to be married the same week he was captured. Instead, Richard found himself far away from his love and his homeland.
Click to buy the Claddagh ring pictured.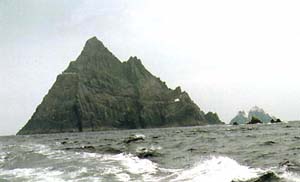 What if you were still single by Ash Wednesday?
by Bridget Haggerty

According to the Julian Calendar, it won't be Lent for a week. Why is this? Well, in 1751, King George II decreed that Great Britain would switch over from the Julian Calendar to the Gregorian Calendar - the one we use today. The switch went into effect in September, 1752. The day after September 2nd of that year became September 14th. There were riots in the streets because people believed that the king had stolen 12 days out of their lives. Meanwhile, in Ireland, the monks kept - what came to be known as - Old Time.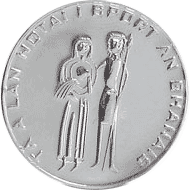 Luck Money
The custom of the Groom presenting his Bride with a coin is said to date back to the time when the Groom paid luck money to the family of the Bride, in order to bring happiness and blessings upon them. After the exchange of wedding rings, the coin would be presented to the Bride as a symbol of worldly goods. There is a contemporary custom where the Bride and Groom exchange coins, and it is said that, if the coins clink as they are exchanged, the couple will be blessed with children. After the wedding, the gift is often preserved as a family heirloom, and is passed from mother to eldest son on his wedding day.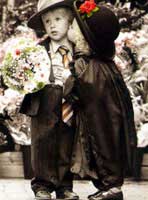 The Irish In Love
by Bridget Haggerty

'The Realm of Romance' is bigger than West Virginia and smaller than Ohio. But for such a tiny place, Ireland is a magnificent, multi-faceted gem, blessed with an abundance of details and differences. Majestic mountains sweep down to the sea. Miles of stone walls line fields filled with black-faced sheep. Tall, flowering hedges shade narrow, winding roads. Ancient castles and mystical abbeys dominate pastoral vistas. And, pastel-hued cottages dot river valleys strewn with wild flowers. What a magical place to begin a romance or married life together!


The magic hanky has become a very popular shower or wedding gift.We gave one to our daughter right before her wedding day. Since then, we have been blessed with a beautiful granddaughter - Caity. Bridget isn't very adept at sewing, but call it Irish luck, Caity's paternal grandmother is. We all shared in the joy when Caity wore her very special bonnet on her christening day.

"I am a linen hanky, as beautiful as can be,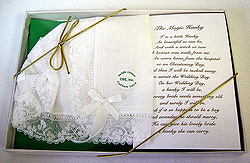 And with a tack, a stitch or two,
A bonnet you made from me,
To wear home from the hospital
or on the Christening Day,
And then I will be tucked away
to await the Wedding Day.
Then on her Wedding Day
a hanky I will be,
For every bride needs something old
that something will be me,
And if the baby is a boy
and someday he should marry
He can give his lovely bride
a hanky she can carry."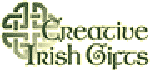 Please click Creative Irish Gifts

When you get there search on WA112 to go directly to the Magic Hanky.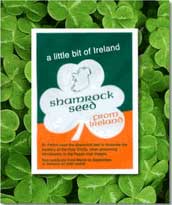 Genuine Shamrock Seeds
Is your wedding a few months away? Why not grow your own genuine Irish shamrock from seed and then use them in bouquets, boutonnieres, or as centerpieces and favors?
Click for Shamrock Seeds.





Fri, Jul 10, 2015

---
Back in Print!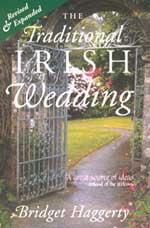 The Traditional Irish Wedding

In this expanded, revised, and updated version, the author has added sections on Getting Married in Ireland and ideas for a vow renewal "with the sound and feel of Ireland." This edition also includes the origins of Irish Coffee; the truth about Aran Isle Sweaters and information about kilts. Available from many Irish and Celtic gifts shops or Amazon.
---
Yes, this film has almost become a cliche but if you haven't seen it, it is well worth the investment. As one reviewer puts it: "...it's no surprise The Quiet Man won an Oscar for cinematography. It also won an Oscar for John Ford's direction, his fourth such award. The film was a deeply personal project for Ford (whose birth name was Sean Aloysius O'Fearna), and he lavished all of his affection for the Irish landscape and Irish people on this film." We couldn't agree more.
Click here for The Quiet Man

---