Traditions, folklore, history and more. If it's Irish, it's here. Or will be!
"People will not look forward to posterity who never look backward to their ancestors."
-Edmund Burke
---
Quotes

Library: Books, Movies, Music

Prints & Photos

Poetry

Jokes

---
---
Shops Ireland
---
Bunús na Gaeilge
(Basic Irish)

---
---
---
Himself/Herself
Write to Us
Readers Write..
Links/Link to Us
---
Advertise with us

---

Help keep us free
Throughout the site you will see many items available for purchase from well-known merchants such as Amazon. Not interested in what we're featuring? It doesn't matter. Click on any link and then shop for whatever you wish - we will still get credit, if you buy something.
Thanks for your help.

---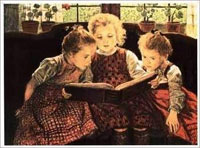 Kids' Ireland
This is a monthly column that we hope parents, grandparents, aunts, uncles or older siblings will share with children of all ages. Most are by our guest columnist, Grainne Rowland; a master spinner of stories who re-tells the tale so well they are once again fresh and new.

"There was a place in childhood that I remember well, And there a voice of sweetest tone bright fairy tales did tell."
Samuel Lover

Index of All Children's Stories

Kids' Ireland Library


St. Brendan's Adventures
by Grainne Rowland

Many people think that St. Brendan, an Irish monk, discovered America nearly 1,000 years before Christopher Columbus. The story of St. Brendan's travels is full of strange adventures.

St. Brendan lived from the year 489 to about 580. One day, a friend told him about the Promised Land of the Saints. On this island day never ends. The rocks are jewels.
Every tree had fruit which was good to eat.

Every plant had flowers with wonderful smells. The air was always warm. St. Brendan set out to find this wonderful island.

First he and some of his monks built a boat.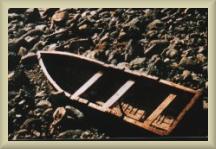 It had a wooden frame covered with cowhides. The outside was smeared with grease to make it waterproof. It had one sail. St. Brendan blessed the boat and had it filled with supplies. Then he set off to the West with a few monks.
After many days the men spotted an island. A dog led the monks to a large house, filled with marvelous furnishings. There was bread, fish, and water for each of the visitors. Then they slept in comfortable beds. For three days, the sailors ate and rested. Except for the dog, no other living creature was seen on the entire island. Then they set sail again.
On another island, the monks met a man who gave them many supplies. He also told them that they would sail for seven years before returning to Ireland.
Not long after leaving that island, St. Brendan and his monks stepped onto a stony beach. They collected a small pile of driftwood and began to cook lunch. But as the fire burned hotter, the earth began to move. What could be happening? The monks shook in fear. The land began to shake and sink into the water. Racing for the boat, the monks paddled away as fast as they could. When they looked back, they saw the "island" was really a giant fish.


Many months later, St. Brendan told the monks that Easter was near. They searched for land so that they could celebrate the Easter holy day. At last, they reached an island. It was full of trees, grass, ans flowers. The trees were so covered with snow-white birds that the leaves could not be seen. The birds sang so sweetly that St. Brendan called them his Easter choir! Easter was a cheerful day as the monks and birds sang together.
Far away from land, the monks saw a huge beast swimming towards them.The beast's mouth was wide open, as if it would eat the monks and the boat. It swam so fast that it made waves as high as a wall. The huge waves almost swamped the boat. The beast came nearer! The monks held onto the sides of the boat. Suddenly, from out of nowhere, another monster attacked the beast. The beast was killed and the monks were safe.
Sailing on, St. Brendan and his friends saw many strange sights. They found a land with many erupting volcanoes.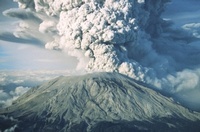 So many fiery rocks were being blown from the volcanoes that it seemed as if demons were throwing flaming stones at the monks.
The monks saw places where sheep were as big as cows. Another place had grapes as big as apples.


St. Brendan and his crew visited many places before they found the Promised Land of the Saints. The land was so big that they could not explore all of it. They found fruit and jewels, some of which they took back to Ireland.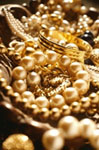 Some of St. Brendan's adventures sound like make-believe. But scientists have found some very, very old Irish items in different parts of North America. Do you think St. Brendan and his monks might have left surprises for us to find many, many years later? Do you think that just maybe St. Brendan DID find America first?


Author's Bio


Grainne was born in Columbus, Ohio, and was totally ignorant of her Irish heritage until the age of 14. One day, in the course of conversation, her Dad casually said, "Well, you know we're Irish. Your great-grandparents came from Co. Donegal." That was IT! Starting with Clancy Brothers records, she studied everything about Ireland she could get her hands on. Finally, in 1980, her dream was fulfilled. She spent two months in Ireland and completely fell in love with it. She also cried all the way back to the U.S.
In the teaching profession for over 21 years, Grainne has taught on two Indian reservations and is nearly as intrigued with the Navajo and Pueblo cultures as she is with the Irish. A few years ago, she also learned that she is part Cherokee Indian. As she puts it, "There are many similarities between the Indian cultures and the Irish, such as the oral storytelling tradition and the emphasis on family."
Since 1994, Grainne has written Irish folktales for children and adults, as well as stories of famous Irish people. Her favorite Irish person is Grace O'Malley, or Grainnauile, for whom she has re-named herself.
If you would like to contact her, Grainne would be delighted to hear from you. Her email address is: grainnerowland@hotmail.com


Index of All Children's Stories


---

Kids Reading - from All Posters
Any purchase made helps to support our site (and the Irish Culture & Customs fairytale). Thank you.



Thu, May 16, 2013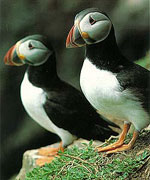 Birds that like to visit Ireland
Did you know that thousands of birds from other countries migrate to Ireland throughout the year? The arrival of these feathered tourists can be observed in April and May all along the south coast. In summer The cliffs of the west of Ireland are the ideal place for large sea bird colonies such as puffins and gannets. And in autumn, we have many rare American waders - mainly sandpipers and plovers - who arrive here when blown across the Atlantic. In winter, lakes, estuaries and wetlands are a haven for hundreds of thousands of waterfowl from the Arctic and Northern Europe. From Greenland, Iceland and Canada come waders such as knot, golden plover and black-tailed godwit, flocks of brent, barnacle and white-fronted geese, as well as thousands of whooper swans.
Puffin picture and edited copy: Gorp Europe


Click for More Culture Corner.


---
"No man ever wore a cravat as nice, as his own child's arm around his neck."
- Irish Proverb

---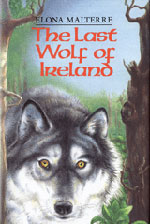 The Last Wolf in Ireland
by Elona Malterre
In Ireland in the 1780s, a young boy and girl who find a wolf's den in the forest vow to protect the animals from the superstitious townspeople and the greed of the hunters. Rave reviews including this one from Booklist:
"Convincing characters, tense action, and powerful conflicts makethis book an outstanding choice."
To learn more or to purchase, please click The Last Wolf in ireland.

---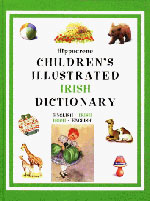 Children's Irish Dictionary
by Hippocrene Books
As a total beginner in Irish, this has taught me quite a few words. The illustrations are beautifully done, and best of all, each word is given a rough English spelling of its pronunciation. Edited from an amazon review.
Click here for Kid's Irish Dictionary.
---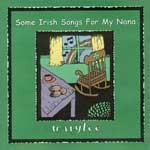 Some Irish Songs for My Nana
MaryLee

A lovely collection of well known Irish songs from the turn of the twentieth century. This album was created as a gift to MaryLee's Nana, Rose Burke Duval. The first half are songs well known to grandparents and the second half are original and traditional songs for children.

Click here for Irish Songs.