Traditions, folklore, history and more. If it's Irish, it's here. Or will be!
"People will not look forward to posterity who never look backward to their ancestors."
-Edmund Burke
---
Quotes

Library: Books, Movies, Music

Prints & Photos

Poetry

Jokes

---
---
Shops Ireland
---
Bunús na Gaeilge
(Basic Irish)

---
---
Did You Know?
---
Himself/Herself
Write to Us
Readers Write..
Links/Link to Us
---
Advertise with us

---

Help keep us free
Throughout the site you will see many items available for purchase from well-known merchants such as Amazon. Not interested in what we're featuring? It doesn't matter. Click on any link and then shop for whatever you wish - we will still get credit, if you buy something.
Thanks for your help.

---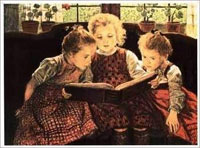 Kids' Ireland
This is a monthly column that we hope parents, grandparents, aunts, uncles or older siblings will share with children of all ages. Most are by our guest columnist, Grainne Rowland; a master spinner of stories who re-tells the tale so well they are once again fresh and new.

"There was a place in childhood that I remember well, And there a voice of sweetest tone bright fairy tales did tell."
Samuel Lover

Index of All Children's Stories

Kids' Ireland Library


Ugly Feet
by Grainne Rowland.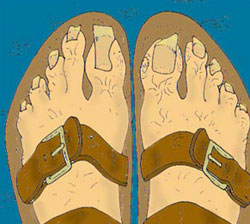 Tadhg was a tailor in Ballyvourney. People constantly made fun of Tadhg.

"Who's got the ugliest feet, Tadhg?" the children would jeer.

"Tadhg, cover those feet, please!" taunted the adults in town.

But Tadhg took the teasing in stride. He just laughed with the townspeople and joked back with them.

One night, there was a gathering in the house of one of the women. A hooley was in full swing. People were everywhere in the cottage. Music was floating through the air, and people were dancing.

Tadhg sat perched on top of the table with one leg stretched out in front of him. He was busily stitching away on a new shirt while he listened to the music. The woman who owned the house passed by the table with a plate of cakes.

She looked at the one foot that Tadhg had rested in front of himself.

"By my father's bones, that is one ugly foot!" she said, wrinkling up her nose.

"By your father's bones, there is an uglier foot than that in this room," replied Tadhg.

Well, the woman must have had ugly feet herself, for she thought Tadhg was talking about her.

"There can't possibly be an uglier foot than your own foot, sitting in front of yourself," commented the woman.

"Would you like to place a bet on that?" asked Tadhg.

"I would indeed," said the woman.

"Then if I can find an uglier foot than this one, you must cook me a fine meal. If I can't, then I will buy you a fine meal myself," coaxed Tadhg.

"That is a good bet, and I accept," said the woman. Tadhg and the woman shook hands on it.

At that point, Tadhg stretched out his other foot. It was indeed much uglier than his first foot. This foot was swollen and knobbly. It had long, sharp toenails. The toes were bent at weird angles.

"Ugh!" exclaimed the woman. "There surely is nothing in the world uglier than that foot. You win, and I will cook you the best meal I can tomorrow."

Tadhg smiled. He knew the woman was the best cook in the entire county.

"Thank you," said Tadhg. "I will see you tomorrow then. And I promise to have strong shoes on my feet so you will not have to look at them!"



Image: Ugly Feet cartoon republished with the kind permission of Bill Huratiak. If you would like to see his other cartoons and artwork, please click Bill Huratiak.
Important Note: Site is not intended for young readers.


Index of All Children's Stories


Sat, Nov 5, 2016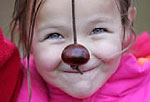 Conkers!
When the trees start to change colour in the Autumn, it means the "conker" season is upon us. "Conkers" are the seeds, in the form of nuts, of the Horse Chestnut tree. A green spikey seed pod falls to the ground and eventually, this splits open to reveal a shiny brown nut. This "conker" can be used for a game of the same name that's played in many countries including Ireland. Players drill a hole through the middle of the nut , thread a string through, knot it and then proceed to take alternate blows at the opponent's "conker". The winner is the one who breaks the opponent's "conker". For details on how to play the game, including rules, please click Wikipedia.
Photo Credit: Dylan Vaughan

Click for More Culture Corner.


---
"No man ever wore a cravat as nice, as his own child's arm around his neck."
- Irish Proverb

---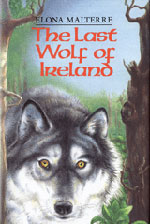 The Last Wolf in Ireland
by Elona Malterre
In Ireland in the 1780s, a young boy and girl who find a wolf's den in the forest vow to protect the animals from the superstitious townspeople and the greed of the hunters. Rave reviews including this one from Booklist:
"Convincing characters, tense action, and powerful conflicts makethis book an outstanding choice."
To learn more or to purchase, please click The Last Wolf in ireland.

---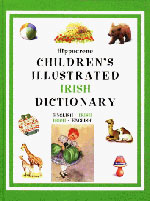 Children's Irish Dictionary
by Hippocrene Books
As a total beginner in Irish, this has taught me quite a few words. The illustrations are beautifully done, and best of all, each word is given a rough English spelling of its pronunciation. Edited from an amazon review.
Click here for Kid's Irish Dictionary.
---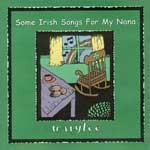 Some Irish Songs for My Nana
MaryLee

A lovely collection of well known Irish songs from the turn of the twentieth century. This album was created as a gift to MaryLee's Nana, Rose Burke Duval. The first half are songs well known to grandparents and the second half are original and traditional songs for children.

Click here for Irish Songs.