Traditions, folklore, history and more. If it's Irish, it's here. Or will be!
"People will not look forward to posterity who never look backward to their ancestors."
-Edmund Burke
---
Quotes

Library: Books, Movies, Music

Prints & Photos

Poetry

Jokes

---
---
Shops Ireland
---
Bunús na Gaeilge
(Basic Irish)

---
---
Did You Know?
---
Himself/Herself
Write to Us
Readers Write..
Links/Link to Us
---
Advertise with us
---
Awards & Testimonials

Submissions Guide
---

Today
in
Irish
History - August
1st to 7th | 8th to 14th | 15th to 21st | 22nd to 31st

---
August 8
1588 - The Spanish Armada is defeated by the English, with some Spaniards slain upon reaching the coasts of Ireland and some survivors remaining
1694 - Birth of Francis Hutcheson, Presbyterian philosopher, in Co. Down
1781 - James Gandon moves from London to Dublin; the first stone of his Customs House is laid on this date
1923 - The Civic Guard is renamed the Garda Siochana
1953 - The library of Alfred Chester Beatty, containing his unique collection of oriental manuscripts, opens in Dublin
1961 - On Edge of U2 (David Evans) is born in Barking Maternity Hospital, East London
1976 - Founding of the Peace Movement in the North


1981 - Thomas McElwee, Irish politicl prisoner , dies on the 62nd day of his hunger strike in Maze Prison, Northern Ireland.
2000 - A leading figure in the Young Ireland Movement, Edward Walsh, poet, folklorist, song writer and teacher, is remembered on the 150th anniversary of his death
2001 - The Taoiseach and Tánaiste urge Irish workers and employers not to panic as computer giant Gateway signals a shutdown of Irish operations with 900 job losses.
August 9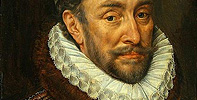 1690 – First siege of Limerick commences when William of Orange encamps just outside the walls of the old city, with an army of about 26,000; the Irish defenders were similar in number though not nearly as well armed.
1850 – Irish Tenant League is founded.


1886 – Death of Sir Samuel Ferguson, Irish poet, barrister, antiquarian, artist and public servant.
1920 – The Restoration of Order in Ireland Act receives Royal assent. The Act gives Dublin Castle the power to govern by regulation; to replace the criminal courts with courts martial; to replace coroners' inquests with military courts of inquiry; and to punish disaffected local governments by withholding their grants of money.


1922 – Free State army and anti-Treaty forces fight a short but bloody battle. The Free State troops take 36 republican prisoners.
1922 – National Army soldier is killed in ambush at Ferrycarrig, Wexford.
1922 – General Prout's Free State column takes Redmondstown, Co Kilkenny, with the aid of artillery.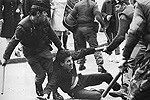 1971 – Internment is introduced in Northern Ireland. During the internment round-up operation in west Belfast, the Parachute Regiment killed 11 unarmed civilians in what became known as the Ballymurphy massacre.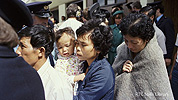 1979 – The first Vietnamese boat people arrive in Ireland.
1998 – U2's PopMart movie debuts at the Festival Revue in Edinburgh, Scotland.
2000 – Secondary picketing by striking train drivers, who are members of the Irish Locomotive Drivers' Association, causes transport chaos for thousands of Dublin commuters.
Sources:
History of Ireland – Stair na hÉireann
Irish History
Boat People Photo Credit: RTÉ Archives
August 10
1316 - Battle of Athenry. Irish rising in support of Edward Bruce of Scotland
1636 - The Annals of the Four Masters is completed
1719 - The House of Commons proposes that all unregistered priests in Ireland should be branded on the cheek. The plan is ultimately abandoned.
1854 - A statutory provision is made for the establishment of a national gallery of paintings, sculpture and fine arts in Ireland
1857 - Death of John Wilson Croker, Galway-born politician and writer
1890 - Death of journalist and republican John Boyle O'Reilly
1848 - Birth in Clonakilty of William Hartnett, master of still life painting
1886 - Death of Joseph Medlicott Scriven from Seapatrick, Co. Down, who wrote the words for What A Friend We Have In Jesus
1920 - Death of actor James O'Neill, in Kilkenny. Remembered for his portrayal of the Count of Monte Cristo, he was also the father of playwright Eugene O'Neill
1928 - Peter Barry, Fine Gael politician, is born in Co. Cork


1971 - Birth in Co. Cork of soccer star Roy Maurice Keane, the "human dynamo"
1975 - Death of Robert Barton, last of the surviving 1921 Treaty signatories
1984 - John Treacy wins a silver medal in the marathon at the LA Olympics
1998 - Car clamping of illegally parked cars is introduced in Dublin
1998 - After 26 years on the air, Gay Byrne confirms he will quit his RTÉ morning radio programme at Christmas and will give up the Late Late Show next June
1998 - After serving 21 years, William Moore, the last member of the terrifying Shankill Butchers Gang to remain behind bars is released, despite a Judge's recommendation that he should never go free. He was given 14 life sentences for his role in the abduction and murder of 19 innocent Catholics
1999 - Lakes featured in The Quiet Man are put on the market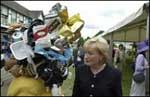 2000 - Ruth-Kelly Walsh from Bray, Co. Wicklow wins the special prize for the 'Most Creative Hat' in the RDS Ladies Day Competition at the Kerrygold Horse Show.
Photo Credit: Joe Dunne
August 11
1691 - A Jacobite force under Patrick Sarsfield, guided by Galloping Hogan, destroys a Williamite siege train at Ballyneety, hampering the siege of Limerick
1835 - Henry Grattan Guinness, is born in Dún Laoghaire, Co. Dublin
1894 - Dan Breen, nationalist revolutionary and politician, is born near Soloheadbeg, Co. Tipperary
1927 - After the Free State general election on June 9, de Valera and Fianna Fáil enter the Dáil as the largest opposition party; the Cosgrave administration brings the Farmers' Party into government (independent Ireland's first coalition government, though not so called)
1927 - The Electricity Supply Board (ESB) is established to control the Shannon hydro-electric scheme and take over all existing projects for the electrification of Ireland
1979 - Disaster overtakes the Fastnet Challenge yacht race when the biggest-ever fleet of 303 vessels is caught in a vicious storm. Seventeen people lose their lives
1998 - Fine Gael warns that many farmers who are at the mercy of the worst harvesting weather for 20 years will have no incomes by Christmas unless the Government adopts a strategy to help them out
1999 - Last almost-total solar eclipse of the century takes place in Western Europe. Cloud cover in many parts of Ireland spoils the view, but hundreds in Croke Park, Dublin watch the phenomenon under cloudless, blue skies
2000 - Hugh O'Flaherty's nomination to the European Investment Bank may be in jeopardy after the bank confirms it has the power to recommend someone else for the job
2000 - The Royal Ulster Constabulary welcomes deal which will allow a low-key policing operation for a loyalist march at the weekend in Derry.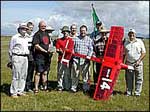 2003 - Model plane goes transatlantic after "The Spirit of Butts Farm" - named after its testing site - lands safely in County Galway, Ireland, 38 hours after it took off from Canada. The balsa wood and mylar plane flies 3,039 kilometres (1,888 miles). US, Canadian and Irish engineers work together using satellite navigation and an autopilot system overseen by engineers and radio operators using laptop computers.
August 12
1646 - Archbishop Giovanni Rinuccini, papal nuncio to the Irish Confederate Catholics, condemns their adherence to Ormond's peace terms for failing to fully recognize Catholicism
1652 - 'Act for the Settling of Ireland' allows for the transplantation to Clare or Connacht of proprietors whose land is confiscated by Cromwell to meet promises to adventurers and soldiers; also known as the "To Hell or Connacht" Act
1796 - Kilmainham Gaol in Dublin receives its first prisoners
1804 - Birth of James Whiteside, orator and Lord Chief Justice, in Delgany, Co. Wicklow
1821 - George IV begins his visit to Ireland; he is received enthusiastically by O'Connell and others
1822 - Robert Stewart, Viscount Castlereagh, commits suicide by cutting his throat with a penknife
1870 - Sir Hubert Gough, soldier and participant in 'Curragh mutiny' of 1914, is born in Gurteen, Co. Waterford
1898 - Irish Local Government Act sets up elective county and district councils
1899 - First issue of James Connolly's Workers Republic
1914 - Death of John Holland, from Liscannor, Co. Clare, designer of the first submarine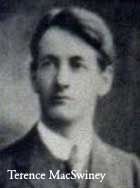 1920 - Terence MacSwiney, Lord Mayor of Cork, arrested by British; he immediately goes on hunger strike
1922 - Arthur Griffith, founder of Sinn Fein, dies of a cerebral hemorrhage
1969 - British troops are deployed in Northern Ireland after riots in Derry and Belfast
1998 - Freak twister ravages Martinstown in Co. Antrim; no injuries or fatalities are reported
1999 - Memorial service is held for the victims of the Omagh bomb attack
2001 - Playing to a capacity crowd at the Manchester Evening News Arena, U2 kicks off their European tour with a plea for peace in Northern Ireland
2001 - Loyalist protesters block a main road in north Belfast to prevent the republican Wolf Tone flute band from joining a major march commemorating the 20th anniversary of the 1981 IRA hunger strikes.
August 13
1689 - The Duke of Schomberg lands at Groomsport with his 10,000 strong Williamite army
1819 - Birth of Sir George Gabriel Stokes, mathematician and physicist, in Skreen, Co. Sligo
1846 - Birth of Otto Jaffe in Hamburg. Otto was the first non-Protestant to hold the office of Lord Mayor of Belfast — he was Jewish
1881 - First issue of United Ireland, Parnellite weekly
1887 - Special committee appointed to investigate Parnell's ties to Phoenix Park murders
1898 - The first issue of Workers' Republic
1947 - The Health Act extends the powers of county councils and provides maternity care
1974 - Kate O'Brien, Irish writer, dies
1999 - A new set of 30p stamps is issued by An Post to honour the Gaelic Football team of the Millennium. It depicts the members of the An Post-GAA official Gaelic Football Team of the Millennium as chosen by a panel of experts
2000 - The RUC promises an increased profile at sectarian flashpoints in Belfast after a large scale attack on Catholic houses further heightens tensions.
In the liturgical calendar, today is the feast day of St. Muredach.
August 14
1598 - Hugh O'Neill defeats the English at the Battle of Yellow Ford
1778 - Gardiner's Catholic Relief Act is enacted and grants rights of leasing and inheritance to those who have taken the oath of allegiance: the first rolling back of the penal laws
1784 - Nathaniel Hone, painter and member of the Royal Academy at the time of its founding in 1768, dies
1814 - Mary O'Connell is born in Co. Limerick. Known as Sister Anthony, she serves in the American Civil War as a nurse
1850 - The Irish Franchise Act is enacted and has the effect of increasing the electorate from 45,000 to 164,000
1903 - The Land Purchase Act (Wyndham Act) is enacted and allows for entire estates to be purchased by the occupying tenantry, subsidized by the state
1907 - H. Montgomery Hyde, author and unionist MP, is born in Belfast


1968 - Golfer Darren Clark is born in Dungannon, Co. Tyrone
1969 - First deployment of British troops in Northern Ireland
1992 - Boxer Michael Carruth wins an Olympic Gold medal in Barcelona
1998 - The Family Mediation Service, which enables separating couples to reach agreement on a range of issues relating to their break-up, is to be expanded nationwide
1998 - Taoiseach Bertie Ahern pledges that the Stormont Agreement relating to the release of prisoners convicted of killing gardaí has to be honoured by the Government
1998 - "The Sovereign Nation", a publication of the 32-County Sovereignty Movement is launched in Dundalk
2000 - The Irish Locomotive Driver's Association rejects a bid to end the two-month-old rail dispute
2001 - Northern Ireland Secretary John Reid strongly criticizes the IRA after they withdraw a plan to put their weapons beyond use
2002 - Emer McGrath from Ballynew in Ballinrobe on the Mayo/Galway border becomes the country's top student with eight Leaving Certificate A1s and one A2.

Sources:
The Celtic League
This organization publishes the annual Celtic Calendar. To order your own copy, visit: The Celtic League.
Irish Abroad
Somewhat sporadic, but they often highlight an important date in Irish history. To visit, please click: Irish Abroad.
The Wild geese
They update Irish history weekly. To visit their keydates page, please click: The Wild Geese.



We also refer to an assortment of references. Among them are the Books of Days - see right margin on this page.


Wed, Jan 3, 2018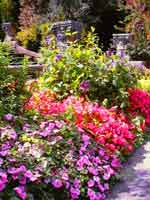 Ilnacullen, Co. Cork - an Island Garden
Located in the sheltered harbour of Glengarriff in Bantry Bay. Ilnacullin, which means island of holly, is a small island known to horticulturists and lovers of trees and shrubs all around the world as an island garden of rare beauty.
The vivid colours of Rhododendrons and Azaleas reach their peak during May and June, whilst the hundreds of cultivars of climbing plants, herbaceous perennials and choice shrubs dominate the midsummer period from June to August.
Because of its sheltered situation and the warming oceanic influence of the Gulf Stream, the climate is favourable to the growth of ornamental plants from many parts of the world.
Even for those who aren't particularly interested in gardens, there are many other scenic views, especially in the surrounding waters where seals frequent the rocks on the southern shore.
The cover photo on Bridget's book The Traditional Irish Wedding shows a wrought iron garden gate on Ilnaculen. I took that photo. To see it, go to the home page. It's part of the opening paragraph Failte.
—Russ
Resource: Copy and Image - Cork Guide

Click for More Culture Corner.
"Cahill's lovely prose breathes life into a 1,600-year old history." The L.A. Times
This is our most popular book. We understand why; the truth is fascinating.
Click here for Saved Civilization.
---