Traditions, folklore, history and more. If it's Irish, it's here. Or will be!
"People will not look forward to posterity who never look backward to their ancestors."
-Edmund Burke
---
Quotes

Library: Books, Movies, Music

Prints & Photos

Poetry

Jokes

---
---
Shops Ireland
---
Bunús na Gaeilge
(Basic Irish)

---
---
Did You Know?
---
Himself/Herself
Write to Us
Readers Write..
Links/Link to Us
---
Advertise with us
---
Awards & Testimonials

Submissions Guide
---

Today
in
Irish
History - August
1st to 7th | 8th to 14th | 15th to 21st | 22nd to 31st

---
August 15


1649 - Oliver Cromwell arrives in Ireland as Commander-in-Chief and Lord Lieutenant with an army of 20,000, a huge artillery train and a large navy
1715 - On this date, Frederick Hamilton, former MP for Donegal, writes to George I that although the county is well affected, 'The great scarcity of armes in ye country is beyond anything I could have imagin'd till about three days ago that I had occasion to send some men after seven Tories that were hunted out of Fermanagh, & in the barony of Kilmakrenan, I could not get thirty men tolerably armed tho' I believe the country will be able to array seven thousand men'
1755 - Molesworth Phillips, sailor and companion of Captain James Cook, is born in Swords, Co. Dublin
1803 - Edmund Rice opens a school for poor boys in Waterford - precursor of the schools run by the Christian Brothers
1843 - Daniel O'Connell holds meetings for Repeal of the Union, attended by hundreds of thousands, at Trim and the Hill of Tara
1880 - Five people drown in Derrybeg, Co. Donegal when a chapel is flooded during Mass
1882 - Unveiling of O'Connell monument in Dublin
1919 - Birth of Benedict Kiely, novelist, short story-writer and critic, in Dromore, Co. Down
1917 - Birth of Jack Lynch, Taoiseach, in Co. Cork
1998 - Massive bomb explodes in Omagh shopping center; 29 people are killed and hundreds injured
1999 - The Portmarnock Hotel in Dublin wins the Powers World Irish Coffee Making Championship for the second successive year
1999 - Mobs in Derry attack police, loot businesses and torch buildings
1999 - Founder member of the SDLP, Paddy Devlin, dies in Belfast's Mater Hospital after a long illness.
In the liturgical calendar, today is the Feast of the Assumption of the Virgin Mary. It is also the feast day of St. Daga, 6th century Bishop of Iniskin, Dundalk.
August 16
1793 - The Convention Act bans representative bodies set up to campaign for a change in the law, i.e. putative rivals to the parliament
1832 - An Act is passed which allows for tithe payments to be commuted
1878 - The Intermediate Education Act grants female students the right to participate in public examinations and to enter into careers and professions
1879 - National Land League of Mayo is founded
1882 - Charles Stewart Parnell becomes a Freeman of the city of Dublin
1892 - National Literary Society is founded
1920 - Court-martial of Terence MacSwiney, Irish Volunteer and Lord Mayor of Cork
1921 - The first Dáil Éireann is dissolved and the second Dáil convenes
1981 - U2 plays its first show ever at Slane Castle outside Dublin, and its only Irish show of the year
1982 - Malcolm McArthur, who is wanted for the murder of a nurse named Bridie Gargan, is found in the flat of the Attorney General, Patrick Connolly; Mr Connolly resigns on this date
1995 - More than 100 people are evacuated from The Kitchen, the basement nightclub below the Clarence Hotel in Dublin after a fire is spotted on the roof. No injuries or fatalities are reported
1997 - On the 20th anniversary of the death of Elvis Presley, U2's PopMart show in Vienna, Austria is filled with tributes and references to the King
2001 - Dozens of wild birds, including swans, mallard and moorhens are rounded up by animal welfare workers after a major oil spill in the River Liffey at Palmerstown in Co. Dublin.
August 17
1779 - William Corbet, United Irishman and soldier, is born in Ballythomas, Co. Cork
1786 - Birth of Davy Crockett, American frontiersman and son of an Irishman
1791 - Birth of Richard Lalor Sheil, dramatist and politician; first Catholic privy councillor, in Drumdowney, Co. Kilkenny
1846 - Lord John Russell's Whig administration decides not to interfere with internal or export markets for food
1878 - Birth of Oliver St. John Gogarty, writer, and the model for the 'stately, plump Buck Mulligan' in Joyce's "Ulysses"
1922 - RIC is disbanded to be replaced by the Garda Síochána
1978 - Thousands gather in Carnsore Point to protest against nuclear power
1999 - Mandate, the largest union representing bar and retail workers, demands the Millennium New Year's Eve off for their workers
1999 - Emir Holohan Doyle is crowned Miss Ireland
1999 - Junior doctors threaten a period of industrial action throughout the country


2000 - The last RUC passing out parade takes place in Belfast before the force's controversial name change to the Police Service of Northern Ireland
Photo credit: Paul Faith
2000 - President Mary McAleese leads mourners at the funeral of former Fine Gael Minister John Boland in St Patrick's Church, Skerries, Co. Dublin
2000 - Beo 2000, the inaugural festival of Irish traditional music, takes place at the National Concert Hall in Dublin
2001 - General SemiConductor announces that its plant in Macroom, Co. Cork will close; 670 jobs are lost.
August 18
1579 - Death of James Fitzgerald, rebel leader
1728 - James Caulfeild, 4th Viscount and 1st Earl of Charlemont; soldier and nationalist, is born in Dublin
1814 - Birth of David Moriarty, Catholic Bishop of Kerry and opponent of nationalism, in Kilcarah, Co. Kerry
1961 - Death of playwright, humorist and writer Lynn Doyle
1986 - Chris de Burgh reaches no. 1 in British and Irish charts with Lady In Red
2000 - Guinness agrees to suspend the closure of its Dundalk plant and plans to axe 90 jobs at the Harp Brewery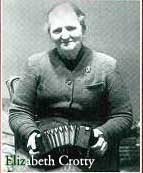 2000 - Thousands flock to Kilrush in Co. Clare for the 40th anniversary of Ireland's only concertina-based festival which is held every year in memory of Elizabeth Crotty
2002 - In a bid to redress the huge population imbalance, it is announced that the Government is to scrap tough planning laws banning the building of single houses in rural Ireland.
August 19
1504 - After Ulick Burke of Clanricard seizes Galway city, Edward Fitzgerald, the Earl of Kildare, goes to Connacht and defeats Burke at Knockdoe. This is the largest battle ever fought between Irishmen, with 10,000 participants and 2,000 fatalities; however, most of the fighting is done by gall óglach - foreign warriors - or gallowglas. As a reward, Fitzgerald is made a Knight of the Garter
1792 - Edward Hincks, orientalist, is born in Cork
1839 - Act passed for the "improvement of navigation on the Shannon"
1876 - The ship Catalpa arrives in U.S. with Irish Fenian prisoners rescued from Australia
1887 - Birth of poet Francis Ledwidge in Slane, Co. Meath
1995 - After 26 years of shows by some of Ireland's top artists, Dublin's Baggot Inn hosts its final live concert performance
1998 - David Trimble demands that the British government introduce anti-terrorist laws equal to those planned by the Republic
1998 - Sonia O'Sullivan wins the 10,000m at the European championships in Budapest
1999 - The Connemara Pony Fair in Clifden- the west of Ireland's most prestigious horse festival - is marred by brawls between two traveller groups. The violence is a result of a long running feud between the McDonagh and Ward families
2001 - The remains of Aer Lingus chairman Bernie Cahill, who is believed to have drowned after an accident while attending his boat, are received by Rev. Fr. Michael Nolan at St. Mary's Church in Schull.
August 20
1778 - Birth of Bernardo O'Higgins, of Co. Meath origins, first Chilean head of state
1798 - Richard R. Madden - writer, historian, traveller and abolitionist - is born in Dublin
1818 - Birth in Dublin of scientist and Alpine traveller, John Ball
1860 - An expedition led by Robert O'Hara Burke, an Irish policeman, leaves Melbourne with the intention of making the first European crossing of Australia. They will make the crossing, but Burke and fellow-explorer, William Wills, will die on the return journey
1872 - Sectarian rioting in Belfast which began on August 15 continues through this date
1876 - The Irish Republican Brotherhood Supreme Council withdraws its support from the Home Rule movement
1880 - Death of Ellen Kean, one of the greatest actresses of her time
1919 - The Irish Republican Army is established by the Dail Eireann
1927 - The Currency Act establishes a separate currency for the Irish Free State
1951 - Birth of Thin Lizzy lead singer, Phil Lynott
1979 - Bob Geldof and the Boomtown Rats reach no. 1 in the British charts with I Don't Like Mondays


1981 - Twenty-seven-year-old Michael "Mickey" Devine, from the Creggan in Derry dies on the 60th day of his hunger strike. He was the third INLA Volunteer to join the H-Block hunger strikers and he was the last of the group to give their lives in order to retain their status as political prisoners.
1999 - The main square in Tralee rocks to the Grand Old Man of Soul, James Brown, as the 41st International Rose Ball kicks off in the new Festival Dome
2000 - Teenage heartthrobs, Westlife, make their first appearance in Tralee. More than ten thousand fans attend the free, open air concert
2002 - Postal deliveries in small communities across the country are delayed again on the second day of industrial action by members of the Irish Postmasters Union.
August 21
1791 - Birth of the word 'quiz' (allegedly and disputed). Richard Daly, a theatre proprietor in Dublin, makes a bet that within 48 hours he can introduce a new word into the English language. After the evening performance, Mr. Daly distributes cards to all the staff with the word written on it, and instructs them to write it on walls all over the city. Thus 'quiz' enters the language
1861 - Birth in Belfast of Frederick Crawford, militant unionist and organizer of Larne gun-running
1855 - Last ever Donnybrook Fair, held in Dublin since 1204. The general uproar of the annual event results in its suspension
1879 - A Vision of the Virgin Mary is witnessed by 15 villagers in Knock, Co. Mayo
1882 - Birth in Gloucester of Arthur Luce, a professor of philosophy and fellow of Trinity College in Dublin for 65 years
1911 - Irish Women's Suffrage Federation is formed
1920 - Birth in Belfast of Rinty Monaghan, world flyweight boxing champion
1970 - The Social Democratic and Labour Party is founded with Gerry Fitt as leader
1978 - RTÉ broadcasts Eddie Macken on Boomerang winning the Aga Khan trophy
1982 - Bono marries his high-school sweetheart Alison Stewart at a ceremony in Raheny, Dublin
1983 - A train from Tralee failed near Cherryville Junction and was run into from the rear by a train from Galway. Seven passengers die in the crash and and another passenger later dies from their injuries
1998 - A salmonella alert is issued following the deaths of five elderly people in two separate outbreaks at a hospital and home for the aged in Co. Galway
2000 - Two men are shot dead in broad daylight as an all-out war erupts between rival loyalist terror gangs in Belfast
2000 - The Catholic hierarchy confirms it is actively considering allowing lay people to be ordained deacons in a bid to cope with the shortage of priests
2001 - Sinn Féin warns British prime minister Tony Blair he should take note of a poll which found the vast majority of British people believe the North should no longer be part of Britain
2001 - Unionists withhold their endorsement of the Government's new implementation plan for future policing arrangements in Northern Ireland
2002 - Celestica Electronics sheds half of its workforce of 500 at Swords, Co Dublin.

Sources:
The Celtic League
This organization publishes the annual Celtic Calendar. To order your own copy, visit: The Celtic League.
Irish Abroad
Somewhat sporadic, but they often highlight an important date in Irish history. To visit, please click: Irish Abroad.
The Wild geese
They update Irish history weekly. To visit their keydates page, please click: The Wild Geese.



We also refer to an assortment of references. Among them are the Books of Days - see right margin on this page.


Wed, Jan 3, 2018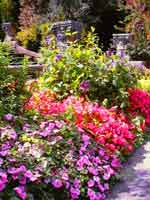 Ilnacullen, Co. Cork - an Island Garden
Located in the sheltered harbour of Glengarriff in Bantry Bay. Ilnacullin, which means island of holly, is a small island known to horticulturists and lovers of trees and shrubs all around the world as an island garden of rare beauty.
The vivid colours of Rhododendrons and Azaleas reach their peak during May and June, whilst the hundreds of cultivars of climbing plants, herbaceous perennials and choice shrubs dominate the midsummer period from June to August.
Because of its sheltered situation and the warming oceanic influence of the Gulf Stream, the climate is favourable to the growth of ornamental plants from many parts of the world.
Even for those who aren't particularly interested in gardens, there are many other scenic views, especially in the surrounding waters where seals frequent the rocks on the southern shore.
The cover photo on Bridget's book The Traditional Irish Wedding shows a wrought iron garden gate on Ilnaculen. I took that photo. To see it, go to the home page. It's part of the opening paragraph Failte.
—Russ
Resource: Copy and Image - Cork Guide

Click for More Culture Corner.
"Cahill's lovely prose breathes life into a 1,600-year old history." The L.A. Times
This is our most popular book. We understand why; the truth is fascinating.
Click here for Saved Civilization.
---